Throw ratio is one of the main projector spec and significantly affects its choice. It directly affects the projection size and the choice of a convenient projector location.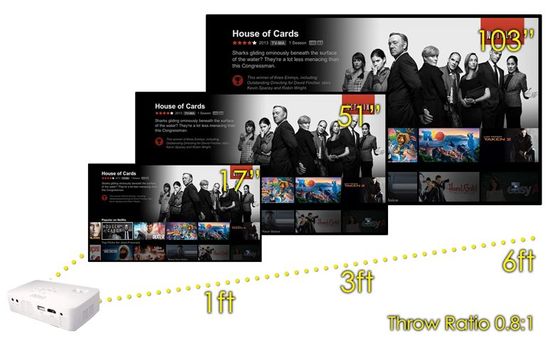 The throw ratio is calculated as the ratio of the projection distance to the projection width. Of course, any user can easily calculate these values. But the Internet offers plenty of ready-made tables.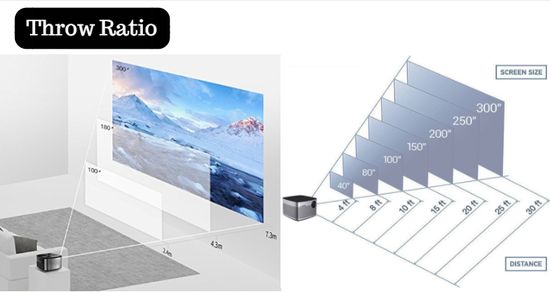 Modern projectors are conventionally divided into 4 types:
– long throw – 2.5: 1, projection distance – 16,4 ft (5 m) and more;
– standard throw – 1.2-2.5: 1, projection distance 4,9-16,4 ft (1,5-5 m);
– short throw – 0.6-1.2: 1, projection distance 2,3-4,9 ft (0.7-1.5 m);
– ultra short throw – less than 0.6: 1, projection distance 1,0-2,3 ft (0.3-0.7 m).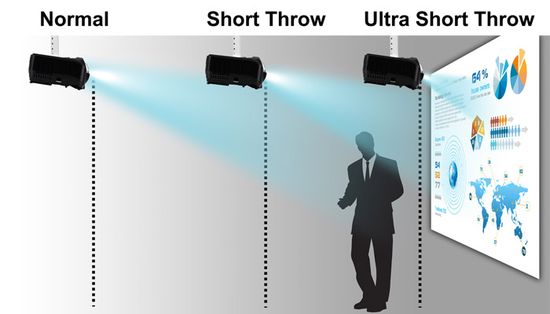 Of course, short projectiron distance is the main advantage of short throw projectors. But this technology significantly limits the optics possibilities. For example, many short throw projectors use a fixed lens without an automatic zoom. Accordingly, projection size adjustment requires projection distance adjustment by moving the device. Unfortunately, this significantly limits the location choice of the projector. Of course, companies offer more expensive universal projectors with interchangeable lenses.
Ultra short throw projector
Today, ultra short throw models use lens or mirror-lens technology. In the first case, the projectors have a very large and wide lens.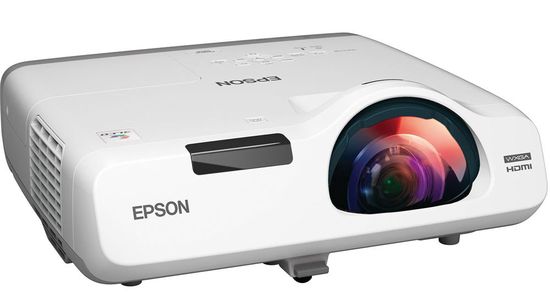 These models provide a uniform illumination over the entire projection surface and minimal image distortion. The convex shape of the lens reduces projection distance.
Mirror short throw projectors use a specially shaped aspheric mirror (free-form).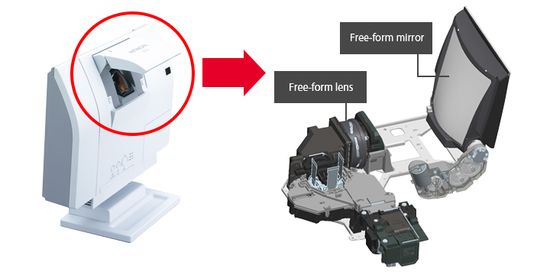 But the quality of their image essentially depends on the quality of the mirror surface processing. The slightest flaw or damage radically impairs image quality. Of course, the highest processing accuracy increases their cost.
The design of these models is different. Many companies, including Sanyo, Epson, Canon, Sony, etc, hide the mirror inside the case for additional protection against accidental mechanical damage.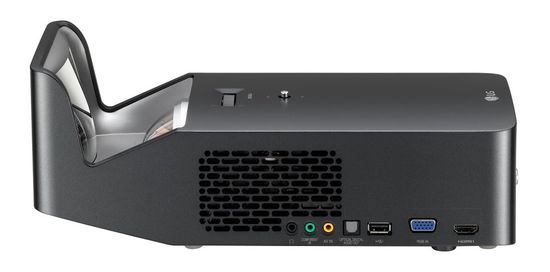 Some models use a folding mirror.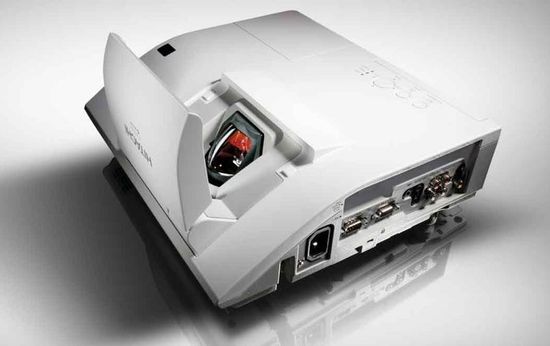 Mirror projectors provide a significant reduction in minimum distance compared to traditional lens. In fact, the user can install the projector almost closely to the screen.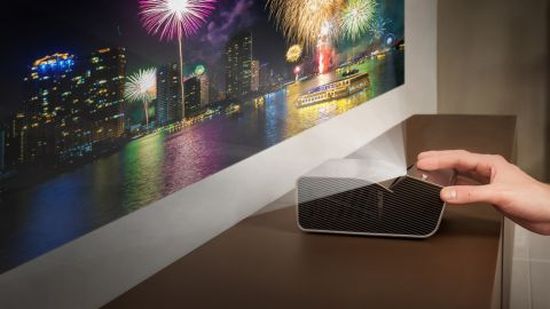 Conclusion
Short throw projectors provide a larger image size at a short distance from the screen. For example, modern top ultra short throw model provides an image with a diagonal of 60″ (150 cm) at a distance of only 4″ (10 cm). Of course, such models provide excellent portability and flexibility of installation, which is important in a small room. In addition, their light does not interfere with viewing, because they are always between the screen and the viewer.
Traditional long throw models are convenient for large rooms, for example, in a conference hall or exhibition hall.
This video demonstrates the VAVA Ultimate Smart Short Throw 4K Laser Projector.