ViewSonic PX800HD for two years is one of the best ultra short throw (UST) home theater projectors on the market. Relatively affordable price, high dinamic contrast (100,000: 1), innovative RGBRGB color wheel, ultra throw ratio 0.23: 1 (D: W), very quick 16 ms input lag, 1080p, Full 3D and 2000 ANSI lm provide its high competitiveness in the segment of UST home theater projectors, including gaming.
The model uses the traditional design of UST projectors with a semi-enclosed recess for the reflective mirror.
An optional BrilliantColorPanel achieves a contrast ratio 4-times higher than that of an average projector screen.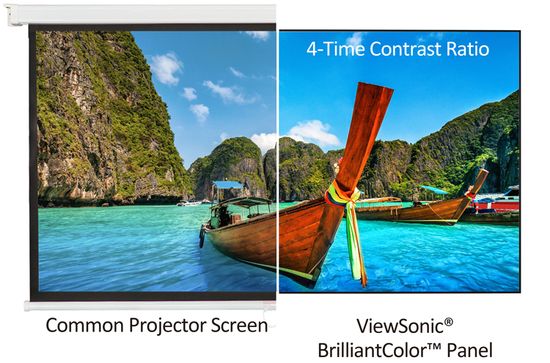 Of course, ViewSonic PX800HD supports Imaging Systems Foundation (ISF). But, ISF-calibration requires additional costs.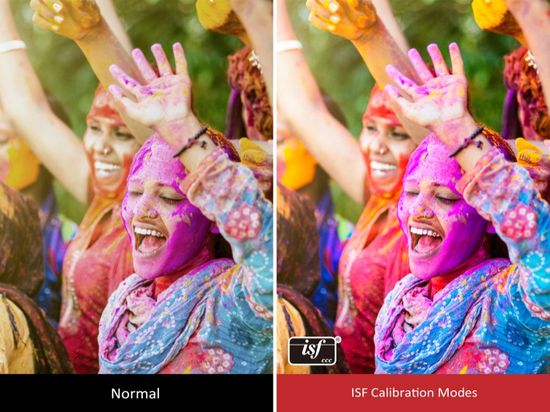 Besides, the projector practically does not create the rainbow effect, which is traditional for DLP technology.
Unfortunately, the fan noise level reaches 35 dB in the Normal mode, that is perceived even at a some distance from the projector. But it decreases to 29 dB in Eco mode.
Additionally, this projector uses SonicExpert technology that includes an enlarged speaker chamber and a more powerful amplifier to deliver a full 20Hz – 20Khz sound range.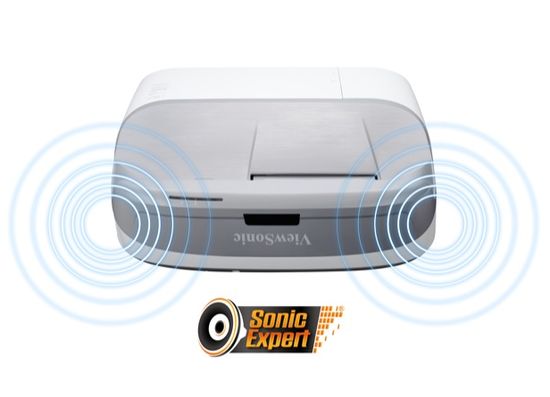 Like all ViewSonic projectors, the PX800HD has PortAll MHL / HDMI port.
Moreover, model supports playback 3D images directly from 3D Blu-ray players. 3D images can be viewed with optional ViewSonic PGD-350 Shutter Glasses, or any other compatible 3D glasses.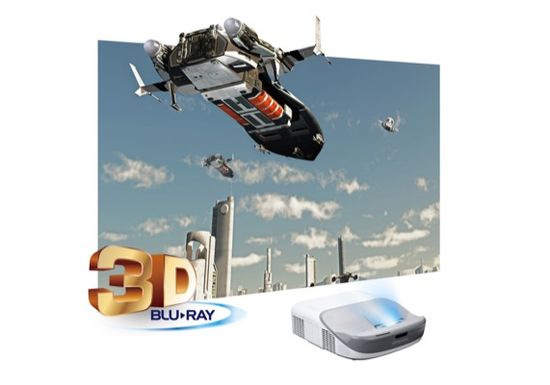 Brightness
Eco and Normal levels provide the following brightness in modes:
– Brightest – 1637/1140 ANSI lm (Normal/Eco);
– Dynamic – 1375/957;
– Standard – 1175/818;
– Movie – 1077/750;
– Rec. 709 – 897/624.
Eco mode reduces lamp power by 30%. At the same time, SuperEco uses an auto power saving.
Dynamic mode works like auto iris. This mode reduces the lamp brightness in dark scenes. 1375 lm provides an acceptable image quality for a 100″ screen even in room with scattered daylight.
Of course, the market offers quite a lot of similar models with greater brightness. Accordingly, they do not require careful darkening. But the PX800HD with a dinamic contrast ratio of 100,000: 1 and a brightness of 2000 lm competes quite successfully with them due to optimization of black, good color saturation and wide dynamic range. In particular, it provides a sufficiently high quality on the screen up to 100″ even in daylight. Of course, this is an exellent result for the UST projector.
The brightness uniformity reaches only 75%. Of course, it's ok for UST models, but inferior to traditional projectors for home theaters. On the other hand, this difference can be seen only next to the test image of the 100 IRE. Moreover, this factor practically does not interfere when watching a video.
But factory presets for Brightest, Dynamic, Standard, Movie and Rec709 modes close to optimal. Unfortunately, ViewSonic PX800HD does not offer custom modes. But model has manual adjustment of contrast, brightness and color temperature.
As known, RGBRGB color wheel provides exellent color brightness due to absence of a white.
segment.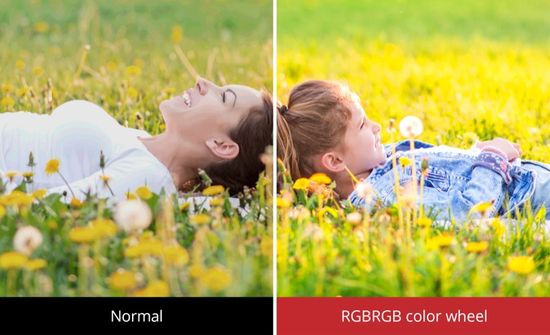 In addition, a RGBRGB color wheel delivers Rec. 709 color accuracy.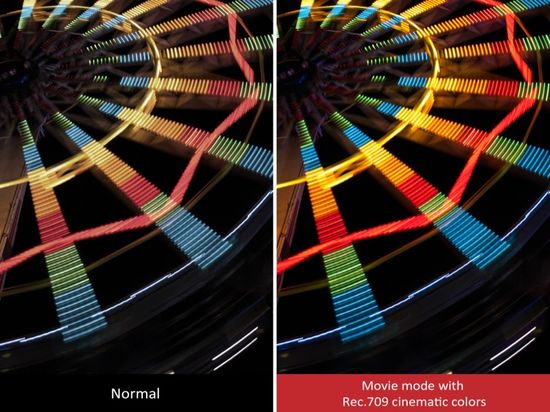 Features
As known, all UST models, including ViewSonic PX800HD, require alignment, image adjustment and focusing when installed after any its movement. But model has horizontal and vertical Keystone correction and 4-corners adjustment, that drastically simplifies this task. Digital Keystone provides ± 30° horizontally, and + 30°/-12° vertically.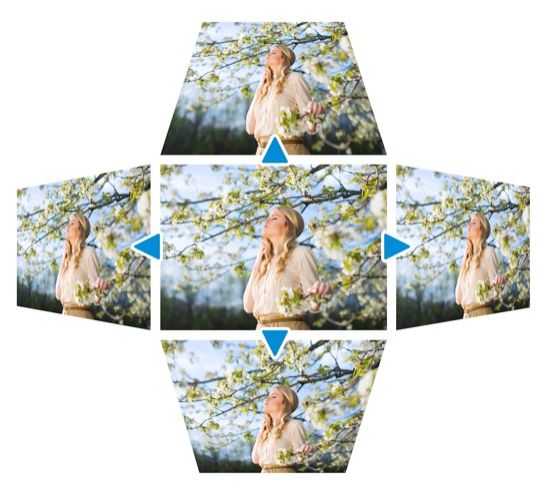 Additionally, Four Corner Adjustment eliminates warping, creating an image with perfect proportions.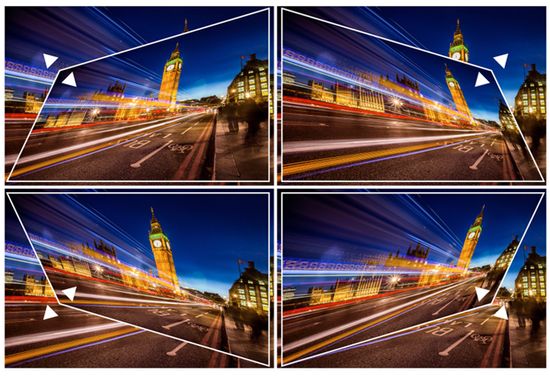 The lensing system uses a mirror to reflect the image through a window near the back of the projector. Throw distance varies in range of 14.5 – 31.4 inches for a diagonal image size of 70″ to 150″ (100″@5,9 ft).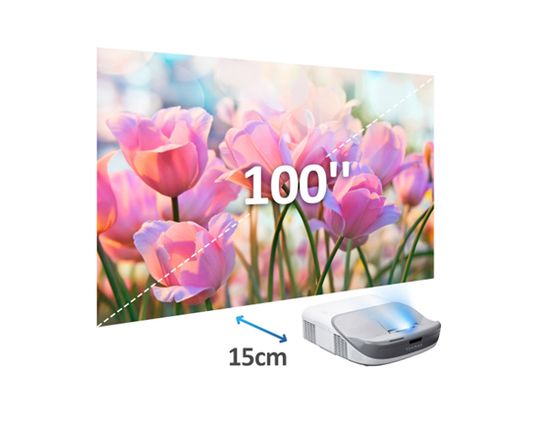 Input lag does not exceed 33 ms. But 3X Fast Input option reduces it to an unprecedented 16 ms.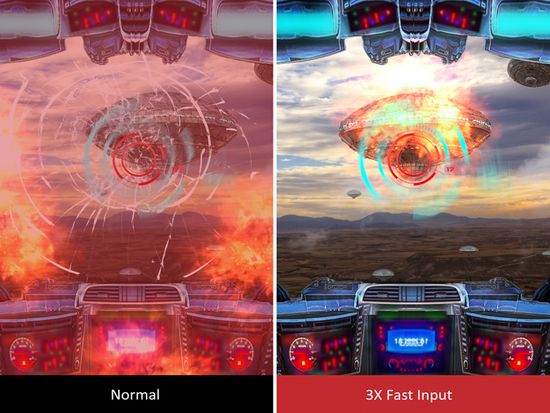 Additionally, ViewSonic's Cinema Supercolor technology optimizes cinematic color scenarios, including optional or analog color schemes.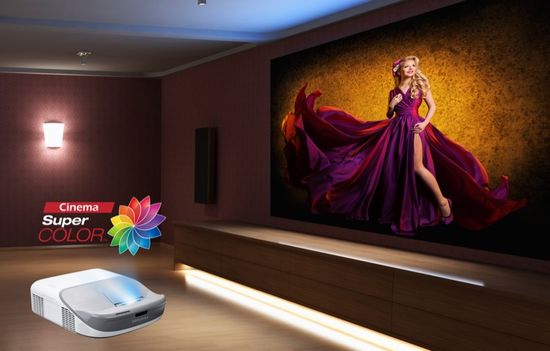 PROS & CONS
Pros
– excellent image quality;
– RGBRGB color wheel;
– Cinema Supercolor technology;
– SonicExpert technology;
– ISF-calibration support;
– input lag of 16 ms with 3X Fast Input option;
– high contrast;
– 100″@5,9 ft;
– horizontal and vertical Keystone correction and 4-corners adjustment;
– high quality factory presets;
– protected PortAll MHL / HDMI port;
– 3 year warranty.
Cons
– very high fan noise level;
– model requires careful alignment at installation;
– no Frame Interpolation;
– no custom modes;
– inconvenient access to ports. All ports are on the front of the PX800HD, facing the wall. Accordingly, access to them requires the rotation of the projector and its subsequent adjustment.
Of course, all these factors affect the choice of the optimal projector.
This video illustrates the great opportunities of ViewSonic PX800HD projector.