In fact, the 3LCD Epson Home Cinema 3700 (EH-TW6700 in Europe) began a continuation of a series of low-cost models for home theater and home entertainment.
As known, in 2015, Epson introduced Epson Home Cinema 2040/2045 (1920×1080, 2200 ANSI lm) and 740HD (1280×720, 3000 ANSI lm) projectors are all priced well under $ 1,000.
Then, in 2017, the company expanded this series with 3100/3700 models. The Epson 3700 costs $ 200 more compared to 3100 and has a built-in speaker. Both models have almost identical specs and design.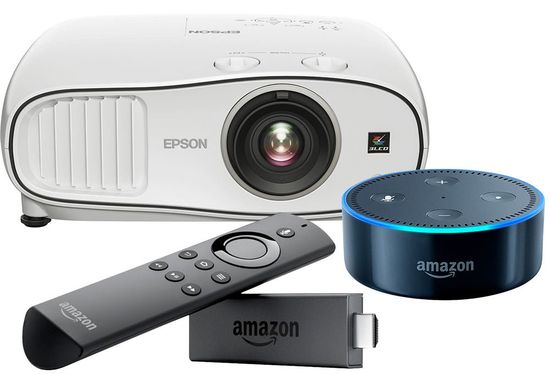 Compared with previous Epson 2040/2045, Epson 3700 provides higher brightness, better contrast and color accuracy, an increased zoom range (1.6x instead of 1.2x), and an extended vertical / horizontal lens shift range.
In addition, it supports advanced features, including Super Resolution mode, gamma adjustment, picture-in-picture mode, and manual adjustment of the convergence of three chips. In fact, this set of functions corresponds to the functionality of Epson 3900. But the Epson 3900 costs $ 500 more. Of course, this factor significantly affects the choice of the projector.
Projector supports 2D to 3D conversion and two color modes in 3D. One mode provides a higher brightness, but has a slight green bias. The other mode provides more natural colors, but with a lower brightness. For comparison, many models of this price segment have only maximum brightness by default for loss compensation in 3D glasses. The stereoscopic image uses the frame interleaving mode. Model supports any RF glasses.
Additionally, model has a VGA input and two HDMI inputs, one of which supports an MHL connection. The USB port (type A) provides connectivity for external media and an optional Wi-Fi adapter.
Epson Home Cinema 3700
Projector provides dynamic contrast ratio of 70,000: 1 (full on/off) without auto iris and darkening using software algorithms. In fact, such a contrast corresponds to level of the DLP projectors of this price segment. But, of course, without the traditional for the DLP technology, the rainbow effect.
Model brightness reaches of 3000 ANSI lm. It provides a high-quality image even in a room with scattered daylight and the excellent 3D image quality, despite the brightness loss due to 3D glasses.
The projector has two built-in stereo speakers of 10 W.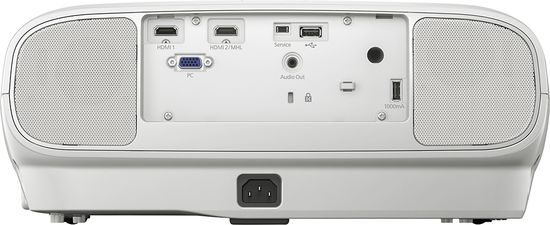 As know, Epson 3700 has a Throw Ratio of 1.34: 1 – 2.17: 1 (D:W). Its throw distance ranges from 6,2 to 17 ft, and image size from 40″ to 180″. Projector provides 100″ diagonal screen at distance of lens between 9,5 and 16 ft.
Projector has a good 1.6: 1 zoom and convenient manual lens shift adjustment, which reaches of ±24% and ±60% horizontal & vertical, respectively. Keystone Correction reaches of ±30 degrees (Auto) and ±30 degrees (Slide bar) horizontal & vertical, respectively.
Epson Image Enhancement Technology (Super Resolution Technology) visually increases the image detail and is designed for high-quality content (for example, from Blu-ray discs).

Additionally, the frame interpolation function provides a 60 fps effect for content with 24 fps and improves the playback quality of highly dynamic scenes.
Features, Pros & Cons
Projector uses Epson 3LCD 3-chip technology, Epson Polysilicon TFT Active Matrix, 0.61- inch wide panel with MLA.
The color saturation and black level provide a sufficiently high image quality.
Epson Home Cinema 3700 has 4 preset color modes, including Dynamic, Bright cinema, Natural and Cinema. The range of brightness values for different modes (High, Medium and Eco) varies from 2306 to 3438 for Dynamic, from 1653 to 2465 for Bright cinema, from 1736 to 2588 for Medium and from 1635 to 2439 for Eco.
Bright Cinema mode provides fairly accurate color rendering on a 225″ screen in a darkened room or on a 140″ screen with moderate lighting.
Dynamic mode is well suited for presentations, providing an acceptable quality at a maximum brightness of 3700 lm.
Lens in the long focus reduces the brightness by only 8% compared to the wide-angle mode. The brightness uniformity reaches of 86%.
Of course, the color brightness corresponds to the brightness of the white due to use of 3LCD technology.
Unfortunately, Input lag is 28 ms without frame interpolation, but reaches 105 when on.
Pros
– very good picture quality;
– remote control with backlight;
– high contrast;
– two color modes for 3D;
– two built-in stereo speakers of 10 W;
– zoom of 1.6: 1;
– very low brightness reduction in the long-focal position of the lens;
– two HDMI inputs (including MHL);
– support of Picture-in-Picture, Full HD 3D, Geometric Correction and Frame Interpolation.
Cons
– relatively high noise level;
– delay in automatic iris control;
– noise during Auto Iris work;
– very high Input lag with Frame Interpolation;
– both color modes in 3D have drawbacks (distortion of color rendering or insufficient brightness);
– the controversial placement of speakers on back panel.
This video illustrates a very high image quality directly on the beige wall without a screen.