As known, the LG HF80JA was first introduced at CES 2107. This model became the first compact laser Full HD home theaters projector. It weighs only 4,6 lbs and has an unconventional vertical design.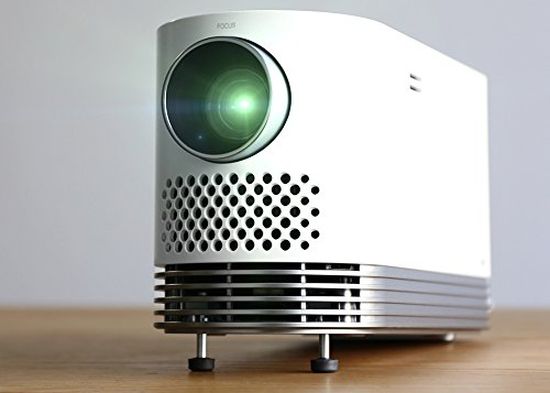 Of course, this model can be positioned as a conceptually new projector. As known, the semiconductor light sources (LED and laser LEDs) actively displace lamps as a light source for projectors.
Of course, the huge service life provides significant advantages to these models. In particular, many companies confidently promise 20,000-30,000 hrs.
Unfortunately, LED projectors provide a too pale image due to low brightness. Laser models are too expensive (especially green laser LEDs), but they provide much more power. Some years ago, manufacturers were able to offer quite bright LED projectors (1000 ANSI lm). But the lack of Full HD matrices has become a new obstacle. Then they suddenly appeared at LG. Since that moment, the LED projector segment began to develop rapidly. LG PF1000U (1000 lm, 1920×1080) and PF1500G (1500 lm, 1920×1080) models have become its leaders.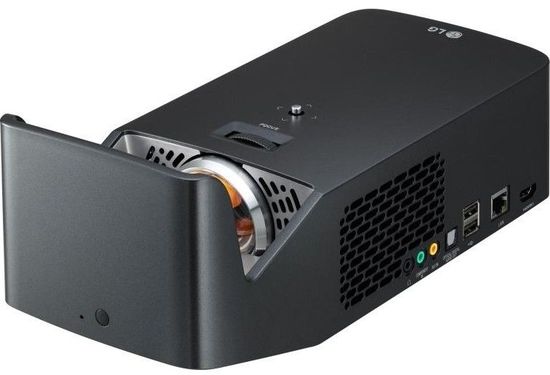 LG HF80JA
This DLP model uses a single DMD chip and a laser phosphor, which provides 2000 ANSI Lm and has 20000 hour service life. Its cost is comparable to the price of lamps for projectors. Engineers placed it in a device worth up to $ 1,500, whose weight does not exceed 4.6 lbs. But the small weight is due to the use of an external power source. Of course, an additional block complicates the design. On the other hand, increasing the distance between it and the video path is optimal from the point of view of heat dissipation and electromagnetic interference. As a result, the HF80JS becam the lightest Full HD laser projector in this brightness segment. Moreover, the projector uses a webOS platform for Internet TV and access to streaming services. Additionally, HF80JA uses popular Magic Remote Control with a gyro, which operates as a computer mouse.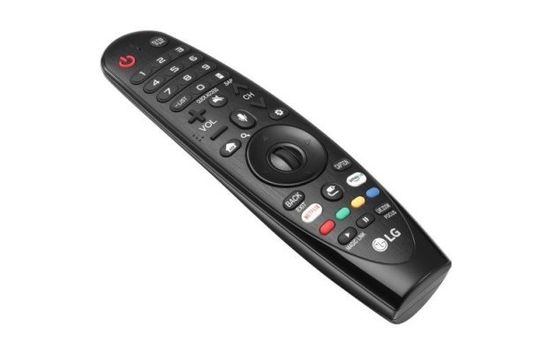 The marker moves on the screen in accordance with the hand movement without buttons.
The innovative LG ProBeam Bluetooth Sound Out system provides wirelessly stream sound directly from the HF80JA projector to a Bluetooth compatible sound system, including like home audio speakers, headphones or portable speakers.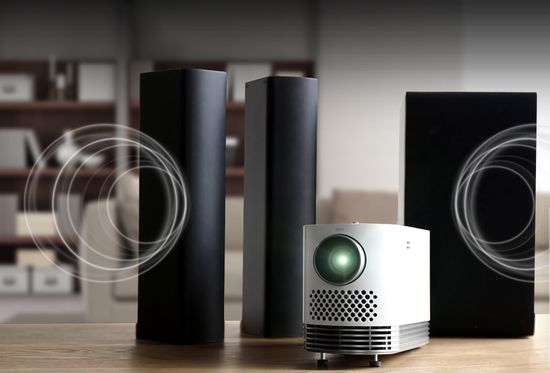 But, of course, Bluetooth-enabled speakers sold separately.
In addition, the ProBeam function uses the Miracast standard for projecting content on a large demo screen.
Digital Auto Keystone Correction (vertical) automatically detects and corrects any screen image distortion. Four Corner Keystone is designed to manually fine tune the picture positioning.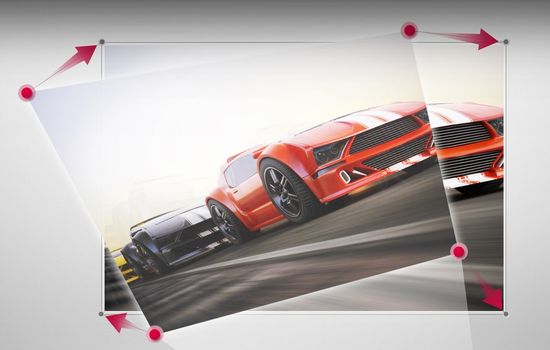 As a result, the system provides the perfect image.
Features
The image quality corresponds to the most HDTVs and low-cost home theater projectors. Unfortunately, the LG HF80JA does not support 4K, HDR and 3D.
The settings menu has seven customizable, predefined color modes, including Vivid, Standard, Cinema, Sports, Game, Expert (Bright Room), and Expert (Dark Room). Picture has a slight green bias, which traditionally decreases in less bright modes. However, the projector provides fairly accurate color rendering even in bright Vivid. But to be honest, it can be detected only when compared with the image of a calibrated projector.
As known, color fidelity depends on color temperature. Respectively, changing color temperature from medium to cool increases its accuracy.
Moreover, two Expert modes offer more advanced picture controls, including Color Gamut, Gamma and ability to adjust Saturation, Tint, and Luminance separately for red, green, blue, cyan, yellow, and magenta.
As known, the human eye perceives the colors created by lazar as brighter. Therefore, some companies often specify in the spec values given the "equivalent perception".
Unfortunately, measured input lag reaches 67 ms in all modes.
The projector provides a contrast ratio of 150,000: 1, but the black depth corresponds only to the average level.
Model uses 1.10:1 zoom lens. Throw ratio of 1.40:1 – 1.54:1 provides Image Size of 69 – 305 cm with Throw Distance of 0.9 – 3.7 m. For example, the projector can form a projections of 100″@ 8,2 ft or 79″@6.6ft.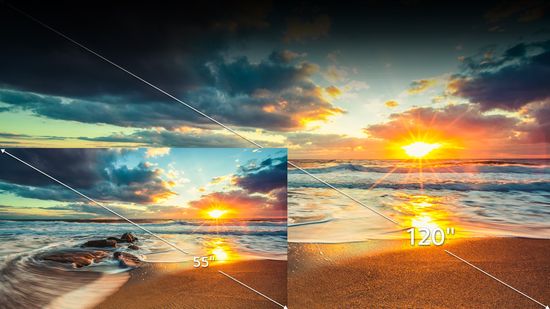 PROS & CONS
PROS
– cinematic viewing with Full HD resolution (1920 x 1080);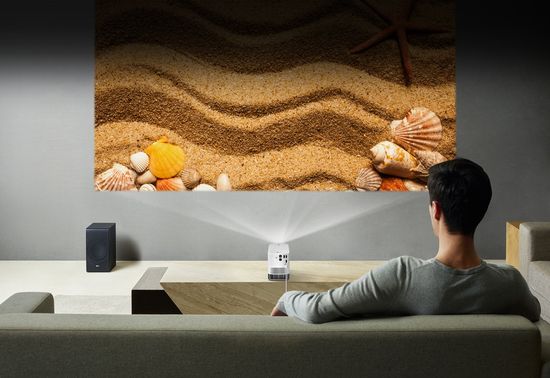 – very high brightness for laser projectors;
– Digital Auto Keystone Correction (vertical) and Four Corner Keystone;
– long service life (laser, 20 000 hrs);
– wirelessly stream sound directly from the HF80JA projector to a Bluetooth compatible sound system (ProBeam Bluetooth Sound Out system);
– built-in speakers (2 x 3 W, stereo);
– wireless support for Miracast, WiDi, and DLNA;
– wireless support for connection to iOS/Android devices with the TV Plus app;
– Keyboard/mouse/GamePad connection via USB;
– USB playback of DivX, MP3, and select photo file types;
– Quick On (10 seconds) / Quick Off (2 seconds);
– very light weight.
CONS
– no WCG support;
– no lens shift;
– remote requires very accurate signal direction. Projector ignores commands even when offset to few degrees left or right;
– no VGA connector;
– slow menu response;
– no support for 4K, HDR and 3D;
– max screen size is only 120″;
– weak rainbow effect.
This video shows the LG HF80JA projector.