Of course, compactness provides this projector with a huge advantage in its class. Ultra-compact Optoma ML750ST Short Throw LED projector is made in the form of a black compact parallelepiped with dimensions only 2.24 x 4.84 x 4.45 in.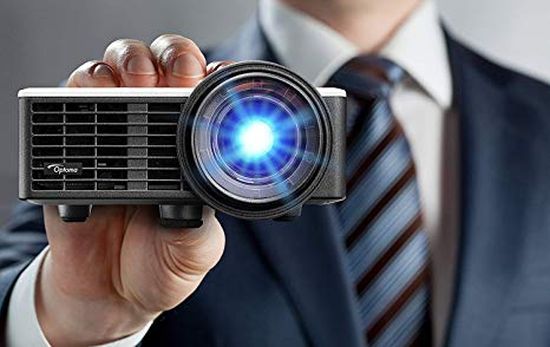 This dual-purpose model is ideal for travels and casual home entertainment. Projector provides good video quality, a bright enough picture and 16.5 ms input lag, which is perfect for video gaming or even a backyard movie night.
The model has connector for microSD memory cards, USB A, universal slot for VGA cord, HDMI (MHL) and mini jack-out for headphones.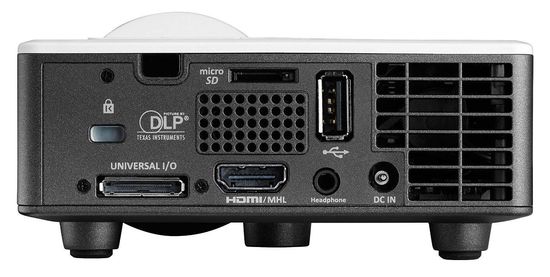 Optoma ML750ST
Ultra compact Optoma ML750ST uses a DLP technology by Texas Instruments.
Unfortunately, image focusing is sometimes uneven on the screen surface. As a result, even perfect focusing in one part of the screen is sometimes accompanied by a defocused image in another part.
Of course, not enough high resolution and brightness limit the use of the projector for home theater.
Unfortunately, model does not have manual choice of color gamut to improve the contrast of shadows. However, projector provides good quality of the dark image areas without additional adjustment.
Traditional for single-matrix DLP projectors, the rainbow effect sometimes appears in bright scenes.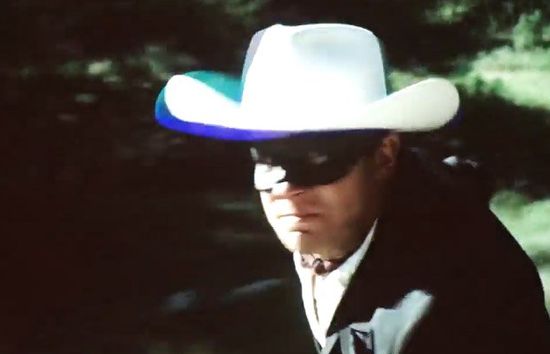 The actual contrast is 777: 1 in the Photo and 772: 1 in the Bright mode (method of full on/off ).
The projector provides recommended brightness for home theater (16 fL) for screen with a width of about 63″ (160 cm) and a height of about 40″ (100 cm) that correspond to a diagonal of about 71″. As known, a foot-lambert or footlambert (fL, fl or ft-L) is a unit of luminance in United States customary units and some other unit systems.
Features
The model uses a LED light source with a reduced power (only 77 W) and huge service life (20000 hour). This corresponds to a daily 4-hour view for more than 13 years. But, of course, its brightness is significantly inferior to the lamp or laser LED.
Offset is 100%, i.e., the image lower border coincides with the lens center.
Of course, the throw ratio of 0,8:1 is one of the main pros of this model. This value allows the user to place the projector at a distance that is less than the screen width. For example, a distance of 2,8 ft (86 cm) corresponds to the screen diagonal of 50″ with its width of 3,54 ft (108 cm) and a height of 2,2 ft (67 cm). Distance of 5,6 ft (172 cm) corresponds to 100″ (width of 215 cm and a height of 135 cm).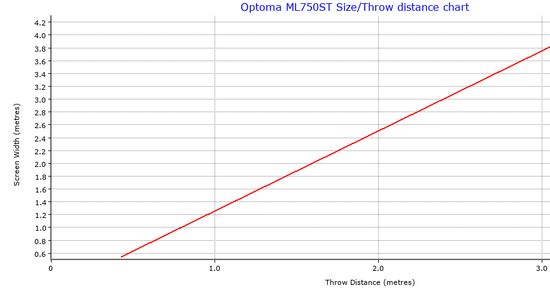 Height-adjustable leg in the center provides for setting the desired angle vertically.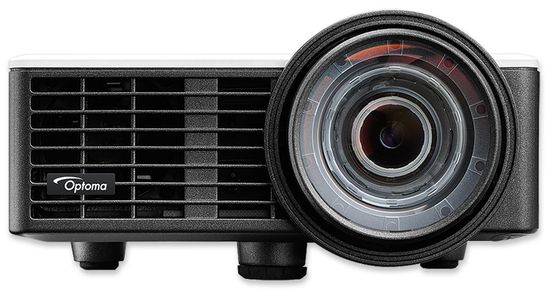 Model has auto and manual keystone correction.
Optoma ML750ST also can be placed under angle of 90° in portrait mode.
The projector can switch between HDMI / MHL, VGA and Media. Media mode supports an additional Cinema color mode.
Media menu contains the following submenus:
– HDCast Pro for projecting via WiFi (WiFi module is optional);
– Connect to PC for projecting files from a PC via USB A;
– HD Media for projecting from the internal memory of the projector, microSD card or USB media.
Thus, model provides playback of photos, documents and video in almost all popular formats.
Testing
The brightness specified in spec reaches 700 lm. Unfortunately, the real brightness was less.
Brightness measurement from authoritative Projector Central demonstrated:
– Bright – 490;
– PC – 412;
– Cinema – 322;
– Photo – 331;
– Eco – 95.
Eco mode has its own preset without adjustment with much lower brightness than other modes. It could be useful for projection on small screen in low light.
The measured brightness in Cinema mode provides acceptable quality for 80″ image even with dim ambient light.
The menu offers several options for adjusting image quality. But the default settings in most modes provide high enough color quality and do not require additional adjustments.
Cinema and Photo mode offer nearly identical color quality and brightness. But the Cinema mode provides optimum video quality with a brightness of about 320 lm. According to the company, calibration corresponds to Rec. 709 or ITU standard for HDTVs.
The short throw lens doesn't reduce light flow due to zoom lens effects.
The measured brightness uniformity reaches 80%.
The Bodnar meter measures the input lag at an extraordinarily fast 16.5 ms in all preset modes.
The audio system provides acceptable sound quality, and the 1.5 W speaker puts out easily enough volume for a medium sized room.
Of course, fan noise depends on the mode. It reaches a maximum in Bright mode and practically does not interfere in Cinema and Photo modes. But it drops to 22 dB in Eco mode.
Of course, without a zoom lens, the image size depends only on the throw distance. For the native 16:10 aspect ratio, the throw distance for a 100″ diagonal screen is roughly 5,6 ft.
PROS & CONS
PROS
– good video qwality;
– lightning quick 16.5 ms input lag;
– 20,000 hour service life of LED light sourse;
– throw ratio of 0,8:1 – a 50-inch diagonal image at 34 inches from the screen;
– very light weight (under two pounds);
– very small dimensions (fits on the palm);
– built-in viewer for reading PowerPoint, Word, Excel, and PDF files from internal memory, USB memory keys, or SD memory cards;
– good audio with enough volume for a small room;
– auto and manual keystone correction;
– low noise level;
– built-in media player significantly expands the use without PC;
– good dinamic contrast ratio (20000:1) and excellent color rendering.
CONS
– LED light sourse is inferior to lamp in terms of brightness and requires a thorough darkening the room;
– non-uniformity of focusing on the screen surface;
– the remote control signal from the front hemisphere is taken worse due to placement of the IR sensor at the rear;
– distortion of green color in ECO mode;
– weak rainbow effect.
Of course, all these factors affect the choice of the optimal projector.
This video shows some features of portable Acer H6517ST short throw projector.