Of course, the rapid development of chips significantly expands the capabilities of modern digital gadgets. As a consequence, leading companies are constantly expanding the functionality of their devices. Of course, smartphones top this list. Today, the choice of the optimal smartphone directly depends on its functionality. For example, the improvement of LEDs and laser LEDs has allowed engineers to actively use them as light sources for projectors. As a result, in 2009 Samsung introduced the first smartphone with a projector function.
Samsung Galaxy Beam
At CES 2009, Samsung introduced the first W7900 model with a projector. The integrated projection module provided 480 x 320 resolution with Lumen Output up to 10 ANSI lm. In 2010, the company introduced the first smartphone in the Galaxy Beam series. The nominal brightness of the built-in DLP projector in the Galaxy Beam GT-I8520 also reached 15 ANSI lm.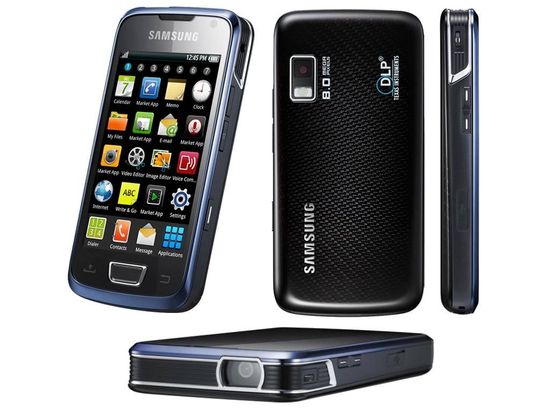 Of course, such a low brightness could not provide acceptable image quality. In 2012, the company offered an improved Samsung Galaxy Beam 1 or GT-I8530 model.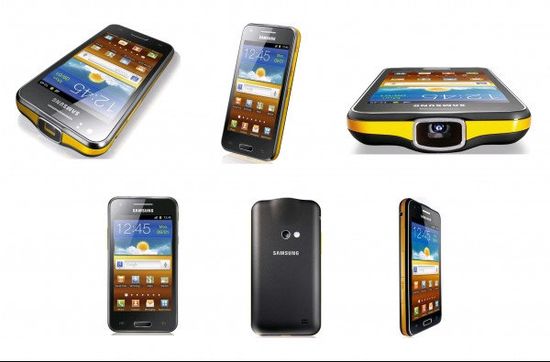 Its projector also had a brightness of 15 ANSI lm at nHD resolution (640 x 360). This model provided a fairly clear 50″ image.
But already in 2014 the company introduced the Samsung Galaxy Beam 2 or SM-G3858 model with a brightness of 20 ANSI lm at 800 x 480 resolution.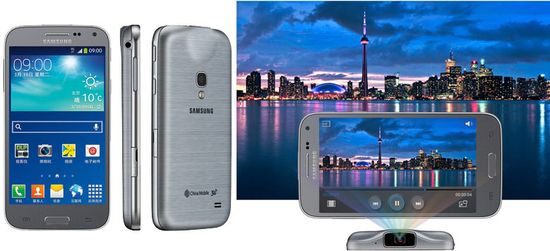 Of course, these features do not correspond to the home theater, but significantly surpass the specs of previous models.
In 2017, the company announced the Samsung Galaxy Beam 3 with built-in qHD laser projector and support up to 1080 x 1920 resolution.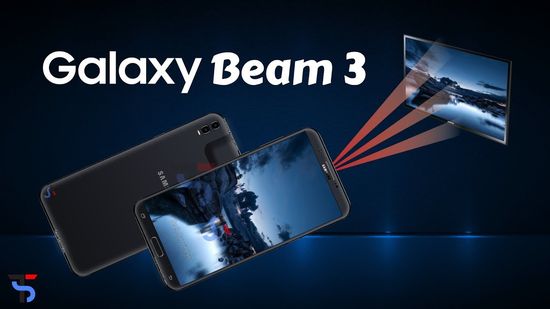 But, of course, qHD is not a typo from "QHD resolution". As known, QHD is an abbreviation of Quad HD, which, in turn, corresponds to WQHD (2560 x 1440) resolution. qHD is an abbreviation of Quarter HD and corresponds to 960 x 540 resolution. Today, many budget smartphones use it.
Unfortunately, in recent years, Samsung has reduced its activity in this segment.
Moviphone
At CES 2018 Wireless Mobi Solution, Inc. (WMS, San Diego, CA) introduced its Moviphone smartphone with a built-in projector.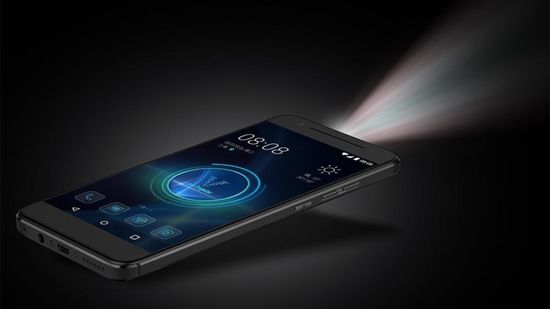 This laser pico projector delivers 1280 x 720 resolution (HD or 720p) on a 100" screen with brightness up to 50 ANSI lm.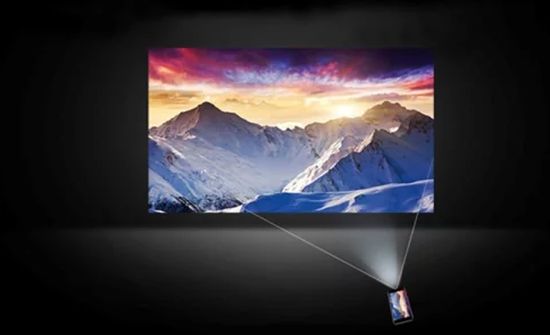 In addition, the 3700 mAh battery provides just over 3 hours of projector time.
A special app provides control and testing. It showed real brightness in the range of 30-60 ANSI lm at 1280 x 720 resolution. Of course, these are quite high values for a digital gadget.
This model uses:
– a powerful eight-core MT6750 processor;
– 4 GB of RAM;
– slot for expanding memory up to 128 GB;
– two cameras with resolutions of 13 and 8 megapixels, respectively.
Movi Smartphone comes with the latest Android 7.0 Nougat. Moreover, model can project 3D movies. Additionally, model supports MediaTek Sense ID technology for biometrics fingerprint powered.
Unfortunately, the company only offers a Limited Warranty. Today, eBay offers Moviphone for $ 599.00.
Blackview Max 1
As known, Blackview first introduced the Max 1 with an integrated laser projector at Global Sources Hong Kong 2018.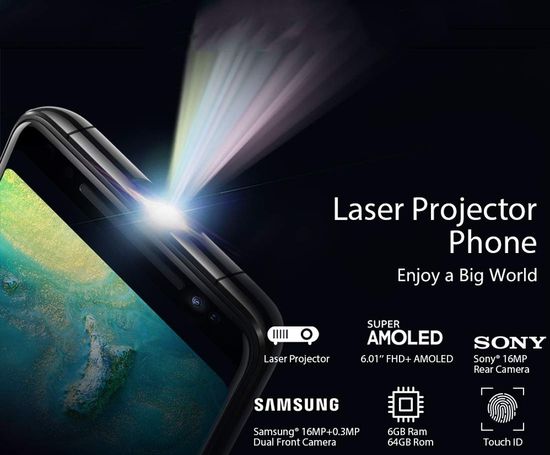 As known, this projector uses Micro-Electro-Mechanical Systems (MEMS) technology. Probably, this model can claim the status of the first smartphone with the function of supporting a full-fledged projector. In any case, today Max 1 provides maximum image quality in this mode. In addition, the model supports almost all the basic functions of a modern projector.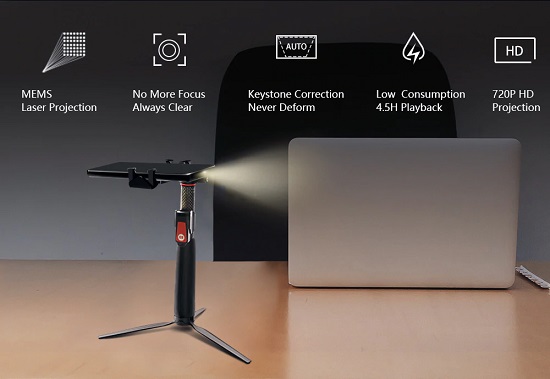 Max 1 provides a 70-inch picture with 1920 x 1080 resolution at a distance of about two meters.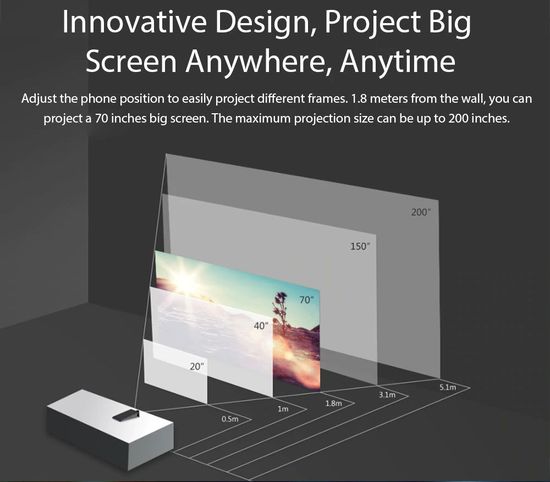 Of course, the package includes a tripod. The battery charge provides up to five hours playback, depending on the brightness. In addition, in projector mode, the smartphone provides some settings, including brightness, color inversion mode, etc.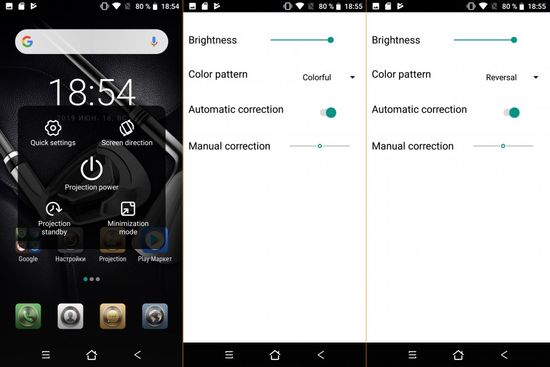 Additionally, in this mode the smartphone automatically turns off the display to reduce energy consumption.
Moreover,The projection quality on a white surface (wall, ceiling or table) corresponds to a fairly high level. In addition, the projector supports autofocus and auto keystone correction ± 30 °.
Unfortunately, the brightness of 50 ANSI lm does not provide high gradations of gray. Therefore, the image quality depends significantly on the ambient light and requires dimming the room. However, this is quite normal for a pico model.
PROS
– many accessories;
– stylish design;
– convenient tripod;
– good specs.
CONS
– glossy glass body
– user interface is not optimal;
– no 802.11ac Wi-Fi and Bluetooth still on 4.1.
Today, this model leads the majority of top listings in this segment and costs from $ 440.
Conclusion
Generally, this short review shows good prospects for the development of projector function in smartphones. Already today they are successfully competing with pico projectors, combining this option with a traditional smartphone. In comparison, a Sony MP-CD1 WVGA Pico projector with similar specs costs a little over $ 400.
This video demonstrates the capabilities of Blackview Max 1.
P.S.
Unfortunately, these models are practically unavailable today. Loss of manufacturers' interest to the projector phones may be due to their lack of competitiveness in comparison with the separate purchase of a smartphone and a pocket projector. Indeed, a built-in projector, even with very modest specs, increases the price of the model by several hundred dollars. But the modern market offers an abundance of pocket projectors at a similar price, but with significantly higher specs. For example, the $ 230 Miroir M190 weighs just 1.00 lbs (0.5 kg) at 0.78 x 5.9 x 3.54 inches (2 x 15 x 9 cm), and provides 200 ANSI Lm brightness, 854 x 480 resolution and 300: 1 (full on / off) contrast. Basically, it delivers high enough quality for a 60-inch screen even without thorough dimming.
As a result, many consumers preferred the best value for money compared to '2-in-1' portability.
But, as it turned out, not all companies cooled down in relation to this promising direction. In 2021 Samsung and HMD Global Company announced the 3rd generation of smartphones with built-in projector, including Samsung Galaxy Beam 3 (2021) and Nokia Projector Phone 5G.
Samsung has announced a $ 1,700 (£ 1,300) model with 7-inches Super AMOLED display, 7000mAh battery, Qualcomm Snapdragon 890+ chipset and Android v11 (R) OS. Its HD laser projector has brightness of 3,000 ANSI Lm.
Model from HMD Global Company under brand of industry patriarch is significantly cheaper and will cost from $ 490 to $ 610 (€ 430 – € 530). The developer promises 6.9 – inches 4K super AMOLED display, 6900mAh battery, octa-core Snapdragon 888 5G / 898 5G chipset, Nokia Stylus, Android OS 12, 1920 x 1080p resolution, and 3,000 Lm brightness. At these specs and prices, it has great prospects.
According to preliminary data, models may be available already in the spring of 2022.