The rapid improvement of semiconductors gave a powerful impetus to digital technologies, ensuring the rapid development of the smart electronics segment. Smartphones are the logical culmination of this process. Of course, functionality has become one of the main requirements of their marketing competitiveness, and phone quickly evolved to a portable multi-function media device. As a result, the market has formed segments of gaming smartphones with powerful processors and high-capacity batteries, camera phones with a set of very high quality cameras, etc.
Projector phones have become one of the directions of this trend, offering a radical expansion of the smartphone media capabilities. Of course, the consumer market has enthusiastically embraced the idea of a portable analog of TV in your pocket with virtually unlimited content.
Having caught the consumer trend, projector developers actively began to develop this direction and quickly achieved impressive results. Much of the success has been driven by innovative, highly efficient and relatively inexpensive light engines based on laser and conventional LEDs. As known, laser LED is, in fact, a conventional LED with coherent radiation, which is much more powerful.
Miniature size, long lifespan (20,000-30,000 hours vs 6,000 for traditional lamps) and low heat dissipation have become their main pros. As a result, the market was quickly filled with a huge number of different mini, pico and pocket ultraportable projectors with relatively high image quality.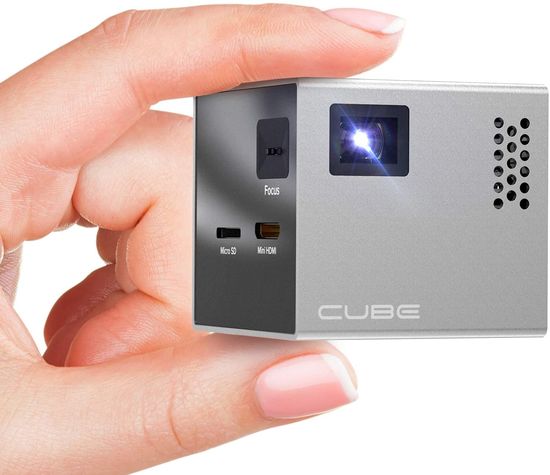 1st and 2nd generations
As befits an innovative leader, Samsung unveiled the first W7900 smartphone with a built-in projector at CES 2009.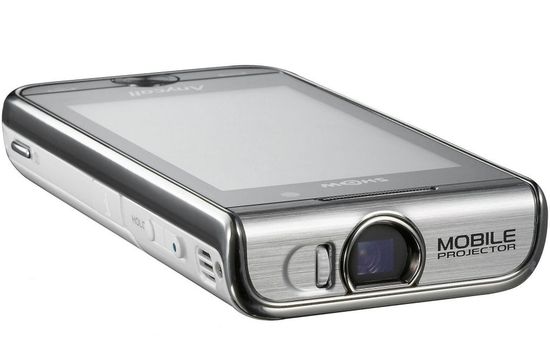 The company subsequently developed Galaxy Beam 1 (15 ANSI lm, 640 x 360 resolution) in 2012 and Beam 2 (20 ANSI lm, 800 x 480) in 2014. In 2017, the company announced the Galaxy Beam 3 with qHD (960 x 540) resolution, but unfortunately it never hit the market.
Too dim image due to low brightness and its poor quality due to low resolution drastically limited their popularity. But new, more powerful light engines and the development of micro-electro-mechanical systems (MEMS) have given a powerful impetus to the further improvement of the built-in projectors in the phone. Using MEMS, an American MicroVision company has developed laser scanning technology for projection and 3D sensing. It uses scanning micromirrors, red, green and blue lasers, optics and electronics for projection.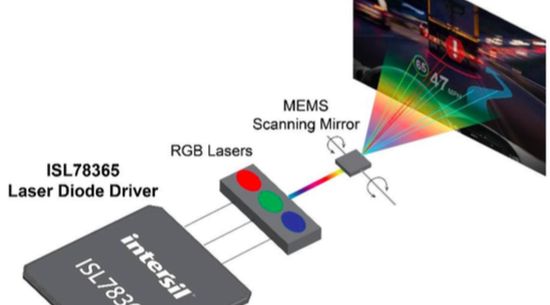 Based on this technology, Blackview and Wireless Mobi Solution in 2018 presented the Blackview Max 1 and Moviphone (Voga-V) smartphones with a built-in laser projector and MEMS technology. But very quickly the list expanded with other models. They could already provide 50 ANSI lm brightness at HD (1280 x 720) resolution.
Despite the abundance of names, all models were developed by only a few companies. Unfortunately, in recent years, identification of model and manufacturer is often impossible due to the marketing strategy of many companies. But considering the design, specs and announcement dates, Moviphone and Qantum V are actually clones of the second generation Voga V, which in other regions is known as Allview X4 Soul Vision, Movi, Neffos, etc.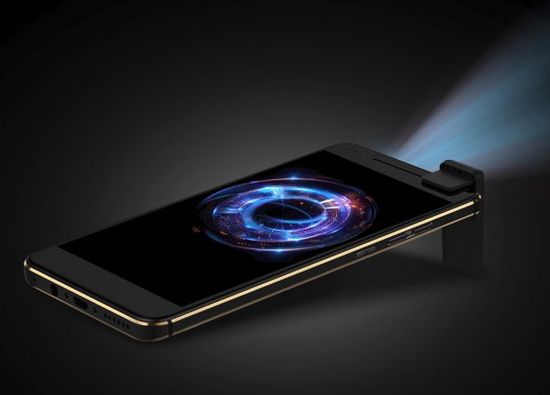 Projector phone vs projector + smartphone
But their rise in popularity has been halted by pocket-sized mini LED projectors. Sufficiently high image quality and low price provided them with the best value for money. For example, the $ 170 ultra-portable LED ViewSonic M1 Mini Plus has specs:
– 50 LED lm (120 ANSI lm) brightness;
– 120,000: 1 dynamic contrast ratio;
– native WVGA (854 x 480) resolution (1080p signal compatibility);
– auto vertical keystone correction +/- 40 °;
– 0.7 lbs (300 g);
– built-in USB Type-A and HDMI input, JBL speaker;
– f / 1.7 lens – Throw Ratio of 1.20, Display Size 24 – 100 inches, Throw Distance 2.1 – 8.7 ft (0.6 – 2.7 m).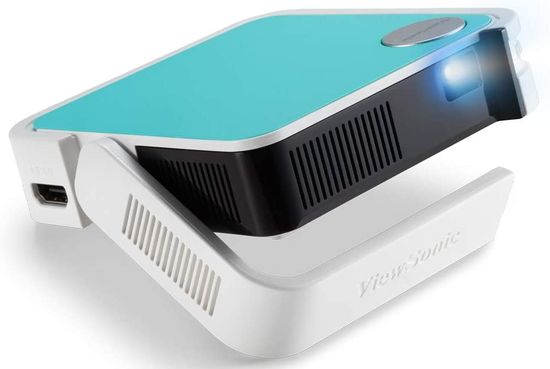 Of course, the specs and, accordingly, the image quality of modern projector phones is significantly lower. But the built-in projector increases the smartphone price by $ 300-400.
In addition, Motorola has been offering the Moto Z series for several years now, which is compatible with the Moto Insta-Share Projector Mod.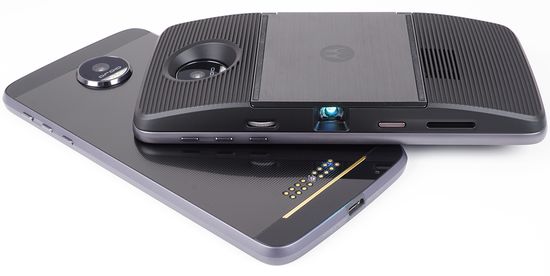 This module easily connects to a smartphone, turning it into a projector. The price of such a solution today is $ 280 (smartphone) + $ 75 (Insta-Share Projector) = $ 355.
This DLP WVGA (854 x 480) with 50 ANSI lm brightness and native contrast of 400: 1 provides up to 70″ screen diagonal.
Of course, the companies also offer a lot of brighter 1280p mini projectors, but they are more expensive, and their size and weight require a very large 'pocket'.
Therefore, several years ago the companies abandoned the further development of phones with built-in projector. Today Blackview Max 1, Moviphone, MOVI, etc occasionally appear on the websites of online sellers for about $ 400, but they are practically unavailable.
Samsung Galaxy Beam 3 (2021) and Nokia Projector Phone 5G
But despite the lost competition, the companies did not abandon this direction and again returned to projector phones.
The HMD Global Company and South Korean giant Samsung have announced the new Samsung Galaxy Beam 3 (2021) and Nokia Projector Phone 5G projector phones, respectively. As known, HMD Global is an independent, Finnish company, which was founded in 2016 and bought the legendary Nokia company. Today it has the exclusive license to use the Nokia brand on mobile phones and other gadgets. HMD is rumored to be affiliated with Hon Hai Precision Industry Co, Ltd which uses the Foxconn trade name and is Taiwan's largest company since 2005.
South Korean giant needs no introduction.
Samsung Galaxy Beam 3 (2021)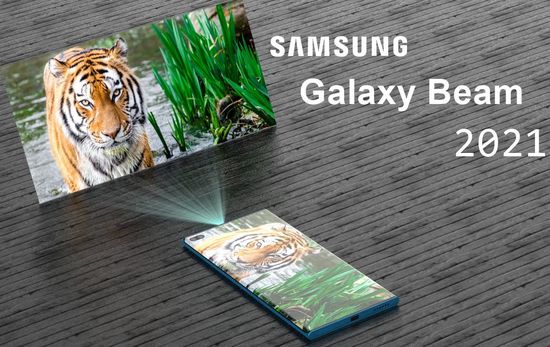 Preliminary specs
– 7 inches Super AMOLED display, 240Hz Refresh Rate with Corning Gorilla Glass 8 protection;
– IP68 (up to 2hrs in water 2m deep);
– 108MP + 48MP + 20MP + 12MP + 5MP + dual LED flash, Penta camera setup;
– 44MP + 12MP Front camera;
– 14 / 16GB RAM;
– 256 / 512GB ROM (the storage can be expandable up to 1TB with a MicroSD card);
– 7000mAh battery with 100W fast charging and 90W Wireless charging;
– Qualcomm Snapdragon 890+ chipset, Adreno 670 GPU (upcoming flagship Qualcomm mobile processor);
– Android v11 (R) OS.
Projector:
– HD Laser projector;
– 3000 ANSI Lm.
Its expected price is $ 1,700 or £ 1,300.
Nokia Projector Phone 5G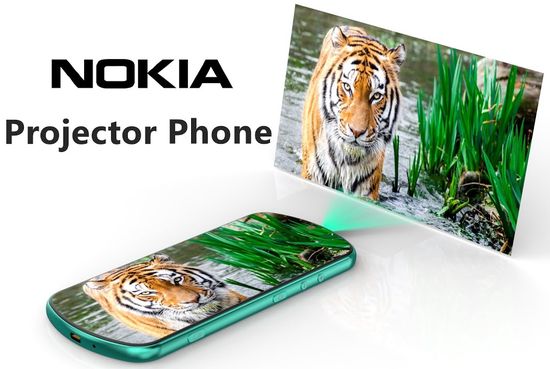 The latest rumors and leaks:
– 6.9 inches 4K super AMOLED display 90Hz or 120Hz Refresh Rate with Corning Gorilla Glass 7 protection;
– octa-core Qualcomm Snapdragon 888 5G (5 nm process technology, 2x 2.4 GHz Cortex-A76 + 6x 2.0 GHz Cortex-A55) or Qualcomm Snapdragon 898 5G + Adreno 730 GPU;
– 6600 / 6900mAh non-removable battery with 67W fast charging;
– 44MP / Dual 32MP + 16MP (slide front camera);
– 64MP / 108MP / 200MP + 12MP + TOF sensors (Penta rear cameras) + dual tone LED flash;
– 8 / 12GB or 14 /18 GB of RAM UFS 5.0;
– 256 / 512 GB of Internal Storage (ROM) – expandable up to 1TB;
– Nokia Stylus;
– OS Android 12.
Laser projector:
– 120-inch projection size;
– 1920 x 1080p resolution;
– 3000 Lumen brightness;
– 10-core 64-bit processor.
Preliminary, the model will be available in three colors (black, green, and blue) next year for $ 490 – 610 or € 430 – 530.
Conclusion
In just 10 years, projector phones have burst into the consumer market, filled it with very attractive models including Blackview Max 1, Voga, Moviphone, etc, and retreated under the onslaught of pocket projectors combined with a smartphone with the best value for money.
But this year has revived the intrigue. The HMD Global Company announced Projector Phone 5G under the legendary Nokia brand, and the South Korean giant announced the Samsung Galaxy Beam 3 (version 2021). According to the specs, the new generation of phones with built-in projector radically outperforms previous models. For example, they both provide 3000 ANSI lm brightness vs 50 ANSI lm in previous models. In addition, they use powerful new chipsets (Qualcomm Snapdragon 888 and Snapdragon 890+), high capacity batteries and excellent Penta cameras. But other specs are also top-tier.
Comparison between them today is hardly correct due to price uncertainty. For example, Samsung Galaxy Beam 3 will be almost 3 times more expensive ($ 1,700 / £ 1,300 vs $ 490 – 610 / € 430 – 530). Of course, the preliminary specs of Samsung are higher, but not by much. Therefore, if the declared characteristics and prices are realized, the prospects of Nokia Projector Phone 5G seem preferable.
Of course, they have a high power consumption, but a modern power bank greatly simplifies this problem.
In fact, a new generation of projector phones will revive this promising segment, and, perhaps, partially press the pocket-sized ultra-portable off the market.
This video introduces Nokia Projector Phone 5G.

This video shows the Samsung Galaxy Beam 3 (2021).