As known, traditional projectors use powerful lamps as a light source. Unfortunately, they have a limited resource and high heat dissipation, requiring a large internal volume and a powerful cooling system with a high noise level. But the rapid development of semiconductors opened up the possibility of using LEDs and lasers as light sources. As a result, companies quickly filled the market with a huge number of portable LED and laser projectors. Unfortunately, the low brightness and small resolution significantly limited their competitiveness due to poor image quality.
Projector phones
Moreover, several years ago, many experts predicted the displacement of budget projectors from the market by smartphones with a built-in projector. But this forecast did not come true for a completely objective reason. Of course, the 2-in-1 models are almost always more portable and convenient. But in this case, the huge superiority of the price-performance ratio neutralizes this factor. For example, the total cost of Xiaomi Redmi Note 8 Pro phone (about $ 200) and legendary miniature RIF6 CUBE projector (about $ 300) is commensurate with the value of one of the best Blackview Max 1 projector phone.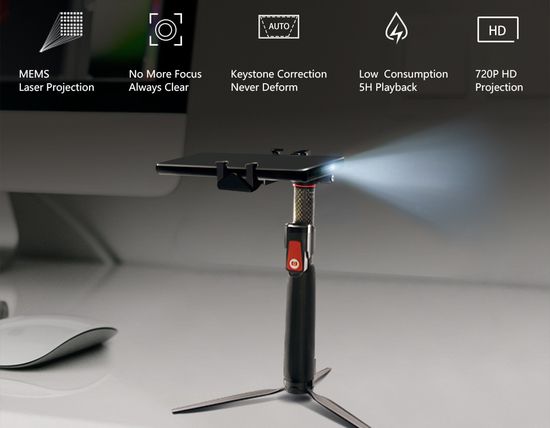 But their specs are much higher.
Perhaps, the improvement and reduction in the cost of MEMS technology will gives a new impetus to the development of this direction, but today projector phones segment is practically not developing.
"Handmade" projectors
Curiously, but competition has come to budget projectors from the "handmade" projectors. Inventive people have guessed to use the screenst of modern smartphones as a source of high-quality images. Indeed, many modern phones use OLED screens with excellent contrast, approximately 400 ppi resolution, wide color gammut, etc. An empty shoebox, an ordinary magnifying glass, glue and scissors allow a person, even without skills, to make a projector with a sufficiently high image quality.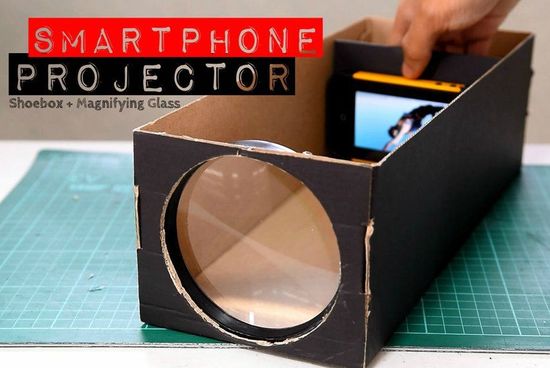 In addition, this simple work will allow parents to spend exciting time with their children, many of whom will be happy to participate in the manufacture of such a projector. Next, the smartphone is installed in a box on some kind of simple stand (considering optical inversion, its screen should be flipped), and is switched on to play video content (of course, at maximum screen brightness). After the magnifying lens, a large image is displayed on the screen or any light surface. Of course, watching such a video would require darkening the room due to the low brightness of the smartphone. In addition, the smartphone will not provide the required volume and sound quality.
Today this idea is very popular. As a result, the Internet offers many detailed step-by-step instructions for making a projector. But of course, this exotic is unlikely to affect the popularity of traditional projectors.
Screen mirroring technology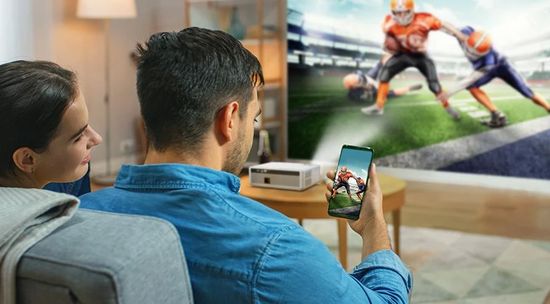 Digital technologies have launched the development of various portable small-sized devices, including laptops, phones, tablets, etc. At the same time, the task arose to ensure high image quality. But, as known, expanding the color gamut, increasing the size and resolution dramatically increases the power consumption of the screen, which is limited by the battery capacity.
Screen mirroring technology solved this problem very gracefully. Moreover, its rapid development has opened up new prospects for projectors. Today Chromecast and Miracast technologies provide reliable and easy streaming of video content over HDMI cable or via WiFi, eliminating the traditional problem of content scarcity for projectors. What's more, Chromecast has made projectors unrestricted access to all content on the Internet.
Budget and mid-budget portable LED projectors
The general trend in the development of consumer electronics remains unchanged. Manufacturers continue to actively develop the budget and mid-budget segments, reducing efforts in the premium segment. Great and affordable drones, including Holy Stone quadcopters, Snaptain models, DeeRC drones, SJRC and Ruko drones, and, of course, DJI lineup including new Mavic Mini, Mavic Air 2, Mavic 2 Pro, etc illustrates this trend perfectly. This list can be supplemented by 75-inch Vizio TV with unprecedented price less than $ 1,000 and 65-inch Samsung Q60T less than $ 900, sensational Xiaomi Redmi Note 8 Pro phone with excellent specs for only $ 225, etc.
Of course, projectors are no exception. Over the past few years, companies have presented a large number of budget projectors with great specs, including Vivimage C480, Vankyo Leisure 3, AZEUS RD-822, Apeman LC550, etc.
This year Auking and Jinhoo models, Artlii and QKK projectors and great TopVision T6 and T25 have added to the bestseller list.
Of course, LED mini projector does not provide the advertised 150″-300″ projection size diagonally. More precisely, their optics can easily display such a projection, but the image will be too faded and dull. High quality on a very large screen is available today with expensive 4K HDR 3LCD Epson, DLP BenQ, Optoma, ViewSonic, etc. But acceptable image quality with a diagonal from 60 to 100 inches is quite real for many modern mini LED models. Combined with extensive connectivity through screen mirroring technologies, this is enough to compete successfully with modern TVs.
Wireless connection
Miracast (Wi-fi Direct)
Pros
– surround sound support;
– display of full content from the phone screen;
– WPA2 encryption with improved security;
– high quality video.
Connection algorithm includes launching Miracast on the projector, settings and selection of the projector as a screen ("Screen" mode).
Chromecast uses dongle to connect to cloud via media's online link from phone.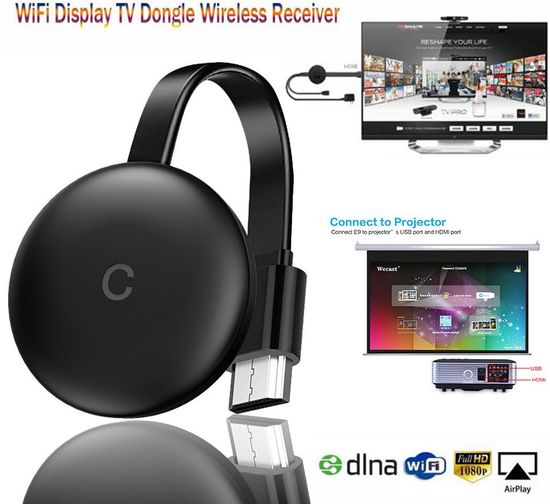 Connection algorithm:
– turning on both devices and connecting them;
– installing the Google Home app on the phone;
– connecting Chromecast and phone to the same network;
– sync Chromecast and phone using Google Home.
WiFi way connects the projector as a second monitor.
Connection algorithm:
– connecting to Wi-fi and creating an access point on the phone;
– connecting the projector to this network;
– selection of the sub-item "Screen" in the phone settings;
– adjust the screen according to the instructions in the Wireless Projection catalog.
But this method is available only for devices with Android 4.2.2 and iOS 7 and newer. Other phones do not have a wireless screen pairing function.
Wired connection
All modern models support connection via HDMI using a mini-HDMI connector or a USB-HDMI adapter.
But projectors with only a VGA connector require an HDMI-VGA adapter. This connection significantly reduces the image quality and does not support audio.
Connection algorithm:
– HDMI connection to gadgets;
– installation of additional software on a smartphone from the list in the instructions for the projector;
– setting the frequency and resolution of the image (without auto setting function).
Fast discharge of smartphone battery is the main drawback of HDMI connectivity.
MHL (Mobile High-Definition Link)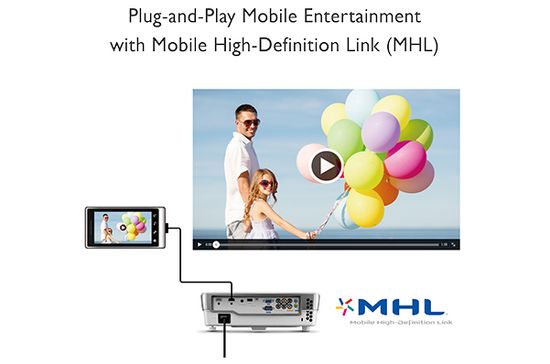 This communication standard provides HDMI quality (up to 120 fps and up to 8K resolution). But it requires a micro-USB interface on one side and HDMI / USB on the other, which are connected using adapters. It's suitable for only MHL compatible smartphone.
Connecting via a USB cable is the simplest and most common. All models have different variations of this connector. But iPhone requires a Lightning-USB adapter.
An MHL-enabled projector uses a smartphone as a flash drive. For the connection, it uses HDMI via a micro-USB to HDMI cable.
Connection algorithm:
– connection via USB;
– installation of the necessary drivers;
– selection of USB as a signal source;
– file selection.
It supports only the media file formats supported by the projector. In this case, projector reads data from the phone as from a flash drive and cannot be used as a second monitor for apps or games.
The list of adapters for connecting a smartphone to a projector:
– USB-C – HDMI – the phone does not support MHL and does not have mini-HDMI;
– MHL – HDMI – MHL supported;
– HDMI-VGA – only VGA support;
– Lightning – USB, Lightning – HDMI – iOS devices (iPhone, iPad).
Conclusion
Many modern LED mini projectors costing between $ 100 and $ 150 provide 2,000 and higher contrast ratio, 720p or 1080p resolution, and brightness from 2,000 ANSI Lm (3,500-4,500 Lux for screens up to 100 inches). This is enough to create a high-quality image on a screen with a diagonal of up to 100 inches in a darkened room.
In addition, screen mirroring technologies have virtually eliminated the video content problem. For example, Chromecast provides access to virtually unlimited Internet content. Many models already support WiFi wireless connection.
Finally, the mini form factor and large enough capacity of built-in battery make it very convenient for traveling or as an Outdoor Movie Projector.
Thus, a projector costing just over $ 100 and a smartphone allow the user to create a portable budget Cinema System with a diagonal of 60-70 inches and access to unlimited content from the Internet. In principle, such a solution can become a completely adequate alternative to the traditional TV 65 "-75" costing $ 500 and more.
This video demonstrates the settings of screen mirroring for your iPhone to Chromecast.