In recent years, many have used projectors to create Home Theaters. Of course, the companies responded adequately to the high demand and today this segment is well developed. High brightness, contrast and resolution of expensive modern 4K HDR Epson, BenQ, Optoma, ViewSonic projectors provide excellent quality even on a large screen without additional dimming. What's more, fierce competition is forcing companies to continually improve projectors by improving components and video processing algorithms. As a result, the market offers many new Home Theater projectors every year.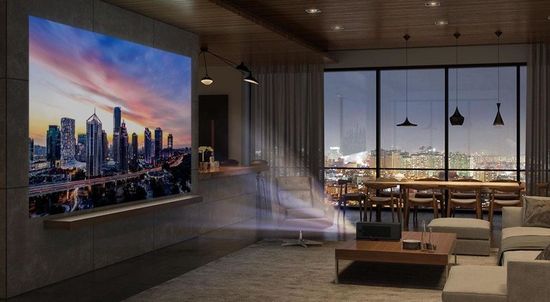 At the same time, the increase in power and efficiency of modern LEDs also has radically expanded the capabilities of budget mini, pocket and pico LED projectors. Of course, their capabilities are much more modest, however, many of them have already been able to provide acceptable quality on a screen with a diagonal of up to 100 inches. This qualitative transition has radically changed the situation, allowing many to use a projector instead of a TV. As a result, demand rose sharply, companies reacted and over the past few years filled the market with budget LED mini projectors with high specs, including the super popular Vivimage C480, Vankyo Leisure 3, AZEUS RD-822, Apeman LC550, etc.
Modern LED mini projectors
The projectors continued to be inferior to TVs due to the complexity of the connection of content. Today, the rapid development of in screen mirroring technologies, including Miracast (Windows friendly), Chromecast (Google friendly) and AnyCast (Wi-Fi), is changing the situation by radically solving this problem.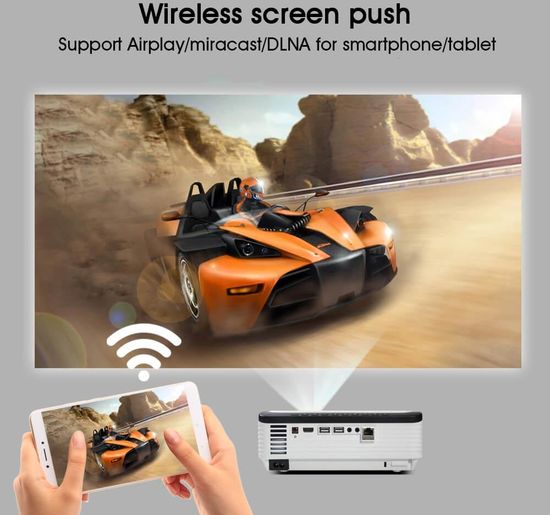 As a result, today a kit of smartphone and budget LED projector allow the user to create a very inexpensive media center with relatively acceptable quality.
It certainly won't deliver the advertised 150 "-300" diagonal projection dimensions. More precisely, their optics can easily display such a projection, but the image will be too faded and dull. But high quality projection from 60 to 100 inches is quite real for many models, which is enough to compete successfully with TVs.
Of course, LED mini projector does not provide the advertised 150 "-300" projection size diagonally. More precisely, their optics can easily display such a projection, but the image will be too faded and dull. But high quality projection from 60 to 100 inches is quite real for many models. This is enough to compete successfully with modern TVs.
This year, the bestseller list has expanded with the excellent Artlii and QKK, TopVision, LED mini projectors. Of course, AuKing and Jinhoo projectors are also among the leaders of this long list.
AuKing M8-F portable projector
Some consumers attach importance to the place of product production. As known, China Shenzhen Honghui Lianxin Technology Co LTD produces the very popular dash camera and webcam under the AuKing brand. But sellers from eBay for some reason indicate the Item Location of AuKing M8-F projectors in Tokyo, Japan. Possibly Chinese and Japanese companies are linked through ODM-OEM-contracts or a Japanese seller provides re-export of Chinese projectors.
This 2020 upgraded LCD projector with built-in speakers sells in America for about $ 85.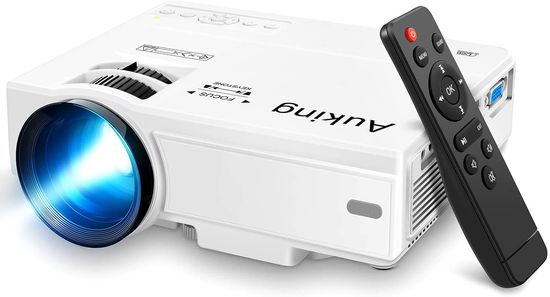 At Native Resolution of 800 x 480, model reproduces content up to Full HD 1080p. But of course the projector can only generate 800 x 480, downscaling the content from Full HD to WVGA (Wide Video Graphics Array).
M8-F provides 2800 Lm brightness, 2,000: 1 contrast ratio, 1080p resolution supported, and ±15° Keystone Correction. Its LED lamp life time reaches 55,000 hrs.
According to the company, the improved projection technology provides 35% Brightness Improved.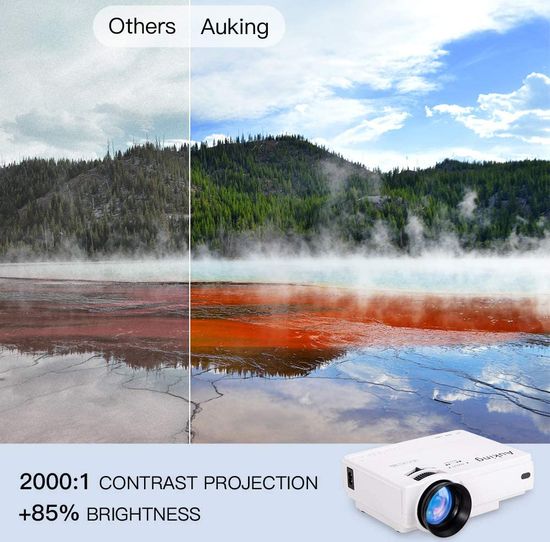 Projection size ranges from 32-170 inch with a Projection Distance of 5 to 16 ft (1.5-5 m).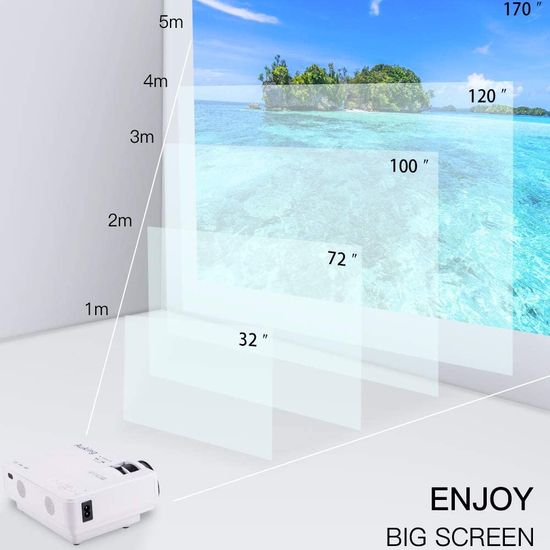 The projector enables to connect:
– TV Stick / Laptop / DVD / PS3 / Xbox / TV box via HDMI input;
– PC via VGA jack;
– TV/ video devices via AV input.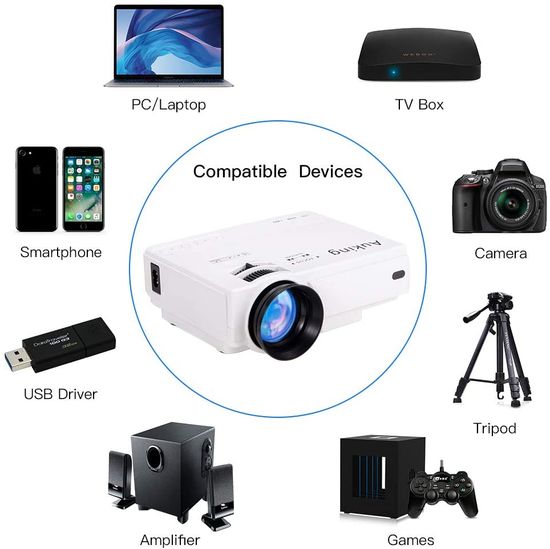 Connect with iPhone, you need an extra Lightning to HDMI adapte (not included). When connect with Android phone, you need an extra Micro USB/ Type C to HDMI adapter (not included). Unfortunately, projector is incompatible with Netflix and Hulu due to copyright issues.
Despite the high brightness in specs, the projector requires dimming when viewed. Otherwise, the image will be dim even in diffused daylight.
Jinhoo M8-TPA Outdoor Movie Projector
Jinhoo M8-TPA is manufactured by China's Shen Zhen Lian Ji Xing Technology Company Limited. Although the company was established in 2017, its team has specialized in developing projectors for nearly 20 years. Today the company develops and manufactures projectors and smart home appliance. The lineup of new Jinhoo projectors includes the super budget J15 Beamer and Mirror Beamer for about $ 25, the elegant T8 Beamer ($ 140) and the bright Pico C3 ($ 80).
The price of latest update Jinhoo M8-TPA ranges from $ 130-150. The company positions this model as Outdoor Movie Projector.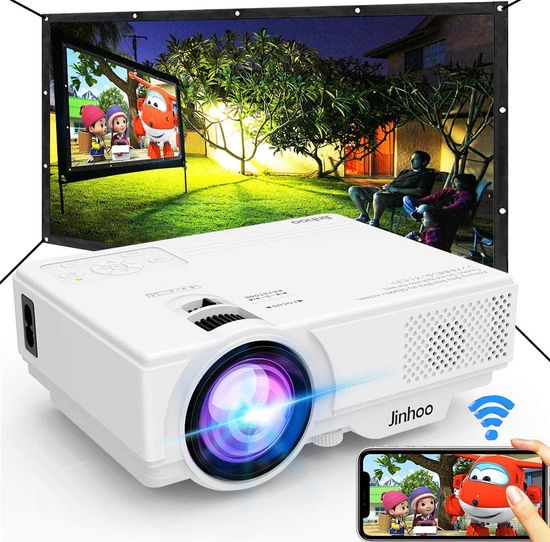 Projector comes with 100″ screen.
Its native resolution is 1280 x 720p, but 1920 x 1080p supported also. The projector has built-in stereo speakers Its LED lamp life time reaches 55,000 hrs, which corresponds to approximately 15 years of projector use. The projector also provides a Manual Keystone Correction of ± 15 °, a projection size of 32 – 176 Inch with a projection distance of 5 to 16 ft (1.5-5 m), and 2,000: 1 contrast ratio.
Over the past two years, the company has consistently improved M8-TPA. As a result, the developers increased its native resolution from 480p to 720p and brightness by about 20%.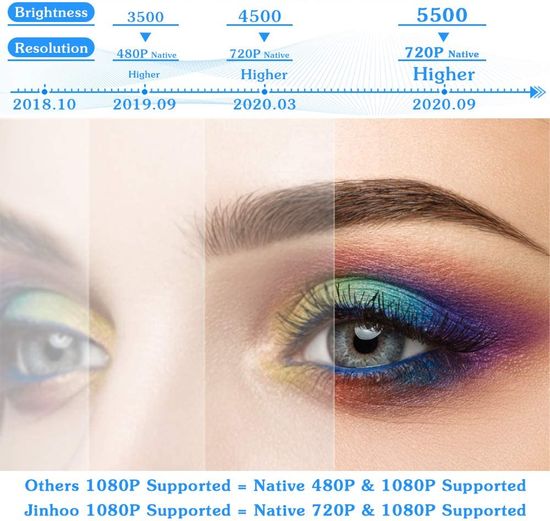 Brightness and connectivity
The indicated brightness of 5500 Lm seems unrealistic for a LED mini projector. 5500 Lux is more in line with traditional brightness level for such projectors. Unfortunately, specifications from different sellers contain different brightness values, including 2800, 5500 and even 6000 Lm. But this confusion is typical of projectors. Today companies list the brightness of their models in ANSI lm, LED lm, Lm, CLO (Epson) and Lux (many Chinese companies). But brightness in lumens characterizes the luminous flux of the projector, while Lux refers to screen illumination. Simplified, 1 ANSI lm provides 1 Lux on a 1m² screen. Accordingly, 1 ANSI lm = 1 Lux for 57 inches diagonal, and 3.2 Lux for 100 inches diagonal. The company's website contains 5500 Lux. In this case, 5500 Lux corresponds to approximately 1700 Lm for 100 inches diagonal. But at this brightness, even diffused daylight make the image too dim on the big screen. Therefore, viewing in high quality on a large screen requires dimming.
Undoubtedly, very wide connectivity is one of the main pros of the projector. Jinhoo M8-TPA supports Wi-Fi & USB connectivity and has HDMI, VGA, AV and USB ports.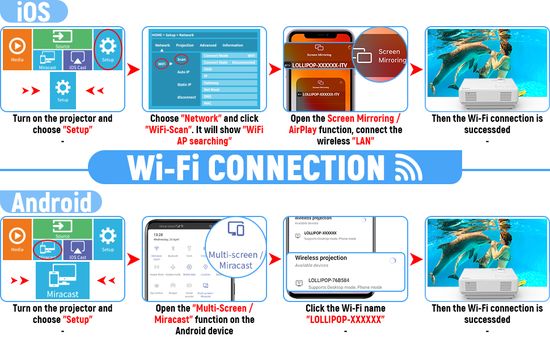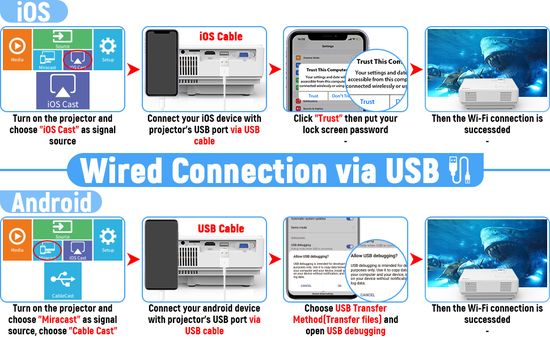 As a result, this mid-budget model can outperform many premium projectors in terms of connectivity.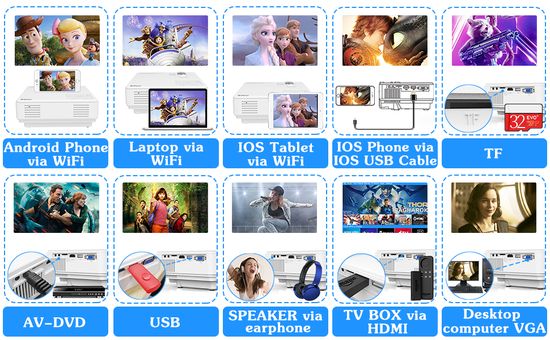 In addition, the developers has updated the Wi-Fi setup connection configuration, making it easier and more stable. It provides directly synchronizing the smartphone via USB cable for the Android and iOS devices without additional HDMI adapter.
Conclusion
The $ 85 AuKing M8-F delivers 2800 Lm brightness, 2,000: 1 contrast ratio and 1080p support at 480p native resolution. A few years ago, such specs would have been sensational for a $ 85 model. Today they are just good.
Of course, the Jinhoo M8-TPA Outdoor Movie Projector belongs to a higher class. Priced from $ 130 to $ 150, the model offers 720p native resolution (1080p supported), comes 100″ screen and supports WiFi connection. Probably in a few years all LED mini projectors will use WiFi to stream content, but today the list of such projectors is very short.
This video demonstrates the some features of the Jinhoo M8-TPA WiFi connection.