In parallel, the development of digital technology has launched the development process of various portable small devices. As a result, companies quickly filled the market by laptops, phones, tablets, etc. At the same time, the task arose to ensure high image quality. But increasing the size, expanding the color gammut and increasing the resolution radically increase the power consumption of any screen that is limited due to battery capacity. The developers have gracefully solved this problem with screen mirroring technologies.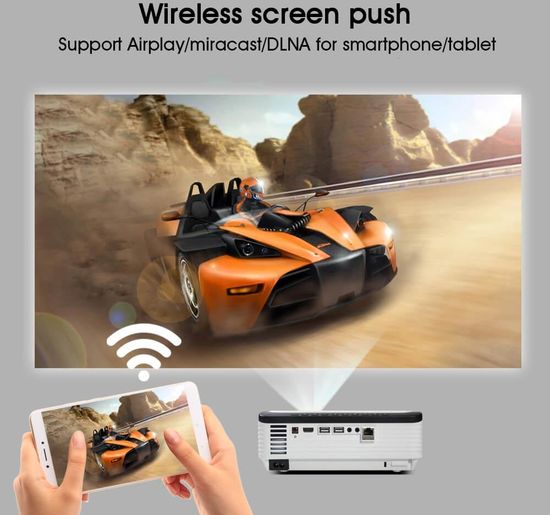 They have been evolving for almost 10 years and today provide reliable and fast content streaming to the big screen.
Chromecast, AirPlay, Miracast, MHL, Wi-Fi Direct and DLNA
Today Wireless Data Transmission can use:
– WiFi Direct (Android 4 version and newer);
– DLNA – creating a home media network via TCP / IP protocol (of course, the router must support Universal Plug and Play);
– MHL – analogue of Miracast and DLNA, but using a special cable with micro USB / USB C and HDMI connectors; it provides 4K video and games on the big screen without lags. The 2015 superMHL update supports HDR format, 8K resolution and uses a USB C cable instead of a micro USB connection;
– Miracast – improved WiFi Direct.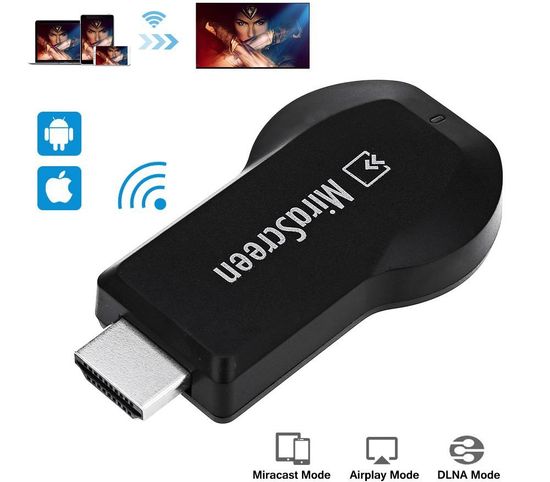 Miracast was adopted as a wireless media standard by the Wi-Fi Alliance on September 19, 2012. It streams content to the big screen via WiFi or HDMI cable. The devices work as a transmitter and receiver over a secure channel without a router. It requires Android OS 4.2 and newer;
– Chromecast – uses media's online link from phone for live streaming from the internet.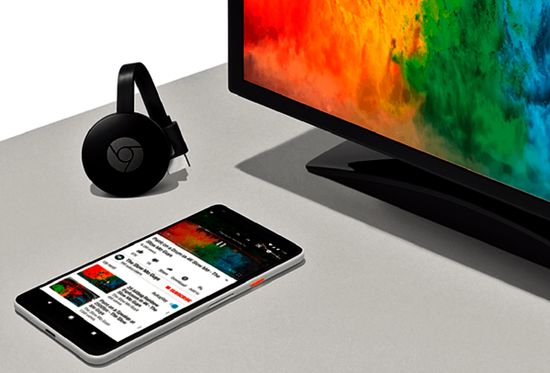 – AirPlay 2 is a significantly improved 2017 version of the AirPlay protocol for the iPhone.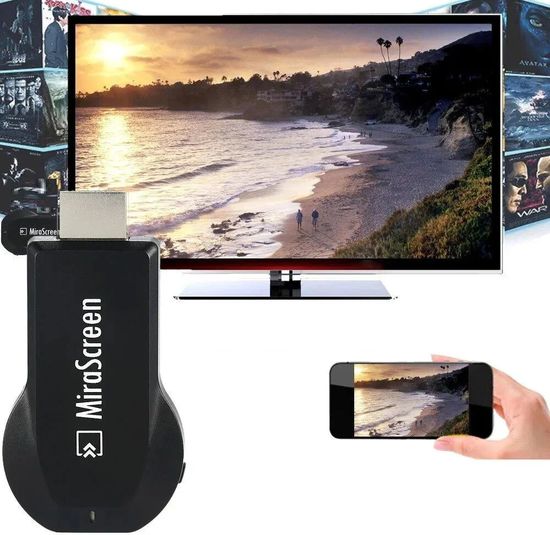 Pros: Miracast – offline work and wireless transmission, Chromecast – wireless transmission, Internet content and wide functionality, AirPlay – Apple, MHL – maximum quality, DLNA – ideal for creating a virtual media network.
Chromecast, Miracast, Anycast and Ezcast casting services
Of course, all wireless streaming devices have key differences, including supported apps, protocols, resolutions, software, framerate, etc. For example, Miracast does not need the internet, and Chromecast cannot work offline. In addition, Miracast blocks the use of the smartphone for other purposes, and Chromecast can be positioned as a streaming mediacenter.
Main specs:
– Miracast CPU runs at 600 MHz, AnyCast uses the same single-core CPU at Cortex-A9 1.2 GHz, Chromecast has dual ARM Cortex-A7 based on 1.2GHz processor;
– MiraCast uses 128MB RAM, AnyCast – 256MB, Chromecast – 512MB;
– Wi-Fi signal of MiraCast is 450mbps, AnyCast – 150mbps.
AnyCast and Ezcast
AnyCast refers to Miracast-supported streaming sticks. It uses wirelessly to cast any small screen on a large display with high resolution.
This service is very handy to cast movies or games without switching to mirroring mode. AnyCast is compatible with iOS, Android, MAC and Windows, and don't need any special apps.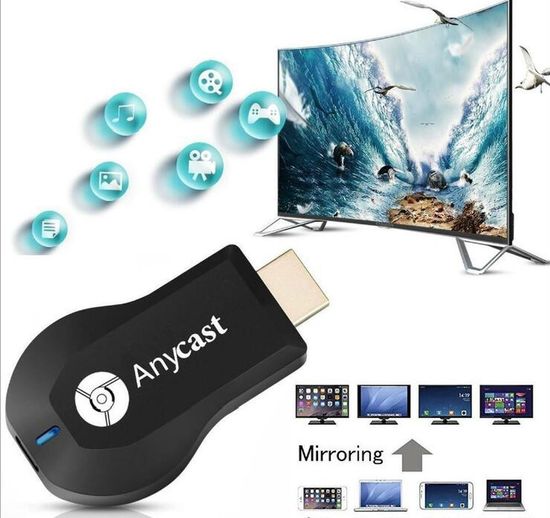 Unfortunately, it only works with active phone, discharging its battery.
Likewise to Anycast, Ezcast provides wireless screen mirroring from any device with Miracast technology. Its dongles use very powerful CPUs with support 5GHz WiFi. But they are much more expensive. For example, the price of EZCast Pro II reaches $140.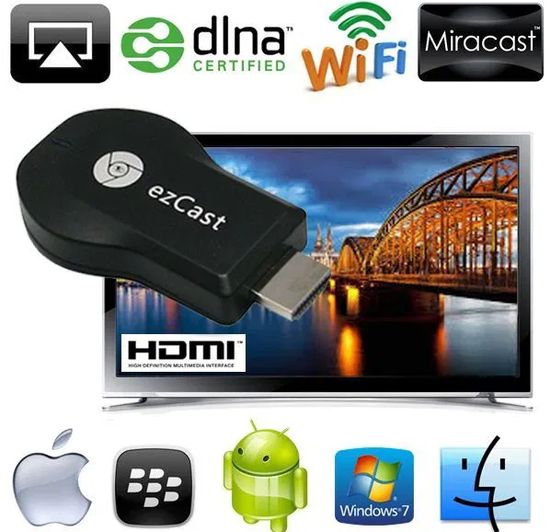 But in many cases, this high bit rate is overkill for media streaming.
Miracast and Chromecast
In fact, Miracast is a "peer-to-peer" technology or wireless standard for screen-mirroring connections via WiFi direct. It forms a wireless connection between a display device and smart gadgets (laptop, tablet, phone), providing content display on a big display. Technology does not require of network connectivity, and cannot sync with online streaming services (like Netflix). Initially, the developers created it as an wireless analog for HDMI ("Wireless HDMI").
Technically, Miracast is software or a protocol for Android and Windows devices. Apple uses its own AirPlay version.
Most modern devices support Miracast, but they require Miracast receiver, for example, a streaming stick, sold by Microsoft. Today Miracast is also known as Screen Mirroring, Cast Screen, Smart View, Screen Sharing, Wireless Mirroring, etc.
Unfortunately, this technology provides only screen mirroring without fullscreen streaming.
Today Chromecast is the most popular streaming stick that uses its own protocol. But it requires an internet connection. In fact, instead of traditional mirroring, Chromecast uses media's online link from phone, directing it to the platform buffer. For example, when playing a video from YouTube via phone, Chromecast receives the YouTube link and plays video directly from the Internet. In this case, the phone acts as a remote to adjust volume, pause, play, etc.
Of course, Chromecast works perfectly with Google products, including Google Chrome, Google Photos, Google Home, Google Nest Mini, Netflix, Hulu, etc.
Simplistically, Chromecast is an internet-based screen mirroring and works as HDMI dongle for Google. In fact, it provides screening of the complete browser on the big screen.
Today Chromecast supports phones that are based on MAC, Android 4.4.2 or later.
Features
Compatibility
– MiraCast – Android-based smartphones;
– Chromecast – Windows, MAC devices, Android, and iOS (6 or newer) based phones;
– AnyCast – iOS, Android phones and Windows-based devices.
Installation
– MiraCast – source and receiver should be compatible with MiraCast (by default, Android smartphones and OS Windows-based 8.1 or newer). The dongle is connected to the HDMI port and support "Plug and Play" (PnP) mode (quick device configuration);
– Chromecast – USB cable or adapter, needs a Wi-Fi connection, is compatible with all Google apps, different games, Hulu, Netflix, office suites, etc;
– AnyCast – dongle with Wi-Fi cable uses micro USB cable and HDMI port.
Performance
– AnyCast and MiraCast work with latency. In addition, HDCP (High-bandwidth Digital Content Protection) blocks stream Netflix or any other OTT (Over-the-top media service) platforms.
– Chromecast uses dual-band networks, and when sharing Wi-Fi, it switches to 5GHz network, keeping streaming smooth. Plus, it comes with a dedicated app. AnyCast uses third-party apps.
– AnyCast and Chromecast do not have a remote controller and use the smartphone as remote. But Chromecast supports multitask, allowing the user to use the phone in other modes. AnyCast shows the incoming calls on the mirrored screen.
– AnyCast and MiraCast work only with active phone screen and uses a single-band Wi-Fi network. Therefore, sharing a Wi-Fi network is accompanied by a lag in the output display.
– MiraCast is bi-directional and works via a wireless HDMI connection as a sender and receiver. Chromecast only works as a receiver.
– Chromecast comes with Google fast play option. It automatically loads the next episode while watching, speeding up the streaming.
AnyCast costs about $ 25, Miracast – $ 20, Chromecast – $ 35 (Full HD Chromecast – $ 70).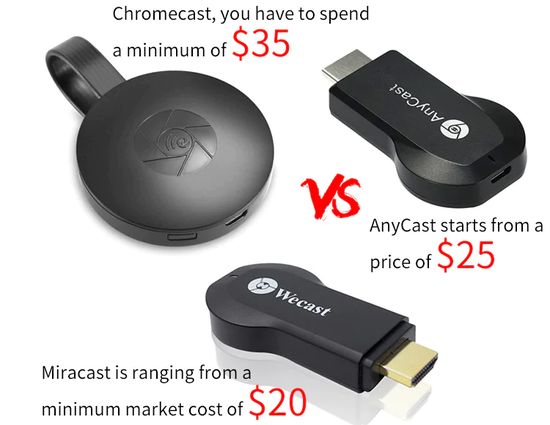 Conclusion
Miracast is good for quick connection and mirroring purposes. Moreover, it does not require an internet connection.
AnyCast works with minimal latency using data from the nearest DNS server.
Chromecast plays all browser content with media's online link from phone, is perfectly compatible with all of Google's apps, does not block the phone and does not discharge its battery. What's more, latest Chromecast Ultra model supports 4K media, HDR and 1080p @ 60 fps.
At first glance, Chromecast is objectively outperforming the competition. But pros Miracast and AnyCast provide them competitive. In addition, the high dynamics in this segment is constantly changing the situation. In any case, consumers can only welcome competition, which is driving the rapid improvement of screen mirroring technology.
This video shows the unboxing and setup of Chromecast Ultra with 4K streaming.