The VAVA brand is owned by a subsidiary of the Chinese Sunvalley Group, which was founded on 18 May 2007 under the name Sunvalleytek International Inc in San Jose, California. Today it's headquartered in Shenzhen, China. Sunvalley Group has subsidiaries in San Francisco, Tokyo, Singapore, and Hamburg, which own six consumer electronics brands, including VAVA, RAVPower, HooToo, Sable, TaoTronics, and Anjou.
The list of VAVA products includes Home Cameras and Dash Cameras, baby thermometers, headphones, etc. VAVA UST laser 4K projector has become a new and very successful business line. The developers managed to create a model with an excellent price / quality ratio. Already several years VAVA 4K successfully competes with living room laser projectors from Optoma, Epson, Sony, Hisense, ViewSonic and LG.
Living room projectors
But its success is also due to a very accurate commercial forecast. Over the past few years, the popularity of UST laser streaming projectors for the living room has grown rapidly. Huge progress in development of the laser light sources and screen mirroring technologies have practically solved the problem of brightness and content. In turn, this factor has radically expanded the capabilities of projectors as a replacement for traditional TVs.
Of course, its placement in the living room was a problem. Traditional Home Theater projectors usually have a ceiling mount. In addition, in the Home Theater room a projector can be placed on a coffee table in the center. But in the living room, such a solution is not always convenient due to the complex installation on the ceiling or wires on the floor.
Companies have successfully solved this problem by developing the UST (Ultra Short Throw) projectors. Their difficult and expensive optics with Throw Ratio less than 1 (0.20: 1- 0.8: 1) projects diagonal image from 100″ at a Throw Distance of just over 10″.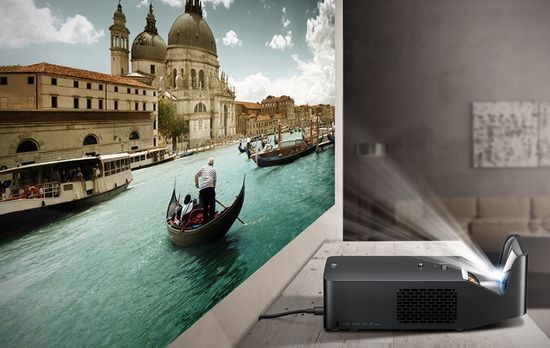 But due to the steep angle of projection, the light partially is reflected upwards. Therefore, its effective reflection towards the viewing area requires a special UST ALR (Ambient Light Rejecting) screen.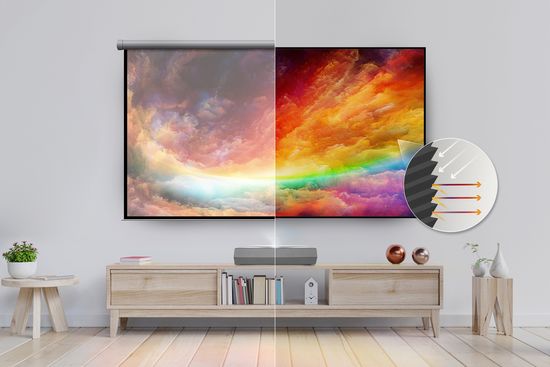 Unfortunately, they cost about $ 1,000 for a 100-inch screen. Significantly cheaper ALR screen also quite successfully solves this problem, but with a partial loss of luminous flux. Of course, this factor should be considered when choosing a projector. In particular, a large margin of brightness will help maintain high image quality in a living room with diffused daylight, even on a conventional ALR screen.
Main specs
As known, in mid-April 2020, VAVA updated firmware for VA-LT002 to Version 1.64. The new version has eliminated image quality issues for SDR and HDR videos, added 3D mode, etc.
This model is compatible with HDR10 high dynamic range content, but does not support HLG.
It generates colors using a 0.47-inch DLP XPR imaging chip, a blue-laser source, and a phosphor wheel.
VAVA is available in white and black, support Ultra HD 4K (3840 x 2160) resolution and Full HD 3D, uses 10-bit Color Processing, provides 2,500 ANSI Lm brightness and 1,500,000: 1 dynamic contrast ratio (3,000: 1 full on / off – native contrast), and has a beautiful built-in Harman Kardon Sound Bar.
In addition, the projector provides a huge Image Size up to 150" with Throw Distance of 1.3 ft – 2.6 ft (0.4 m – 0.8 m) at Throw Ratio of 0.23: 1.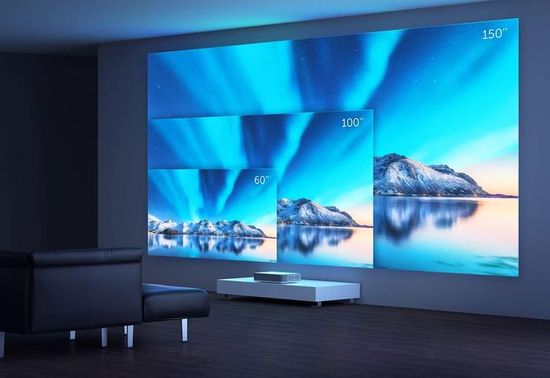 But a 100″ image requires only 7.2″ distance between the projector front and the wall.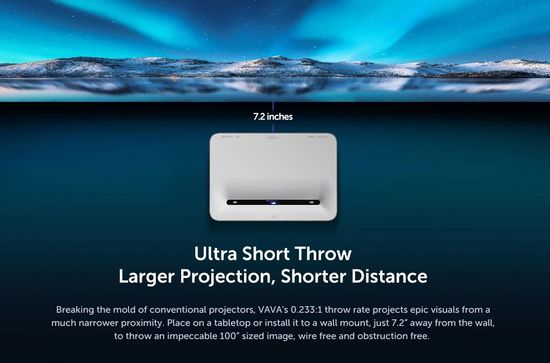 Finally, the VAVA 4K has 2GB RAM, Horizontal & Vertical Digital Keystone correction, Frame Interpolation, HDR mode, Android OS and supports Streaming Apps. Its Input Lag is 98ms and 101ms (4K).
The projector also uses Intelligent Eye Protection with IR sensors. It immediately dim the laser to the lowest level in case of human detection. Of course, an adult is unlikely to look into the laser during its operation. But this precaution will clearly be useful for curious children and pets.
Despite the use of 3 fans for cooling, the audible noise of the projector does not exceed 32 dB, which is great for a bright model.
ALPD 3.0 laser engine
Projector uses well-respected Appotronics ALPD 3.0 laser engine, which is one of its main pros.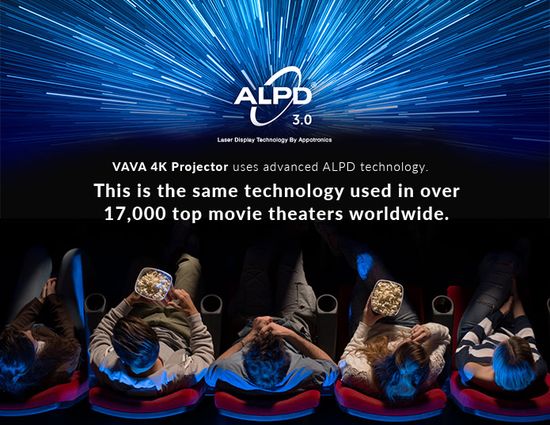 This technology is the most innovative today. As known, ALPD (Advanced Laser Phosphor Display) technology was developed in 2007 by Chinese high-tech Appotronics Corporation Ltd, which is one of the world leaders in the development of semiconductor light source. In particular, the company has more than 1,450 patents in the field of laser displays. In Aug 2018, the company released ALPD 4.0 version already.
The use of high-efficiency and cost-effective GaN (gallium nitride)-based blue lasers allowed the company to solve the problem of temperature instability for red laser materials, and the low efficiency and short life of green lasers. Moreover, the combining the high brightness with the high performance of fluorescence eliminated the visual speckle issue due to the coherence of laser light sources.
In fact, ALPD is based on the laser-excited fluorescent materials and mixed multi-color laser lines. It provides higher color accuracy and wider color gamut. According to the developers, ALPD increases light source efficiency by about 20%, compensating for the loss of light output at the color wheel of the single-chip DLP projectors. Finally, lower blue light energy and lower strobe frequency reduces eye fatigue.
Overall, ALPD 3.0, an improved three-segment color wheel, a enhanced NTSC range of 85%+, together with a red light projection rate improved by 60-80% provide high accuracy of color rendering.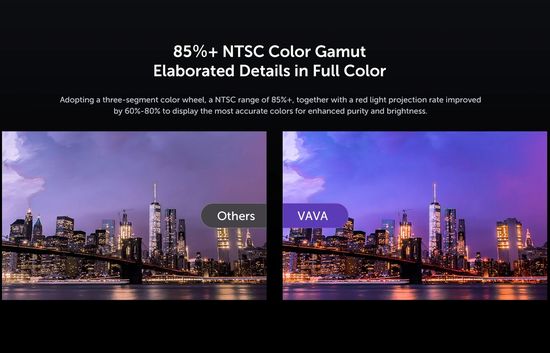 In fact, the covered color gamut exceeds the Rec.709 color space, but smaller than the DCI-P3 gamut (~ 130% Rec. 709, 90% DCI-P3, and 60% Rec. 2020).
Additionally, ALPD extends laser life by about 25%.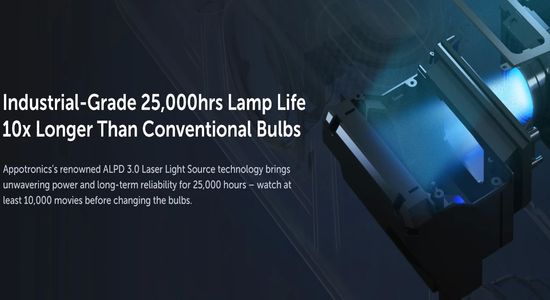 Settings
The projector has independent red, green, and blue gain controls to adjust color temperature that directly affect white and color accuracy.
Unfortunately, the cons list also exists and includes:
– full-screen picture adjustment menu does not allow to visually assess their effectiveness;
– Sound menu is only accessible from the Home menu. Probably, it's more convenient in the slide-out menu;
– motorized focus control uses only test pattern and requires exiting the live program;
– two-position Brightness control is always reset to Standard setting by default without storing the High setting. This is inconvenient for frequent daytime use of the projector in a living room in daylight. Moreover, the High level differs little from the Standard, which is set almost at max;
– the model does not store settings for different color modes.
This option is especially important for UST living room projectors, because the optimal settings for Contrast and Brightness differ significantly, for example, for dark-room SDR, bright-room SDR, and dark-room HDR viewing.
The VAVA only stores one tuned picture preset per HDMI input. Therefore, any adjustment is actually for all picture presets on all inputs. But today, most premium projectors provide independent settings for multiple presets on each input;
– no control for selecting overall gamma with SDR content and no HDR tone-map setting;
– no RGB Offset controls and color management system (CMS) to adjust the red, green, and blue color points.
Most likely, the company will eliminate them in the new firmware. But perhaps simplifying custom settings is a strategic choice of company. After all, a New York chef is hardly a specialist in calibrating complex electronics, and high-quality presets are much more convenient for him. Maybe in the future, companies will solve this problem, for example, through the remote calibration service.
Color Modes
The VAVA has a five color mode presets for each input, including Standard (the default), Movie, Colorful, Sports, Customized and PC for a computer. Each mode offers four Color Temperature settings, including Warm, Standard (the default), Cool, and Customized (access к RGB Gain controls). The adjustment of most parameters is available for each input only in the Customized mode.
Dark-room SDR
Color reproduction with the presets projector with previous firmware 1.42 version was far from ideal. But the new firmware has practically eliminated this problem.
Dark-room HDR
Calibrated SDR settings are great for dark-room HDR with a wide range of HDR10 content.
Bright-room SDR
The default PC mode with the Standard or Warm color temperature provides the best result. But in daylight, the image quality is much more dependent on the screen, lowering the value of the settings.
3D Viewing
New firmware contains 3D menu with selection of 3D type for 3D disc (Left Right, Top Bottom and Frame Encapsulation). Unfortunately, the projector does not automatically detect 3D content and does not offer dedicated 3D picture mode. In addition, the image is too dark even at maximum brightness in a dark room and has a red tint. But ghosting and parallax error are practically absent. In principle, this quality is unlikely to suit 3D fans, but it's quite acceptable for viewing.
3D mode requires DLP-Link glasses.
Kardon-branded Sound Bar & Aptoide platform
As an all-in-one entertainment center, VAVA 4K has a built-in Sound Bar and smart streaming platform.
Traditionally, the Harman Kardon-branded two-channel stereo system is premium.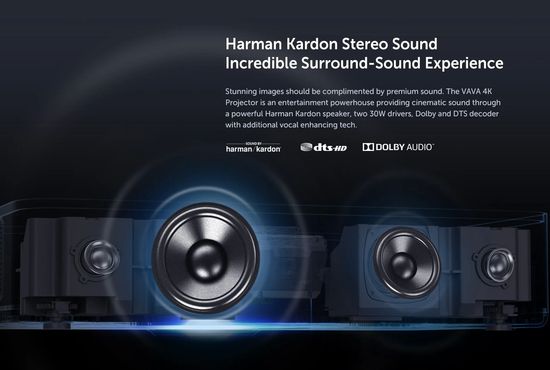 Each channel uses a 2.75-inch midrange and 1.5-inch dome tweeter (ABS + PC) in separate cases. Additionally, passive radiators optimize the bass. Instead of standard PCM digital audio, the projector uses Dolby Digital Plus and DTS-HD decoding on-board, which further enhances sound quality.
The 30 watts to each channel provide a total of 60 watts. The audio menu offers three settings.
When tested, the projector provided peaks of up to 90 dB from 10 ft in the Theater mode. This volume level is more than sufficient for most people in a medium-sized room. In addition, the system perfectly reproduces dialogues without distortion at any volume setting.
The VA-LT002 runs the Android OS, using the Aptoide smart TV platform for downloading of VAVA's streaming apps.
Unfortunately, Aptoide platform and its apps don't work very well with many services, including NBC, Amazon Prime Video, and Netflix Player. But adding an inexpensive Amazon Firestick, Roku, Google Chromecast or other 4K-compliant streaming player solves this problem easily. They support a wide range of compatible apps and have easy navigate.
Pros & Cons
Pros
– high image quality after adjustments;
– excellent on-board Harman Kardon sound system;
– very good value for money;
– 25,000 Lamp Life;
– ALPD 3.0 laser engine;
– 130% Rec. 709 color gamut;
– 150-inch Image Size;
– Intelligent Eye Protection.
Cons
– accurate color requires calibration;
– limited number of settings and not very convenient access to them;
– no adjustments for HDR mode and HDR brightness control;
– not always correct operation of Aptoide platform;
– Input Lag almost 100 ms;
– average quality of 3D content playback;
– possible focusing problem for 150-inch image.
A 150-inch image can have a focusing problem at the center and the four corners simultaneously, which is common with most UST projectors. Perhaps industry leaders deliberately limit their UST models to 130-inch picture for this reason. It's also scary to imagine the price of a 150-inch UST ALR screen, given the $ 2,000 of 120-inch screens.
Conclusion
The prospect of competition with recognized industry leaders did not embarrass the management of the young ambitious company – VAVA burst into a saturated market and succeeded.
Today VAVA 4K successfully competes with the popular Optoma CinemaX P2 4K laser projector, and with the great Epson EH LS300 UST model, from а new Epson EpiqVision series.
The CinemaX P2 is brighter (3,000 vs 2,500 ANSI Lm), has better dynamic contrast ratio (2,000,000: 1 vs 1,500,000: 1), lower Input Lag (67ms vs 98ms) and excellent out-of-box settings. But VAVA is cheaper ($ 2,800 vs $ 3,300), has a more powerful 60W Harman Kardon-branded stereo system and larger max image size (150″ vs 120″).
The Epson EH LS300 is significantly brighter (3,600 ANSI Lm CLO vs 2,500 ANSI Lm) and cheaper ($ 2,000 vs $ 2,800). But it is inferior in resolution (1080p vs 4K), projection size (120″ vs 150″) and audio system power (40W 2.1 speaker system by Yamaha vs 60W stereo system).
With these specs, the choice is unlikely to be easy.
The video offers an overview of the VAVA VA-LT002 4K UST laser projector.
P.S.
Like Hisense, which introduced in the fall L9G Laser TV with innovative TriChroma laser technology, VAVA also announced the new Chroma VA-SP003 4K UST laser projector.
Pros
– great rich colors;
– 1,500,000: 1 dynamic contrast ratio;
– powerful built-in Harman Kardon sound system.
Cons
– 2500 lm brightness may not be sufficient for daylight;
– controversial remote.
The light engine of this Vava 2gen model uses a triple ALPD 4.0 (Advanced Phosphor Laser Display – 'laser + phosphor' technology) light source, which provides 2500 lm brightness. Its dynamic contrast ratio reaches 1,500,000: 1. The company claims the projector covers 106% of the Rec. 2020 color space.
This UST projector is placed near the screen, forming a projection in the range of 80 "-150". VA-SP003 supports HDR10 and has Android platform with integrated apps, including Netflix, YouTube and Disney+.
Currently VA-SP003 is selling for $ 3,500 / £ 2,500 via Indiegogo, and will be available in January 2022. But MSRP (Manufacturers Suggested Retail Price) goes up to $ 4,700. For comparison, Hisense currently offers a brighter L9G (3,000 lm) with a 100-inch screen for $ 4,500.
As known, the price of any UST projector should take into account the price of special UST ALR screens, which are very expensive. Today their price is around $ 1,000 for a 100-inch screen. The company only offers it for $ 650 / £ 470, which is very cheap. But given this, the price of the model reaches $ 4,150 / £ 2,970 (Indiegogo). According to the company, its filtration efficiency reaches 92% of the ambient light. As know, this factor directly affects the contrast and color vibrancy.
In general, to the chagrin of TVs manufacturers, the living room projectors segment is being replenished with another great model.