The trend of TV screen size increasing has been dominating for several years. Even 10 years ago, any 65-inch TV was automatically positioned as a premium model. Today, even the mid-budget segment offers 75-inch models at a relatively affordable price.
But the further increase in TVs screen sizes has been accompanied by a sharp rise in price, especially in premium OLED and microLED panels based on self-emitting LEDs. In particular, the size of Samsung microLED panels is not limited in principle due to modular design that integrates 13-inch panels.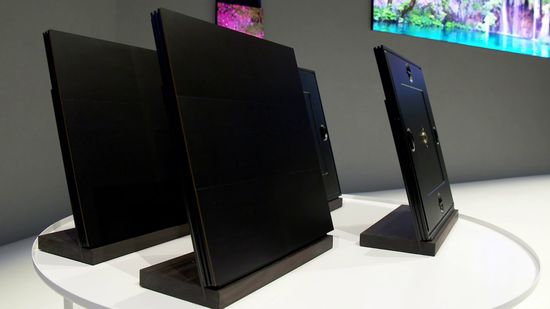 Like OLED panels, they provide amazing quality with almost infinite contrast at high brightness, but are fabulously expensive and are unlikely to replace traditional models in the coming years. At CES 2021 the Samsung unveiled the 110-inch microLED panel with a price tag of over $ 150,000.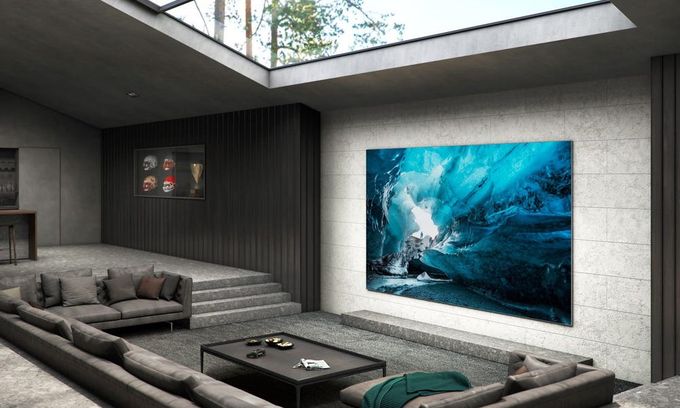 In principle, traditional modern LCD panels are much cheaper and provide a fairly high image quality. But today their maximum size is limited to 85-inch models starting at $ 1,800.
As a result, several years ago consumer demand created a new niche in the high-end home cinema segment with screen sizes from 100 inches and above. Of course, the idea of replacing TV with a projector was obvious, and their developers took advantage of the favorable conjuncture.
Projection innovation
In addition to consumer demand, the success of the new direction was due to several technological innovations, including advances in semiconductors, screen mirroring technologies, Ultra Short Throw (UST) image projection, and high performance Ambient Light Rejecting (ALR) screens.
Traditional lamp-based projectors provide high brightness, but the powerful lamp gets very hot. Accordingly, its cooling requires a large internal volume of the projector, and a powerful fan, the noise of which creates discomfort when viewing.
The rapid development of semiconductors has allowed developers to replace lamps with a solid state light engine. Modern solid state light engines are relatively inexpensive, provide fairly high power, require virtually no cooling, and have a lifespan of over 20,000 hours.
Even 10 years ago, projectors were significantly inferior to TVs in terms of content accessibility. Screen mirroring technologies have radically solved this problem by providing projectors with virtually unlimited content using Chromecast, Miracast, Anycast, Ezcast, etc.
As known, the viewing distance of traditional lamp projectors usually ranges from a few meters or more. Typically, these models are placed on a table in the middle of the room. But the device requires wiring to connect. Of course, placing the projector on the ceiling solves this problem, but its installation is quite difficult.
Several years ago, this problem attracted the attention of manufacturers and they successfully solved it. In October 2015 LG unveiled the first Ultra Short Throw (UST) PF 1000. It provides projection from 60 to 150 inches at a distance of 4 to 15 inches and was placed almost close to the screen.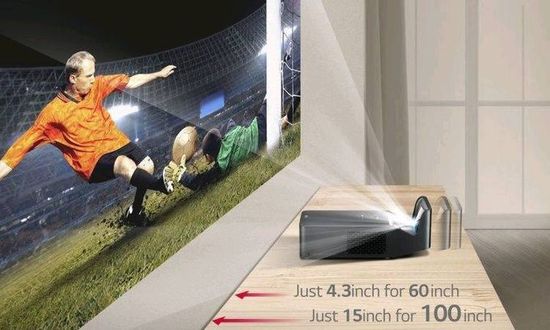 But, of course, it was significantly more expensive than projectors of a similar class. Today the companies offer a large number of excellent UST models at a relatively affordable price.
As known, the image quality directly depends on the ratio between the projector brightness and the ambient light. A low-power projector provides a dim image even in diffused daylight. Quite powerful modern laser projectors provide a brightness of several thousand ANSI Lm.
The projector manufacturers strongly recommend using them with ALR screens. Moreover, some companies sell projectors with screen only. But the price of ALR UST screens starts at $ 1,000 per 100 inches and reaches almost $ 2,000 per 120 inches. The high price is due to the complex surface texture, which reflects light falling at an acute angle into the viewing area.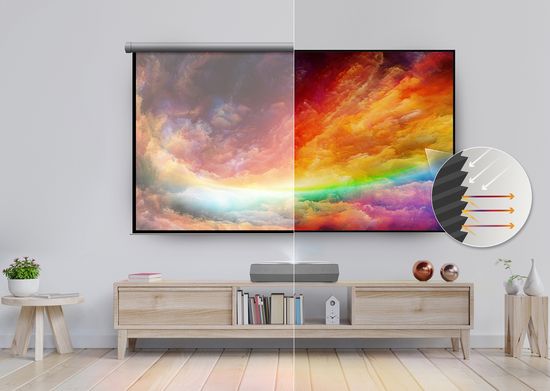 The companies' logic is well founded. Caring for their reputation, companies strive to ensure high image quality even in bright enough ambient light.
However, this strategy seems controversial. The additional screen significantly increases the price. At the same time, the user can receive a screen as a birthday present, win a lottery or save it from a previous projector. In addition, bright sunlight is unlikely to be a problem in foggy Albion. But, of course, it will be very relevant for a veranda in sunny California.
As a result, a few years ago the market formed a new segment of living room projectors. In fact, they are powerful smart laser UST models, which may well replace the traditional TV in the living room.
In 2021, the list was expanded with the Epson EpiqVision series, VAVA and Optoma CinemaX P2 4K UST laser projectors, as well as Hisense L5F, L9G TriChroma and JMGO U2 laser TVs.
Probably, the positioning of the some UST projector as laser TV looks controversial and a bit marketing. But formally the built-in TV tuner really can receive / decode the signal as a TV. Therefore, any projector with the built-in TV tuner and with ultra wide angle lens can be positioned as a TV, the screen of which is placed outside the body.
As known, the laser projector mixes different wavelengths (red, green, and blue) to produce the desired color. A conventional laser phosphor projector uses a blue laser to generate blue, and phosphors to generate green and red. Of course, the accuracy of the 'laser' color is significantly higher than the 'phosphor' one.
Previously, projectors without phosphors based on 3-color lasers were used only in professional projectors. But in 2019, LG introduced the HU85L projector with a two-color (blue + red) laser.
The newest Hisense L9G TriChroma and JMGO U2 use an innovative tri-color laser that, according to their specs, delivers an unprecedented color gamut with 107% & 114% coverage of the BT.2020 color space, respectively.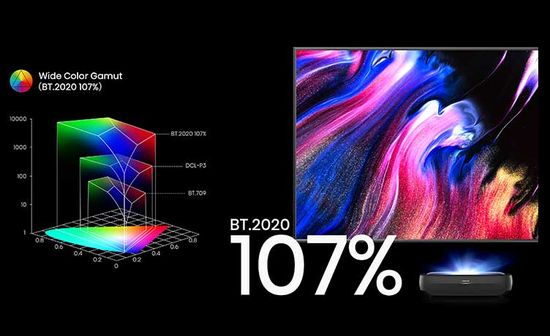 The side-by-side comparison does showcase sharper, brighter, and vivid images.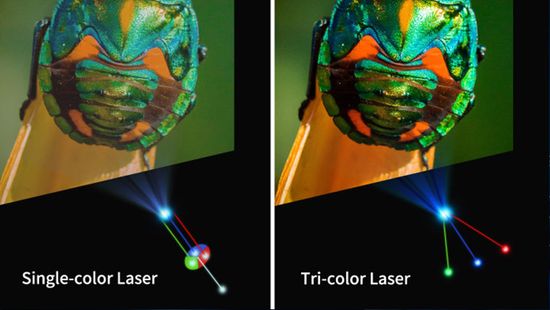 Additionally, image quality is improved due to the lack of light loss on the color wheel.
Hisense L9G TriChroma 4K laser UST TV
In recent years, the products of this Chinese giant competes very successfully with the biggest companies, including Samsung, TCL, LG, Sony, etc. Moreover, Hisense claims to be among the innovative leaders on this worthy list. For example, this year the company unveiled ULED U9G 8K TV with innovative mini LED backlit, U9DG 4K TV with innovative Dul Cell technology, the L5F Cinema and L9G TriChroma 4K laser UST TVs.
In the US market Hisense's 'Laser TVs' have been sold since 2017. This fall, the company has formally announced availability of the newest L9G Laser TV. This model complements the lineup of 100L5F / 120L5F models based single-color laser, and can be positioned as a new generation. It replaces the discontinued 100L10E / 120L10E projectors based dual-color laser.
L9G uses a 0.47-inch DLP chipset with 4K (3840 x 2160) resolution.
In addition to the very wide color gamut with innovative TriChroma system, the new model provides a rated light output of 3,000 lumens, and 1,000,000: 1 dynamic contrast ratio. The service life of the laser reaches 25,000 hours, which is already traditional for modern models. Unlike L10 Series, L9G supports HDR10, HLG formats and Filmmaker Mode.
The 0.25: 1 throw ratio provides 100-inch projection at 11.4 inches, and 100-inch projection from the 14.6 inches.
The model uses a horizontal & vertical Digital Keystone.
The voice remote activates built-in Google Assistant with a 'Hey Google' command.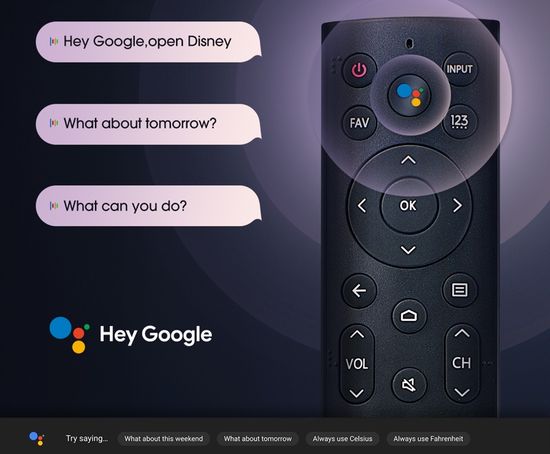 Filmmaker Mode automatically adjusts picture settings to get content looking the way the movie-makers intended.
Android TV provides access to the streaming apps, including Prime Video, Disney Plus and HBO Max.
Starting price is $ 5,500 with 100-inch Cinema or Daylight screen and $ 6,000 with 120-inch Cinema screen.
Hisense L9G sound system
The sound system in the new model uses 40W built-in speakers and support Dolby Atmos.
What's more, one of the two HDMI 2.1 inputs supports eARC for sound output from the Android TV streaming OS to the speakers.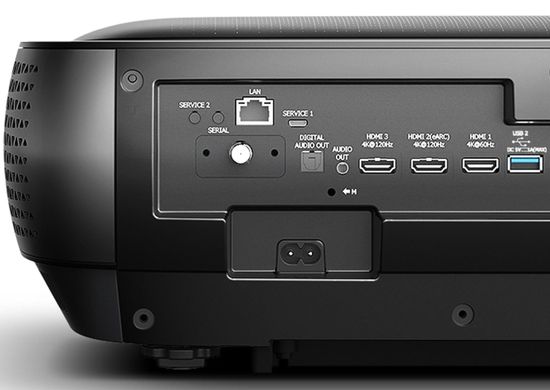 In addition, the system supports WiSA (Wireless Speaker and Audio Association) standard for multi-channel wireless surround sound connection.
As known, today it's the most innovative a hardware and software standard for delivering high-resolution digital audio wirelessly. With a high reliability, it can support up to eight channels, transmitting audio at up to 24-bit / 48kHz or 24-bit / 96kHz sample rates.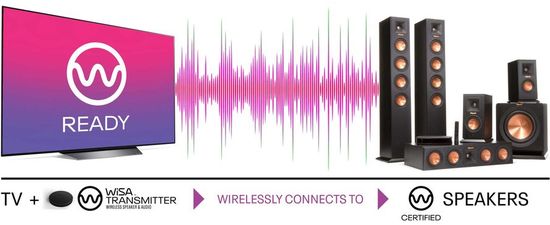 For comparison, CD quality is half as much. Moreover, modern WiSA systems support 3D audio formats, including Dolby Atmos and DTS: X.
Daylight / Cinema ALR screens and other
The L9G comes with Daylight or Cinema Ambient Light Rejecting (ALR) screens in 16: 9 aspect ratio. The Cinema version is available in 100″ or 120″ versions.
Daylight Screen has a 1.2 gain and effectively suppresses light. In fact, it is a rigid fresnel screen and is better suited for viewing in airy rooms with lots of space and lots of light.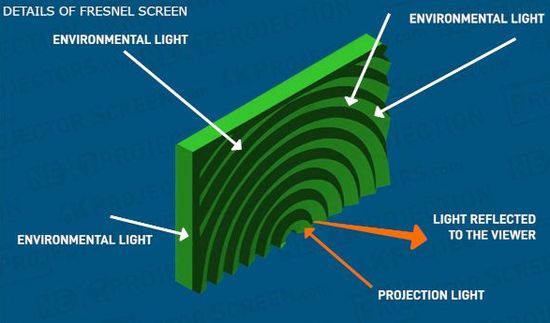 This architecture increases brightness through a more narrow viewing window. The company supplies a fully constructed screen, but only offers a 100-inch Daylight Screen.
ALR Cinema Screen with either a 0.4 gain provides better color accuracy and viewing angles, and is better suited for viewing in light controlled spaces. Its lenticular architecture boosts blacks and contrast and is intended for dim-room movie viewing with a slight loss of peak brightness.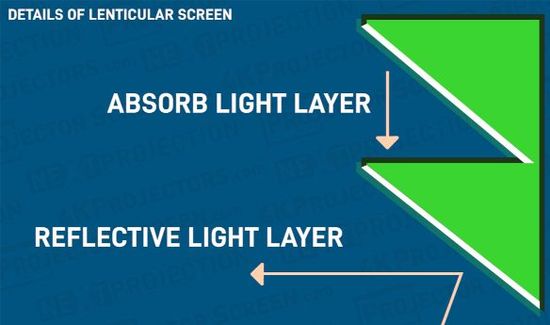 Thus, the choice of the optimal version depends on the planned projector location.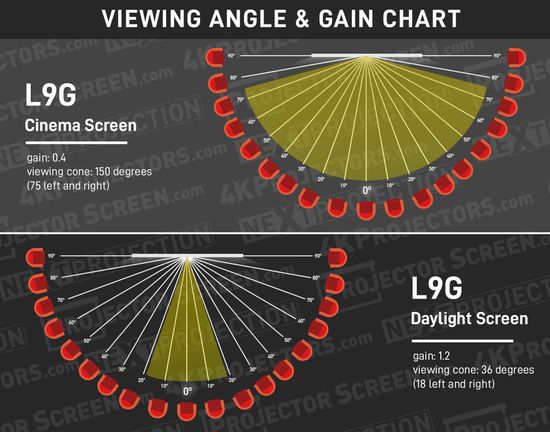 L9G supports 4K @ 60Hz Native Refresh Rate, and uses Motion Estimation / Motion Compensation (MEMC) technology.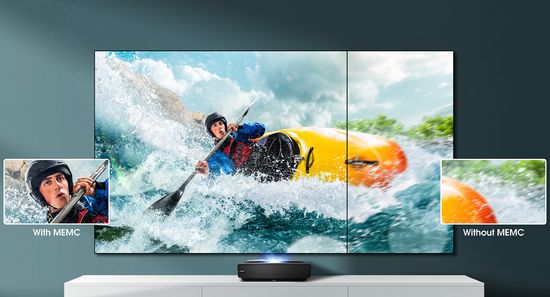 In fact, it uses traditional interpolation, creating additional frames between the original frames to smooth out motion in highly dynamic scenes.
The proximity sensors dim the lasers for eye protection when someone gets too close. It's especially relevant for families with small, curious children and pets.
Conclusion
The segment of popular living room projectors has expanded this year with:
– Epson EpiqVision series, including EH LS300 UST, EH LS500 4K UST and Mini EF12;
– VAVA 4K UST laser projector;
– Optoma CinemaX P2 4K laser projector;
– Hisense L5F UST laser projector ($ 3,240 with 120in screen).
Probably the newest Hisense L9G TriChroma Laser TV can be positioned as the most innovative due to the TriChroma tri-color laser system.
But it's unlikely to be able to enjoy the absence of competitors for a long time. Another Chinese company announced its own JMGO U2 Tri Color 4K Laser TV with a similar laser system. As known, JMGO (Shenzhen, Guangdong, China) specializes in R&D and production of smart projectors and laser TV. At only $ 2,100 or $ 2,628 with a 100-inch ALR screen on the Indiegogo platform, it has also very tempting specs. In particular, it has built-in Luna OS which is an Android-based smart TV system, and its DLP chip uses Xpanded Pixel Resolution (XPR) technology, which is Texas Instruments' pixel shifting technology. But most importantly, according to its specs, the projector provides an insane 114% coverage of the BT.2020 color space.
Of course, Hisense brand is more popular in the American and European markets, but a two-fold difference in price could be a strong argument in favor of JMGO.
This video introduces the world's first full-color Hisense L9G UST Laser TV with TriChroma Laser technology.
P.S.
At CES 2022, Hisense introduced two new models, including Hisense PX1-PRO and L5G. PX1-PRO with TriChroma technology provides 107% of BT.2020 color space and Digital Lens Focus (DLF). The DLF provides ultra-fine focus tuning for screen sizes from 90 to 130-inches via remote. L5G uses X-Fusion laser engine (blue laser + phosphor color filter), supports 83% DCI-P3 and comes with screen.