CES 2022 showcased further growth популярности of the ultra short throw (UST) projectors, which Hisense calls 'Laser TV'. Some sellers are listing them as 'living room projectors'. This name emphasizes their positioning as an alternative to traditional TVs.
Of course, one can be skeptical about the name 'Laser TV', which probably has a marketing component. On the other hand, any projector with a built-in TV tuner can formally be positioned as a TV with a screen outside the case. However, other industry leaders, including BenQ, Epson, Optoma, etc, prefer to use the traditional name 'laser UST projector'.
Indeed, the powerful modern laser light engines provide enough brightness up to 3,000 ANSI Lm. This is sufficient for using the projector in a living room even without additional dimming.
Moreover, high-performance UST ALR screens further improve image quality by reducing glare and light scattering. In addition, screen mirroring technology solves the content problem, while ultra-short throw optics eliminate the hassle of placing the projector in the living room. The projection distance of modern models is usually no more than two dozen inches, eliminating the need to run wires to the room center or use a ceiling mount.
Finally, fierce competition significantly limits prices. As a result, in a few years the market has formed a new segment of 4K HDR laser UST projectors, which provide a fairly high image quality with a size of 100-130 inches at a very reasonable price.
However, this aspect has nuances. Re-reflecting the light flux at an acute angle into the viewing area with simultaneous glare suppression requires the use of efficient, but very expensive UST ALR screens.
Of course, the companies promise high image quality, taking into account the use of an efficient screen. Moreover, in order to minimize their reputational risks, some companies sell such models only complete with a screen. But it increases the price by about $ 1,000 (for a 100-inch screen).
But this decision seems controversial. The consumer can win a screen in the lottery, get it by inheritance or as a gift, keep the screen from a previous projector, or postpone buying it until he receives a premium.
In principle, blackout curtains or window blinds quite effective reduce the ambient light. As a result, the requirements for projector brightness are also reduced, providing acceptable color saturation even on a budget ALR screen under $100. In addition, the light switch effectively eliminates the problem in the evening.
Maybe such a solution is not optimal for sunny California, but it's quite acceptable for foggy Albion. In any case, the expensive screen in the kit is often redundant. Perhaps someone will prefer average image quality on a budget screen, and spend the money saved, for example, on beer and chips.
Feeling the market situation, many companies already last year began to offer models without a screen, which seems quite logical. Excluding screen price, many UST laser projectors are already priced competitively with much smaller premium LCD TVs.
Hisense Laser TVs
Hisense is one of the leaders in this segment. In less than 5 years, the Chinese giant has introduced:
L10E (CEDIA 2018):
– 3,000 Lm brightness;
– 3,840 x 2,160 resolution;
– 1,500:1 contrast (30,000:1 dynamic contrast ratio).
– 2,700 Lm brightness;
– 3,840 x 2,160 resolution.
L9G TriChroma (instead of L10E, September 2021) – $ 4,500 / $ 5,000 with 100" / 120" screen.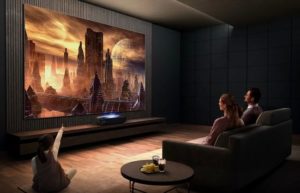 – 3,000 Lm brightness;
– 3,840 x 2,160 resolution;
– 0.47-inch DLP chip with XPR (Xpanded Pixel Resolution) fast pixel-shifting;
– 1,000,000:1 dynamic contrast ratio;
– triple laser DLP (TriChroma light engine uses red + green + blue lasers, no color wheel) – color gamut is 107% of the BT.2020 color space.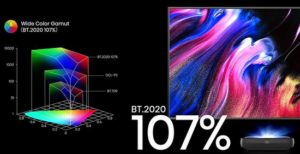 PX1-PRO (January 2022) – $ 3,500 without screen.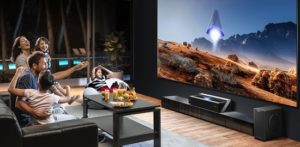 – 2,200 Lm brightness;
– 3,840 x 2,160 resolution;
– Digital Lens Focus (DLF) – ultra-fine focus tuning for 4K image for screen sizes from 90 to 130-inches via remote.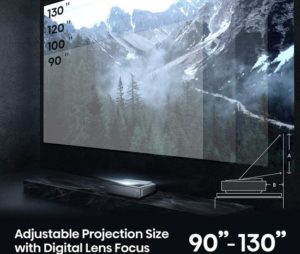 – triple laser DLP (TriChroma technology).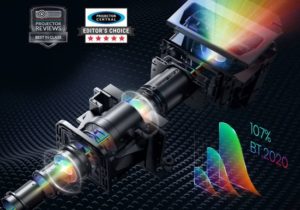 L5G (instead of L5F, January 2022) – $ 3,500 / $ 4,000 with 100" / 120" screen.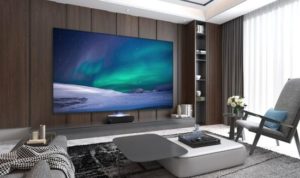 – 2,700 Lm brightness;
– 3,840 x 2,160 resolution;
– 1,000,000:1 dynamic contrast ratio;
– blue laser + phosphor color filter (X-Fusion laser engine, no TriChroma technology) – color gamut exceeds the Rec.709 standard for UHD 4K (83% DCI-P3).
Key Features
All latest models use Android TV platform, support 30W Dolby Atmos sound (40W for L9G), have MEMC (Motion Estimation, Motion Compensation), HDMI 2.1, including eARC (full signal pass-thru to surround sound system), Game Mode with ALLM (gaming console automatically switches the projector to max game performance at low latency), Filmmaker Mode (no processing adjustments), support WiSA standard (wireless multi-channel surround sound system) and HDR10 / HLG signals.
In addition, the projectors have an eye-protection function. Of course, an adult is unlikely to look into a working laser, but this feature will be useful for a curious child or pet. In this case, the motion sensor generates a signal and the projector reduces the laser power to a safe level.
Voice Remote integrates the projector into your smart home ecosystem with Alexa support and built-in Wi-Fi, Bluetooth, and Google Assistant. Input lag is approximately 30 ms, which is acceptable for many casual gaming.
Their throw ratio of 0.25:1 provides a distance between screen and projector ranging from 10.75 inches to 19.3 inches depending on screen size.
Over 5,000 apps from the Google Play store and Chromecast capability to stream from other devices provide models with content.
All models have identical cons, including:
– no 3D;
– no Netflix streaming app (the company hopes to fix this issue);
– 4K@60Hz only.
Conclusion
In general, the company has significantly expanded the range of its UST laser projectors. In fact, today it covers the price segment in the $ 3,500 to $ 5,000 range, offering:
– L5G with 100-inch / 120-inch ALR screen priced at $ 3,500 / $ 4,000, with 2,700 Lm brightness, but without TriChroma technology (83% DCI-P3 vs 107% BT.2020 for TriChroma models) and without digital lens focus (focus via remote for screen sizes from 90 to 130-inches);
– PX1-PRO without screen for $3,500, with 2,200 Lm brightness, TriChroma technology and digital lens focus;
– L9G with 100-inch / 120-inch ALR screen priced at $ 4,500 / $ 5,000, with 3,000 Lm brightness and TriChroma technology, but no digital lens focus.
In fact, L5G, PX1-PRO and L9G represent two generations of projectors. The $1,000 difference between the L5G and L9G (with simular screens) seems a bit excessive, but it's due to the difference in their color gamut. TriChroma technology really provides a more colorful and richer image.
In principle, the price of a less bright PX1-PRO with a convenient built-in digital zoom function (digital lens focus) is almost identical to the L9G without a screen. This model is intended for consumers who need a projector without a screen. Digital lens focus for screens from 90 to 130 inches instead of screens with a fixed size of 100 or 120 inches seems quite adequate compensation for lower brightness (3,000 Lm vs 2,200 Lm). But, of course, the 'brighter model + effective screen' solution will provide better picture quality. As usual, the decision depends on the budget.
But, of course, these projectors will face tough competition. Already today, the market offers JMGO U2 and LG Cinebeam HU715Q for $3,000. And of course, Epson, BenQ, Optoma and other industry leaders will also present 2022 versions of their new products.
In addition, the Chinese company presented the world's first 8K laser TV at CES 2022.
P.S.
In June, the company introduced a budget version of the PX1-Pro. The list of their differences is very short (PX1-Pro vs PX1):
– Price – $ 3,300 vs $ 2,500;
– Brightness (Lumens) – 2,200 vs 2,000;
– Screen Size with motorized focus – 90″ – 130″ vs 100″ – 120″;
– Dolby Vision Support – via firmware update vs no;
– Color – navy with grille embellishment vs blue.
Other specs have not changed.
In addition, the list of new triple-laser UST 4K projectors has expanded with:
– AWOL Vision LTV-3500 and LTV-2500 – $ 4,400 / $ 2,400 (ALPD 4.0; 3,500 ANSI lm / 2,000 ANSI lm);
– Formovie Theater – $ 3,000 (ALPD 4.0; 2,800 ANSI lm).