A few years ago, the popularity of projectors as a replacement for TV in the living room began to skyrocket. Of course, traditional Home Theater projectors from BenQ, Epson, Optoma, etc have long been popular in the market. But they have significant cons. Their lamps provide high light output, but they get very hot and require a powerful fan, the noise of which often exceeds 40 dB. In addition, their connection requires wiring. In principle, these problems were acceptable for a separate Home Theater room, but created an inconvenience in the living room.
But huge progress in the segment of solid state light engine, UST (Ultra Short Throw) projectors, and screen mirroring technologies have opened up new possibilities for developers.
UST laser projectors
Powerful laser projectors deliver high brightness, eliminating the need to carefully darken the living room, do not require a powerful fan to cool, and lasers have a lifespan of over 25,000 hours. Moreover, UST projectors are placed close to the wall with the screen, virtually eliminating the wiring problem. Modern screen mirroring technologies successfully solve the problem of content for a projector. As a result, replacing TV in the living room with a UST laser projector has become quite real.
Indeed, the price of even premium projectors with an expensive but highly efficient UST ALR screen rarely exceeds $ 5,000. At the same time, it provides stunning 4K HDR quality on screens with a diagonal of 100 inches or more. An excellent Epson EpiqVision EF12 costs only $ 1,000, providing picture size up to 150″. At the same time, the projection size of these models is mainly limited only by the price of the UST ALR screen, which reaches $ 1,000 for 100″ and up to $ 2,000 for 120″. Traditional ALR screens are less effective at reflecting light from UST projector to the viewing area. But they are much cheaper and great for viewing without bright ambient light.
By comparison, a gorgeous 110-inch Samsung Micro LED panel costs over $ 150,000, TCL presented a wonderful X12 8K Mini LED Starlight for $ 15,000. The cheapest 85-inch LCD TVs start at $ 2,000.
Hisense projectors
In recent years, the products of the Chinese giant Hisense competes very successfully with Samsung, TCL, LG, Sony, etc in the consumer electronics segment. Like other industry leaders, the company presents its innovations annually. This year was no exception. The company unveiled ULED U9G 8K TV with innovative mini LED backlit (available in Europe and Australia), U9DG 4K with innovative Dul Cell technology (available in USA), and the new Hisense L5F Laser Cinema 4K UST projector.
Lately, some sellers often refer to laser UST projectors as laser TVs. Indeed, the built-in TV tuner can receive / decode the signal, and gives the basis for positioning the device as a TV. But in principle, any projector with a tuner and with ultra wide angle lens can be positioned as a TV, the screen of which is placed outside the body.
The Hisense L5F is a budget sequel to the popular 2019 premium Hisense L10 series, which today costs almost $ 7,000 with a 100-inch screen and $ 7,750 with a 120-inch screen. It sells for $ 4,700 (with a 120″ screen) and $ 3,700 (with a 100″ screen). Unfortunately, the $ 2,700 version without a screen is not available. However, the company promises a cheaper modification with an 80-inch screen.
As known, the L10 uses two lasers, delivering 3000 lm brightness, and has an advanced Harman Kardon integrated soundbar with a separate wireless subwoofer. But even one laser of L5F provides 2700 lm brightness, 100% Rec. 709 color gamut and 83% of DCI-P3 color for HDR content.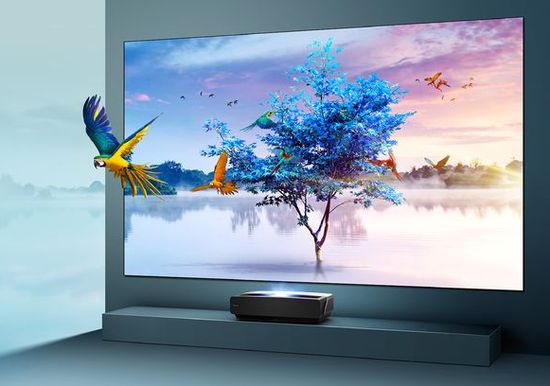 Of course, color saturation and contrast decrease at an angle and in daylight.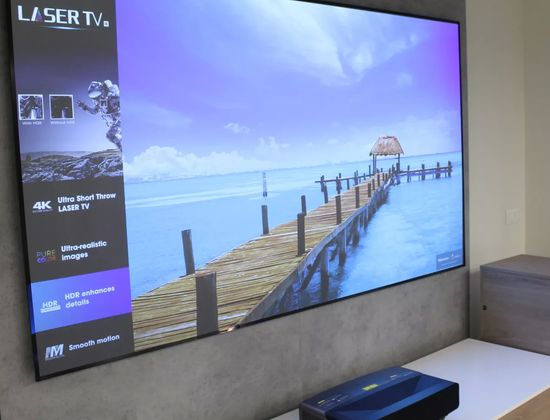 But in the twilight, 2700 lm is more than enough.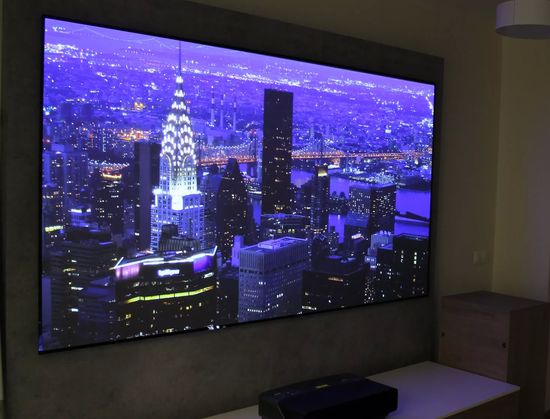 Main specs
In fact, the L5F is a DLP laser projector based on X-Fusion technology. It uses a blue laser and yellow phosphor wheel to generate light for the color wheel with unspecified color sequence.
Native contrast ratio reaches 2,000: 1, and throw distance is only 11,3" or 28,7 cm.
The projector provides 4K Ultra HD (3840×2160) resolution at a 16: 9 aspect ratio.
The 30W dual-speaker sound system supports Dolby Atmos and dbх-tv technology (auto volume control, rich detailed sound, etc). External acoustics can be connected via wires or Bluetooth.
In addition, the quad core MStar MSD6886 processor (2019) provides MEMC (Motion Estimation / Motion Compensation) for smooth playback and 4K upscaling.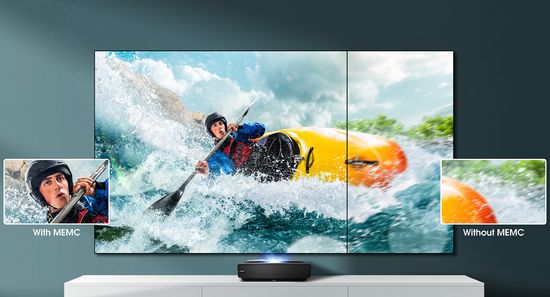 What's more, the L5 is the first Hisense projector on Google's Android TV streaming platform, which offers more than 1,000 Chromecast-compatible apps.
Additionally, the remote works with built-in Google Assistant voice / search commands and has buttons for direct access to Netflix, Youtube and Prime Video services.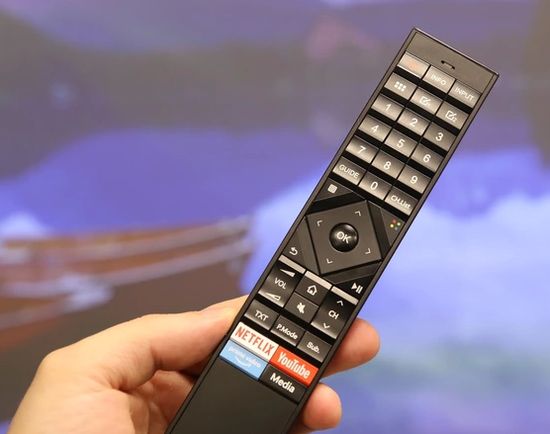 Key features
Smart TV uses a proprietary VIDAA U4.0 system based on Linux OS which is compatible with Amazon Alexa and Google Assistant and offers several hundred apps including Netflix.
Connection Panel contains optical Audio Out, HDMI 2.0 x 4, RJ-45 network and USB x 2.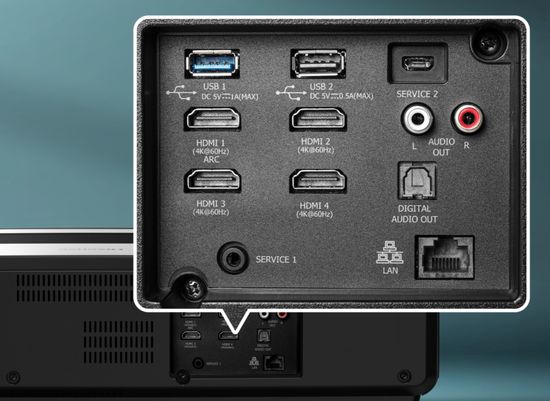 Projector supports Wi-Fi 5 and Bluetooth 4.2.
For receiving TV-signal, model uses combined digital DVB-T2 / T / C / S2 / S tuner.
Like many modern premium laser projectors, the L5 has an eye-protection proximity sensor that disables the laser. Of course, an adult will hardly look into the emitting laser, but the eyes of curious children and pets should be safe. In addition, this system complies with the TUV Rheinland certificate for low blue light content.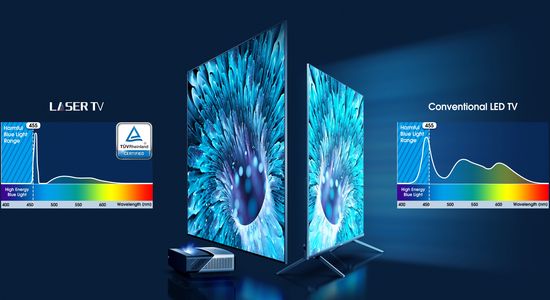 The obligatory expensive screen in the kit seems like a dubious decision. Of course, in protecting its reputation, the company strives to provide optimal conditions for maximum image quality. But it significantly increases the price. In addition, some users may have UST ALR screen, for example, from a previous projector.
Conclusion
Hisense L5F quite competitive compared with traditional TV, and can be a good solution for consumers with innovative philosophy. But competing with other UST laser projectors will not be easy. This list includes:
– Epson EpiqVision series, including EH LS300 UST($ 1,900 without screen), EH LS500 4K UST ($ 4,000 with 100" screen) and Mini EF12 ($ 1,000 without screen);
– VAVA 4K UST laser projector($ 2,800 without screen);
– Optoma CinemaX P2 4K laser projector ($ 3,300 without screen).
In general, the huge screen at an affordable price and high image quality create excellent prospects for the laser UST projectors with TV tuner (laser TVs). Additionally, a reflected light of projector significantly reduces eyestrain compared to direct radiation from a TV screen.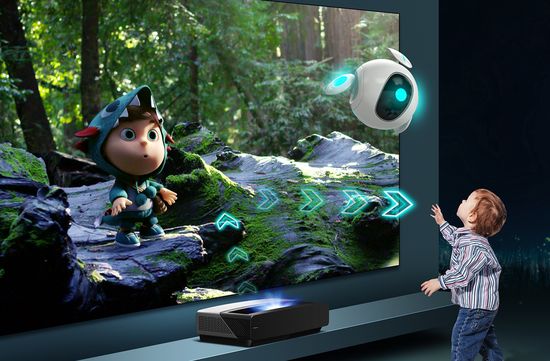 This video demonstrates screen assembly for Hisense Laser TV.
P.S.
Without slowing down, this fall, the company introduced the newest L9G Laser TV with innovative TriChroma Laser technology.
In fact, it became the 3rd generation of Hisense 'Laser TVs'. New model replaces the discontinued 100L10E / 120L10E projectors based dual-color laser.
The new technology radically expands its color gamut to an unprecedented 107% coverage of the BT.2020 color space.
The other specs are also premium. The projector uses a new 0.47-inch DLP chipset with 4K (3840 x 2160) resolution, provides light output of 3,000 lumens, and 1,000,000: 1 dynamic contrast ratio. At the same time, laser service life exceeds 25,000 hours. Its optics with a 0.25: 1 throw ratio forms 100-inch / 120-inch projection at a distance of 11.4 inches / 14.6 inches.
In addition, L9G has 40W built-in speakers, voice remote, Android TV, built-in Google Assistant, horizontal & vertical Digital Keystone, supports HDR10, HLG, Dolby Atmos and Filmmaker Mode (automatically adjustion of picture settings).
WiSA (Wireless Speaker and Audio Association) standard support provides the multi-channel wireless surround sound connection.
Its starting price was $ 5,500 with 100-inch Cinema or Daylight screen and $ 6,000 with 120-inch Cinema screen. But today it has dropped by $ 1,000 and is $ 4,500 / $ 5,000, respectively.
Basically, this model is quite competitive compared to 85-inch TVs, many of which are priced in excess of $ 5,000. Providing 4K HDR quality on screens over 100 inches, it makes a great TV alternative in the living room.