Quarantine did not stop companies from presenting their innovative successes at virtual CES 2021. As usual, Samsung's exposure was in the spotlight. At the traditional First Look, the company unveiled flagship Neo QLED TVs with innovative Mini LED backlight, new interior TVs, and a new series of Micro LED TVs.
Perhaps Quantum Dot TVs with innovative Mini LED backlighting became one of the main sensations at CES. However, this is quite natural in the context of OLED vs LCD technology competition.
In recent years, LCD TVs manufacturers have tried to reduce the difference in picture quality with Quantum Dot technology. This technology uses an additional film with nanocrystal between the backlight and the screen.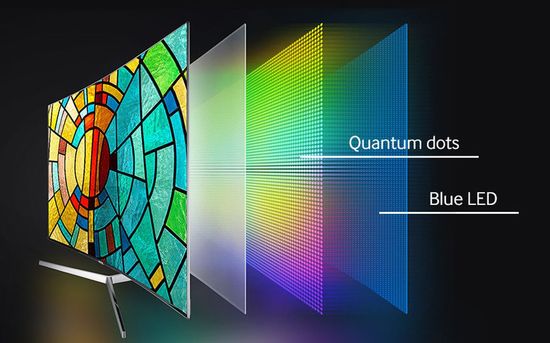 In fact, nanocrystals enhance the white color from backlight by absorbing unwanted wavelengths of light. As a result, this inexpensive technology has greatly expanded color gamut and viewing angles. Today, Quantum Dot technology is used by many companies under different names, including Samsung QLED, Sony Triluminos, LG NanoCell, and Hisense ULED.
But in addition to viewing angles and color gamut, LCD TVs are radically inferior to OLED technology in contrast ratio. As known, contrast is the difference between brightest white and the darkest black. The OLED panel uses self-emitting diodes without backlight. Accordingly, the absence of current from the transistor provides an absolutely black pixel. The LCD is forced to use the backlight all the time. As a result, some of the scattered light is constantly transmitted to the screen, forming grayscale instead of black.
Mini LED backlight
The development of FALD (full-array local dimming) partially solved this problem by controlling the brightness for certain screen areas (min backlight – for dark areas of the frame, and max – for bright ones).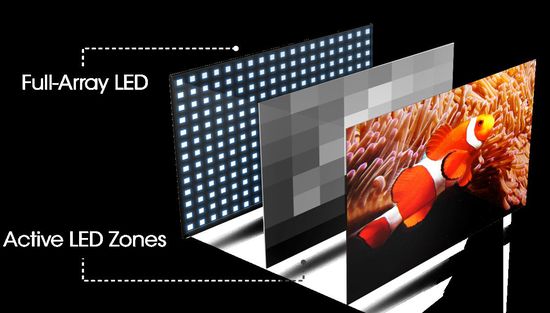 But the relatively small number of Local Dimming zones, due to the large size of LEDs, significantly limited its performance. Using a large number of miniature LEDs to increase the number of dimming zones was the most obvious solution. Unfortunately, it has created new problems. For example, the brightness of these diodes is very low. But its increase with the current / voltage is accompanied by diode overheating.
Several years ago, the Chinese giant TCL focused its efforts in this direction. In just three years, the company introduced three generations of innovative Mini LED backlights, increasing the number of LEDs and dimming zones in the TCL 8-Series Roku TV to 20,000 and 1,000, respectively. This year the company introduced the latest OD-Zero backlight with an LED size of only 151 microns.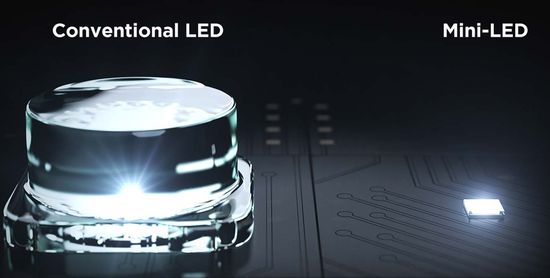 As a result, both technologies have significantly improved contrast, viewing angles, color gamut, and color accuracy of LCD Tvs.
Unfortunately, the company did not indicate the number of LEDs and dimming zones.
Surprisingly, until this year, Samsung and LG have not shown activity in improving the backlight, indifferently watching the success of the competitor. But CES 2021 unexpectedly showed the tremendous progress of these companies. Specifically, Samsung presented great Neo QLED MiniLED TVs, while LG showed the NanoCell QNED series with a very advanced mini LED backlight.
The Quantum Mini panel in Neo QLED TV is 40 times thinner.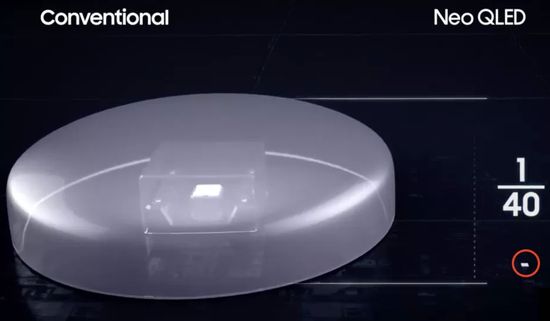 At the same time, its layer contains about 10 times more miniature LEDs, which is enough to form about 5,000 zones.
Moreover, 12-bit luminance with 4096 gradations should significantly increase contrast.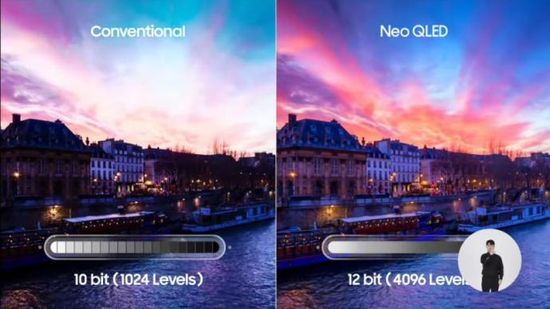 The new Neo Quantum processor with multi-Intelligence Deep Learning technology uses up to 16 neural network databases for AI 8K upscaling.
Neo TVs support HDR10 / 10+, HLG and HDR 10+ Adaptive (for bright lit room), but the company continues to ignore Dolby Vision HDR.
In addition, the models use Ultra View Angle (two special layers focus the light evenly across the entire panel), SpaceFit Sound (auto adjust the audio field) and 4 versions of OTS (Object-Tracking Sound) technology, including OTS Lite and OTS Pro.
For gaming, the series supports ALLM, VRR (G-Sync and FreeSync Premium Pro), HgiG, the new Super Ultrawide GameView mode (switching the screen between an aspect ratio of 21: 9 and 32: 9) and Game Bar (a panel for game settings).
Additionally, the models support Samsung Health app with Smart Trainer for fitness, Google Duo service (group video calls) and PC on TV function with Easy Connection app.
The lineup will include 8K QN800A and QN900A (65, 75 and 85 inches) and 4K QN85A, QN90A and QN95A (50, 55, 65, 75 and 85 inches).
MicroLED technology
Micro LED is a technology of self-emitting display, developed by Samsung and can be positioned as an analogue of OLED (organic light-emitting diode) technology.
Of course, the term "organic" has nothing to do with animal or vegetable origin. Organic LEDs are made from carbon compounds that are products of organic chemistry. In fact, it's a solid semiconductor with a thin layer of organic (carbon) material that emits light when an electric current flows.
The organic LED anode is usually made from indium oxide, which is doped with tin. The cathode is made of aluminum or calcium.
The pixel matrix material in Micro LED is carbon-free. Manufacturers use inorganic material such as GaN (gallium nitride). In fact, this is the only difference.
Their operation principle is almost identical. TFT (thin film transistor) circuits drive the red, green and blue subpixels to generate the desired color. But unlike OLED technology, Micro LED panel provide high brightness, and the modular design practically does not limit its shape and size. The fabulous price is its only drawback.
At ISE 2018 Samsung first introduced the modular "The Wall" Micro LED 219-inch display with brightness up to 2,000 nits. Then, at CES 2019, company showed a more compact 75-inch 4K MicroLED TV. In addition, the company introduced 13-inch MicroLED modules, which are assembled using brackets with powerful magnets.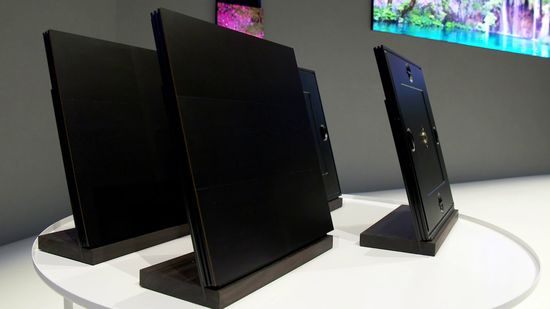 In the summer of 2019, the company announced a new The Wall Luxury MicroLED 8K TV with a diagonal of 292 inches (almost 7.5 meters) and with a brightness of up to 2000 nits.
Last year the company introduced 88- and 150-inch bezel-less MicroLED TVs with an unprecedented 5,000 nits brightness. For comparison, the brightness of modern OLED TVs does not exceed 1,000 nits.
This year Samsung expanded the MicroLED lineup with 88, 99 and 110-inch TVs (2.2, 2.5 and 2.8 meters, respectively).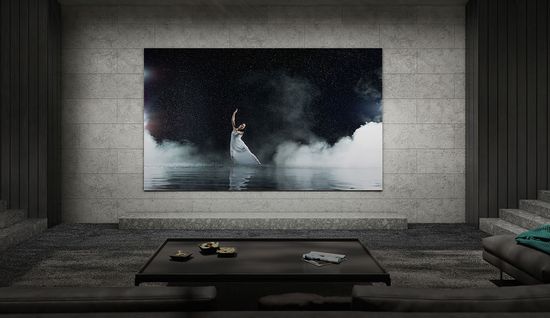 The new model uses an Active Matrix panel and supports 4K resolution (3840 x 2160, about 8.3 million pixels). MicroLED matrix with 24 million self-emitting diodes provides perfect contrast and high brightness. Its screen-to-body ratio is over 99%. MultiView technology (or Quad View) divides the screen into 4 zones that can simultaneously play content from 4 sources.
The service life of the panel reaches 100,000 hours. The Majestic Sound system supports 5.1 channel audio without the need for external speakers. According to the company, the coverage of the DCI and Adobe RGB color spaces is 100%. The HDMI 2.1 ports on the 110-inch MicroLED TV support 4K @ 120 fps.
Unfortunately, the TV costs around $ 156,000.
The company has also expanded The Frame series of popular interior TVs. Since their launch in 2017, Samsung has sold over a million of these TVs. Today the company offers The Serif, The Frame, The Sero, and The Terrace series. The latest series is ideal outdoors.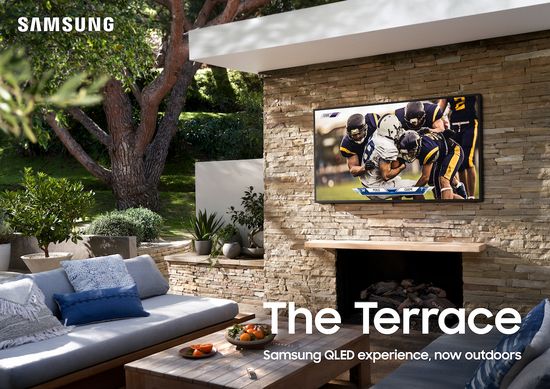 At CES 2021, the company showed off the new The Frame models. They are twice as thin (24.9 mm) and will be available in five colors and two styles, including Modern and Beveled.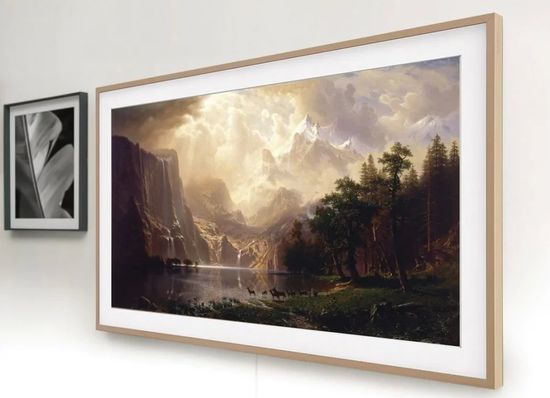 For $ 5 a month, Samsung offers access to the Art Store, which contains 1,400 famous photographs and paintings. Of course, the TV can also display its own pictures or photos. Its specs include 32 "to 75" diagonal, 4K resolution and QLED technology. Switching from horizontal to vertical mode will only be available for the 43-inch model.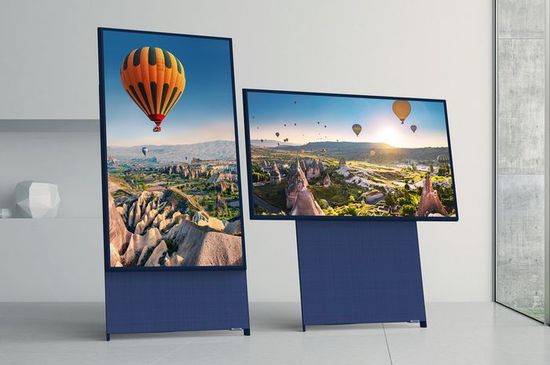 Conclusion
As usual, Samsung has confirmed its status as an innovative leader. Of course, Samsung Neo QLED TVs became a major sensation. But their competition with TCL OD-Zero MiniLED TVs and LG NanoCell QNED TVs won't be easy. The comparison of Samsung's Neo QLED vs LG NanoCell QNED vs TCL OD-Zero is hardly correct without regard to price.
In fact, the meager range of TCL TVs with Mini LED backlight turns into a full-fledged segment of premium LCD TVs with Quantum Dot Display and with Mini LED backlight this year.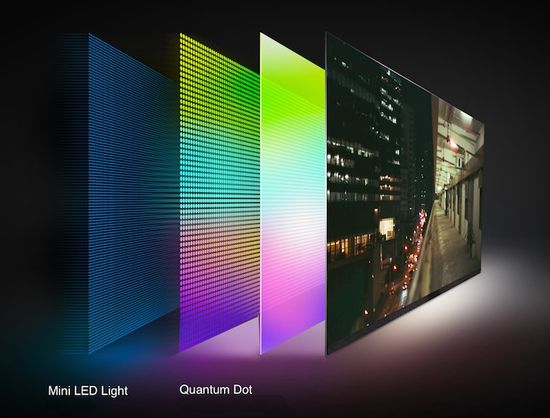 Apparently, they will be able to bring the image quality very close to OLED TVs.
Thus, the range of TVs will now include cheaper LED LCD TVs, more expensive LCD TVs with Quantum Dot Display (QLED, Triluminos, NanoCell, ULED, etc), LCD Mini LED TVs with Quantum Dot Display (Samsung Neo QLED, TCL OD-Zero and LG NanoCell QNED), premium LG OLED and Sony OLED, and gorgeous but fantastically expensive Samsung Micro LED TVs.
This video showcases new Samsung TVs at CES 2021.