As known, these days companies present their new products at CES 2020. As usual, the attention of experts is primarily attracted by the leaders of the consumer electronics segment, which shape development trends. Of course, Samsung is one of them. The company fully met expectations by presenting three new TVs, including the second generation of Samsung 8K model, innovative MicroLED panels and the experimental 'The Sero' TV with a rotary screen for viewing video content in vertical format, for example, from Instagram.
Samsung MicroLED TVs
As known, Micro LED is an innovative technology of self-emitting display, and can be positioned as an analogue of OLED technology.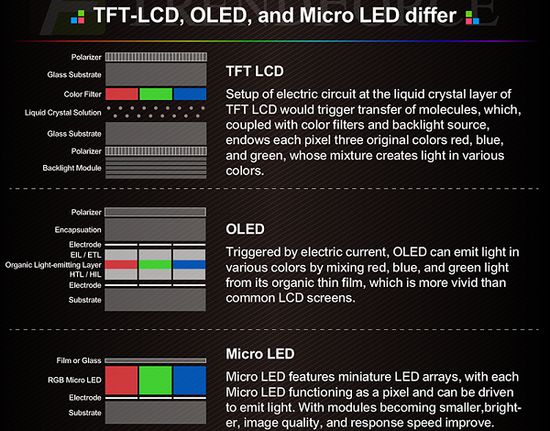 Today, Samsung dominates in this direction. At ISE 2018 the company first introduced the modular large-format The Wall Professional Micro LED display in 146- or 219-inch versions with brightness up to 2000 nits. Then, at CES 2019, Samsung introduced a more compact 75-inch 4K MicroLED TV. In the summer of 2019, the company announced a new The Wall Luxury MicroLED TV with a diagonal of 292 inches (almost 7.5 meters), support for 8K resolution and with a brightness of up to 2000 nits.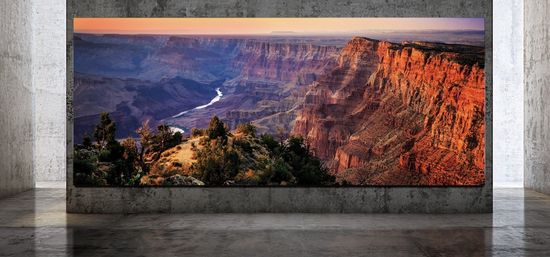 This year, the company announced 88- and 150-inch bezel-less MicroLED TVs with custom settings.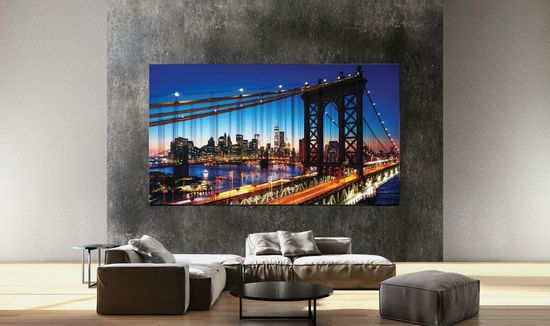 According to the company, their brightness reaches an unprecedented 5,000 nits. For comparison, the brightness of modern OLED TVs does not exceed 1000 nits.
Thus, today the list of diagonals Samsung MicroLED The Wall series includes 75, 88, 93, 110, 146, 150, 219 and 292 inches.
Of course, the modular design provides excellent prospects for this technology. Over time, it will allow the user to create TV with a screen of any shape and size, including non-traditional formats. In addition, Samsung MicroLED TV optimizes video content for any screen, increasing its resolution at a constant pixel density. Moreover, MicroLED screens support any aspect ratio without compromising image quality.
At CES 2019, the company demonstrated MicroLED modules and their assembly using brackets that are attached to the screen with sufficiently powerful magnets. The diagonal of one module does not exceed 13 inches.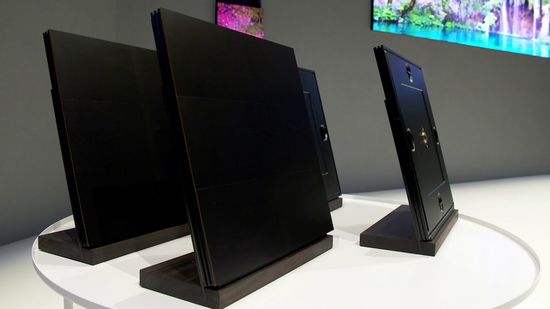 The Sero TV
The company also did not ignore the growing popularity of the use of smartphones for shooting and viewing video content. According to research, 70% of millennials don't turn their phone horizontally to watch videos. As a result, the company's management decided to develop a vertical OLED TV targeted at the millennials and Generation Z. In 2019, Samsung announced the unconventional Sero Vertical TV. At CES 2020, the company introduced the 43-inch 4K Sero model.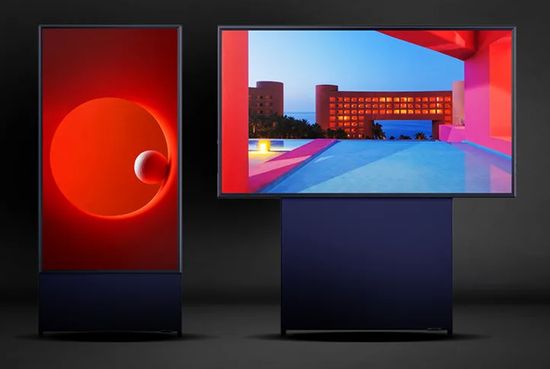 Thanks to a special stand, the display rotates from landscape mode to portrait mode for comfortable playback of video content from Instagram, Snapchat, etc. In addition, it can be synced with the phone via NFC to mirror the phone's display.
Of course, Samsung Q950TS aroused the greatest interest among experts. In fact, the company created the second generation of its 8K TV.
As known, last year the company introduced the Q900R 8K series with a diagonal of 65, 75 , 82, 85 and 98 inches. The 75-inch model of this series competed with LG 8K Nanocell 75SM9970. These models belong to approximately the same class, and their cost reached $ 6,000 and $ 5,000, respectively. In addition, LG introduced the LG 8K OLED88Z9, but its cost is approaching $ 30,000. Traditionally, OLED screens have many pros, but their price increases dramatically with increasing screen sizes.
Today 75-inch Q950TS with 8K (7680 × 4320) resolution is one of the brightest among modern TVs. Its peak brightness reaches 4000 nits. The Q950TS uses a FALD (full array local dimming). As known, today it most effectively provides deep black gradations and brighter highlights with minimal blooming or haloing. Tentatively, the number of zones does not exceed 500. In addition, the company increased performance with Adaptive Peak Brightness. TV analyses a map of current image, defining bright or dark areas. Based on the analysis, it increases current for brighter areas and decreases – for darker parts. Other improvements require more detailed analysis.
Samsung engineers demonstrated German pedantry, harmoniously improving almost all components, including design, processor, video processing algorithms, sound, modes and functions, etc.
As a result, Q950TS embodied a huge number of innovative solutions. Moreover, this model demonstrated the company's successes in fundamental directions, including 8K AI upscaling based on Deep Learning with neural network and AI ScaleNet technology.
Conclusion
PROS
– bezel-less Infinity Design;
– high-quality 8K AI upscaling with AI Quantum Processor 8K;
– impressive picture quality;
– superior sonic performance with eight drivers (4.2.2-channel driver array);
– incredibly low input lag up to 10 ms in Auto Game Samsung mode;
– HDR support, including HDR10, HLG and HDR10+;
– Deep Learning with neural network;
– Ultra Viewing Angle;
– Adaptive Picture, Adaptive Peak Brightness and Adaptive Tone Mapping;
– Object Tracking Sound Plus (OTS+), Active Voice Amplifier and Q-Symphony;
– AV1 (AOMedia Video1) codec for 8K YouTube.
CONS
– today OTS+ is inferior to Atmos;
– no Dolby Vision or Atmos support.
In general, the company has confirmed its status as one of the innovative leaders by introducing promising high-tech MicroLED TVs, experimental Sero TV and the magnificent Q950TS with a huge number of innovative solutions. Of course, the Q950TS will have to compete with LG NanoCell 8K TVs, which, like last year, includes the Signature OLED 8K and NanoCell 8K. Given the approximate price, the Q950TS and LG NanoCell 8K are likely to be in the same price segment.
But regardless of the results of their rivalry, the real quality of the 8K AI upscaling based on Deep Learning with neural network and AI ScaleNet will be very interesting to users and experts.
This video offers an overview of the Samsung Sero Vertical TV at CES 2020.