To the delight of consumers, fierce competition continues to drive an innovative boom in the consumer electronics segment. Naturally, high-tech televisions are among the leaders of this mainstream. HDR technology, HDMI 2.1 standard, 10 and 12-bit color depth, HFR (high frame rate) format, Micro LED, etc perfectly illustrate this trend. Today, TVs with 8K resolution have become one of the areas for their further improvement.
Of course, LG is rightfully on the list of innovative leaders, regularly offering consumer electronics, including TVs, with the latest technology. For example, many experts call the LG C9 4K HDR Smart OLED TV w/AI ThinQ the best 4K TV of 2019 and include it in their TOPs.
Of course, the company did not ignore the 8K direction, presenting in 2019 LG OLED88Z9 and Nanocell 75SM9970 (75SM9900 in Europe) 8K TVs.
But these models belong to different classes. The premium 88-inch LG Signature OLED 88Z9 costs about $ 30,000 and leads the 8K TVs segment. The more affordable 75-inch LG Nanocell 75SM9970 costs about $ 5,000 and is a more realistic choice for the vast majority of consumers. But they use similar engineering solutions and some components, including the latest α9 Gen 2 8K processor with a new six-step noise reduction system (three steps of general NR, three steps of de-contouring NR) to reduce exaggerating source noise during upscaling.
The LG 75SM9970 / 75SM9900 uses the «NanoBezel» design with a very narrow black bezel and a gleaming center stand with silver finish in a half-moon shape.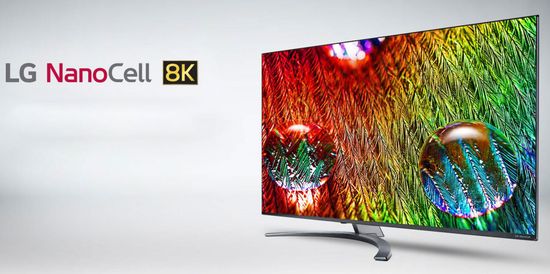 In addition, the 75SM9900 can be wall mounted, unlike the Z9.
LG 75SM9900/75SM9970
Like the Z9, the SM9900 uses the same processing and scaling α9 Gen 2 8K processor, providing similar performance.
But Z9 provides slightly more color accuracy due to OLED technology. This difference appears in small color-rich areas of the original 4K image.
In addition, 75SM9900 has four full-bandwidth HDMI 2.1, ensuring support for 8K sources up to 60 fps (4:2:0, 10-bit).
Latest Nanocell panel provides very rich and dynamic colors, even compared to Samsung 75Q900RB. At the same time, TV successfully supports the ultra fine detail by its 8K resolution.
In addition, the 75SMN9970 / SM9900 outperforms the Samsung 8K in terms of display intensity of bright areas against a dark background.
Unfortunately, the 75SM9970 / 75SM9900 uses only 112 dimming zones. In comparison, the Samsung 8K has 400 separate dimming zones. As a result, "blooming" backlighting appears. This negative effect is visualized as extraneous light around small bright objects.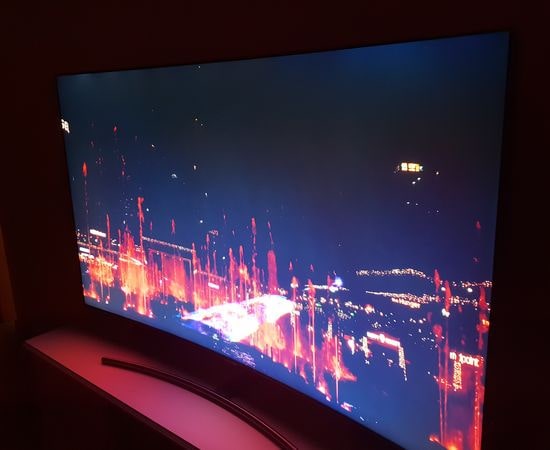 It's caused by insufficient amounts of backlight dimming zones relative to the number of pixels in the picture. Of course, turning off local dimming system solves the problem of excessive light blooming, but reduces the gradations and level of black. As a result, dark scenes look grey and flat without of shadow detail, which is especially inconvenient in games. Of course, this is a significant disadvantage for the $ 5,000 model.
The 75SM9970, like all LG LCD TVs, uses the IPS LCD panel. As known, it provides a wider viewing angle compared to VA panels in Samsung TVs. As a result, the 75SM9970 provides a wide viewing angle without having to use Samsung's sub-pixel manipulation approach. Unfortunately, IPS panels do not control backlighting, providing lower native contrast compared to VA panels.
LG 8K UpGrader
Like the Z9, model uses only external 8K decoder, which is similar to Apple TV and attaches to the TV via USB and one of the HDMI inputs.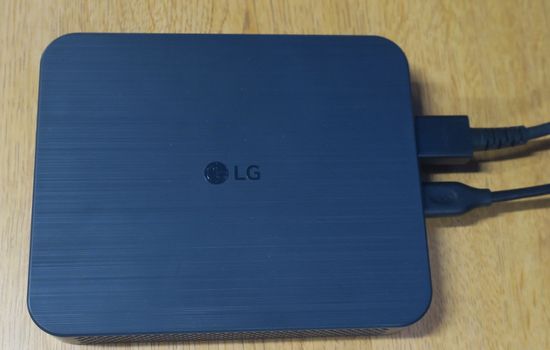 Of course, the use of only external 8K decoder in the $ 5,000 model seems controversial. Apparently, the minimalist design trend turned out to be more important for engineers compared to convenience.
However, this problem is also present in Samsung and Sony 8K models. For example, they do not play 8K YouTube video. But they can handle 8K stills and some 8K video formats via USB or streaming without a special external decoder.
LG 8K UpGrader processes 8K, decodes and plays 8K HEVC, AV1, and VP9 files. Today decoder provides playback of native 8K sources. But 8K playback via NAS will be available later after a software update in December this year. According to the company, owners of Nanocell 75SM9970 / 75SM9900 will receive firmware update for free.
Key Features
LCD panel of 75SM9970 shows 685 nits for SDR and 995.40 nits at a 10-percent window in HDR. At the same time, the measured black level does not exceed 0.025 nits, providing excellent dynamic contrast 38 385: 1.
Like all modern LG TVs with ThinQ AI, model already use WebOS 4.5, which today is rightfully considered one of the best.
This version has the following improvements:
– a second tier of contextual, direct-access content icons;
– screen for monitoring all smart devices on the network;
– support for Airplay 2 and WiSA Bluetooth;
– built-in voice recognition via LG's own ThinQ AI system, Amazon Alexa, and Google Home.
Moreover, the WebOS platform provides connection and viewing of content from iOS devices and control via Siri due to the compatibility with HomeKit.
The 75SM9970 / 75SM9900 audio system is weaker compared to OLED88Z9. Its speakers use only a 2.2-channel configuration, providing a total of 40W, which is 2 times less than the Z9. As a result, heavy duty movie mixes can be accompanied by problems such as speaker buzzing, crackling or phutting. But AI sound mode improves the situation in this case.
Unfortunately, gaming mode in the LG 75SM9970 also loses significantly to the Z9. 4K upscaling increases the Input Lag in Cinema mode to a huge 180 ms. Of course, Game mode reduces it to 43.6 ms by disabling most image processing functions. But this is still twice the usual 20 ms for most 4K TVs.
Conclusion
PROS
– excellent picture;
– powerful α9 Gen 2 8K processor;
– 8K resolution;
– very good 4K upscaling with AI Picture;
– stylish NanoBezel design;
– WebOS 4.5;
– relatively affordable price for 8K TV;
– wide viewing angles with IPS panel.
CONS
– "blooming" backlighting;
– only external 8K decoder;
– low native contrast of IPS panel;
– Input Lag in Game mode reaches 43.6 ms;
– no 8K content.
In fact, today the LG Nanocell 75SM9970 is one of the few 8K TVs available. Of course, the lack of native 8K content significantly reduces the attractiveness of 8K models. Today, they mainly provide upscaling sub-8K to 8K content. But, according to many experts, the solution to this problem has good prospects. In any case, the 75SM9970 might interest fans of innovation with a good budget.
This video offers the presentation of the LG NanoCell 75SM9970 8K TV at CES 2019.