The beneficial effects of competition continues to stimulate an innovative boom in the consumer electronics segment. Of course, high-tech TVs are among the leaders of this mainstream. HDR technology, HDMI 2.1 standard, 10 and 12-bit color depth, HFR (high frame rate) format, Micro LED, etc perfectly illustrate this trend. Super resolution screens are one of the main directions of their development.
A few years ago, many experts doubted the prospects of a further increase in resolution. Indeed, even 4K was redundant for most of the available content. However, segment leaders including LG, Samsung, Sony, Sharp, Vizio, Toshiba, and Hisense continued to develop this direction. As a result, today the market already offers a fairly wide selection of 8K models.
As known, 8K uses four times more pixels compared to 4K images, providing maximum image clarity even on 65-inch or larger screens. The abbreviated 8K name corresponds to roughly 8,000 pixels wide. Their number reaches 7680 x 4320 pixels (4320p), or a total of 33,177,600 pixels (33-megapixel image). For comparison, the Full HD 1080p TV provides a two-megapixel image, 4K ups it to eight megapixels, 8K – up to 33 megapixels.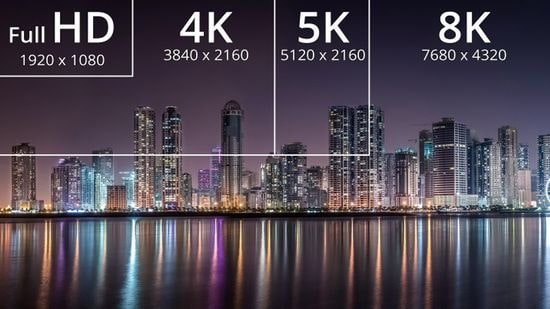 Today many call this specification Ultra HD or Ultra HD 8K or 8K Super Hi-Vision.
8K Association
As known, setting standards in TV industry has problems. The contradictions between major manufacturers regarding support for various HDR formats illustrate this well. Given this factor, leading companies began to solve problem at the first stage. The newly formed 8K Association (8KA), including Samsung, Panasonic, Hisense, TCL, and AUO hopes to set ground rules for UHD.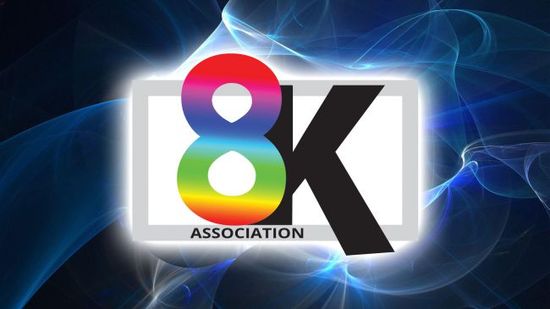 In addition, 8KA already includes TV-tangential companies, including Tencent, Xperi, Intel, and Chili.
During CES 2019, its CEO Chris Chinnock, held the inaugural meeting. Association plans to create a "Good, Better, Best" label for any 8K products, based on criteria the manufacturers. In addition, Chris Chinnock called signing the agreement with LG and Samsung Display a priority.
But despite these efforts, the development of 8K also already has contradictions. In particular, LG and 8KA interpret the 8K format differently. Referring to the Information Display Measurements Standard (IDMS) for pixel differentiation, LG claims that their 8K TVs provide "real 8K" unlike other companies. According to them, the presence of 33,177,600 pixels is not enough for the status of 8K TV. The panel of such a TV must also identify each pixel or distinguish / contrast between those pixels. Otherwise, increasing their number loses its meaning due to the merging their brightness and mixing their colors. Additionally, the company indicates the Contrast Modulation (CM) of its 8K TVs "in the 90% range", calling this level "real 8K". In comparison, the IDMS standard only requires 25% for images, or 50% for text.
But 8KA offered its standard, including HDMI 2.1 ports, high enough frame rates, 8K resolution, and a minimum 600 nits peak brightness, but without the Contrast Modulation measurement.
8K content
Of course, all 8K TVs use HDMI 2.1, which supports 8K resolutions at 60 fps or 4K resolution at 120 fps.
Based on the experience of 3D, HDR or 4K technologies, many experts are skeptical about the problem of producing 8K content. Especially considering that today even 4K share does not exceed 15%. Nevertheless, some factors inspire cautious optimism.
Estimated sources:
– some Hollywood directors already use the new RED Weapon 8K camera;
– traditional TV production studios, including possibly Netflix;
– NHK plans to broadcast 8K from the Olympics in Tokyo 2020, but only in Japan;
– Samsung has partnered with many streaming services across Europe, including CHILI, MEGAGOGO, and The Explorers for 8K HDR10+ content;
– already today, the GoPro Omni VR and Insta360 Pro support 8K capture from 360-degree video cameras.
LG, Samsung, and Sony 8K TVs
2019 was a watershed year for 8K TVs. Almost all the segment leaders announced their models.
At CES 2019, LG introduced the 8K OLED88Z9PUA (OLED88Z9) and Nano Cell 75SM9970PUA (75SM9970).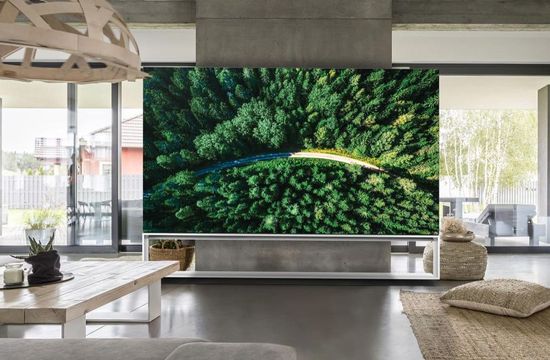 Both TVs use latest α9 Gen 2 8K processor with a graphics chip to support 8K images. LED TV uses Full Array Dimming Pro. In addition, they support LG ThinQ AI, Google Assistant, and Alexa. Moreover, models support HDR, Dolby Vision and HLG formats, with Apple Airplay 2 and HomeKit support. Finally, they provide a color depth of 10 bits and work under OS LG WebOS. Four HDMI 2.1 ports provide bandwidth 60fps for 8K, and 120fps for 4K video.
As known, Samsung announced its Q900 8K TVs at the end of 2018. The series includes the QN65Q900R, QN75Q900R, QN82Q900R, and QN85Q900R models or QE65Q900R / QE75Q900R / QE85Q900R in Europe.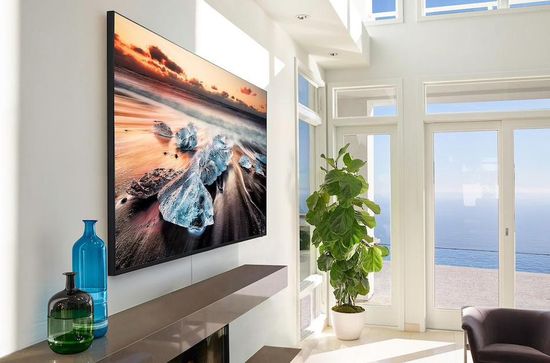 TVs use QLED displays with 10-bit color depth, the new Quantum 8K processor, and OS Tizen. Of course, they support HDR 10+ and HLG (Hybrid Log Gamma).
In 2019, Sony also introduced the Z9G 8K series, including the XBR-85Z9G and XBR-98Z9G, or KD-85ZG9 / KD-98ZG9 in Europe.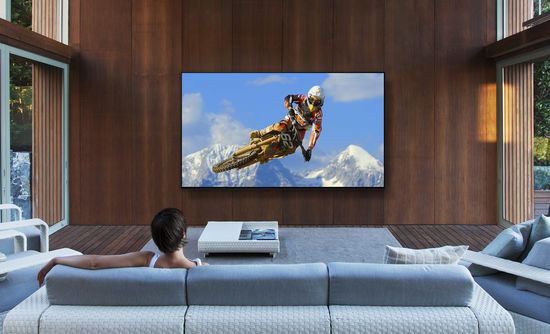 They use the updated Picture Processor X1 Ultimate, QLED display, and Android OS. In addition, the models support HDR, and Google and Alexa assistants.
Other companies
As known, in 2017, Japanese Sharp proposed the first 8K TV, but only for the markets of Japan, Singapore, Malaysia and China. Today this company offers two 8K models, including the LC-70XU830X and LC-80XU930X.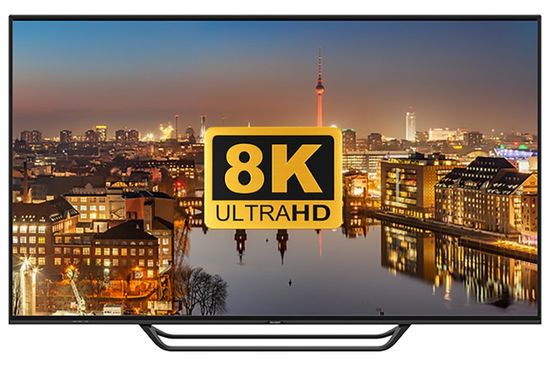 These TVs use 4 core processor, Android OS, Sharp's LED displays, and support Google Play Store. Unfortunately, they do not support HDR. The company produces LED displays using its own AQUOS Quattron Pro technology, based on the use of 4 color pixels (red, blue, green, yellow) and with a color depth of 10 bits.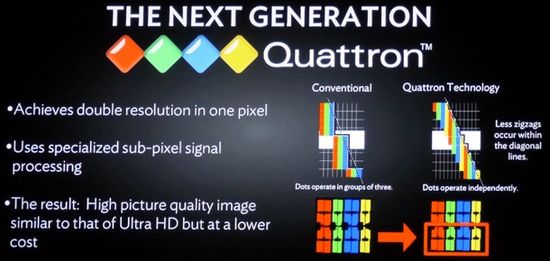 According to many experts, today it is one of the most promising technologies in terms of image quality. Unfortunately, the company sells them mainly in Asia.
Hisense has already shown its 8K models at CES 2019 and IFA 2019, but plans to start selling them at the end of 2019.
At CES 2019, TCL announced a new X-Series TV with 8K resolution, AI learning, a retractable camera and augmented reality content support.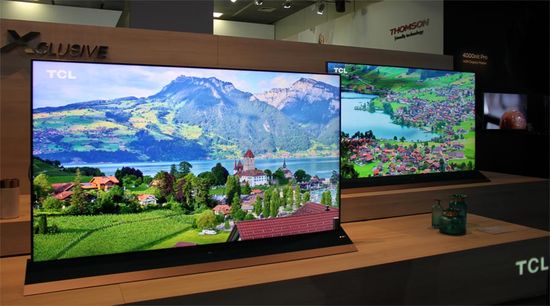 In addition, the company announced 'duo-display design' that 'allows viewers to enjoy a mini-screen independently'. TCL plans to start sales for 2020.
Conclusion
Of course, the appropriateness of buying expensive innovative models is always a dubious choice for many consumers. On the one hand, over the next few years, the processors of 8K models will mainly scale Full HD and 4K formats to 8K due to a shortage of 8K content. On the other hand, 8K can be considered as a very promising direction, which is already accessible to fans of innovative technologies with a good budget. However, fierce competition could well contribute to lower prices in this segment in the near future.
This video offers the announcement of the 88-inch LG 8K OLED TV at CES 2019.