Fierce competition continues to drive an innovative boom in the consumer electronics segment. Naturally, high-tech TVs are among the leaders of this mainstream. HDR technology, HDMI 2.1 standard, 10 and 12-bit color depth, HFR (high frame rate) format, Micro LED, etc perfectly illustrate this trend. Super resolution screens are one of the main directions of their improvement.
For many years, LG is one of the innovative leaders, regularly offering TVs with new technologies. In particular, the company confidently leads the segment of OLED models. For example, many experts call the LG C9 4K HDR Smart OLED TV w/AI ThinQ the best 4K TV of 2019 and include it in their TOPs.
Of course, the company did not ignore the 8K direction, introducing in 2019 LG OLED88Z9 and Nanocell 75SM9970 (75SM9900 in Europe) 8K TVs.
But the traditional comparison of these models is incorrect, because they belong to different classes. The premium 88-inch LG Signature OLED 88Z9 costs about $ 30,000 and leads the 8K TVs segment. The more affordable 75-inch LG Nanocell 75SM9970 costs about $ 5,000 and is a more realistic choice for the vast majority of consumers. However, they both use the same LG's solutions and components.
Of course, the first viewing of native 8K-content on the 88-inch OLED Z9 can catch the imagination of the most unperturbed person. Using a native 8K signal, TV shows great synchronization OLED's pixel-level light and color control. Certainly, all pros of the high resolution, contrast and color accuracy are most pronounced in panoramic night scenes, filmed, for example, above a city at night.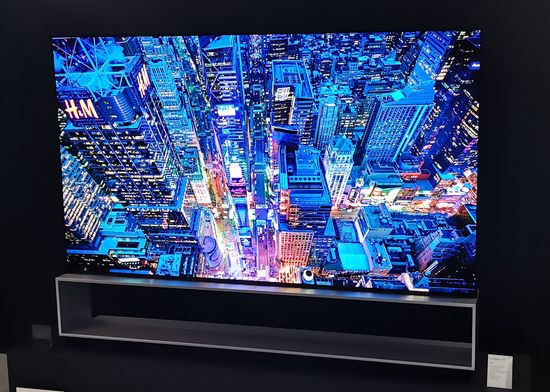 LG Signature OLED88Z9
«Artistic Sculpture» design gives OLED88Z9 a jaw-dropping visual effect, creating the illusion of zero gravity.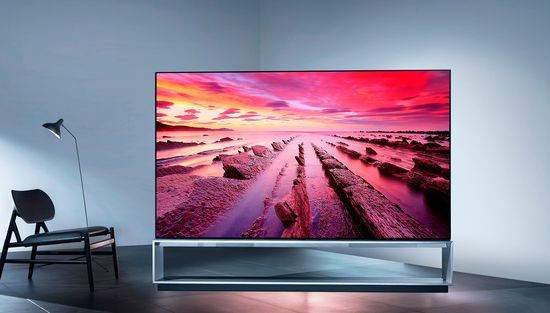 Moreover, the huge 88-inch screen enhances the experience by increasing the size of objects in the complete absence of visualization of the physical pixel structure.
In addition, LG's 8K upscaling system works great with almost any 4K sources. Of course, this result is inferior to native 8K content, but upscaling perfectly adds the necessary texture, detail and pixel density.
Moreover, a 4x increase in the number of pixels did not affect the playback accuracy. For example, color accuracy has not changed compared to the latest LG 4K OLEDs. Displaying peak brightness from HDR sources demonstrates a similar situation. The TV displays crisp light highlights with minimal clipping, virtually without losing shades. Moreover, Z9 provides this accuracy even for HDR10 standard, which, unlike Dolby Vision, do not include scene metadata for TV.
Of course, this convincingly demonstrates the effectiveness of latest built-in dynamic tone mapping system.
Unfortunately, OLED88Z9 does not support HDR10+ standard of HDR format. Of course, today the Dolby Vision sources range dominates the HDR10+. But HDR10+ is developing rapidly. Bohemian Rhapsody, the recently released Yesterday, and all of Amazon's HDR shows perfectly illustrate this trend. In addition, Panasonic and Philips OLED TVs support HDR10+ and Dolby Vision.
Of course, LG's argument in favor of the inadvisability of adding HDR10+ due to the high efficiency of its own dynamic tone mapping systems seems convincing. But in this case, LG will be inferior to those brands that offer this feature. In fairness, today Sony only supports Dolby Vision, and Samsung – HDR10 +. Therefore, LG looks quite worthy against their background.
LG 8K UpGrader
OLED88Z9 uses external 8K decoder, which is similar to Apple TV and attaches to the TV via USB and one of the HDMI inputs.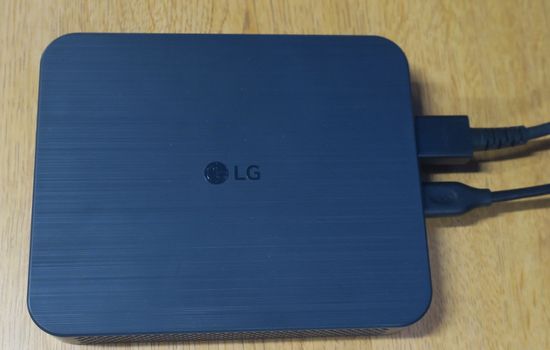 Of course, the use of only external 8K decoder in the model costing $ 30,000 seems controversial. Probably, the built-in module for working with 8K sources is more appropriate for the premium «Real 8K» TV, even taking into account the huge shortage of 8K content. Apparently, the minimalist design trend turned out to be more important for engineers compared to convenience.
However, this problem is also present in Samsung and Sony 8K models. For example, they do not play 8K YouTube video. But they can handle 8K stills and some 8K video formats via USB or streaming without a special external decoder.
LG 8K UpGrader processes 8K, decodes and plays 8K HEVC, AV1, and VP9 files. Today decoder provides playback of native 8K sources. But 8K playback via NAS will be available later after a software update in December this year. According to the company, owners of OLED88Z9 will receive firmware update for free.
Key Features
TV uses the more powerful LG's 2019 α9 Gen 2 8K processor.
Compared to the 4K version, it provides significantly more performance, which is necessary for converting the sub-8K content to 8K format. Moreover, 8K α9 uses a new six-step noise reduction system (three steps of general NR, three steps of de-contouring NR) to reduce exaggerating source noise during upscaling.
In addition, model uses four full-bandwidth HDMI 2.1, ensuring support for 8K sources up to 60 fps (4:2:0, 10-bit).
Brightness
Like all OLED models, Z9 is not very bright. With a SDR signal, it shows a peak brightness only of 441 nits (or cd/m2) with an 18-percent window, and 390.53 nits – для 10-percent window (full white screen). Of course, a HDR signal boosts the light output. In this case, its a peak brightness reaches of 735.36 nits on a 10-percent window. Today this value can be considered unprecedented for the OLED panel. For comparison, today even among LCD models, only the Sony Master Series Z9F and Hisense H9F surpass the brightness threshold of 1000 nits, providing 1677 nits and 1275 nits, respectively. At the same time, TV displays ideal black levels due to OLED technology. As known, it uses native radiation of organic diodes without backlight, providing an "infinite" contrast ratio.
Gaming mode
Several factors significantly improved this mode in 88OLEDZ9 compared to the previous 8 OLED series. Their list includes:
– excellent upscaling of gaming images, especially 4K;
– huge screen size;
– unprecedented low Input Lag in Game mode which does not exceed of 17,7ms;
– support for the automatic low latency mode and VRR features, which currently supported by Xbox consoles.
Audio system and WebOS
Probably the sound can be considered a minor flaw in the Z9. Of course, the model supports Dolby Atmos decoding and has a 4.2-channel, 80W speaker system. But its sound quality is closer to the LG C9 4K OLED than to the more "audiophile" E9. Down-firing speakers instead of forward facing drivers reduce the direct projection of sound. As a result, the perception of surround sound is reduced. But switching from Dolby Atmos to LG's own AI sound processor significantly improves sound quality. In this mode TV sounds louder and more dynamic.
As known, all modern LG TVs with ThinQ AI already use WebOS 4.5, which today is rightfully considered one of the best.
Main improvements:
– a second tier of contextual, direct-access content icons;
– screen for monitoring all smart devices on the network;
– support for Airplay 2 and WiSA Bluetooth;
– built-in voice recognition via LG's own ThinQ AI system, Amazon Alexa, and Google Home.
Moreover, the WebOS platform provides connection and viewing of content from iOS devices and control via Siri due to the compatibility with HomeKit.
Conclusion
PROS
– fantastic picture;
– futuristic Artistic Sculpture design design;
– WebOS 4.5;
– very good 4K upscaling with AI Picture;
– low input lag in Game mode (17,7ms).
CONS
– incredibly expensive;
– not support HDR10+;
– external 8K decoder;
– audio system without forward facing drivers;
– no 8K content.
Given its price, LG OLED88Z9 is unlikely to become Best Seller any time soon. Therefore, the list of its shortcomings is rather conditional. But fantastic picture quality, effectiveness 4K upscaling, and great gaming features convincingly illustrate the possibilities of future TVs.
Today Samsung offers eight Samsung 8K models vs two LG 8K models.
This video offers interview with Gregg Lee at CES 2019.