As known, Dolby Vision was originally developed as a powerful cinematic technology for 4K video format, which later transformed into a professional and a consumer brand. Dolby Vision was created by Dolby Labs as a premium HDR video format with extended color space.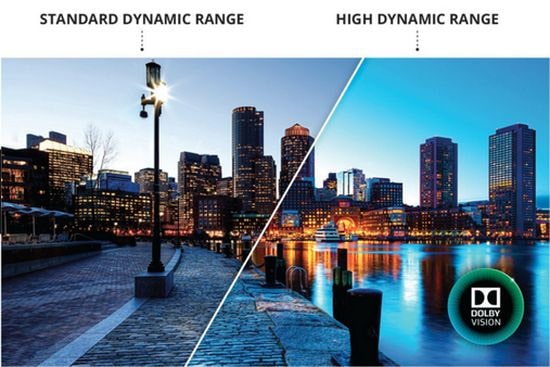 HDR history
This technology has become the logical outcome of the rapid development of digital technology. The rapid development of technology has allowed engineers to create matrix with a very short time to switch the screen cells. Of course, fast matrices required faster control, stimulating the introduction of 10-bit control instead of 8-bit control. In addition, the OLED matrix initially had almost instantaneous switching and used 10-bit and 12-bit control circuits.
The television used broadcast of television signals with 8 bits. But effective FALD backlight (Full Array Local Dimming) and the emergence of OLED-matrix allowed companies to increase the screen brightness from 500 nits and above. However, even 4K TVs initially provided an increase only in the number of displayed pixels while maintaining 8-bit (256 colors) display of video signal brightness gradations. Unfortunately, 8-bit control did not effectively use an extended dynamic range of brightness.
Thus, the improved TVs of the new generation could not use their advanced capabilities due to the limitations of the broadcast standard and video content. Of course, this problem required a solution. As a result, in 2012, Dolby Labs offered an elegant solution to this problem by increasing the dynamic range of the image brightness up to 12 bits using the HDR Dolby Vision system that it developed.
Respectively, Dolby Vision became the first format for HDR. In the future, many companies began to work on their own alternative solutions. But, of course, this direction was unpromising due to the lack of unification. Therefore, many segment leaders, including LG, Samsung, Sharp, Sony and Vizio, joined forces to create an open HDR standard.
In April 2016, UHD Alliance industrial group, including LG, Samsung, Sony, Panasonic, Dolby, etc, announced the adoption of Ultra HD Premium certification for UHD Blu-ray players.
HDR features
As known, HDR technology provides a sharp increase in image saturation due to the expansion of color gamut and contrast.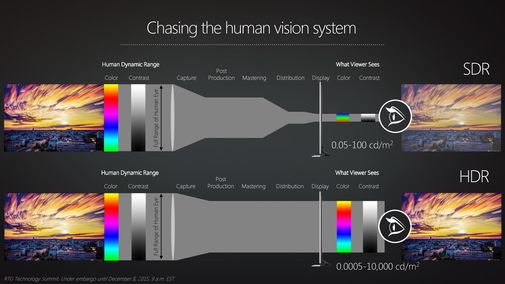 In turn, the solution to this problem was made possible on OLED TVs due to the lack of LED backlighting or by using FALD (Full Array Local Dimming), which provides brightness control for individual arrays of pixels. As a result, the saturation of the image in HDR format significantly exceeds traditional formats.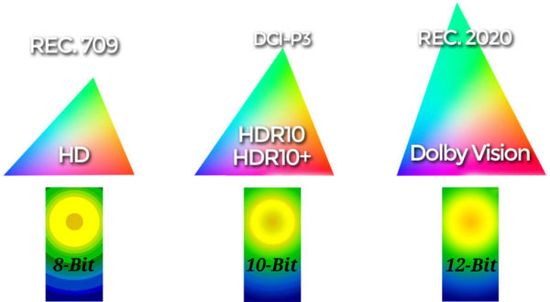 Thus, viewing HDR content requires 4K OLED TV or a 4K model with FALD-backlit.
In addition, HDR technology requires HDR content, the creation and broadcast of which has features.
Any modern video content contains static metadata, which is necessary, for example, for adjusting the screen when mastering in the process of color correction. They do not change throughout the entire broadcast and are therefore called static. Virtually all existing HDMI standards support this format.
But, playback of content only with static matadata does not ensure the preservation of the original director's color solution for each scene. Therefore, Dolby Vision uses dynamic metadata. This more complex technology solves the problem. Initially, content creators set the required brightness and contrast for each scene. Then, they generate a set of metadata and combine them with content for frame-by-frame transmission. Thus, each scene contains its own metadata. This unique technology provides the most accurate color rendition.

Video content transfer
HDR technology is currently divided into HDR10 – open source (UHD Alliance) and Dolby Vision, developed by Dolby Labs.
Respectively, the HDR10 standard allows manufacturers to make changes to the source code.
For example, Samsung and Amazon Video jointly developed the new HDR10 + standard, adding the support for Dynamic Tone Mapping to the HDR10.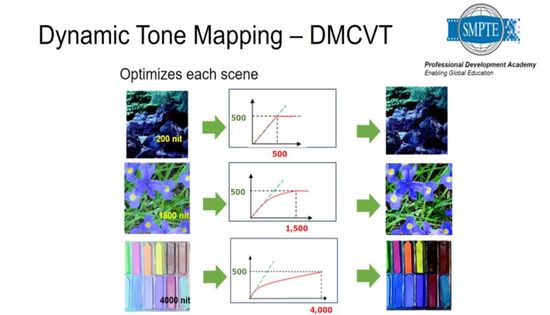 HDR10 and Dolby Vision use the PQ ("Perceptual Quantizer") transfer format. Dolby developed the EOTF (Electro-optical Transfer Function) technology, and SMPTE standardized it as an ST.2084 standard. As is known, SMPTE, along with DVB, ITU and ARIB, is one of the leaders in the segment of the HDR video specification and its standardization.
HDR uses:
– PQ without metadata (PQ10);
– PQ with static metadata (ST.2086 standard);
– dynamic metadata (ST.2094 standard);
– PQ with an additional level from Dolby and Technicolor;
– HLG from BBC and NHK, part of the ITU-R BT.2100 standard.
HDR10 uses PQ with static metadata with updated HDMI 2.0a.
Dolby Vision supports the first four modes, but most often uses dynamic metadata in a single-level or two-level configuration.
Of course, the unified ST.2084 standard for Dolby Vision and HDR10 significantly expands the content selection, allowing studios to create HDR10 video content and expand it with dynamic metadata or additional levels for Dolby Vision. As known, dynamic metadata provides the most accurate color reproduction.
Dolby Vision configurations
Single-level Dolby Vision uses only the HDR version of the video stream. Two-level Dolby Vision additionally contains an SDR signal. Today, Dolby offers the technology of simultaneous transmission of SDR and HDR in one stream. In addition, the signal can use HEVC and AVC encoding.
Of course, single-stream technology greatly simplifies content creation by providing a choice for transmitting the SDR signal. It can be sent simultaneously with the HDR by the second stream or into one two-level stream after the corresponding conversion of the entire broadcast in the transmitting encoder.
In addition, the TV tuner can also convert HDR to SDR. Moreover, Dolby has developed a CMU (Content Mapping Unit) method that improves the color reproduction and detail of the converted SDR signal compared to its native version. Metadata is created and entered into the signal stream at the moment the transmission starts or right before the last encoder, but not during the transmission itself.
UHD Premium certification
UHD Alliance requirements for UHD Premium certification include sections on displays, content and distribution. For example, HDR playback requirements include black levels and peak brightness. Content must have certain black levels, maximum brightness and minimum color gamut no worse than DCI-3. Also, certification requires compliance with the SMPTE ST 2084 standard, which includes ST 2084 + ST 2086. It complies with Dolby Vision, HDR 10 or Technicolor / Philips.
Thus, a particular TV can have the UHD Premium logo or the Dolby Vision logo, or both. This certification depends only on the technical characteristics of the TV.
Conclusion
In fact, the use of dynamic metadata was originally the main difference between HDR10 and Dolby Vision. Using only static metadata limits the ability to take into account the brightness of individual scenes. As a result, the playback of dark scenes in the HDR10 format darkens the frame, distorting the original color solution of the director and colorist.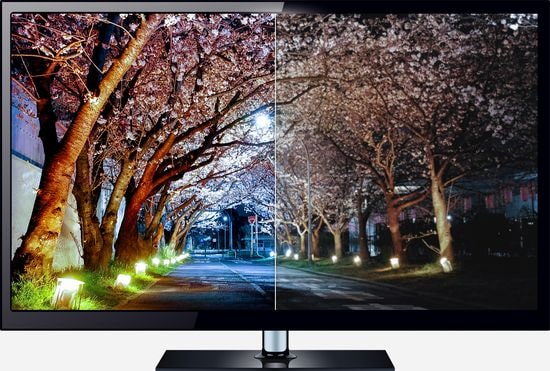 The video at the end illustrates the differences between them.
HDR10 + solves this problem by providing dynamic metadata for automatically adjusting the TV brightness for different scenes.
Of course, today support for HDR is one of the important criteria for choosing a TV.
This video demonstrates the differences between the HDR10 with static metadata and HDR10+ with dynamic metadata on two Samsung 88-inch QLED Tvs.
However, Dolby Vision still leads in color and peak brightness through the use of 12-bit color.