This review is updated regularly with new models
Last updated: September 19, 2019
As known, fierce competition is one of the main trends in the consumer electronics segment. As a result, high competitiveness is a necessary requirement for any modern device. Of course, this criterion traditionally depends on price, quality and functionality.
Introduction
But this review does not analyze the modern pricing policy of companies. We can only mention that almost all companies set the maximum price for new products and reduce them in six months or a year, releasing the next model. Of course, practically all consumers know this aspect, often preferring past models.
The quality of products from well-known companies has also reached its maximum due to the high cost of popular brands. As known, it has long exceeded hundreds of millions, and deterioration in reputation drastically reduces the brand's capitalization. This aspect forces companies to ensure high assembling quality and use reliable components even in budget models. Already today, its further increase often significantly increases the model cost, reducing its competitiveness.
Thus, the expansion of functionality has become the main tool for ensuring high competitiveness. But it, in turn, mainly depends on the use of innovative technologies.
Of course, the high-tech segment of TVs is fully consistent with these trends. Therefore, almost all of its leaders annually offer models with innovative solutions and even new technologies.
As a result, the market offers a huge number of different models. Of course, this abundance pleases consumers, but often complicates the choice of the optimal model. Various TOP lists partially simplify this task.
Of course, the selection criteria for consumer are always individual. Some people attach great importance to new products, preferring the latest models. Other buyers are guided by the opinion of experts, who usually focus on the objective specs. In addition, many buyers prefer to form their opinions on the basis of consumer reviews, which mainly depend on the price / quality ratio. As a result, the content of these TOPs is usually different. This review offers different TOPs for modern TVs.
TOPs
Of course, this format does not imply a review of all the new 2019 TVs. This list contains only a few of the most promising models from market leaders that characterize common tendencies. It includes:
– LG 4K HDR Smart OLED C9PUA TV w/AI ThinQ and LG 4K HDR Smart LED SM9500 NanoCell TV w/AI ThinQ;
– Sony X950G 4K Ultra HD Smart LED TV with HDR and Alexa;
– TCL S425 4K UHD Smart Roku TV;
– VIZIO P-Series Quantum X 4K HDR Smart TV.
As a rule, the content of TOPs from experts depends on their individual opinions. However, many models are included in different TOPs, which confirms their high quality. Such a list of 2019 includes:
– LG C9 (2019);
– Vizio P-Series Quantum X (2019), Vizio P-Series Quantum (2018), Vizio P-Series (2018);
– Sony A9F Master Series (2018);
– Samsung Q8FN (2018);
– TCL 6 Series (2018)
Of course, Best Sellers are significantly dependent on sales volume and price. Therefore, TOPs from consumers often contain the most successful budget models. The 2019 list includes:
– Toshiba 4K Ultra HD HDR Smart LED TVs;
– TCL 4K Ultra HD Roku Smart LED TVs;
– Insignia 4K Ultra HD Smart LED TVs;
– Samsung UN RU7100FXZA Flat 4K UHD HDR 7 Series Smart TVs with Alexa Compatibility;
– Sony X800G 4K Ultra HD Smart LED TV with HDR and Alexa Compatibility.
LG 4K HDR Smart OLED C9PUA TV w/AI ThinQ and LG 4K HDR Smart LED SM9500 NanoCell TV w/AI ThinQ
In 2019, LG convincingly confirmed its innovative leadership by announcing the first LG Z9 OLED TV with 8K resolution and a wallpaper-style design, and introducing the first Rollable TV. Undoubtedly, the LG Signature Roll Up R9 4K HDR OLED TV at CES 2019 made an indelible impression on the most unperturbed viewers.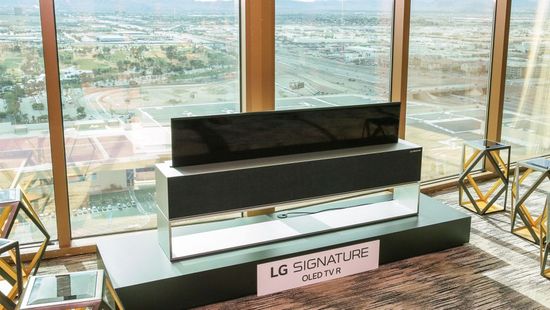 But the company was no less convincing in the segment of more traditional OLED and LED NanoCell models, introducing the gorgeous LG 4K HDR Smart LED SM9500 NanoCell TV, and LG 9C OLED TV. As known, LG C9 OLED has become an improved version of the most popular LG 8C OLED series 2018.
The LG C9 provides an awesome OLED picture quality with unlimited contrast and huge viewing angles at a reasonable price up to $1,500 for 55 inches.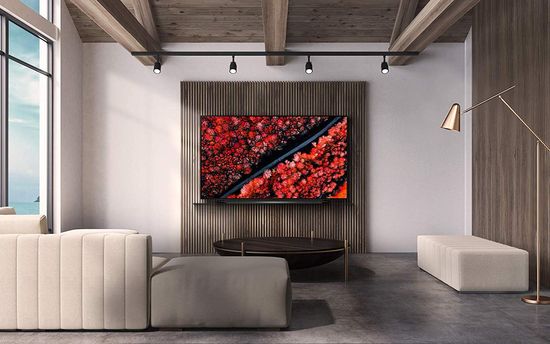 Like all new LG models, the C9 uses an α9 Gen 2 Intelligent Processor and the excellent WebOS 4.5 with Alexa, supports HDR10, Dolby Vision, HLG, and Advanced HDR standards, HDMI 2.1 and Google Assistant.
LG 65SM9500PUA LED NanoCell convincingly demonstrated the company's success in further development of NanoCell technology.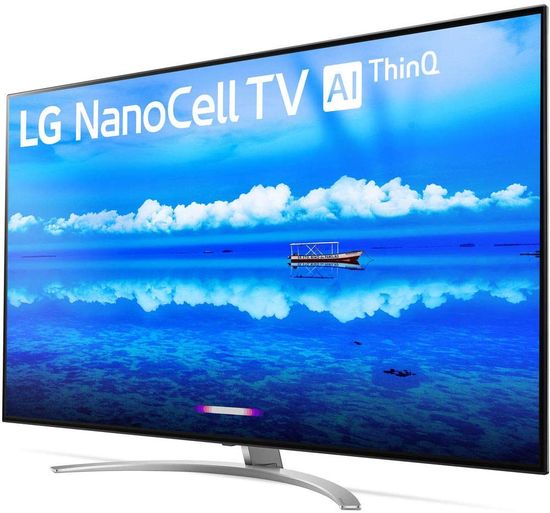 Powerful α7 Gen 2 Intelligent Processor, realistic color with Nano Accuracy, and the full spectrum with Nano Color provide excellent image quality. In addition, the model uses the improved FALD Pro, which increases contrast by improving the LED dimming control. Today its price does not exceed $ 2,000.
Moreover, the company promises to announce its first LG SM99 NanoCell TV with 8K resolution by the end of the year.
Vizio P-Series Quantum X (2019)
As known, Vizio TVs have long and successfully competed in the budget segment. But over the past few years, the company has introduced a line of TVs that successfully compete in the middle and even top range . For example, today, many experts include Vizio P-Series (2018), Vizio P-Series Quantum (2018), and, of course, Vizio P-Series Quantum X (2019) in their TOP lists.
By far, the P-Series Quantum X has become the best Vizio TV.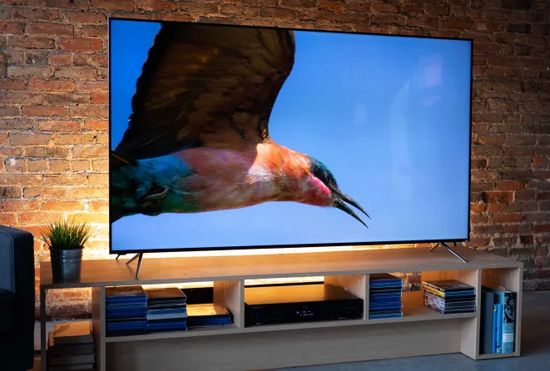 But it contains 65-inch Vizio PX65-G1 and 75-inch and PX75-G1 TVs only.
Today, the cost of PX65-G1 does not exceed $ 2,000.
Both models claim the status of brightest TVs, providing up to 3,000-nit peak brightness. For comparison, today HDR-capable TVs with 1,000-nit brightness levels are considered very bright.
Of course, their very high brightness provides excellent contrast. In addition, quantum dot display covers about 95% of the wide P3 color gamut. As a result, the 65-inch PQX delivers image quality that is comparable to the LG OLED C9. But LG's popular flagship costs $ 1,000 more.
Main specs:
– 4K (3,840 x 2,160) resolution;
– Quantum dot display;
– HDR10, Dolby Vision, and HLG support for HDR-content;
– FALD (full-array local dimming);
– 120 Hz refresh rate;
– built-in Chromecast and Apple AirPlay 2 support;
– DCI-P3/10-bit color space.
Of course, their narrow viewing angle cannot compete with the super-wide angles of OLED models. In addition, they have occasional light bloom, and not ideal Smart platform. But their price with a margin compensates for all the shortcomings, providing these models with huge growth potential.
TCL 4K Ultra HD Roku Smart LED TVs
As known, TCL LED TVs with tremendous triumph first appeared in 2017. Chinese TCL Corporation proposed TVs 4K HDR TVs with a built-in Roku smart platform, and a fairly high picture quality for an amazingly low price. As a result, the popularity of these TVs has been growing rapidly. For example, TCL 6 Series became one of the Best Sellers of 2018.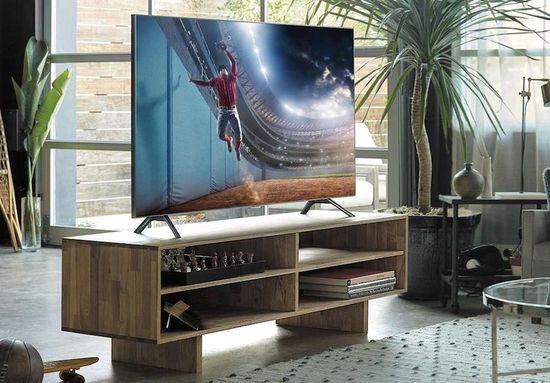 It includes a 55-inch TCL 55R617 (Best Buy) / 55R615 (Amazon) for a little over $ 500, and a 65-inch TCL 65R617 / 65R615 up to $ 1,000.
Their specs correspond to a very high level even for the middle price segment and are rapidly approaching the TOP level. They include:
– 4K resolution (3,840 x 2,160);
– High Dynamic Range support (HDR10 and Dolby Vision standards);
– great built-in Roku streaming platform with Roku remote;
– FALD (full-array local dimming) LED backlight.
At the same time, the price range for 55 inch models ranges from $ 350, for example, for the TCL 55S425 (2019).
Of course, such a pricing policy ensures the enormous popularity of TCL TVs among consumers.
This year, the company introduced the TCL S425 4K UHD Smart Roku TV series, priced from $ 280 to $ 1,000.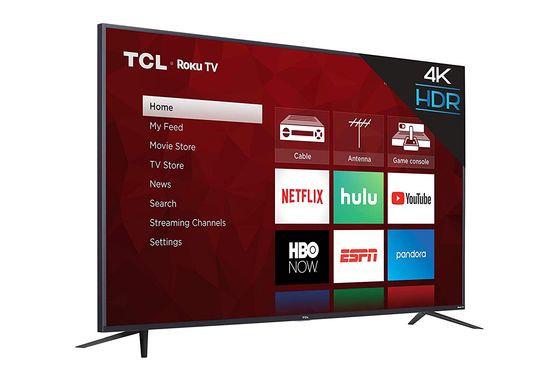 Perhaps too low a price is the deliberate dumping of the company and it will increase it over time. But, today, most buyers are happy to take the opportunity to profitably buy TV.
Conclusion
In general, healthy competition has done a good job of giving consumers a great choice.
1. Today, LG offers the top-end 4K UHD HDR OLED Smart 9C for up to $ 1,600 for a 55-inch model.
2. In addition, LG and Vizio offer SM9500 NanoCell and PX65-G1 models with quantum dot technology for up to $ 2,000 for 65 inch TVs. Unfortunately, 55-inch models are not available in these series.
3. Additionally, TCL offers a huge selection of gorgeous budget 4K Roku Smart LED TVs. For example, a 55-inch TCL 55S425 4K Smart LED Roku TV (2019) costs less than $ 320.
Thus, any consumer can easily choose the optimal model depending on the budget and individual preferences.
We sincerely wish you the Right Solution!
This video offers an overview of the 55-inch TCL 55S425 Smart LED Roku TV (2019).