This review is updated regularly with new models
Last updated: October 20, 2019
For most people, washing dishes has always been one of the most time-consuming and unpleasant work in the kitchen. This problem has existed for several centuries. In the 19th century, the development of the catering system has further aggravated it. Of course, many inventors enthusiastically responded to this problem.
In 1850, Joel Houghton invented and patented the first hand-operated dishwashing machine. Already in 1865 another patent was issued for a similar design. But these primitive devices with low efficiency are not widespread.
And only in 1887 Josephine Garis Cochran of Chicago proposed the first practical dishwasher for catering system.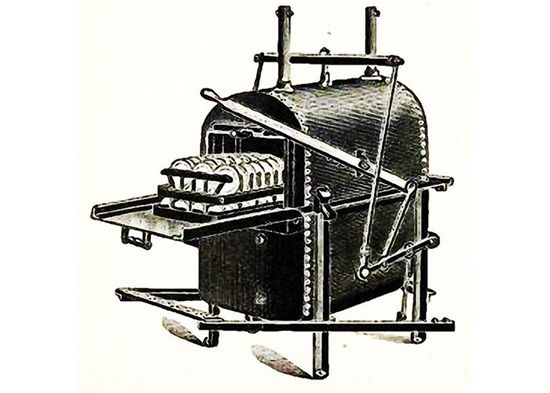 But the first dishwasher for home use was proposed by the Englishman William Howard Livens only in 1924. It contained almost all the elements of the modern model, with the exception of the dryer. Unfortunately, they were very expensive. Finally, in the 1970s the price of home models became available for wide distribution.
Certainly, modern models are radically different from their prototypes. Today the market offers a huge number of different dishwashers, including narrow and full-sized built-in models, compact countertop dishwashers, and portable devices. Of course, choosing the optimal model depends primarily on the price, functionality, and model specs. This article offers an overview of some popular models of each type, including:
– Bosch 800 series full-sized built-in dishwashers;
– hOmeLabs HME010033N countertop dishwasher;
– GE GSC3500DWW portable dishwasher.
Bosch SHPM88Z75N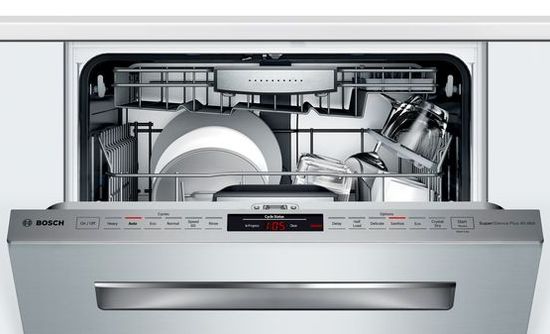 Key Features
– CrystalDry technology.
Of course, patented CrystalDry technology based on the use of zeolite is the main advantage of the 800 series. As known, the chemical reaction of zeolite with water is accompanied by heating. The device uses this heat for additional drying dish. Practically, technology increases the drying efficiency without increasing energy consumption. Unfortunately, these models are expensive. Previously, only three Bosch dishwashers used this technology and cost at least $ 1,500. Today, Bosch offers the models with this technology for about $ 1,000;
– ExtraDry increases drying intensity due to higher air flow temperature;
– stainless steel interior;
– 16 Place Settings;
– Pocket Handle;
– three adjustable heights on the upper rack;
– InfoLight projects a red light onto the floor during the wash cycle. As known, some Bosch models use TimeLight option for projecting a programmed time.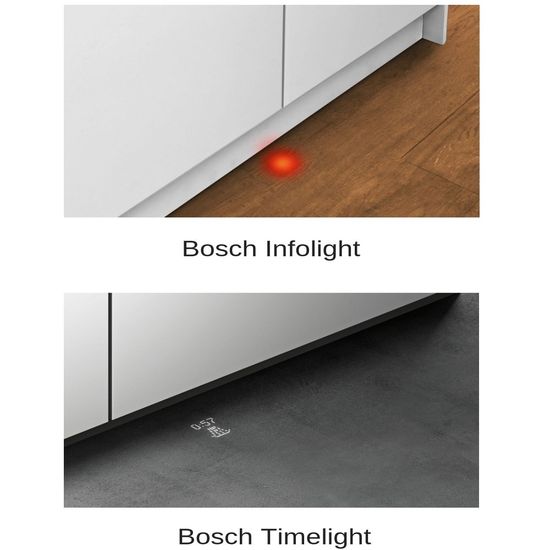 – noise does only 40 dBA. This series uses the EcoSilence motor system, and a sound absorbing base. As a result, these models reasonably pretends to be Quietest Dishwashers;
– space for ladles, knives, and chopsticks in MyWay third rack;
– excellent dishwashing quality. In particular, the model provides a cleaning level of dirty dishes of 94.5% on the Normal and 99.5% on the Heavy mode even for burnt sugar;
– Half-Load option;
– Sanitize option for ultra-messy dishes or baby bottles. Of course, it uses a lot of power and increases the cycle duration, but very effectively destroys germs by heating water to 160° F. Moreover, it can even be used to wash children's toys instead of a washer.
In their reviews users most often mention a convenient removable cutlery basket and very quiet operation.
hOmeLabs HME010033N
As known, this very successful Indian company develops and manufactures dehumidifiers, air conditioners, microwaves, ice machines, etc. Countertop dishwashers are one of their main focus areas. In 2017, the company introduced a very successful hOmeLabs HME010033N model, which immediately became very popular. Today many experts include this dishwasher in their TOP lists.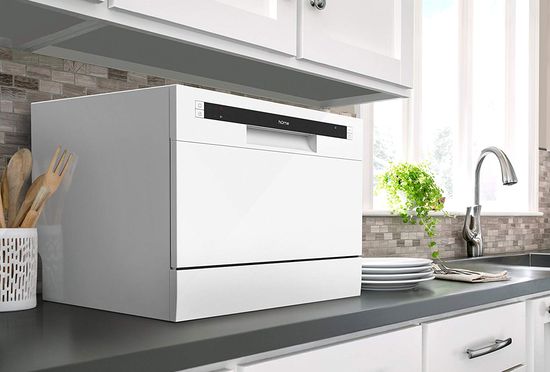 Today, the model costs about $ 270. It holds 6 standard place setting, and supports all traditional cycles, including Heavy, Normal, ECO, Glass, Speed, Rinse, and Delay Start option. Depending on the mode, the model consumes 1.14 – 3.30 gallons of water.
Main pros:
– Best seller;
– a huge number of positive reviews;
– relatively low price;
– high quality dishwashing;
– convenient LED display;
– the buzzer at the end of the cycle;
– dispenser indicator light;
– Delay Start;
– stainless steel interior;
– accessories for quick and easy connection to water supply and drainage system (15/16″-27 female or 55/64″-27 male threads).
GE GSC3500DWW portable dishwasher
This series of convertible dishwashers has been successfully competing in the market for 4 years. Of course, this unique feature is its main advantage. Model turns into a freestanding device after a simple removal of the wheels. Its height without wheels corresponds to a standard. Therefore, the dishwasher fits easily under the kitchen worktop. In this case, it turns into traditional full-size build-in dishwasher.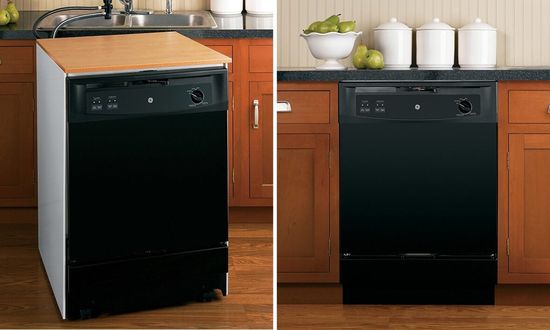 Of course, such versatility provides a significant advantage of this series. For example, it may be useful when moving from an apartment with a small kitchen to an apartment with a large kitchen.
Today, the model costs about $ 670 (MSRP $600).
This 12-place settings portable/convertible dishwasher supports 5 wash cycles, has 2-Stage filtration with ExtraFine Filter and Piranha Hard Food Disposer.
Key Features:
– 3-Level Wash System;
– woodgrain laminate top;
– two-stage filtration with Extra Fine Filter;
– 5-level PowerScrub wash system;
– Piranha Hard Food Disposer grinds food into small particles.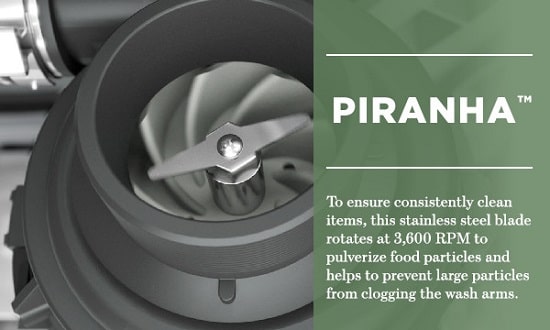 Unfortunately, testing showed relatively poor performance, not providing ideal dishwashing. In addition, its noise level reaches 64 dBA. Finally, the GE GSC3500DWW does not support such convenient options as Quick Wash, Steam Wash, and Air Dry.
Pros
– exellent versatility;
– relatively low price;
– stylish design;
– Woodgrain laminate Top;
– PermaTuf large capacity tub with removable silverware basket;
– Ease of Use;
-12-place settings;
– Piranha Hard Food Disposer.
Cons
– high noise level (64dBA) due to the plastic interior;
– no Quick Wash, Steam Wash, and Air Dry;
– only average quality dishwashing.
Conclusion
Of course, this review covers a very small part of the interesting offers on the market. But all these models are absolutely justifiably included in the various TOPs.
Bosch 800 series offers a unique and very promising CrystalDry technology, which significantly improves the dish drying without increasing energy consumption. Of course, an innovative model with German reliability can be considered a good investment.
Very successful compact hOmeLabs HME010033N countertop dishwasher has a great price / quality ratio, entering the list of Best Sellers. This model has been receiving a huge amount of rave reviews for three years now.
The GE GSC3500DWW portable dishwasher is the absolute leader in terms of versatility. Perhaps this aspect will be important for some consumers. In this case, the GE GSC3500DWW has no competitors.
But, of course, the optimal choice depends on personal preferences and budget. We sincerely wish you the Right Solution!
This video offers review of the Bosch 800 series dishwashers.