This review is updated regularly with new models
Last updated: October 18, 2019
For most people, washing dishes has always been one of the most time-consuming and unpleasant work in the kitchen. The development of the catering system has further aggravated this problem, requiring quick and high-quality cleaning a huge amount of dishes. Of course, many inventors and entrepreneurs enthusiastically responded to this problem. As a result, in 1850, Joel Houghton invented and patented a hand-operated dishwashing machine. Already in 1865 another patent was issued for a similar design. But these primitive devices are not widespread due to low efficiency.
The first practical dishwasher with a manual drive was created by Josephine Garis Cochrane in Chicago in 1887.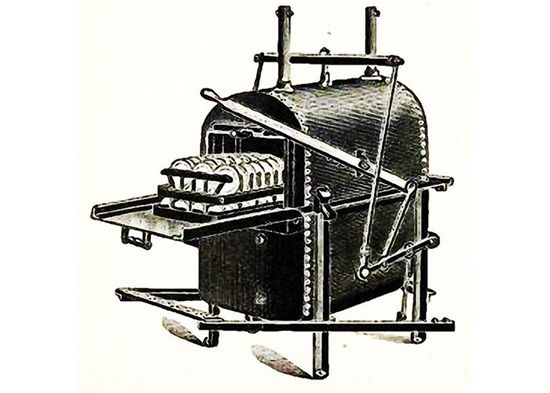 The first model for home use was proposed by the Englishman William Howard Livens in 1924. It already contained almost all the elements of the modern model, with the exception of the dryer. Unfortunately, they were very expensive. And only in the 1970s the price of home models became available for wide distribution.
Certainly, they are not much like their prototypes. Today the market offers a huge number of different models, including built-in full-size dishwashers, and compact devices. In turn, compact dishwashers are classified as portable or countertop models.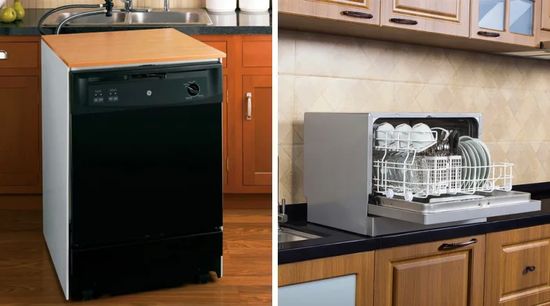 Typically, portable dishwashers have wheels. Top surface of some portable models can be used for cutting food, extending the device functionality. Of course, a countertop dishwasher is cheaper, requires less space, consumes less water and energy, but holds much less dishes. Its great for one or two people.
Dishwashing quality
Today, the market offers a huge range of models that pleases consumers. But the abundance of proposals sometimes difficult to choose optimal model. Of course, various reviews partially solve this problem, offering the ratings of models based on their price, quality, specs and functionality. But, of course, the washing dishes quality is one of the core criterias. Its assessment takes into account the following basic factors.
1. Stain removal.
This criterion characterizes the dishwashing quality. Of course, it significantly depends on the mode (Quick, Heavy, and Normal) and the type of dirty dishes (congealed fat, food debris, etc). Ideally, the dishwasher completely removes 100% stains, but even full-size expensive models do not provide this level in Normal or, especially, Quick modes. But, the Heavy mode lasts longer, consumes more water and heats it to a higher temperature. For example, effective OrbitClean Wash System in Frigidaire increases the water consumption.
2.Redeposit.
Water jets in some low-cost models transfer bits of food from one dish to another. Of course, this reduces the dishwashing quality. But companies successfully solve this problem. For example, LG models use TrueSteam technology. It provides preliminary cleaning the dishes from large food debris with the help of hot steam, which under high pressure enters the washing chamber.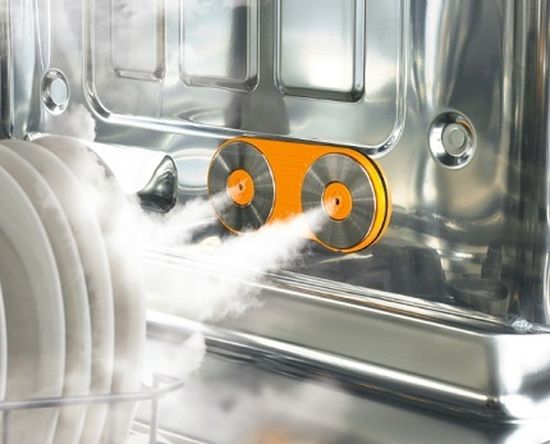 Hot airflow effectively removes large and hard food particles. The integrated steam generator automatically adjusts the pressure and temperature of the steam.
3. Drying.
Typically, modern dishwashers use a built-in heater, or a built-in fan. Of course, quick drying is a pros of model, but it increases energy consumption. But today Bosch offers dishwashers with innovative CrystalDry technology, which additionally dries dishes using zeolite without increasing energy consumption. Unfortunately, these models are quite expensive.
SPT SD-2201W
As known, Sunpentown International Inc was founded in Southern California in 1993. Today the company offers a wide range of products, including refrigerators, power generator and sanitary, etc. But, the development and production of dishwashers is one of the most successful of its directions. For example, SPT SD-2201W rightfully claims to be a champion, regularly entering the lists of Best Sellers since 2011.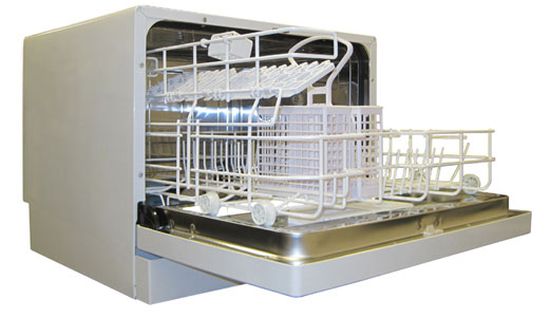 This top-selling SPT dishwasher has capacity up to 6 standard place settings inside the stainless tub. Its cycles duration varies from 49 to 75 minutes, and operating costs for water and energy – from 6 to 11 cents per cycle. Of course, this is an excellent result for the budget segment.
In addition, the model has user friendly controls, automatic detergent and rinse agent dispenser, quick and simple connection. The model uses Heavy, Normal, Eco, Glass, Speed cycles, and a rinse option.
But most importantly, the SPT SD-2201W costs less than $ 200, is very reliable and provides a fairly high dishwashing quality. Over the years of its presence on the market, only a few users have reported problems with dosing detergents and leaks. Unfortunately, today the offer of this model is limited.
Costway EP22565
This model of 2017 is slightly more expensive than the previous model and costs about $ 230.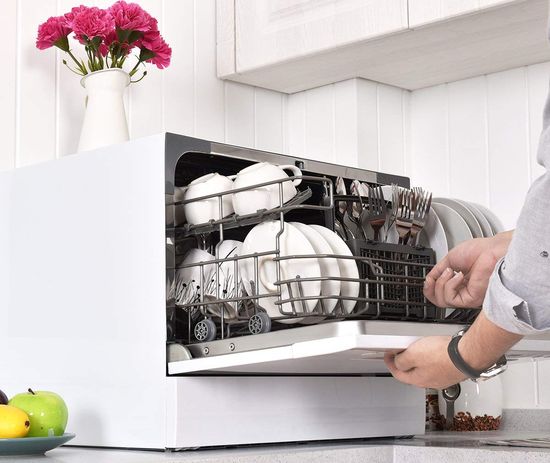 It has an LED display and a delay timer of up to 24 hours in increments of one hour. For comparison, most other models of this class provide delay start in increments of two, six, or eight hours. Otherwise, it has similar specs. Its stainless tub holds 6 standard place settings. Model uses semi-integrated electronic controls with easy-to-use rotary cycle selector and push-button functions. EP22565 supports six traditional wash cycles, including Heavy, Normal, Eco, Speed, Glass and Rinse.
Probably, LED display and improved delay timer completely compensate for the small difference in price.
Danby DDW621WDB
Canadian family-owned Danby Appliances Inc has been successfully competing in the market since 1947, specializing in the compact household appliance segment, including compact refrigerators, wine coolers, ranges, etc. In 2012, the company for some time even held leading positions in the North American market in this segment. Well-known Danby brand refers to a line of compact appliances marketed by Danby Appliances Inc. As known, Danby manufactures its products in China, Mexico and the United States.
Its new Danby DDW621WDB dishwasher costs around $ 220.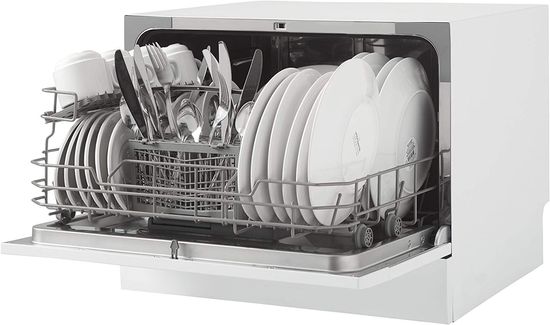 This very economical model with LED display holds 6 standard place settings in the stainless-steel tub, and uses just 3.1 gallons (11.7 liters) of water for a normal cycle. DDW621WDB supports six traditional wash cycles, including Soak, Glass, Rapid, Economy, Normal, and Intensive. Its delay start option varies from 2 to 8 hours in increments of 2 hours.
As a result, the low price, high brand reputation and excellent economy have made the model a place among the leaders.
Sunbeam DWSB3607WW
Electric home appliances under Sunbeam Products brand has produced in America since 1910. The list of its most popular products includes the Mixmaster mixer, the Sunbeam CG waffle iron, fully automatic T20 toaster, etc. Today, Sunbeam is owned by Newell Brands.
Portable Sunbeam DWSB3607WW countertop dishwasher was introduced in 2017.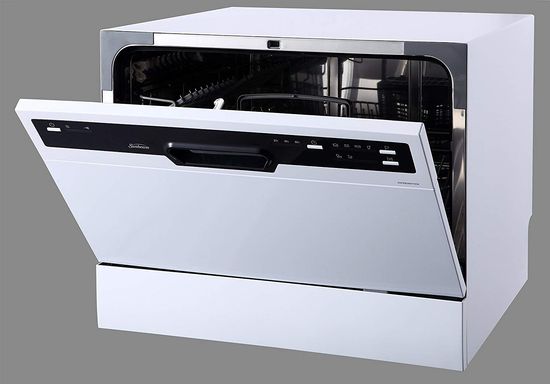 For two years now it has been on the TOP lists of many experts. The model provides high quality dishwashing, and offers an intuitive interface.
Sunbeam DWSB3607WW supports six traditional wash cycles, including Heavy, Normal, Eco, Glass, Speed, Rinse, and self-cleaning. Its stainless steel interior holds up to six place settings.
The company offers model in 3 colors.

Its price varies in the range of $ 250-300.
hOmeLabs HME010033N
As known, Homelab is a successful Indian company that develops and manufactures dehumidifiers, air conditioners, microwaves, ice machines and other home products. In 2017, the company introduced the hOmeLabs HME010033N dishwasher, which many experts immediately included in their TOP lists.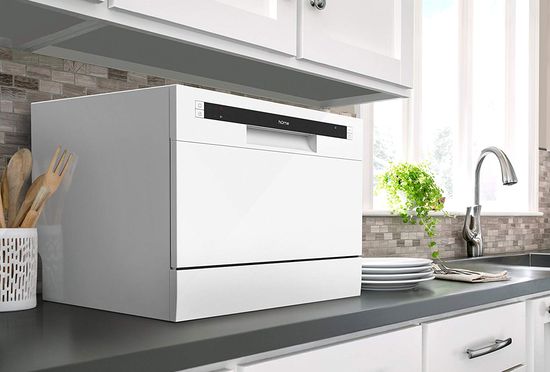 Today, the model costs about $ 270, holds 6 standard place setting, and supports all traditional cycles, including Heavy, Normal, ECO, Glass, Speed, Rinse, and Delay Start option.
Pros:
– Best seller;
– relatively low price;
– convenient LED display;
– the buzzer at the end of the cycle;
– pause cycle option;
– stainless steel interior;
– many accessories for quick and easy connection;
– high quality dishwashing.
Conclusion
Thus, the market offers a very wide range of excellent models about the same class at prices ranging from $ 200 to $ 270. Almost all of them provide high quality dishwashing and approximately the same functionality. In this situation, the choice depends on such additional factors as brand reliability, personal preferences, design, warranty, terms of sale, etc. For example, a good discount can be a decisive factor in favor of any model. We sincerely wish you the Right Solution!
This video shows operation principle of the innovative CrystalDry Technology in Bosch dishwashers.