As known, Frigidaire is the American home appliance brand of the European parent company Electrolux. Frigidaire was originally founded as the Guardian Frigerator Company in Fort Wayne, Indiana. This company developed the first electric self-contained refrigerator in 1918. Today, this brand needs no introduction, offering a wide range of kitchen appliances, including the popular 4-piece kitchen package.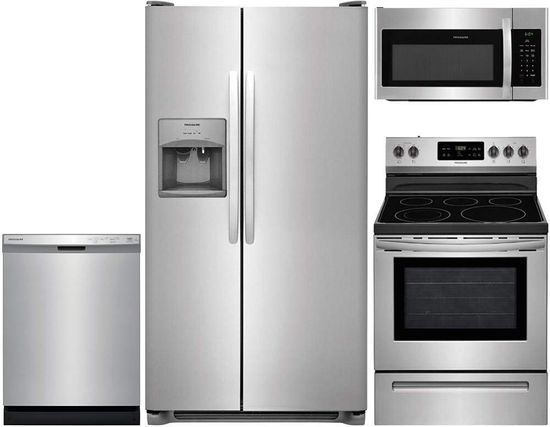 Built-In dishwashers are one of the main areas of the company. Its main Gallery series includes many models, but FGID2466QF is the most popular. This dishwasher successfully competes in the segment of relatively inexpensive models for more than 3 year.
In fact, the FGID2466QF is a straight upgrade of the discontinued FGBD2438PF, and is similar to the FGID2474QS, with the exception of plastic tub instead of stainless.
Frigidaire Gallery FGID2466QF 24″ Built-In Dishwasher
Model uses OrbitClean Wash System with 4 times more water volume per one cycle.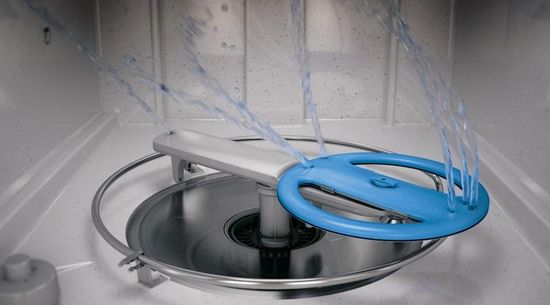 Of course, it improves the dishwashing quality, but also increases water consumption.
The 34-minute Quick Clean and the top-rack-only wash are very convenient in many cases.
Drying quality is consistent with the class of the model. But "Sahara dry" option increases dry score up to 56%.
AquaSurge technology adjusts washing pressure.
The Sanitize cycle removes op to 99.9% of common household bacteria.
According to the company, SpaceWise Organization System provides cleaning 14 place settings per cycle. But really, racks provide comfortable accommodation for 11 place settings.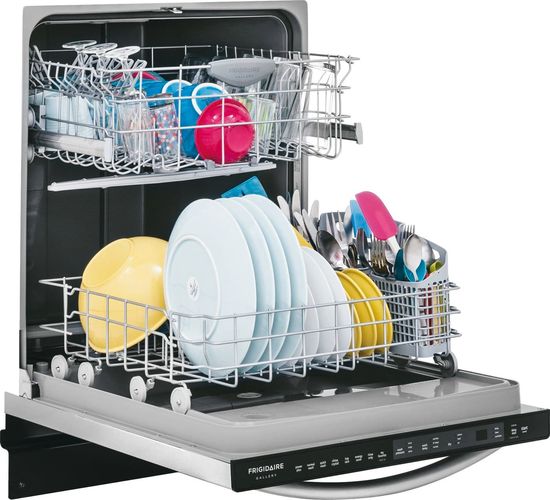 DishSense technology automatically adjusts the cycle time.
Model supports 24-Hour Delay Start and Child Lock.
Stay-Put Door holds the door at whatever angle during loading and unloading.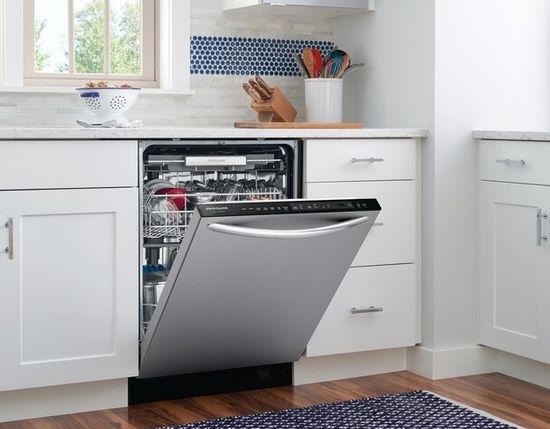 In addition, FGID2466QF has easy-to-use cleaning cycle options including Rinse Only, Heavy Clean and Upper Rack (feature varies by model), and removable self-cleaning stainless steel filter.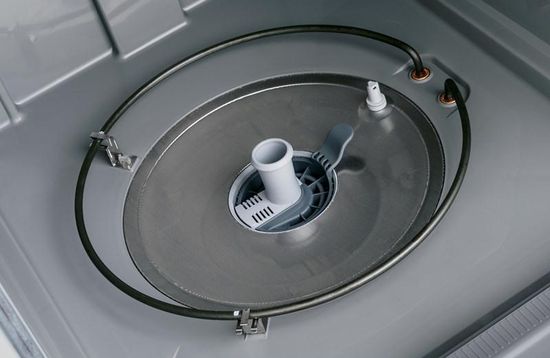 Pros & Cons
Pros
– Smudge-Proof Stainless Steel looks very stylish;
– eight wash cycles, including a My Favorite cycle, which saves a cycle-plus-wash option configuration for easy recall later;
– user settings, including selection from three different wash pressures, three different wash temperatures, and three different drying methods provide significant optimization;
– reasonably high quality dishwashing in the 33-minute Quick Wash cycle;
– NSF Certified;
– silverware basket;
– wide selection of cycles ensures good functionality;
– fully integrated control panel.

Cons
– the unsuccessful design of tines on the upper rack leaves little space for placing glasses and bowls. In addition, insufficient rack adjustments limit the placement of non-standard dishes, for example, too deep or too thick plates;
– increased operating cost due to high water consumption. For example, testing in Normal mode shows a water consumption of 7.35 gallons vs 3.5 gallons on average, a huge 10.21 gallons in Power Plus and acceptable 5.56 gallons in the Quick Wash cycle. Electricity consumption does not differ from the average value for this class. As a result, total annual operating costs reach almost $ 40 per year vs $ 30 from competitors;
– no third rack;
– noise level reaches 52 dB;
– testing demonstrated the inefficiency of the water filtration system design when loading heavily soiled dishes. In this case, food particles are partly sprayed onto other plates instead of going down the drain. Of course, this aspect increases the required rinse duration;
– too many options require the use of instructions, for example, when choosing heating mode;
– plastic inner tub instead of stainless steel.
Of course, taking these factors into account affects the choice of the optimal dishwasher.
Conclusion
Of course, the model has some minor flaws. But the great functionality for this class compensates for them. Today, the model costs less than $ 600 and successfully competes in the middle price segment of built-in dishwashers, including, for example, LG LDF5545ST QuadWash and even Bosch SHPM88Z75N.
This video offers an overview of the Frigidaire FGID2466QF dishwasher.