In 2000, a research team led by professors Jingyu Lin and Hongxing Jiang from Texas Tech University announced the creation of a prototype Micro LED array. Modern Micro LED panels use a variety of acronyms, including mLED, μLED, and ILED. In fact, MicroLED is another self-emitting display technology that uses miniature LEDs as subpixels. According to many experts, it can be positioned as one of the most promising.
Curiously, Micro LED panel cannot formally be positioned as TV, because since 2006, U.S. Federal law states define TVs as a digital tuner (receiver, decoder or digital set-top box) for receiving and decoding of a digital television signal. However, the Luxury line in The Wall series for home already uses traditional tuners, has HDMI inputs, supports Smart TV, etc for receiving video from common sources.
In 2012, Sony unveiled the first 55-in microLED TV prototype called Crystal LED Display.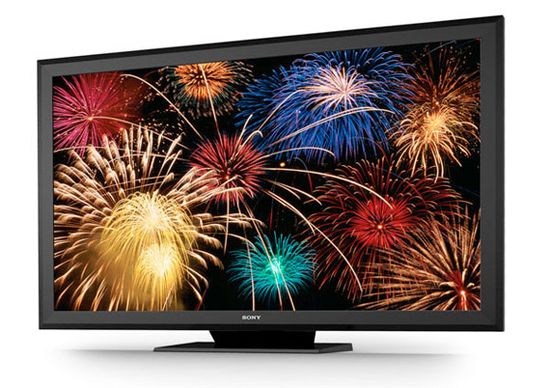 It used only 6.22 million micro-LEDs, but its contrast was 3.5 times higher compared to LCD models. In addition, the Crystal has expanded in 1.4 color gamut and provided 180° viewing angles.
MicroLED technology has become especially popular in the TV segment with the acquisition of mLED by Apple and Oculus (Facebook). Moreover, Apple recently acquired LuxVue, that also makes microLEDs. Perhaps, in a few years, consumers will be able to buy an iPhone with a microLED matrix.
Today Micro LED panels are evolving in several directions, including power supply, pixel pitch and LED size. As known, pixel pitch is the distance in millimeters between centers of two adjacent LEDs. It directly affects the resolution. Therefore, its decrease is one of the main ways to improve the technology. Pixel pitch indirectly depends on the LED size, but these are different specs.
Micro LED vs OLED
Samsung began to develop Micro LED as a strategic alternative to the premium LG and Sony OLED TVs. However, other leaders do not ignore Micro LED technology either. For example, last summer LG introduced a modular 163-in (4.14 meters) Micro LED Magnit 4K (3840×2160) panel on the webOS platform.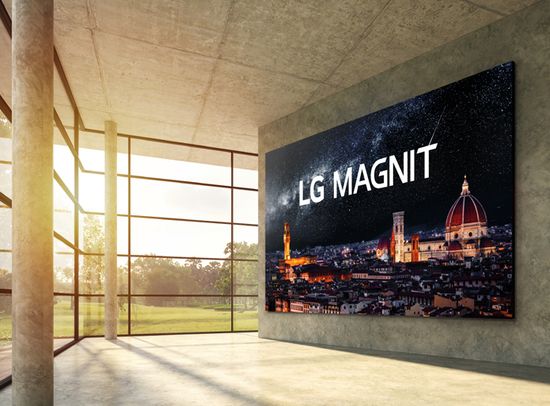 Sony also recently introduced new Crystal LED C and B series panels.
Like OLED (organic light emitting diode), Micro LED uses self-emitting diodes and does not require backlight, providing perfect contrast.
As known, organic LEDs are made from carbon compounds that are products of organic chemistry. In fact, it's a solid semiconductor with a thin layer of carbon material that emits light when an electric current flows. In contrast, Micro LED pixel arrays are made from carbon-free inorganic diodes. Mostly manufacturers use GaN (gallium nitride). This replacement dramatically increased the panel's lifespan, which today reaches 100,000 hours. Actually, this is the only fundamental difference between technologies.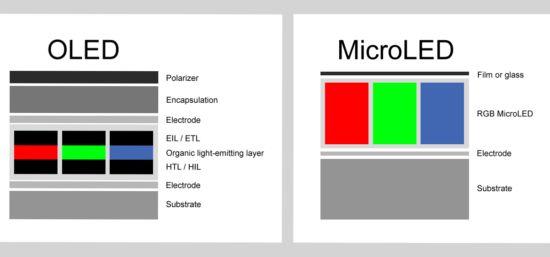 As known, OLED has several significant cons, including low brightness, relatively fast degradation of blue sub-pixels, and a sharp increase in production costs with increasing diagonal. Micro LED panels with a huge lifetime provide high brightness, and their modular design removes shape and size restrictions. Unfortunately, the fantastically high price is a very serious drawback. For example, the latest 110-inch Samsung Micro LED panel costs $ 156,000. Apart from the price, microLED is inferior to OLED due to the pixel visualization at a short distance.
Samsung Micro LED panels
The history of the Samsung's MicroLED development is short, but very saturated. The first modular 219-inch The Wall Micro LED panel with brightness up to 2000 nits was presented at ISE 2018 (Integrated Systems Europe). Its sheer size and impeccable playback quality made a splash among viewers and experts. A year later, at CES 2019, the company showed a compact 75-inch 4K panel and 13-inch MicroLED modules, which are assembled using brackets with powerful magnets.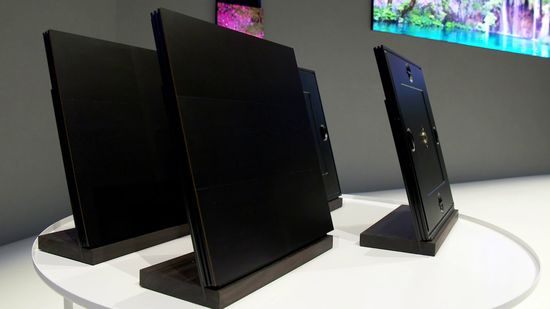 An unprecedentedly huge 292-inch (almost 7.5 meters) The Wall Luxury MicroLED 8K panel with brightness up to 2000 nits was announced in the summer of 2019.
At CES 2020, the company unveiled 88- and 150-inch MicroLED bezel-less panels with unprecedented brightness up to 5,000 brightness nit. In comparison, OLED TVs typically provide less than 1,000 nits of brightness.
This year Samsung expanded the MicroLED lineup with pre-assembled 88, 99 and 110-inch panels in traditional TVs form factor.
The new 110-in model uses an Active Matrix panel, supports 4K resolution (3840 x 2160, about 8.3 million pixels) and provides 100% coverage of DCI and Adobe RGB color spaces. A screen-to-body ratio exceeds 99% and service life reaches 100,000 hours.
In addition, MultiView technology (or Quad View) supports simultaneous playback of video content from 4 different sources, while Majestic Sound system provides 5.1 channel audio without external speakers.
Additionally, the panel provides 4K @ 120 fps via HDMI 2.1 ports.
Micro LEDs
Companies use several technologies to produce modern LEDs.
– DIP – The Direct In-line Package.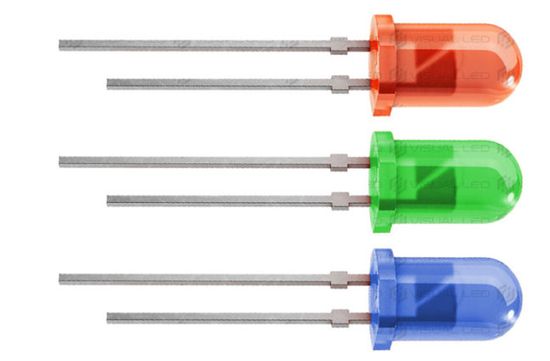 They provide pixel pitch of 6mm or more, and are commonly used in external panels, which form the image from individual LEDs. DIP technology is very easy to install and provides high color saturation.
– SMD 3-in-1 – Surface Mounted Device.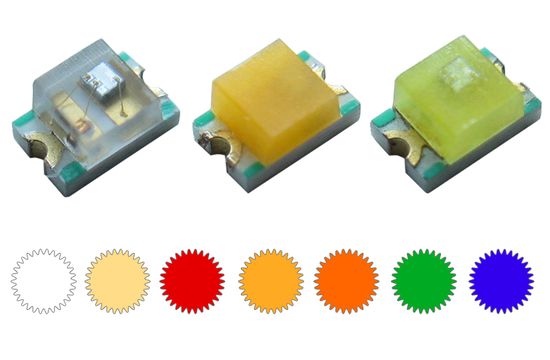 These LEDs have three integrated RGB LEDs in the housing with a specific pitch, can emit any color and are used in microLED displays. SMD decreased pixel pitch and provided more uniform color distribution. Their crystals are grown on a sapphire substrate.
– IMD 4-in-1- Integrated Mounted Device.
Shrinking the diodes to less than 1 mm makes soldering more difficult. To solve this problem, manufacturers combine 4 LEDs into one group.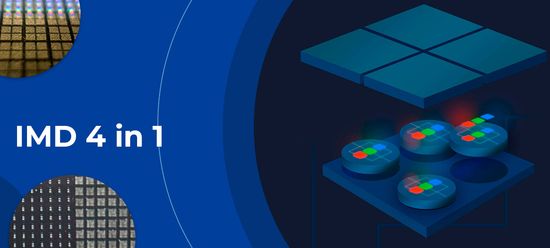 But other combinations are possible, including 9-in-1 or 16-in-1. For example, prototypes with pixel pitch of 0.5mm and 0.6mm using this technology were presented at ISE 2020.
– COB – Chip-On-Board.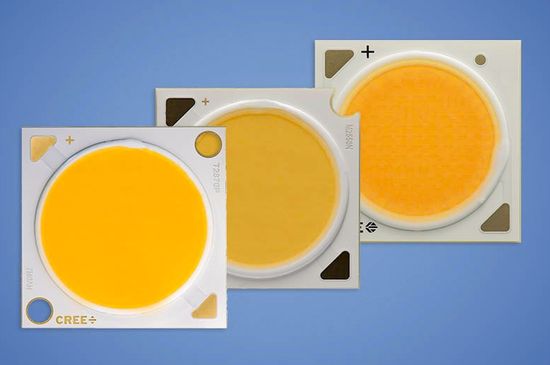 Unlike IMD 4-in-1, COB LED pixels are uncased. Their crystals are grown on the board, providing minimal pixel pitch. In the future, modules with LEDs are filled with a special optically transparent compound or gel.
Compared to SMD, COB increases the density of LEDs.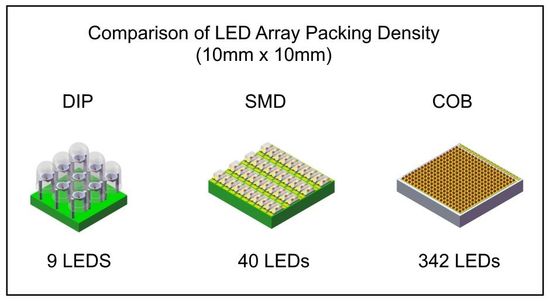 Pros COB:
– reducing the screen thickness;
– increased viewing angle due to the placement of RGB LEDs in the recess (DIP – 100-110°, SMD – 120-140°, COB – more than 170°);
– COB chips are immune to PCB bending;
– no heating and reduced power consumption;
– minimum response time.
– increased reliability due to the protective coating.
Conclusion
Today companies interpret the term "microLED" differently, sometimes creating confusion. At ISE 2020, Leyard Planar introduced a panel with 0.6mm pixel pitch using SMD 4-in-1 technology called microLED. Since 2012, Sony has been calling its panels CLEDIS (Crystal LED Integrated Structure) or Crystal LED, using COB technology. Based on COB technology, Samsung The Wall panel (flip-chip RGB LED) with 0.84mm pixel pitch called microLED. Unilumin has introduced a panel with 0.5mm pixel pitch based on IMD 4-in-1 technology called nanoLED. Chinese Absen at InfoComm China 2019 showed a panel with a pixel pitch of 0.9mm using 4-in-1 technology called mini-LED.
In fact, some companies use the "microLED" term based on pixel pitch, others based on diode size, which, of course, is not very correct. Probably, the classification should take into account both factors.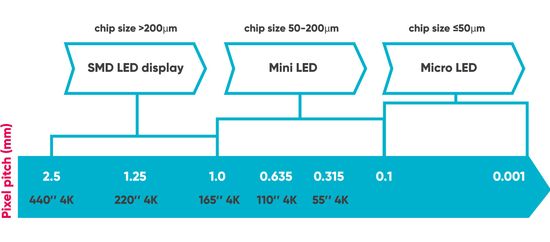 But classification is not the main problem with the new technology. Previous panels required complex assembly and did not have a traditional receiver for connecting content. At ces 2021, Samsung first announced MicroLED TVs in a traditional form factor. In addition, they have a tuner and a complete set of interfaces for connecting conventional video content sources.
But unless companies can significantly reduce production costs, the vast majority of people will enjoy the amazing image quality of this technology in concert halls, movie theaters or on the outdoor billboards. However, winning the lottery can also solve this problem, and the microLED panel will perfectly fit into the interior of your small fashionable mansion.
This video showcases the new SONY Crystal LED (MicroLED) C and B series panels.