The South Korean giant Samsung is absolutely deservedly considered an innovative leader in the consumer electronics segment. For over 50 years, Samsung refrigerators, robot vacuums, washers, etc very successfully compete in the market. Moreover, Samsung dominates in many areas. For example, today this company occupies about 20% of the smartphone market, annually offering innovative flagships, including the latest Samsung Galaxy S20. But for many decades, TVs have remained one of its priorities. As known, Samsung actively participated in almost all innovation revolutions, including the development and improvement of quantum dot technology and Micro LED technology.
Like other leaders, Samsung presents new models annually at CES in Las Vegas. This year was no exception. In January, the company introduced the latest Samsung TVs and innovative technologies.
Of course, competitors also do not lose time. For example, in recent years, LG has made significant strides in cheapening its OLED TVs. As a result, today the popular 55-inch LG OLED 4K B9 PLA costs less than $ 1,400 (£ 1,098 in Europe). At the same time, a few years ago, the price of OLED TVs began at $ 2,000. In addition, the company is actively developing NanoCell technology, presenting several great LG NanoCell series at CES 2020. As known, LG's NanoCell is an analogue of Samsung's QLED technology. Other competitors are also not inferior. For example, the Chinese TCL announced at CES 2020 the super-innovative Vidrian "Glass on LED" technology and introduced the great 4K Quantum Dots C715/C815 TVs.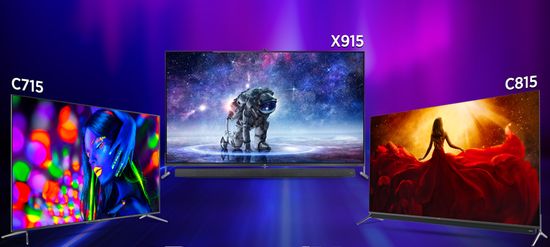 QD-OLED technology
Of course, Samsung cannot indifferently ignore the successes of competitors. For several years, the company has been actively developing a new QD-OLED technology, which should combine all the pros of QLED and OLED technologies. The successful implementation of this ambitious project will be a worthy response and will ensure the company further prosperity in this segment. Therefore, at CES 2020 many experts expected news on this topic.
Unfortunately, Samsung showed QD-OLED prototypes only to a narrow circle of interested parties behind closed doors of Encore hotel. According to ETNews, the company introduced two 65-inch prototypes with a resolution of 4K and 8K.
According to the presentation participants, Samsung QD-OLED showed better color reproduction, but less deep black color compared to LG Display's WRGB OLED. The message also contains information about the increased heating of the QD-OLED panel at its maximum brightness.
On the other hand, the OLED Association report contains information on the prototype brightness of only about 150 nits (cd / m2), which is equivalent to LG WRGB OLED. Moreover, the latest LG OLEDs provide brightness up to 650 nits.
Of course, such contradictory information does not allow an objective assessment of Samsung's current success in this direction. But in any case, having invested huge amounts of money in the development and preparation of production, the company is unlikely to stop halfway. Preliminary, the investment reaches $ 11 billion, including the construction of two QD-OLED production lines in South Korea by 2025.
OLED vs QLED
As known, OLED displays replaced the plasma standard for TVs in 2013. This technology has long remained very expensive for TVs compared to LED LCDs. However, its cost is much lower for small form factors. Therefore, AMOLED (Active Matrix Organic Light-Emitting Diode) has long been successfully used in smartphones.
Today, companies use several TV imaging technologies, based on OLED or LED LCD technology. Naturally, each of them has pros and cons. In particular, LCD TVs are much brighter, cheaper and more reliable, but OLED panels provide endless contrast and large viewing angles.
Of course, LG is constantly improving OLED technology. For example, since 2016, LG boosts OLED panel brightness with an additional white subpixel.

Unfortunately, an additional white pixel in budget models does not supplement, but replaces every fourth subpixel in a row. Of course, this reduces RGBW color saturation, black depth and perceived resolution. But on more expensive models, adding a white subpixel without reducing the number of color RGB pixels provides an excellent visual result.
Key Features
In June 2018, the Korean ETNews portal first announced the plans of Samsung Display to begin in 2019 a test production of screens based on QD-OLED matrices with a layer of quantum dots. The new technology is based on the idea of combining Quantum Dot technology with a blue self-luminous organic LED. In particular, Samsung plans to use blue OLED matrices with red and green filters on quantum dots.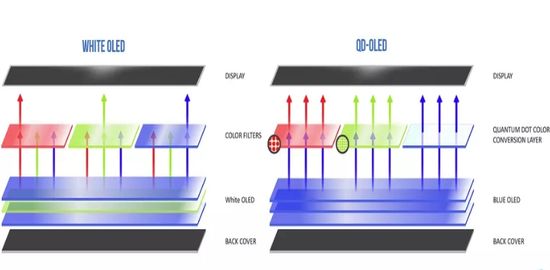 This solution will allow the company to produce cheaper TVs with increased brightness and expanded color gamut in HDR modes without copyright infringement of LG Display. In addition, reducing the load on the crystals can extend the life time of such a panel.
In terms of cooperation, Samsung plans to produce OLED matrices on Canon equipment, printing a layer of quantum dots on them using proprietary Kateeva technology.
As known, creating a color image on the screen requires red, green and blue. New technology will use blue LEDs and the layers of quantum dots as color filters. In fact, QD-OLED technology simplifies the process by using OLED to create blue light, and the layers of quantum dots to partially convert blue to red and green.
From a manufacturing point of view, QD-OLED technology reduces costs by simplifying layers. Modern LG OLED panels use 22 layers, including blue or white OLED emitter stack and WRGB color filter system. Samsung QD-OLED requires only 13 layers (one or two blue emitter stacks depending on the required light output and QD-RGB filter on top.) According to Display Support Chain, a square meter of such a panel will cost about $ 26. For comparison, today LG spends just under $ 95.
QD-MicroLED and QNED (Quantum Nano Emitting Diode)
In November 2019, Samsung intensified the intrigue by launching research and development of QNED displays under the leadership of Samsung Vice President Kwon Oh-hyun. Given the company's dominance in the development of MicroLED TVs, such a solution seems absolutely logical. Of course, the miniature size of backlight LEDs is a huge plus in terms of Local Dimming or the TV thickness, but they create many specific problems due to low power and heat. Maybe that's why the dimensions of MicroLED modules in Samsung Micro-LED TVs do not exceed 13 x 13 inches. In any case, QNED can give impetus to the further development of MicroLED.
In fact, new technologyit integrates Quantum Dot display with micro-LEDs.
QNED is an acronym for Quantum Dot and Nano LED. But in this case, the company uses the term "nano-LED" instead of "micro-LED" to simplify their differentiation.
QD-OLED and QNED displays have the same structure. According to the company, QNED is designed for improved color reproduction and increased brightness with precise control of display pixels. Unlike WRGB in LG OLED TVs, each pixel consists of only three subpixels (red, green, blue) without an additional white subpixel.
As with QD OLED, QNED displays can be printed using inkjet technology at minimal cost. Displays with self-luminous QD pixels should be the final stage of development.
Of course, the development of this technology requires the solution of many problems. Materials for quantum dots are very sensitive to heat, moisture, and oxygen. In addition, the generated heat of the LEDs can easily damage them. Therefore, developers are actively exploring materials, trying to reduce the sensitivity of Quantum Dots to heat.
Perhaps this problem has become the main reason for using blue NanoLED (microLED) as the main light source, which emit much less heat.
Conclusions
Healthy competition once again demonstrates its pros. The successful completion of the development of QD-OLED and QNED technologies promises consumers a significant improvement in quality at a lower price. Moreover, together with improvements in backlighting (for example, TCL Vidrian technology), QD-OLED and QNED can improve the quality of LED LCDs to the level of OLED TVs, ending many years of competition between these technologies.
This video demonstrates the evolution of main display technologies, including LCD, OLED, SUHD or Quantum Dot, IGZO, MEMS & QLED.