Digital technology has dramatically accelerated the development of various technologies in all areas, including the consumer electronics segment. Only in the last 10 years, companies have developed and implemented a huge number of various innovations, radically expanding the functionality of almost any household appliances. Modern robot vacuum cleaners, multi cookers, coffee machines, etc fully comply with this trend.
Of course, the high-tech TV segment is no exception. HDR technology, including HDR10 +, HLG and Dolby Vision standards with support for 10 and 12-bit color depth, HDMI 2.1 standard with support for 48 Gbps, 4K and even 8K resolution, HFR (high frame rate) format, etc beautifully illustrate this trend.
But the support of these technologies demanded a dramatic expansion of matrix capabilities. Therefore, most leaders pay a lot of attention to the development and improvement of matrix, which provide the image formation on the TV screen. As a result, fierce competition stimulates almost parallel development of several technologies. As a consequence, today the market offers a large number of models in each price segment with different matrices, but with approximately the same price / quality ratio. Of course, this situation is convenient for consumers, but often makes it difficult to choose. Therefore, even a simplified classification can partially solve this problem.
As known, modern TVs use LED LCD, OLED and QLED technology to form an image on the screen. Of course, the development of efficient matrices and powerful modern video processors has allowed companies to dramatically increase the screen resolution, frame rate and color gamut, which directly affect the image quality.
LED LCD
Today this type is the most common. LCD (liquid crystal display) includes several layers of polarizing material with a liquid crystal solution between them, which regulates the passage of light.
Almost all modern LCD matrix use LED (light-emitting diode) backlight.
Thus, the LED LCD model includes a liquid crystal display with LED backlight. The light from the LEDs passes through the LCD panel, the surface of which is covered with integrated RGB pixels.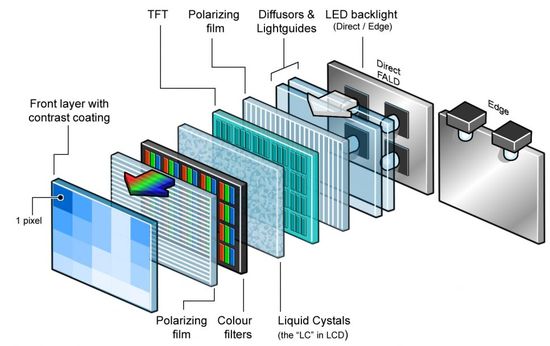 Many often call them LED screens.
The pixel filters form a color image with a certain level of brightness. Imperfect black level is their main disadvantage.

As known, the contrast is equal to the ratio of the maximum levels of white and black, i.e. the brightness ratio at the brightest point of the screen to the darkest point. In turn, the contrast affects image detail and its range. Thus, low contrast depending on brightness provides high detail only for dark frame areas, but with blurred gradations of light fragments, or for light areas, but without gradations in the darkened area of the frame. Of course, this significantly reduces image quality.
But companies are constantly improving technology, solving this problem. For example, FALD (Full Array Local Dimming) backlighting provides brightness control in the desired parts of the screen. This technology significantly improves the brightness and contrast of the image.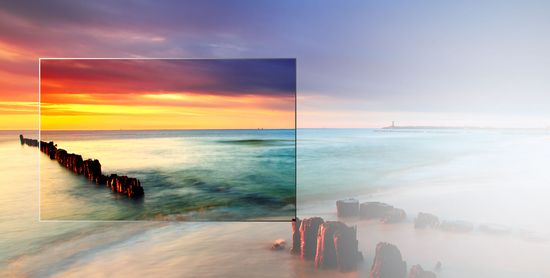 HDR technology solves this problem by transmitting dynamic metadata with information about the required brightness of each frame. Today it provides maximum image quality.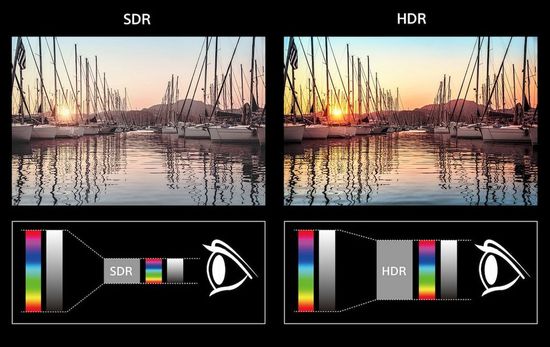 However, imperfect black initiated the development of OLED matrices that provide perfect black due to the lack of backlight.
OLED
This technology uses organic light-emitting diodes. In fact, each cell of the OLED matrix is a separate light source with individual brightness adjustment.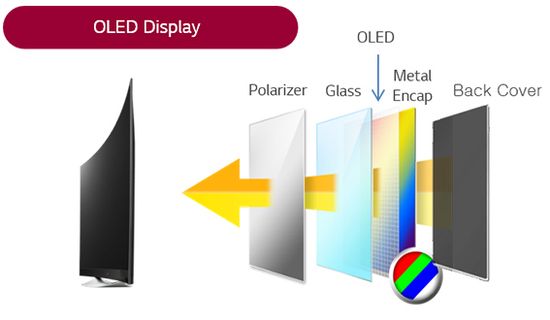 Of course, such a natural local backlight provides the most effective control of the black level and contrast.
As known, LG released the first 4K OLED displays in 2014. Soon, Panasonic, Sony and Samsung also concentrated their efforts in this direction. Then, LG developed the WRGB technology with an additional white sub-pixel, which increased peak brightness and improved the playback of midtones and shades.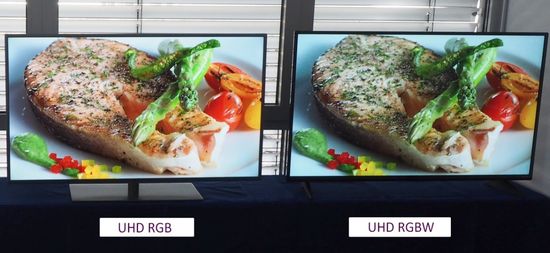 Features OLED technology:
– very high contrast. For example, the 4K matrix contains about 820 million local dimming zones. Their provide an ideal contrast level due to a very deep black;
– uniform illumination of the entire screen surface;
– very wide viewing angles provide excellent color rendering and brightness level for any viewing angle;
– a relatively short service life of the blue subpixel. The average service life is about 7000 hours or 2-3 years with an average intensity of work. Then, It begins to distort the color rendering due to degradation;
– very high price. However, in 2018, LG for the first time offered 4K OLED B8 PLA at a relatively low price. Today, the cost of a 55-inch model is less than $ 1,500.
In general, OLED provides significantly better quality than LCD.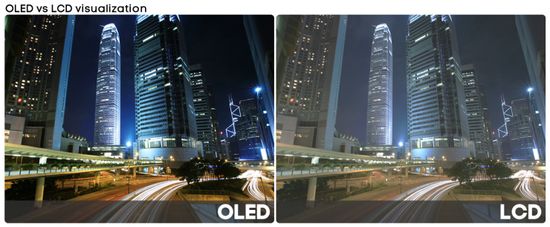 QLED and Nano Cell
QLED uses LEDs on so-called quantum dots. Of course, technology is not related to quantum theory, and the name is due to marketing considerations. Today, Samsung uses the QLED term as a commercial name for its models. This technology uses an additional quantum dot-based nanofilter between the LCD display and the LED panel.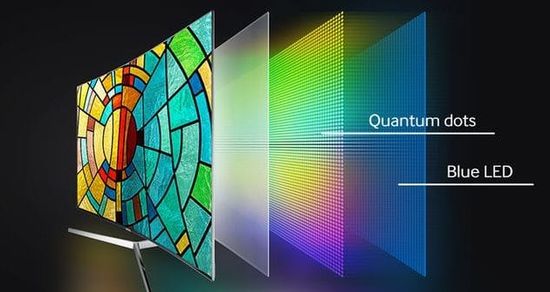 This film significantly improves brightness control, providing brighter and more saturated colors. In fact, the QLED display is improved version of LED LCD technology.
In 2016, LG offered its own technology based on quantum dots, which was called the Nano Cell.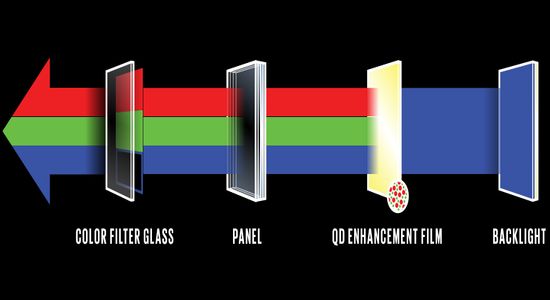 With some reservations, it can be considered an analogue of Samsung's QLED. The pixels of such matrices contain nanocrystals that glow and are painted in different colors as the electric current passes through them. According to the developers, it provides a more accurate color rendering even in comparison with the OLED technology, because each point forms its own color without mixing RGB colors.
Testing Samsung Q7F (QLED), LG B6 (OLED) and Samsung KS8000 (LED LCD)
Contrast
Black level characterizes the minimum glow of the screen, the white level – the maximum. Contrast in this case corresponds to the ratio of black level to white level.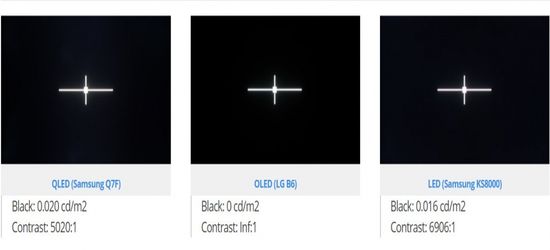 QLED uses a VA panel without local dimming.
OLED provides absolutely black with infinite contrast.
The Samsung KS8000 has one of the best contrast levels among similar LED LCD models. But this value can vary greatly depending on the manufacturer, the type of panel (VA or IPS) and the presence of local dimming.
Of course, OLED wins this test.
Color volume
This value characterizes the accuracy of shades reproduction, which depends on the color gamut and brightness in three-dimensional space. As known, the color gamut characterizes the maximum number of color shades that the matrix can reproduce. Peak brightness characterizes the highest possible screen brightness level. Accordingly, the color gamut and brightness directly affect the color volume.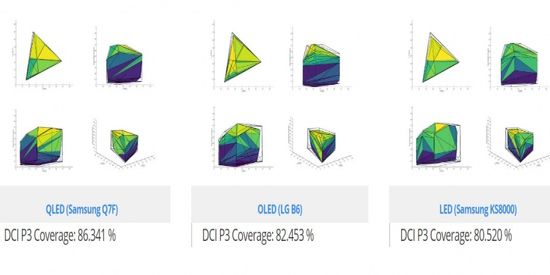 The built-in multi-HDR and brighter color rendering levels provide a 4% advantage for QLED compared to OLED. In addition, Verband Deutscher Elektrotechniker (VDE) confirms 100% color accuracy for this model.
In turn, OLED slightly surpasses even one of the best LED LCD.
Thus, QLED outperforms the competition.
Conclusion
Thus, today OLED-models provide higher quality of a color rendering, clearness and contrast of the image. But today they are quite expensive and have a shorter service life. LED LCDs have a very good value for money due to their relatively low cost and are available in a wide range. QLED models today occupy an intermediate position.
At the Invision Technology Showcase 2019, LG introduced new 4K OLED UHD C9 with AI image optimisation processor. LG product training manager Dean Little suggested to compare the image quality of the OLED C9 vs LG NanoCell 4K LED model with a wide viewing angle and high colour accuracy. This video offers his comments.