The rapid development of technology has opened up new opportunities for a significant increase in the TV diagonal without a sharp increase in their price. As a result, today the market offers relatively affordable models even with a diagonal of 65″ and more. As known, image clarity and detail depends on the pixel size. But their visualization is limited by physiological features of vision. For example, most people don't perceive the difference between Full HD and Ultra HD formats for TVs with a diagonal of less than 55″. But this difference is clearly visible on a TV screen with a diagonal of 65″ and above.
As known, the optimal viewing distance depends on the screen diagonal.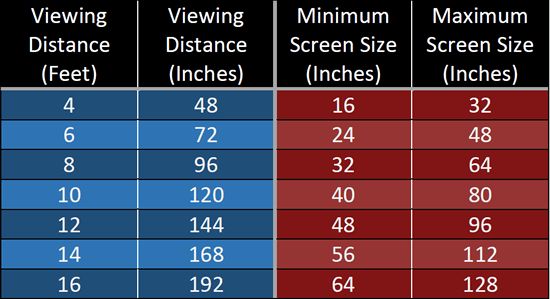 Usually, TV for the kitchen has a small diagonal and does not require high resolution. According to some experts, the visualization of the difference for 4K begins with a diagonal size of 70″ when viewed from an optimal distance. According to some people, they perceive the difference in resolution even on 32″ TVs. But according to ophthalmologists, this is possible only for people with very sharp eyesight. Most likely, this visualization is caused by a psychological aspect.
Of course, companies take this aspect into account and produce high-resolution models only for sufficiently large matrices from 55″ and above.
But the resolution affects not only the image clarity. For example, 4K increases the viewing angle and reduces the optimal distance to 1.5 screen heights, expanding the choice of a comfortable viewing point. The 8K increases the viewing angle to 120 degrees and reduces the minimum distance to 3/4 of the screen height, increasing the presence effect when viewing.
Classification
In fact, 4K UHD TV can be positioned as an intermediate standard between HDTV and 8K UHD TV. Compared to HD, it enhances clarity four times, expands the dynamic range of color rendering and provides 24-channel sound. For comparison, HD TV provides only 6-channel sound.
Therefore, in recent years, segment leaders have concentrated a significant part of their efforts in this direction. As a result, in a relatively short time, companies have filled the market with HD, UHD, 4K models and even presented 8K TVs.
Unfortunately, any dynamic process is often accompanied by a confusion of concepts and terms. In addition, the marketing component also exacerbates the situation. Therefore, even a simplified classification will help to understand this issue.
As known, the screen resolution is measured in pixels of the matrix vertically and horizontally.
American ATSC, European ETSI and, accordingly, TV manufacturers use the following standards for high-definition television:
– 720p – resolution of 1280 x 720 pixels, progressive scan, 50 or 60 Hz, aspect ratio of 16: 9;
– 1080i – resolution of 1920 x 1080 pixels, interlace scan, aspect ratio of 16: 9, 50 or 60 half-frames per second, which corresponds to 25 or 30 fps;
– 1080p – resolution of 1920 x 1080 pixels (2.07 MPix), progressive scan, 16: 9 frame format, 24, 25, 30, 50, 60 fps;
– 2160p – resolution of 3840 x 2160 pixels (8.8 MPix).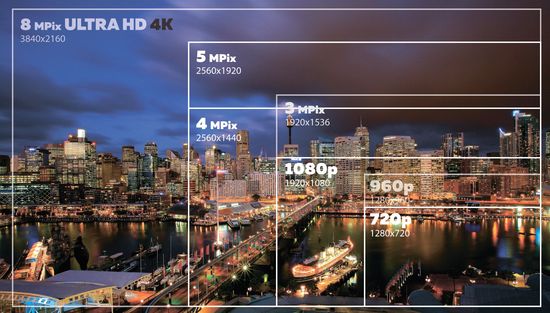 Some key features
American NTSC and European PAL and SECAM systems are the main standards for television signal transmission. The American system uses 525 lines, and the European systems use 625 lines. This distinction arose in the era of the birth of television and has not changed since. But in reality, the TV used only 576 lines to form an image due to the retrace of the beam between the deflecting coils. This 720 x 576 resolution has been preserved for digital television in SD (standard definition).
The frame rate was chosen depending on the frequency in the power supply network and was 50 Hz for Europe and 60 Hz for America that simplifies matching TV sweep generator to the mains.
Of course, modern digital models do not have such limitations due to the lack of a traditional CRT. The new HD TV standard uses only digital transmission of television signals and does not require a line for service impulses. Therefore, the TV uses all the lines to form an image. This standard contains 720 or 1080 lines, 50 or 60 Hz frame rate, interlace ("i") or progressive ("p") scan.
Progressive scan simultaneously uses all the lines to form an image. Interlace scan alternates even and odd lines in each half frame, which slightly distorts the image.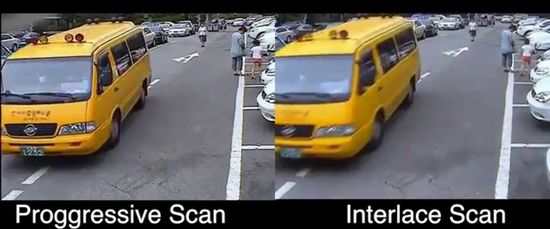 Therefore, progressive scan delivers better quality and dominates today.
List of TV standards includes:
– LD TV – low definition, 240p, 288p;
– SD TV – standard definition, 480i – NTSC, 576i – PAL;
– ED TV – enhanced definition, 480p, 576p, 720p;
– HD TV – high definition, 1080i, 1080p;
– 4K UHD TV – ultra-high definition, 2160p;
– 8K UHD TV (Ultra High Definition Television) – ultra-high definition, 4320p.
4K, Ultra HD and Full HD

Modern matrices support:
– Standard Definition (SD) – 720 x 576 pixels, aspect ratio 16: 9;
– High Definition (HD) or Full HD (2K) – 1920 x 1080 pixels, aspect ratio 16: 9.
HD TV was introduced along with H.264 codec;
– Ultra HD (UHD) – 3840 x 2160 pixels, 8 MPix for the entire matrix, 16: 9; High Efficiency Video Codec (HEVC) H.265.
As known, the more efficient H.265 uses coding tree units (CTU) instead of macroblocks, reducing channel width requirements.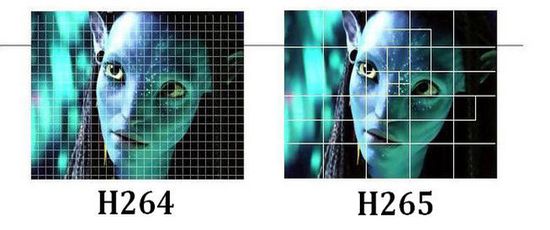 The number of pixels for UHD is double the Full HD horizontally and vertically. Accordingly, the excess of the total number of pixels reaches a factor of 4. As a result, even a huge display provides high definition due to the reduction in the size of each pixel.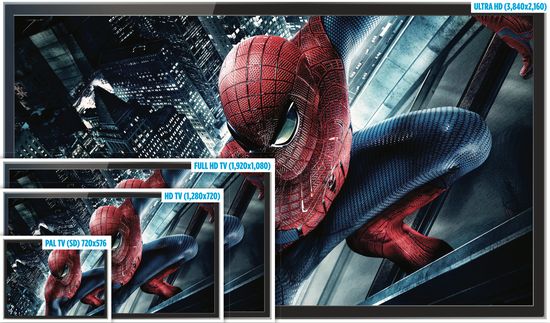 – 4K UHD or UHD-1 or 2160p, full-frame – 3996 x 2160 pixels, 12 MPix, 4:3; High Efficiency Video Codec (HEVC) H.265;
Digital Cinema Initiatives (DCI) uses 4K with a resolution of 4096 x 2160 pixels and an aspect ratio of 17: 9.
– 4K (cache) – 3996 x 2160 pixels, 8,5 MPix, High Efficiency Video Codec (HEVC), H.265; Flat (1,85:1).
As known, Flat and Scope are the standards for widescreen aspect ratio for digital cinema.
– 8K or Full HD Ultra or UHD2– 7680 х 4320 pixels, 34 MPix, Super Hi-Vision System (SHV).
Japan (NHK) announced the introduction of the 8K standard by 2020. As known, LG for the first time demonstrated 8K OLED TV at IFA 2018.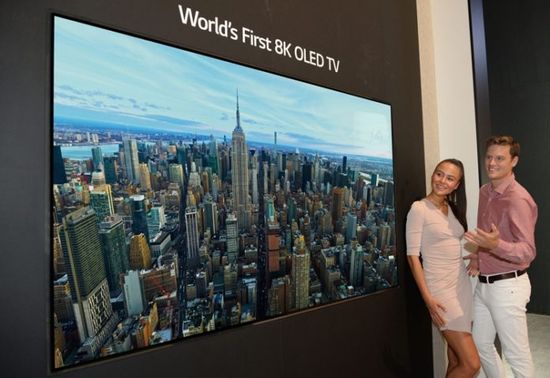 Conclusion
Of course, playback in 4K format requires appropriate content. Unfortunately, it lags far behind the hardware capabilities of modern TVs.
4K signal has a high density and requires complex processing. As a result, it can be interrupted during the playback of highly dynamic scenes. Therefore, this format requires increased frequency. For example, shooting the UHD resolution content requires a frequency of 120 Hz. Of course, the transfer of such a information volume dramatically increases the requirements for bandwidth and storage. For example, the amount of video information of a movie in Full HD-resolution varies from 20 or 40 GB. For comparison, a similar film in UHD requires from 80 to 160 GB. Of course, such information volume significantly limits online viewing.
In addition, very popular HDR technology also actively influences the prospects for further development in this segment. As known, HDR technology today contains HDR10, HDR10 + and Dolby Vision standards. But if the HDR10 uses only static metadata, then HDR10 + and Dolby Vision require the transmission of dynamic metadata. Of course, the metadata for each frame dramatically increases the information volume and bandwidth requirements.
Today, HDR10 is supported by HDMI 2.0 models with transfer only static matadata. However, HDR video content with dynamic metadata requires HDMI 2.0a or HDMI 2.1. As you know, LG at CES 2019 first introduced 65C9 OLED TV with HDMI 2.1 support.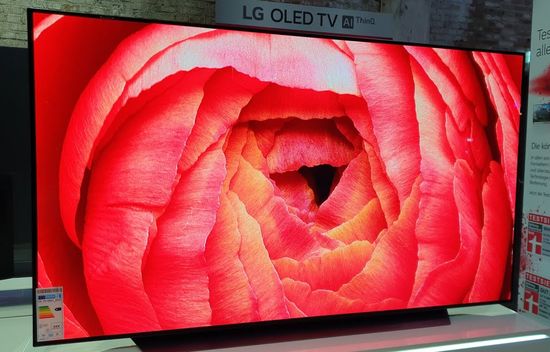 In general, of course, resolution is one of the main criteria for choosing a TV.
This video offers comparison 8K vs 4K vs HD resolution.