The high-tech TVs segment is characterized by the rapid development of innovative technologies. Some of them improve, others lose competition and disappear. For example, such a fate befell the plasma TVs and 3D format. The high dynamics of these processes sometimes complicates the general understanding, causing confusion in terms and concepts.
CES 2020 also showed huge diversity in the market. Assortments from market leaders included LED LCD TVs, "quantum dot" LED LCD TVs (QLED, NanoCell, Triluminos), OLED and MicroLED TVs, and TCL TVs with innovative mini-LED backlight technology. In addition, almost all companies offered models with 4K and 8K resolution. Of course, such an abundance can complicate the perception of information. But even a simplified classification can simplify this task.
Only ten years ago, LED LCD technology mainly competed with plasma TVs. As known, LCD TVs form an image by controlling the light flow that passes from LEDs backlight through polarizing filters.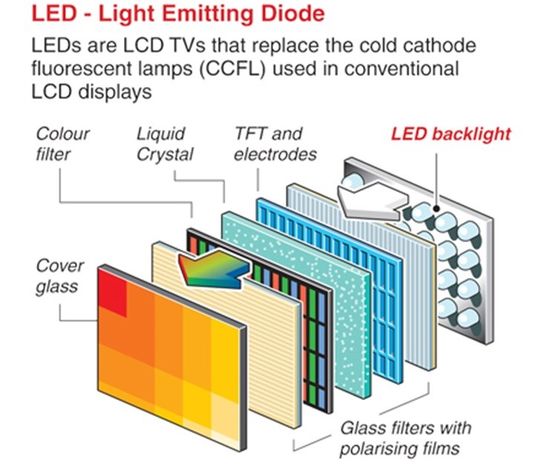 Ultimately, LED LCD won the competition, including due to the high cost of plasma TVs. But monopolistic dominance did not last long. Already at CES 2012, Samsung and LG introduced the first 55-inch OLED (organic light-emitting diode) TVs. As known, this technology uses its own radiation of organic diodes, without requiring additional LED-backlight.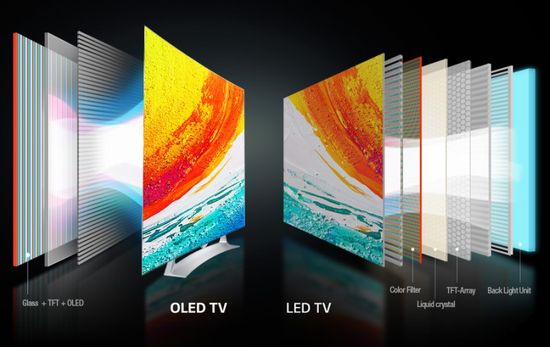 Its absence provides several important pros, including perfect black and, consequently, infinite contrast, and wide viewing angles. Indeed, LED LCD forms non-ideal black due to the non-ideal filtering the light output of the LED backlight. In this case, OLED simply does not apply the control voltage to the corresponding diodes, providing absolutely black. Unfortunately, the cost of producing OLED panels was quite high. Moreover, it directly depends on the screen size. And finally, the brightness of OLED panels, which also affects contrast, is significantly inferior to LED LCD. As a result, this technology has become dominant only in the top segment of expensive TVs.
MicroLED
Of course, companies continued to actively develop new directions. As a result, after a few years, the English mLED company introduced a new MicroLED (micro-LED, mLED or µLED) technology based on self-emitting gallium nitride LEDs. The miniature size of these LEDs (5 microns) is the main difference between MicroLED and OLED.
Today, Samsung dominates this segment. In particular, at CES 2020, the company introduced the new MicroLED TVs.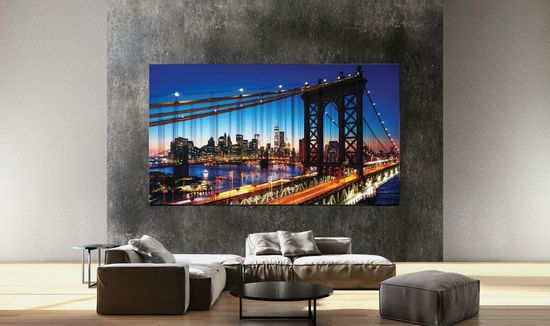 Moreover, at CES 2019, the company demonstrated MicroLED modules and their assembly using brackets that are attached to the screen with sufficiently powerful magnets. The diagonal of one module does not exceed 13 inches.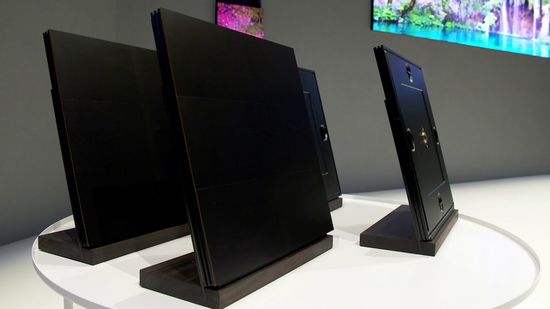 If this technology survives, in the future you will be able to periodically buy separate modules, increasing the MicroLED panel size with the growth of your budget. The technology will also allow the user to disassemble the MicroLED panel into separate modules, turning one large TV into several small ones. Unfortunately, this is not relevant today.
Moreover, according to rumors, Samsung plans to enter the OLED segment with a hybrid technology called quantum-dot OLED, or QD-OLED, which combines the idea of using organic light-emitting diodes with Samsung's quantum-dot technology.
Quantum dots
Meanwhile, having beaten off the OLED attack, companies began to actively improve LED LCD technology. As a result, in 2013 Sony already introduced the first Ultra HD 55W900 display using quantum dots technology.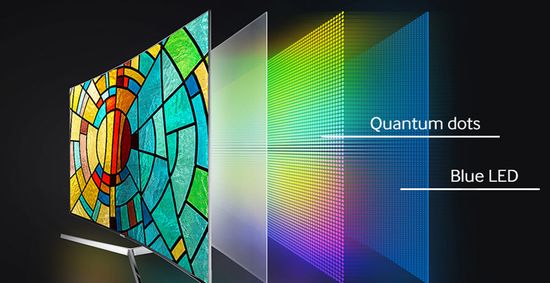 This technology forms an image using an additional matrix coated with a layer of quantum dots. In fact, their production is the deposition of an additional layer using lithography on a matrix of thin-film transistors. Low cost and high efficiency have become its main advantages. Initially, the emission layer used toxic cadmium. In 2015, Samsung improved the technology by replacing cadmium with indium. The monochromatic light of quantum dots significantly improved color reproduction and expanded the color gamut of LED LCD Tvs.
In the first few years, Samsung dominated this segment, introducing in 2016 the first SUHD displays based on new technology. In 2017, the company introduced its first QLED-TV.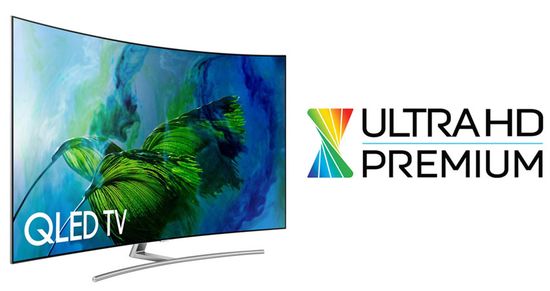 Of course, other companies also did not ignore the promising direction. Today, LG uses a similar technology called NanoCell, Sony-Triluminos, Hisense – ULED.
Thus, today companies use OLED, MicroLED and LED LCD technology. In turn, LED LCD models are subdivided into traditional LED LCD TVs and more expensive "quantum dot" TVs, including Samsung QLED, LG NanoCell, Sony Triluminos and Hisense ULED.
At the same time, LG claims to be a leader in the OLED segment, focusing its efforts on reducing production costs. It must be admitted that the company has made significant progress in this direction, presenting in 2018 LG OLED B8 PLA at a price of just over $ 2,000. However, today Sony is not inferior to its competitor by presenting the excellent 4K Sony OLED A8H series at CES 2020.
LED backlight
Improving the backlight has become another direction of development for LED LCD TVs. At one time, companies actively experimented in this direction. For example, the popularity of ultrathin screens provoked the development of edge LED backlight with the placement of LEDs around the screen perimeter. As a result, companies have developed the Edge LED version with LEDs on the sides of the screen and LED Plus with the possibility of local dimming in small areas.
Unfortunately, this elegant engineering solution is accompanied by uneven screen lighting. In addition, this technology does not support the local dimming function, which has become one of the main tools for increasing the contrast and color accuracy. As a result, companies focused on developing Direct LED backlight with LEDs behind the screen. Finally, in 2018 LG introduced FALD (full-array local dimming), improving the previous Direct LED backlight technology.

Soon, the company introduced the Nano Full LED version with an increased number of LEDs.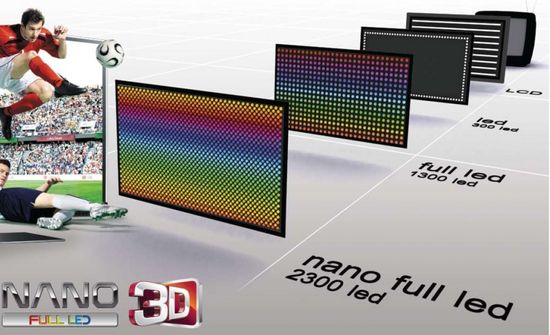 Of course, the accuracy of image formation control directly depends on the number of LEDs, which, in turn, depends on their size. Advances in the production of LEDs have ensured their miniaturization, increased service life, reduced energy consumption and heat output. Usually their sizes vary in the range of about 1000 microns (0.04 inches), but today companies produce mini-LEDs measuring about 200 microns (0.02 inches).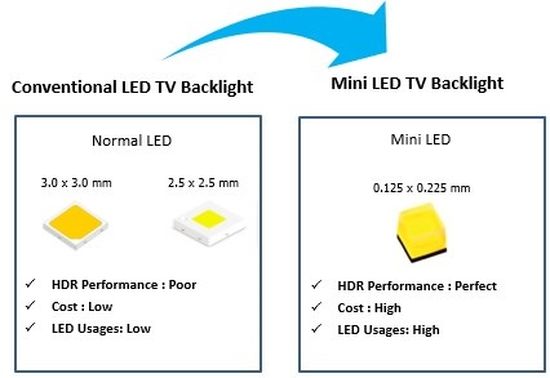 Mini-LED backlight
Unfortunately, Mini-LEDs have less brightness compared to conventional LEDs due to the reduction of material to create the light. Of course, an increase in voltage and current increases their brightness, but this dramatically reduces their longevity. But the improvement of mini LED production technology has allowed engineers to expand these boundaries by increasing their efficiency. As a result, TCL's engineers developed "Quantum Contrast" mini-LED backlight technology based on them.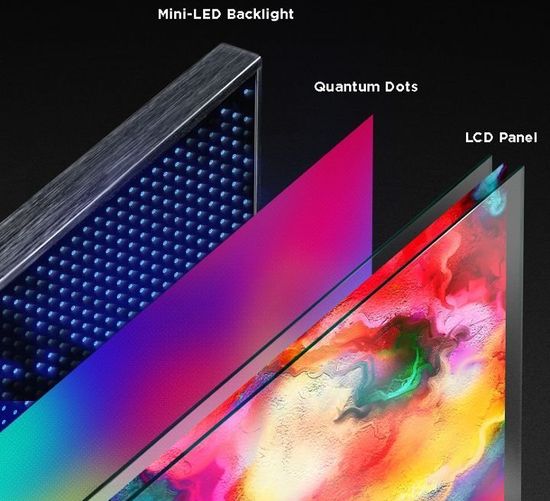 Of course, mini LEDs are more expensive, but their pros compensate for this aspect. Last year, the company announced TCL 8-Series Roku TV with this technology. Due to the reduced size of the LEDs, the company was able to place over 25,000 mini-LEDs the back of the TV, which are grouped into around 1,000 dimming zones.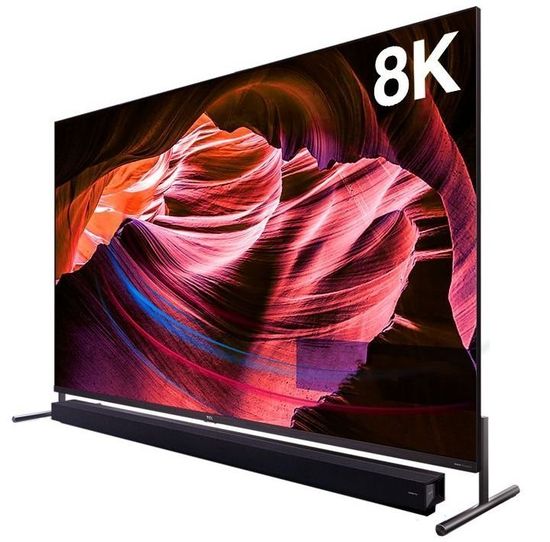 In comparison, the 75-inch Vizio Quantum X uses only 485 local dimming zones, and the Sony XBR-85Z9G 8K TV costing about $ 10,000 has 720 zones.
Today, the Chinese company continues to actively develop this promising technology. Its advanced version is called the Vidrian Mini-LED. TVs with this technology will use a control semiconductor chip and tens of thousands of microscopic LEDs directly soldered into a glass substrate. Such a panel has a longer service life, providing higher contrast and brightness. Moreover, TCL has invested $ 6 billion in a modern factory for the production of LCD panels using innovative glass cutting equipment.
Conclusion
Overall, CES 2020 has demonstrated a huge variety of modern TVs. The companies presented almost all modern technologies, including traditional LED LCD, OLED and quantum dots (QLED, NanoCell and Triluminos) TVs, MicroLED panels and Mini-LED backlight. All of them are successfully competing and constantly improving, creating an excellent perspective for the harmonious development of the industry.
In addition, the companies also demonstrated their success in other directions, including design, sound technologies, AI 8K scaling, game modes, broadcast technologies (ATSC 3.0), new features and modes, etc.
Thus, TVs remain an innovative leader in the consumer electronics segment.
This video shows the TCL Vidrian Mini-LED 8K QLED TV 6-Series with the Alto 9+ Soundbar at CES 2020.