As known, these days companies present their new products at CES 2020. As usual, the attention of experts is primarily attracted by the leaders of the consumer electronics segment, which shape development trends. Of course, Samsung is one of them. The company fully met expectations by presenting three new TVs, including the second generation of Samsung 8K model, innovative MicroLED panels and the experimental The Sero TV with a rotary screen for viewing video content in vertical format, for example, from Instagram.
Of course, Samsung Q950TS aroused the greatest interest among experts. In fact, the company created the second generation of its 8K TV.
Today this model is one of the brightest among modern TVs. Its peak brightness reaches 4000 nits. The Q950TS uses a FALD (full array local dimming) with about 500 dimming zones. TV analyses a map of current image, defining bright or dark areas.
Samsung engineers demonstrated German pedantry, harmoniously improving almost all components, including design, processor, video processing algorithms, sound, modes and functions, etc.
Design
The company has taken the next step in implementing the bezel-less design concept, which it calls Infinity Design TV.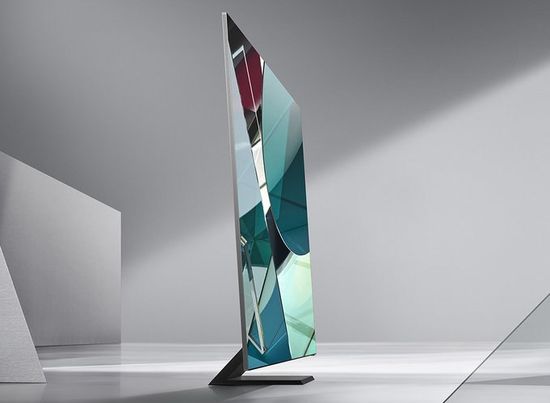 This TV has just a tiny 2mm-wide border around the top and side edgesand slightly wider border at the bottom with Samsung logo. As a result, engineers achieved an excellent result by providing a screen-to-body ratio of nearly 99%.
In addition, the bezel-less design creates a stunning effect of presence by lowering the visualization of the border between the screen and its surroundings. But it is maximally perceived when watching from 10-15 ft.
The 15 mm panel thickness is perfectly suitable for wall mounting, with the No Gap bracket. In this case, the screen can be connected with a single fiber cable.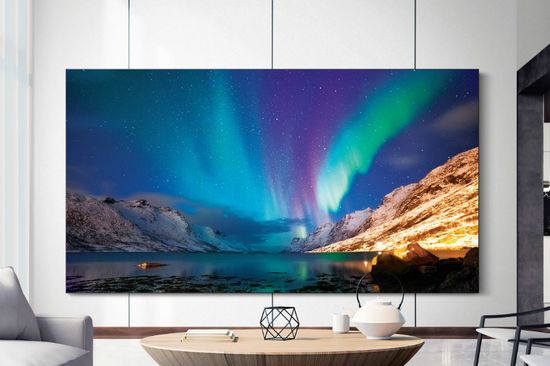 A few years ago, Philips Electronics developed and patented Ambient Lighting technology.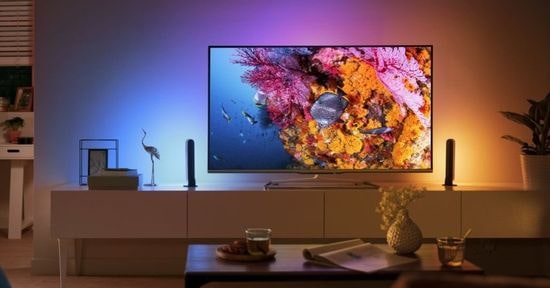 The idea was liked by many consumers and quickly became popular. In 2018, Samsung proposed their own idea by creating Ambient Mode.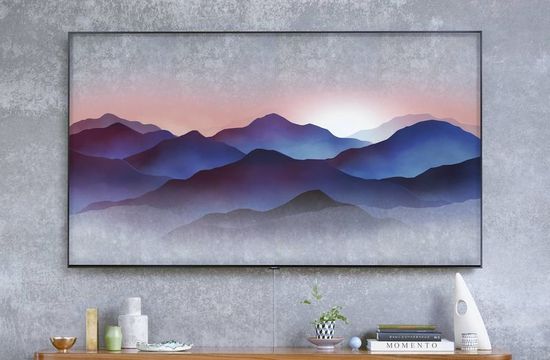 When the TV is off, Ambient Mode displays a stylish screensaver or family photo. In 2019, Samsung significantly improved it, expanding the range with images from the Internet. In addition, the company added new color filters, settings for background tones and brightness, animation, etc. This year, the company improved it with Bixby, Samsung's AI assistant. For example, a TV can create a relaxing background on the screen by voice command. In fact, the TV performs in this mode the function of an intelligent element of the interior.
To date, Samsung has announced the 65-inch, 75-inch and 85-inch versions.
Sound system
Of course, the perception of media content is significantly dependent on sound quality. Therefore, the company made very great efforts, seriously improving the sound system.
Despite the ultra-thin design, South Korean engineers were able to place eight drivers in a six speaker array in the case. In fact, the Q950TS uses a 4.2.2-channel layout, which includes two speakers on each side, and a pair woofers in the back. The speakers are hidden behind a pattern of tiny holes in the outer edge of the TV body.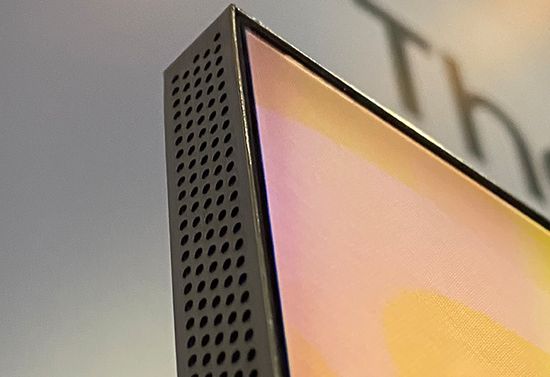 Mounted on a stand, the TV provides crisp and clear 5.1 channel surround. Unfortunately, the effectiveness of woofers with wall-mounting raises questions.
The Q950TS has a sound optimization feature for first setup. In this mode, the TV generates and sends out test tones, receives reflected signals using built-in microphones and measures them. Then, it creates a room map to create an optimal soundstage.
Unfortunately, the Q950TS does not support Dolby Atmos, but can send Atmos via ARC (audio return channel) from its internal apps.
Game mode
Almost all Samsung TVs of recent years are perfectly adapted for games. Q950TS was no exception.
Of course, the Q950TS supports VRR (variable refresh rate) and ALLM (Auto Low Latency Mode). In addition, the new TV also supports AMD FreeSync, which provides, for example, DisplayPort Adaptive-Sync. Today it is an ideal solution for smooth gameplay with decreased lag and virtually no tearing.
Moreover, the company claims no more than 10 ms input lag in Auto Game Samsung mode.
The Multi-View option is also convenient for side-by-side viewing the game videos.
In addition, the TV has a new surround mode with additional settings for sound effects in games. Also, Samsung has enhanced the Game Motion Plus feature. According to the company, the smooth playback in games has increased by 40%.
Q950TS features
1. Quantum Processor 8K provides more efficient AI upscaling, using machine learning algorithms to process data for each pixel. In addition, it generates image elements when restoring the original 8K content.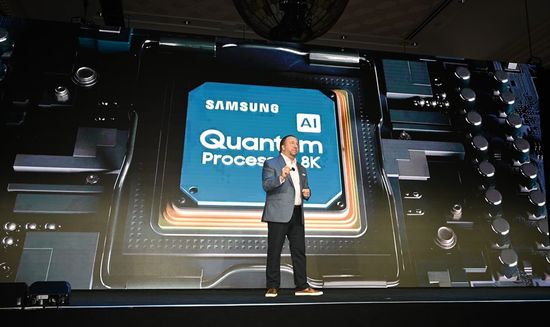 2. The new Adaptive Picture function automatically adjusts brightness and contrast depending on the ambient light.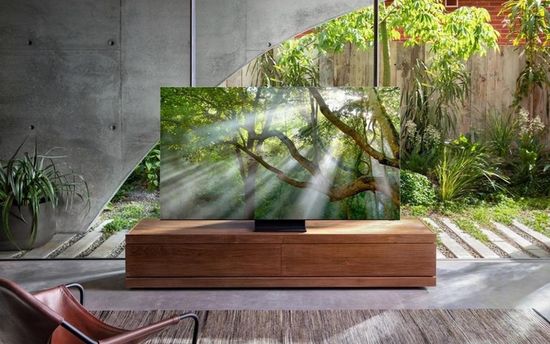 3. AI ScaleNet technology reduces data loss during video streaming. AI ScaleNet compresses the content during transmission from the provider, and then restores it to the TV. Thereby, the new technology halves the bandwidth requirements. According to Samsung, it will continue to actively improve this technology, considering it very promising. In particular, the company has agreed with Amazon Prime Video to jointly test the AI ScaleNet.
4. TV uses eight drivers, providing a 4.2.2-channel layout and OTS+ (Object Tracking Sound Plus) technology by analogy with Dolby Atmos and DTS: X. Their combination provides a stunning dynamic soundscape.
5.Active Voice Amplifier (AVA) adjusts the volume of dialogs depending on the noise level. For example, the noise of a blender or a vacuum cleaner automatically activates the option. But AVA activation during a loud conversation requires pressing a passive-aggressive button on the remote control.
6. Improved Universal Guide offers channels, content and services using AI-based algorithms.
7. Probably, Samsung Health with functions of a fitness organizer will appeal to supporters of a healthy lifestyle. In addition, it offers free and exclusive content from Calm, Echelon, FitPlan, Obe Fitness, Jillian Michaels, Barre 3, etc.
8. Multi-View projects the phone screen onto the TV screen in a separate window. The option has 14 different presets, including side-by-side viewing, picture-in-picture viewin, etc.
9. Digital Butler provides control of all IoT devices in the house using an infrared beam.
Conclusion
PROS
– bezel-less Infinity Design;
– high-quality 8K AI upscaling with AI Quantum Processor 8K;
– impressive picture quality;
– superior sonic performance with eight drivers (4.2.2-channel driver array);
– incredibly low input lag up to 10 ms in Auto Game Samsung mode;
– HDR support, including HDR10, HLG and HDR10+;
– Deep Learning with neural network;
– Ultra Viewing Angle;
– Adaptive Picture, Adaptive Peak Brightness and Adaptive Tone Mapping;
– Object Tracking Sound Plus (OTS+), Active Voice Amplifier and Q-Symphony;
– AV1 (AOMedia Video 1) codec for 8K YouTube.
CONS
– today OTS+ is inferior to Atmos;
– no Dolby Vision or Atmos support.
Traditionally, Samsung has proven its claim to leadership by introducing the Q950TS with a wealth of innovative solutions. The Bezel-less Infinity Design concept is already close to ideal. Screen-to-body ratio has already reached nearly 99%. Eight drivers in a 15 mm case are amazing. Moreover, the company has demonstrated its successes in fundamental areas, including the development of 8K AI upscaling based on Deep Learning using a neural network and AI ScaleNet. Of course, the Q950TS is unlikely to become BestSeller due to the high price, but the flagships do not pursue this goal. First of all, they must confirm the leadership ambitions of the company. Apparently, the Samsung Q950TS 8K perfectly coped with this task. This model embodied almost all the latest Samsung's innovative technologies.
Apparently, Samsung Q950TS 8K will compete with Nano99, Nano97 and Nano95 series of LG NanoCell 8K TVs and Sony Z8H 8K.
This video offers an overview of the Samsung Q950TS 8K at CES 2020.