As usual, CES 2020 attracted a lot of expert attention. Of course, the innovative 8K TVs aroused the greatest interest. Predictably, the development trend in this segment has not changed. AI video processing technology (8K AI upscaling), 5.1-channel audio and optimization of game mode remain the foundation of their improvement. In addition, companies continue to reduce screen thickness and increase screen-to-body ratio. For example, LG introduced ultra-thin Wallpaper and GX Gallery Series, and Samsung showcased the Q950TS 8K with bezel-less Infinity Design. Its screen-to-body ratio reaches an unprecedented 99%.
Predictably, TVs with 8K resolution provoked a heated discussion about their certification. According to the 8K Association (8KA), certified 8K TVs must provide at least 7680 × 4320 resolution, peak brightness of about 600 nits, and support HDMI 2.1 and HEVC (H.265).
As known, in 2002, a group of companies, including Hitachi, Matsushita Electric Industrial, Philips, Silicon Image, Sony and Thomson (RCA), developed the HDMI (High Definition Multimedia Interface) standard for video transmission. In 2017, the HDMI Forum introduced the latest HDMI 2.1 version. Its specs include a maximum bandwidth of up to 48 Gb/s, which supports 10K and 8K video transmission with a frame rate of 120 Hz.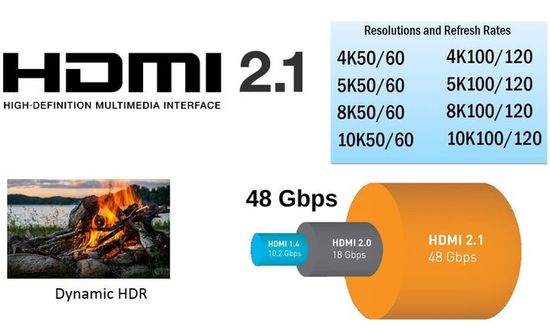 In addition, the standard includes support for dynamic HDR, gaming Game Mode VRR, HDCP 2.2, etc.
The H.265 or HEVC (High Efficiency Video Coding) format uses the most efficient algorithms for compressing the video stream.
Of course, certification provides an additional marketing advantage and companies are interested in obtaining it. However, this aspect contains some nuances.
8K Certification
Unfortunately, the disagreement between the two South Korean giants regarding the certification of 8K TVs remains unresolved. Several years ago, Samsung, Panasonic, Hisense, TCL Electronics and AU Optronics (8K panels) created the 8K Association. But, LG did not join 8KA by creating the International Committee for Display Metrology (ICDM) to certify 8K displays. Ultimately, a rather acute discussion arose between them. In particular, ICDM developed the Contrast Modulation test, which counts the displayed white and black lines with a width of one pixel. According to this technique, image clarity (resolution) depends on the number of displayed lines. ICDM substantiates its methodology with a reference to IDMS (Information Display Measurements Standard).
According to LG, the presence of 33,177,600 pixels is not enough for the 8K model status, because the panel must also identify each pixel. Otherwise, an increase in their number loses its meaning due to the merging the brightness and color mixing.
According to the company, test results LG 8K TVs showed Contrast Modulation (CM) up to 90%. The company calls this level "real 8K". But the modern IDMS standard requires only 25% for images or 50% for text. Under the CTA certification, the 8K model must provide at least 50% CM.
But opponents of ICDM object, that CM does not take into account the colors. Indeed, we are unlikely to see a black and white 8K movie. In addition, ICDM group recently softened LG's previous position.
However, this situation is not unique. For example, Epson has been proposing for many years to incorporate Color Light Output into projector specs, emphasizing the advantage of its 3-matrix 3LCD technology. But this professional discussion does not interfere with the market. Ultimately, the rating of 8K TVs will depend on the opinion of the consumer, regardless of sticker availability.
LG TVs at CES 2020
This year, LG introduced an unprecedented number of new TVs, including new 4K/8K OLED and NanoCell models.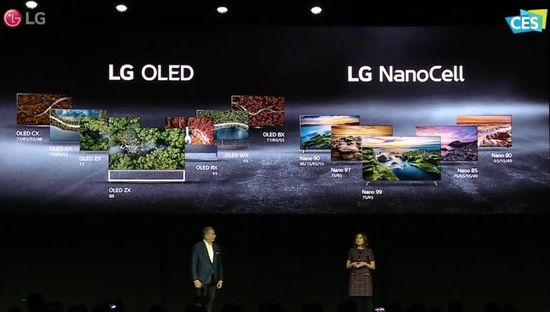 With the exception of the BX series OLED 4K and Nano85 series NanoCell 4K, all TVs use new powerful α (Alpha) 9 Gen 3 AI processor with AI Deep Learning algorithms. In particular, α9 Gen 3 supports AI 8K upscaling, AI Picture Pro, AI Brightness and AI Sound Pro technologies. As known, AI Picture Pro technology optimizes the image.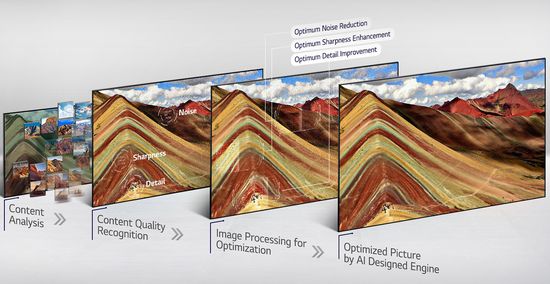 Moreover, AI Picture Pro recognizes faces and text on the screen and improves the clarity of the facial features and the accuracy of the reproduction of skin tones.
AI Brightness with a light sensor detects the ambient light level and automatically optimizes the image brightness.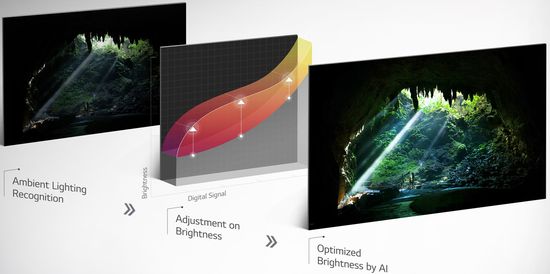 AI Sound Pro technology analyzes and classifies sound into five categories, choosing the optimal playback mode. This list includes music, movies, sports, drama and news.
With the exception of HDR10+, TVs support all HDR standards, including HDR10, HLG and Dolby Vision.
Last year, LG already offered models with expanded Nvidia G-Sync support. This year, the twelve LG OLED models have the built-in frame syncing technology providing gaming mode at 4K resolutions up to 120fps.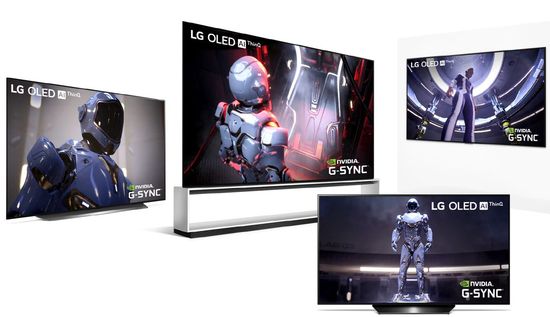 In addition, LG has added several fundamentally new features, including Filmmaker Mode and Dolby Vision IQ (AI Brightness option).
Quad Step Noise Reduction and Sharpness Enhancer technologies
Of course, TVs use previous LG's Quad Step Noise Reduction and Sharpness Enhancer technologies.
As known, digital video cannot have noise on the screen. LG uses this term because many have known it since the time of analog video. In fact, this technology corrects errors that occur during video encoding. This list includes sharp transitions of color shades, the appearance of a halo around objects, etc. A special program analyzes possible typical errors and corrects them when detected.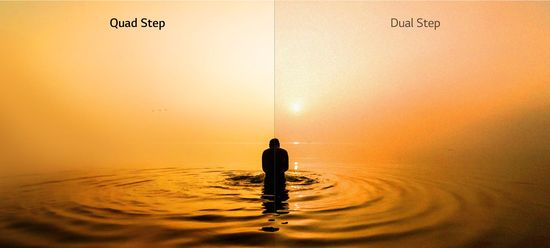 But it is practically useless for video encoded with modern codecs with high-quality compression of the source file.
Sharpness Enhancer enhances image clarity. This technology precisely separates the main object from the background images. Then the algorithm analyses textures and edges and performs video processing based on its results.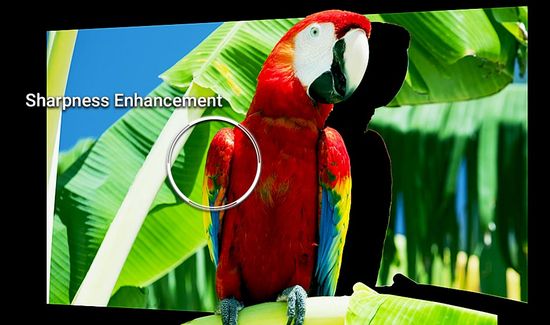 Conclusion
In general, CES 2020 has confirmed the dominance of innovative trend in consumer electronics. This year, LG introduced more than 10 new OLED and NanoCell series with 4K and 8K resolution.
Today the price of last year's 88-inch LG OLED 88Z9 8K almost reaches $30,000. The cost of the new LG Signature OLED 8K ZX TVs, including 88-inch OLED 88 ZX PUA and 77-inch OLED 77 ZX PUA, are unlikely to be lower. They probably won't BestSellers, but perfectly illustrate the development of this segment.
Оf course, the LG NanoCell 8K TVs will be more available. For example, the price of last year's LG Nanocell 75SM9970PUA (75SM9900 in Europe) 8K TV today is slightly above $ 5,000.
Apparently, Nano99, Nano97 and Nano95 versions of 8K NanoCell TVs will compete with Samsung Q950TS 8K and Sony Z8H 8K.
Finally, many LG OLED 4K TVs, including ultra-thin models (Wallpaper and GX Gallery Series), rollable TVs (RX Series), 48-inch OLED48CXPUA of CX Series with Nvidia G-Sync built-in, and entry-level BX range traditionally claim to be BestSellers.
This video shows the LG NanoCell Nano 99 8K at CES 2020.