An innovative trend in the consumer electronics segment has dominated for several decades. Of course, it is most clearly manifested in the high-tech sector. Almost all smartphones, TVs, projectors, robotic vacuums and even dishwashers use processors that provide the expansion of their functionality due to smart options. In fact, innovation has become a necessary condition for competitiveness of any modern device.
Of course, market leaders lead this trend. LG, Samsung, Sony, etc regularly present innovative models with new technologies. As known, the annual CES is one of the main venues for their demonstration. As usual, at CES 2020, companies demonstrated their latest achievements. In particular, Samsung introduced AI ScaleNet video codec, Object Tracking Sound Plus technology, Q Symphony, etc. Of course, LG also demonstrated a wide range of innovative solutions.
Many of them are based on the new powerful α (Alpha) 9 Gen 3 AI processor with AI Deep Learning algorithms. With the exception of the BX OLED 4K series and Nano85 NanoCell 4K series, all new LG TVs use it. In particular, α9 Gen 3 supports AI 8K upscaling, AI Picture Pro, AI Brightness and AI Sound Pro technologies. As known, AI Picture Pro technology optimizes the image.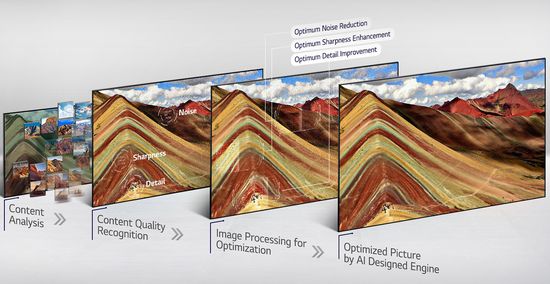 Moreover, AI Picture Pro recognizes faces and text on the screen and improves the clarity of the facial features and the accuracy of the reproduction of skin tones.
AI Brightness with a light sensor detects the ambient light level and automatically optimizes the image brightness.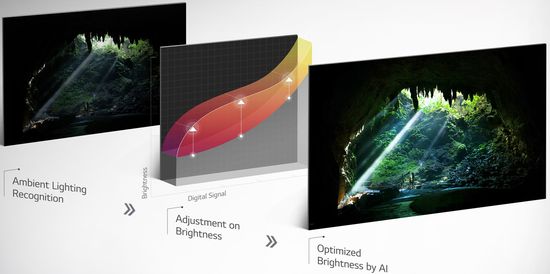 AI Sound Pro technology analyzes and classifies sound into five categories, choosing the optimal playback mode.
In addition, LG has added several fundamentally new features.
Filmmaker Mode
Filmmaker Mode automatically disables motion smoothing and image enhancement technologies to play back the original video content.
As known, Tom Cruise was the initiator of this topic. He urged viewers to abandon some playback optimizations to preserve the original intent of the filmarkers, including the directors, cameramans, etc. In fact, TV in this mode will play movies with the original color reproduction, aspect ratio and frame rate. In principle, today the user can disable some functions manually, achieving the same effect. But Filmmaker Mode in new models will do this automatically. UHD Alliance, including LG, Panasonic and Vizio, also supported the creation of this mode. In particular, the UHD Alliance proposes to activate this mode manually using the remote control, or automatically through metadata on the disk or in the broadcast.
Vizio promises support for Filmmaker Mode in TVs of 2020. As known, Netflix has already launched a similar setup in Calibrated mode. Today, some well-known directors, including Rian Johnson, JJ Abrams, Christopher Nolan, Ryan Coogler and Martin Scorsese, have already supported this initiative.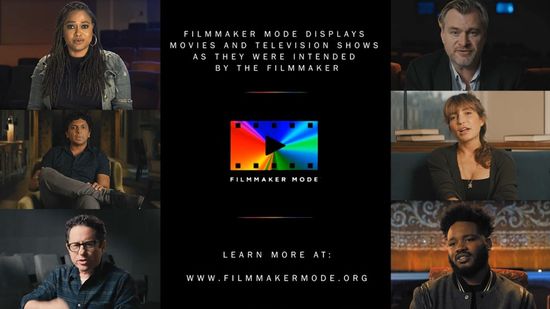 NextGen TV
All new LG TVs support the NextGen TV standard, which provides UltraHD signal reception over terrestrial television networks.
As known, the American Consumer Technology Association (CTA) introduced the logo and name of the ATSC 3.0 standard.

It is intended for broadcasting 4K, which starts this year. In addition to 4K, the standard supports HDR and immersive audio, including Dolby Atmos and DTS: X. Additionally, this signal may include emergency messages and IP support. In fact, ATSC 3.0 can be a tool for integrating Internet content into TV broadcasting. According to surveys, 43% of Americans consider support for NextGen TV as a significant advantage of model.
Dolby Vision IQ
Dolby Vision IQ is an upgraded HDR version using light sensors in TV. Of course, Dolby Labs, which developed the Dolby Vision format, does not require the introduction. At CES 2020, this company demonstrated the next stage in the development of HDR technology. In fact, the Dolby Vision IQ system uses the built-in light sensors in the TV to automatically calibrate the image on the screen depending on the ambient light level.
As known, it directly affects the image quality. Probably, many have heard about the ISF calibration service, which provides optimal settings for day/night playback. Unfortunately, its cost in America reaches $ 300. Dolby Labs proposed the automatic implementation of this option on the built-in hardware level in the TV. In fact, the AI Brightness option in TV will automatically change the brightness, based on data from the light sensors. Today, most smartphones already support this option to increase the readability of text on the screen.
Moreover, Dolby Vision IQ identifies the content type and automatically selects the best mode. In LG TVs, this feature is called Auto Genre Selection. It recognizes four genres, including movies, sports, standard video and animation.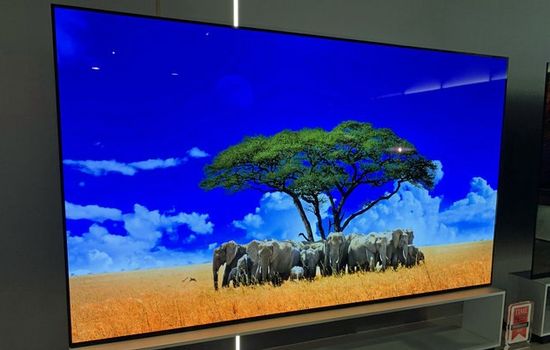 In general, we can note some paradoxicality of these innovations. On the one hand, Filmmaker Mode reduces the level of automation in TV control, on the other hand, Dolby Labs IQ significantly expands it. Probably, the choice by the user should remain the main one in these modes. The idea of automatically activating Filmmaker Mode without viewer intervention seems dubious.
Conclusion
In general, CES 2020 has once again confirmed the innovative trend of major manufacturers of consumer electronics. LG introduced more than 10 new series this year, including OLED and NanoCell with 4K and 8K resolution.
As many remember, the price of last year's 88-inch LG OLED 88Z9 8K reached $30,000. The cost of the new LG Signature OLED 8K ZX TVs, including 88-inch OLED 88 ZX PUA and 77-inch OLED 77 ZX PUA, are unlikely to be lower. They are unlikely to become BestSellers, but perfectly illustrate the development of this segment.
But LG NanoCell 8K TVs will be available. For example, the price of last year's LG Nanocell 75SM9970PUA (75SM9900 in Europe) 8K TV today is slightly above $ 5,000. Apparently, Nano99, Nano97 and Nano95 versions of 8K NanoCell TVs will compete with Samsung Q950TS 8K with bezel-less Infinity Design. Its screen-to-body ratio reaches an unprecedented 99%.
Finally, many LG OLED 4K TVs, including ultra-thin models (Wallpaper and GX Gallery Series), rollable TVs (RX Series), 48-inch OLED48CXPUA of CX Series with Nvidia G-Sync built-in, and entry-level BX range traditionally claim to be BestSellers.
This video shows the LG Signature OLED 8K ZX at CES 2020.