As known, these days companies present their new products at CES 2020. As usual, the attention of experts is primarily attracted by the leaders of the consumer electronics segment, which shape development trends. Of course, Samsung is one of them. The company fully met expectations by presenting three new TVs, including the second generation of Samsung 8K model, innovative MicroLED panels and the experimental The Sero TV. It has a rotary screen for viewing video content in vertical format, for example, from Instagram.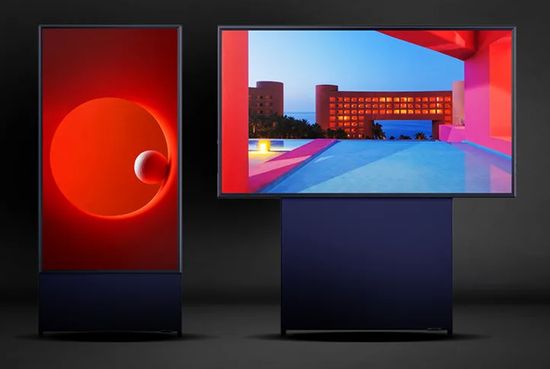 Of course, Samsung Q950TS aroused the greatest interest among experts. In fact, the company created the second generation of its 8K TV.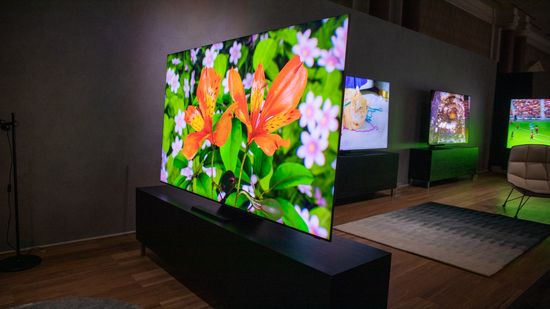 The company demonstrated that the past year was not in vain, embodying a huge number of innovative solutions in the Q950TS. Moreover, this model demonstrated the company's successes in fundamental directions, including 8K AI upscaling based on Deep Learning with neural network and AI ScaleNet technology.
Upscaling
As known, upscaling increases the number of pixels in the original signal to increase the image clarity on the TV screen. This problem arose about 10 years ago when TVs already provided Full HD (1920 x 1080) resolution, and television channels broadcast the signal in HD format (1280 x 720), or SD format (480p, 576i). Of course, this factor significantly reduced the advisability of buying an expensive Full HD TV.
At the first stage, companies successfully solved this problem, showing in advertising or when selling a magnificent image of high-quality video with high resolution. But having bought such a TV, the consumer was quickly disappointed due to the low image quality of low-resolution video from normal traffic. Very quickly, the consumer market realized that even a very expensive TV can provide high quality only when playing high-quality content.
Of course, companies could wait for the required content to appear on the market, but there was a risk. For example, many people remember the rise and sunset of the 3D format in TVs. Even with a large number of fans, today almost all companies have abandoned this option due to the shortage of 3D video content.
As a result, large companies, including Samsung, began to actively develop upscaling technologies for their models, reducing their commercial risks. Indeed, even in the absence of appropriate native content, upscaling provides at least an increase in the quality of available low-resolution content, stimulating the acquisition of expensive model. As a last resort, 8K TV with high-quality upscaling will improve the playback quality of accessible content.
8K AI upscaling with AI Quantum Processor 8K
Physically, upscaling is similar to frame interpolation. As known, in this mode TV creates an additional intermediate frame based on two neighboring frames, ensuring smooth playback of even highly dynamic scenes. Accordingly, upscaling forms additional pixels to increase resolution. For example, the AI 8K Quantum easily scales content to 33,177,600 pixels. Unfortunately, upscaling can distort the original image, forming artifacts. Therefore, this task requires solving many complex problems, including color accuracy, GPU performance for video processing without lags, etc.
As a result, companies developed a lot of upscaling technologies, including Pixel Shift (formation of an additional pixel by shifting), bicubic interpolation (calculation colors by adjacent pixels), etc. Today, AI upscaling is the most promising direction.
The Q950TS confirms Samsung's leadership in the AI upscaling.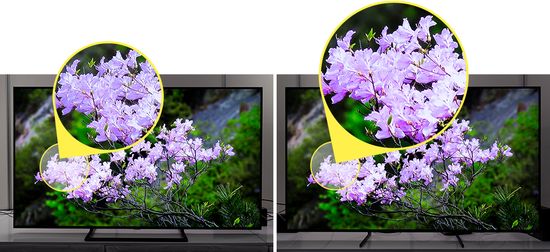 This model uses the latest generation of the AI Quantum Processor 8K, which extends AI upscaling capabilities.
Previously, AI machine learning used a formula bank, which is downloaded to the TV and updated periodically. New Q950TS supports innovative Deep Learning using a neural network to expand machine learning. In fact, it creates its own formulas and algorithms without using a formula bank. Of course, Deep Learning has become a quality leap in AI processing. It is performed on a per-pixel basis with the use of noise reduction, restoration of contours, texture creation and restoration of small details. Deep Learning is primarily intended for small details and complex images.
AI ScaleNet
Of course, transmitting 8K streaming video content requires a significant increase in the bandwidth of communication channels, which depends on the speed of your Internet connection.
To solve this problem, Samsung Research Visual Technology has developed a new AI ScaleNet video codec. As its name implies, the company uses AI to decompress 8K video. In fact, 8K is compressed to 4K using AI-downscaler and transmitted to the user's TV. Then, AI ScaleNet (codec with machine learning elements using different patterns for different image parts) restores 4K to 8K.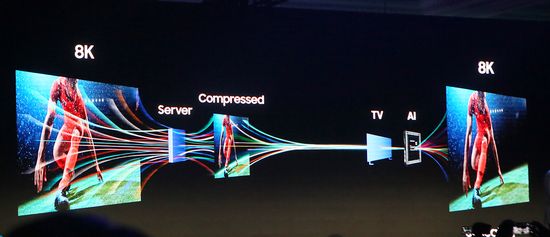 Kwang Pyo Choi, developer of this codec, said that AI ScaleNet uses AI Adaptive Bit Rate Streaming, which provides adjustment depending on the bandwidth of the networks. In fact, the codec adjusts the resolution for smooth video streaming.
In prospect, this technology will provide the required quality of 8K content transfer even at low bandwidth, for example, during periods of heavy network traffic.
Moreover, Samsung has agreed with Amazon Prime Video to jointly test the new technology.
Additionally, the Q950TS supports Google's AV1 (AOMedia Video 1) codec for 8K YouTube content.
Object Tracking Sound Plus (OTS+), Active Voice Amplifier (AVA) and Q Symphony
Apparently, Samsung paid a lot of attention to the object-oriented audio, which lies at the heart of Dolby Atmos and DTS: X. As a result, the new TV has OTS+ (Object Tracking Sound Plus) technology that recognizes moving object inside the scene. After identifying the object, OTS+ moves the corresponding sound track in the direction of its movement using internal speakers. As a result, the sound follows the object. This effect works well, for example, in the scene of a passing car or flying helicopter. TV sequentially switches the speakers, creating a wonderful illusion of the engine sound that moves with the car or helicopter. Maybe Object Tracking Sound Plus is not yet ready to compete with Dolby Atmos, but, of course, it significantly surpasses the traditional 10W down-firing speakers in other flagships.
In addition, the company offers AVA (Active Voice Amplifier) feature that adjusts the volume of dialogs depending on the noise level in the room. For example, when using a blender or vacuum, AVA will automatically increase the volume. But in case of a conversation in the room, the AVA activation requires pressing a passive-aggressive button on the remote control.
Most likely, Q-Symphony technology will appeal to home theater enthusiasts. It combines the speakers in the Samsung TVs of 2020 and Samsung Q800T soundbars into a single audio system, creating a stunning dynamic soundscape. In fact, Q-Symphony creates a 9.1.4 configuration.
Conclusion
Samsung has once again confirmed its innovative leadership. New Samsung Q950TS 8K TV, innovative MicroLED panels and the experimental The Sero TV demonstrated that the company's engineers were able to make significant progress in a year.
The Q950TS 8K TV has embodied almost all of the company's innovative solutions, including 8K AI upscaling with AI Quantum Processor 8K, AI ScaleNet, Object Tracking Sound Plus (OTS+), Active Voice Amplifier (AVA) and Q Symphony. In fact, Q950TS became the best advertisement of the innovative successes of a South Korean company.
Apparently, Samsung Q950TS 8K will compete with Nano99, Nano97 and Nano95 series of LG NanoCell 8K TVs and Sony Z8H 8K.
The video offers a demo of the Q950TS 8K and Sero Vertical TV at CES 2020.