The heated debate about pros & cons LCD vs OLED technology has been going on for many years. However, they were quite academic in nature, since LCD & OLED TVs were in different price segments. But LG's efforts to reduce the OLED panel price and the progress of LCD TVs manufacturers to improve picture quality (QLED + Local Dimming with Mini LED backlit) are dramatically changing the situation.
OLED vs LCD 2021
This year, models based on these technologies have mixed in the same price segment, which sharply exacerbates the discussion. In the segment from $ 2,000 to $ 3,000, the market today offers five quite comparable in price and quality TVs from the industry leaders. This list includes:
– LG OLED 65CX (2020) – $ 2,000;
– Samsung Neo QLED 65QN85A (2021) – $ 2,200;
– LG OLED 65C1 – $ 2,500;
– Samsung Neo QLED 65QN90A – $ 2,600;
– LG OLED 65G1 – $ 3,000.
Differences within the lines:
– unlike the new C1 & G1 with webOS 6.0, last year's LG CX has webOS 5.0 version, does not have new Magic Remote, and uses the α9 Gen 3 AI Processor 4K, which is inferior to the more performance α9 Gen 4;
– LG 65G1 – the first and only model today with an innovative OLED Evo panel, the brightness of which is increased to 1,000 nit.
New Evo OLED panels use an additional third green emitter layer.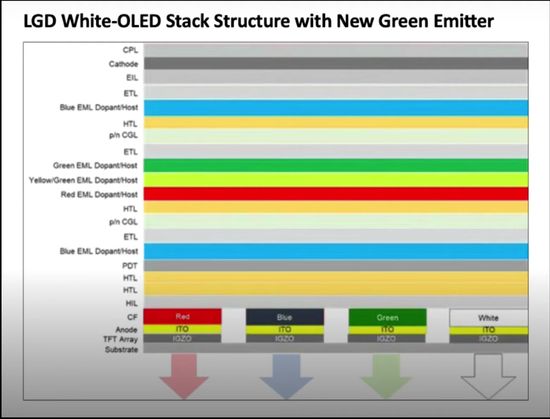 Combined with red and yellow-green, this structure extends panel color gamut. Moreover, DuPont makes blue emitters from the more productive deuterium instead of hydrogen. Its improved performance allowed designers to increase panel brightness at the same amperage and, accordingly, without reducing panel life due to overheating;
– flagship Samsung 65QN90A uses a brighter VA panel with very high contrast ratio, QN85A uses ADS (Advanced Super Dimension Switch) panel with wider viewing angles, which is an improved IPS matrix.
A short introduction with main key features of modern TVs will help you more objectively assess the prospects for this year's potential bestsellers.
About five years ago, the evolution of TVs split into two directions.
LG and Sony have focused on developing innovative OLED technology that uses self-emissive pixels and therefore does not require backlit. This eliminated the problem of imperfect blacks due to partial transmission of light through the matrix in transmissive LCD panels. The fantastic contrast has become the main advantage of this technology.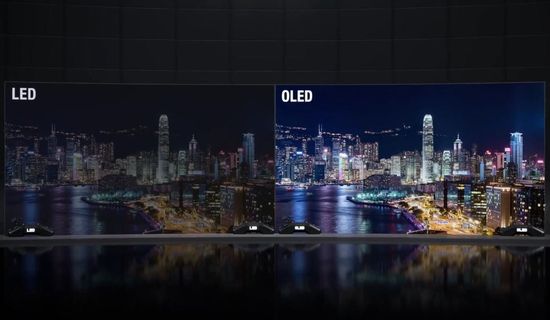 But it provides relatively low brightness, which has become one of the main cons of OLED panels. Of course, its key features also include wide viewing angles, reduced panel thickness, limited range of panel sizes, disproportionate price increases for large panels, limited blue pixel life due to burn-in, etc. But the importance of these aspects is constantly decreasing. On the one hand, manufacturers of OLED panels successfully expand the range of sizes, lower prices and extending their lifespan. On the other hand, LCD panel manufacturers have also been successful in increasing viewing angles and reducing panel thickness.
In fact, only excellent contrast at low brightness remain the main differences between the technologies. As known, the contrast directly affects the image quality, and peak brightness – HDR performance. In addition, the brightness is necessary to compensate for ambient lighting, for example, daylight.
Samsung is also pedantically develops Micro LED technology based on self-emitting diodes without backlit. For example, company develops Micro LED modules, which are then assembled into huge panels using magnets. At CES 2019, Samsung even showed 13-inch modules for such panels.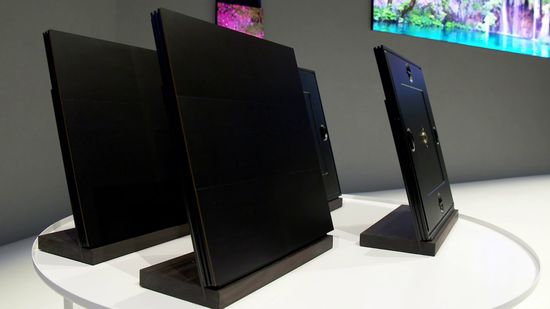 This technology delivers amazing quality, but at an incredible price. For example, the 109-inch Samsung Micro LED panel at CES 2021 is worth more than $ 150,000.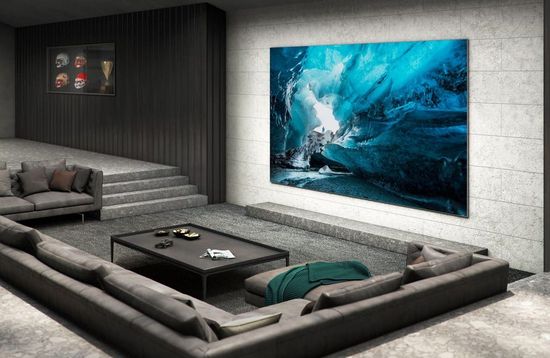 Quantum Dot technology & Local Dimming with Mini LED backlit
Of course, the LCD TVs developers weren't wasting their time either. Having developed a huge number of innovative technologies, the companies have brought LCD TV image quality very close to the level of OLED technology. Of course, QD technology and Local Dimming with Mini LED backlit dominate this list.
The elegant solution of the South Korean developers gives aesthetic pleasure. As known, only sunlight provides perfect white, but conventional LEDs cannot. After a little thought, the developers decided to create an analogue of a small sun in a TV, synthesizing it from blue, green and red.
This technology works as follows. Blue from blue LEDs passes through a matrix with nanoparticles, the size of which corresponds to the wavelengths of red and green. Then, the partially passed through the film blue is combined with re-reflected green and red, and they form a high-quality white, which is used to form the pixel colors.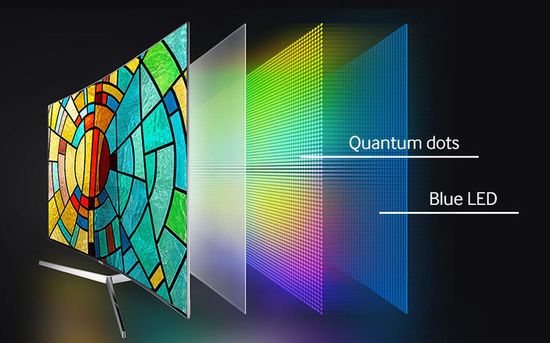 This technology has dramatically improved the picture quality of LCD TVs.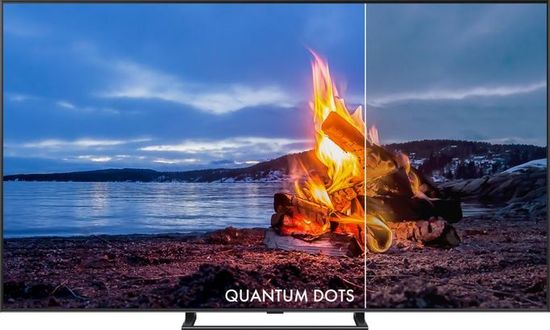 Companies today have developed and are using several versions of this technology, including Samsung QLED, Sony Triluminos, LG NanoCell, Hisense ULED, etc.
The Mini LED backlit has significantly increased contrast by dramatically improving local dimming performance. By grouping a huge number of miniature LEDs into arrays, the developers have dramatically increased the number of independently controlled Local Dimming zones. For example, in March TCL announced a fantastic 85-inches TCL X12 8K Mini LED Starlight with 96,000 LEDs. In comparison, the legendary TCL 6-Series Roku TV (2018) used only 86 local dimming zones.
As a result, the difference in price and image quality between OLED and LCD with QD technology and Mini LED backlit has practically disappeared.
LG OLED G1 TV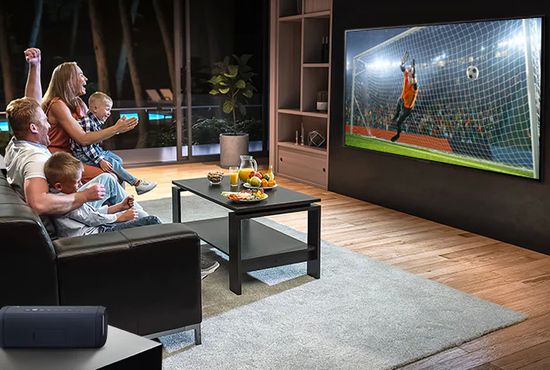 Today LG OLED G1 TV is positioned as one of the best OLED 4K TVs. The innovative bright Evo panel harmoniously complements traditionally stunning contrast of this OLED TV. The excellent webOS 6.0 with new interface, expanded Magic Explorer, enhanced LG ThinQ AI and Next Pick function is an added bonus. Finally, 4 HDMI 2.1 inputs, amazing upscaling with new α9 Gen 4 AI processor 4K, and great gaming with 4K@120Hz support, Game Optimizer, G-SYNC, FreeSync, VRR and ALLM complement its pros. Perhaps only glare due to the reflective glass surface in daylight and the absence of HDR10+ can be positioned as a small cons.
On the other hand, $ 3,000 will partly offset its pros compared to other members.
Samsung Neo QLED QN90A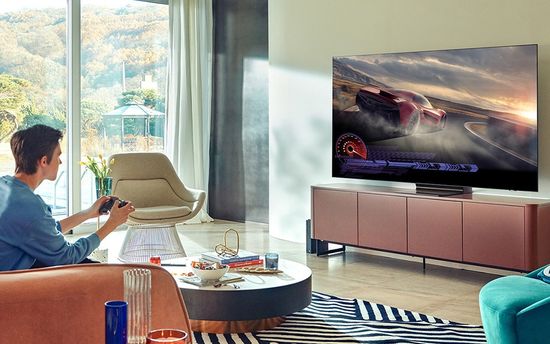 Of course, Mini LED backlit is a main feature of the new series. Tens of thousands of miniature LEDs, united in thousands of local dimming zones controlled by Samsung Quantum Matrix system, radically increase the overall image contrast by precisely adjusting the brightness in each frame fragment.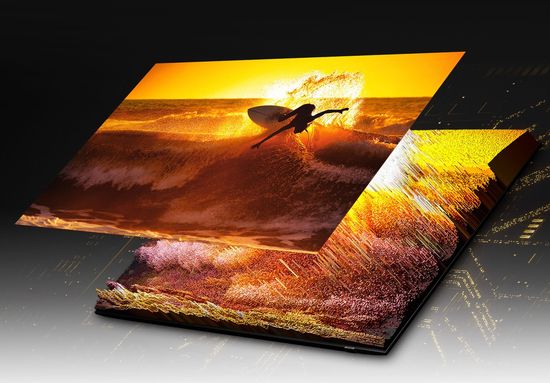 Moreover, the QN90A with VA panel is very bright. In particular, Dynamic Picture Mode in SDR with Standard Color Tone provides almost 1,790 nits (cd / m²) in the 10% window. But, of course, these settings slightly reduce image accuracy. The unprecedented brightness for HDR content reaches 1,600 nits, and even 1,800 nits for small bright peaks.
Native contrast ratio is 3500: 1, but locall dimming increases it to around 26000: 1.
The anti-glare screen perfectly suppresses reflections. The OTS+ system and 4.2.2 configuration provide a surround sound. As known, this sistem generates sound from the entire screen surface, synchronizing it with the source in the frame.
The very high brightness, excellent black levels and QD technology provide very accurate color reproduction with rich colors in all brightness ranges. High native contrast ratio, exellent Mini LED FALD and wide viewing angles complement its pros. Finally, good Pre Calibration out of the box, Tizen OS with MultiView (up to 4 sources), USB camera, Smart Things, Samsung DeX and Game Bar round out the shortlist of its pros. Of course, the TV supports 4K@120Hz. But unfortunately for gamers, the model does not support the G-SYNC.
LG OLED C1
In fact, the LG OLED C1 is almost identical to the G1, but without the innovative bright Evo panel and the new built-in Next-Gen (ATSC 3.0) tuner. It also has four HDMI 2.1 ports, gorgeous new webOS 6.0, supports Dolby Vision IQ to automatically adjust brightness based on ambient lighting sensor, and all modern gaming features, inciuding HDR 4K@120Hz, VVR in Nvidia G-Sync & AMD FreeSync Premium, etc. Input lag in Standard and Boost modes does not exceed 9.4 ms. But its brightness is inferior to the G1. At its brightest Vivid mode, it shows no more than 900 nits for HDR in a 10% white window. But in general, the model provides traditionally excellent image quality and gaming performance.
Like all LG TVs, it doesn't support HDR10+. As known, the company fundamentally prefers to use the Dynamic Tone Mapping mode, which actually converts HDR (High Dynamic Range) to LDR (Low Dynamic Range) to match content with model capabilities. Of course, this transformation is accompanied by losses, but it mimics our vision very effectively.
Simplified, these algorithms divide all image brightness values into three levels (dark, medium, and bright), estimate the brightness of the midtones, correct the overall brightness, and redistribute the their values between pixels in the scene (dark pixels are brightened, light pixels are darkened). Then, the algorithms reduce the brightest pixels to the panel's specs. Image demonstrates their performance.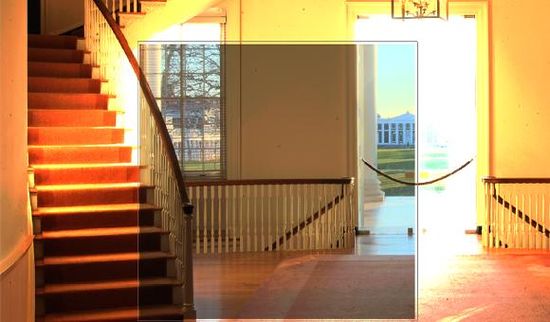 Dynamic Tone Mapping is used for the central fragment, along the edges – conventional HDR-LDR conversion.
Overall, this feature is quite effective.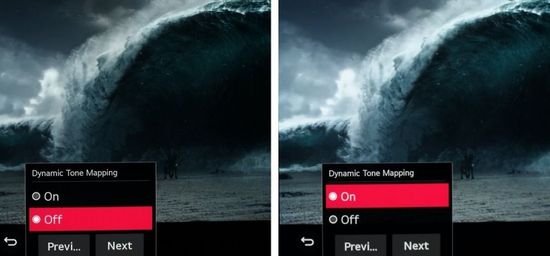 LG OLED CX
The C1 is positioned as an improved version of CX. But the differences between them are minimal. They are almost identical in design.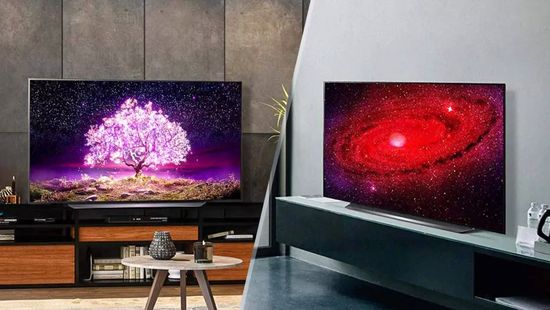 CX uses the last year's Magic Remote, α9 Gen 3 AI instead of the new α9 Gen 4 AI Processor 4K, and webOS 5.0 instead of the new webOS 6.0 in LG TVs 2021.
Peak brightness for HDR format reaches 740 nits, the gamut coverage is 96% for DCI-P3, and 71% of Rec. 2020. Traditionally, TV provides amazing contrast and very accurate colors.
The internet offers a huge number of reviews for this model, which are backed up by over 4,000 rave reviews on Amazon over several months of sales. Many experts rightly position the LG CX as the best OLED TV 2020 in terms of value for money. With a high probability, it claims to retain its place among this year's bestsellers also.
Samsung Neo QLED QN85A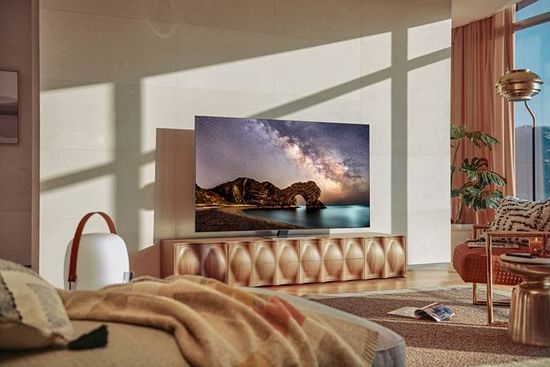 Samsung QN85A is the second model in the new flagship Samsung Neo QLED line with innovative Mini LED backlit.
In SDR, the TV's peak brightness reaches 1,125 nits in a 10% white window, which is more than enough to suppress glare in almost any ambient light.
In HDR mode the maximum brightness reaches 1,250 nits with the maximum brightness and contrast settings in the "Movie HDR" mode (local dimming – "High", Color Tone – "Warm-2").
Moreover, "High" in Contrast Enhancer and max in ST.2084 even more boosts HDR brightness.
The QN85A uses an ADS (Advanced Super Dimension Switch) panel with wide viewing angles. Unfortunately, its native contrast is 1370: 1, or 2000: 1 with local dimming.
Wide color gamut is one of the pros of the new Neo QLED series. In particular, QN90A covers around 95% of color space, QN85A – 91% in DCI-P3 "xy". For DCI-P3 "uv" color space these values are 95% and 94%, respectively (adopted in 1976, "uv" chromaticity diagram takes into account sensitivity of human vision). Of course, these values are more than enough for HDR content in DCI-P3 color space.
The model successfully copes with the processing of HDR content with 10 bit depth, smoothly reproducing shades without color gradients. Additionally, activating the "Noise Reduction" function almost completely eliminates possible banding in green and red shades. Unfortunately, it lowers the detail.
Like the QN90A, TV has a new Game Bar feature. Its activation requires to hold Play / Pause button on remote. It shows on / off VRR mode and useful additional games info. Most importantly, Game Bar provides Super Ultra Wide Game View at 21: 9 or 32: 9 of screen ratio.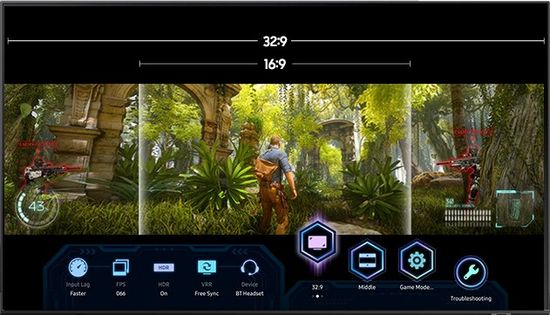 The QN85A has one HDMI 2.1 and three HDMI 2.0 ports.
Conclusion
Of course, 65-inch $ 3,000 LG OLED G1 with innovative bright Evo panel objectively wins in this TV segment. Amazing contrast, wide color gamut, impeccable color accuracy, excellent (for OLED panel) brightness up to 1,000 nits, great new webOS 6.0, and a wide range of virtually all modern gaming features are compelling arguments in its favor. With a sufficient budget, it will be the best choice this year.
Without a doubt, Sony Bravia XR A90J OLED 4K is also great, but the cost of the 65-inch model from this series reaches $ 3,800.
Taking into account the minimal price difference, choosing in pairs between Samsung Neo QLED 65QN85A ($ 2,200) vs LG OLED 65CX ($ 2,000, 2020), and Samsung Neo QLED 65QN90A ($ 2,600) vs LG OLED 65C1 ($ 2,500) is more complex and ambiguous.
Of course, LG OLED 65C1 is a great TV and no doubt it will compete successfully on the market. But unprecedentedly bright Samsung Neo QLED 65QN90A with excellent contrast due to innovative Mini LED backlit, and with premium specs is more than a serious competitor. With a price difference of only $ 100, its pros seem more convincing.
In the budget part of our list, the Samsung Neo QLED QN85A and LG OLED CX are roughly the same. But the $ 200 difference, the expected price reduction for the LG OLED CX (2020), and most importantly, the huge amount of rave reviews give it the best marketing prospects.
In general, the competition is doing its job, providing the consumer market with excellent models in all price segments. Moreover, in the summer it can expand with Hisense U9DG, which, according to the company, can simulate up to 2,000,000 local Dimming zones with super innovative Dual Cell technology!
P.S.
Internet offers a video with information on numerous faults of new Samsung's Neo QLED TVs. Of course, this could be dishonest marketing, but, in any case, this video can be useful when choosing.
Fierce competition encourages companies to pursue a flexible, highly dynamic pricing strategy. As a result, prices change significantly even over the course of several months. Of course, this trend is especially evident when using innovative technologies.
Excluding the traditional Black Friday price drop, the current market landscape now includes a new segment of LCD TVs with Quantum Dot technology (wide color gamut with high color fidelity) and Local Dimming based on miniLED backlit. It uses a huge number of miniature LEDs, which are grouped into separate zones. As a result, more precise control of the backlit intensity depending on the content in different frame areas significantly increases the dynamic contrast.
The new segment's budget range includes excellent TCL 6-Series (2021) and Hisense U8G ULED for $ 1,300 and $ 1,000.
Samsung Neo 4K QLED TVs (QN85A & QN90A series) priced at $ 1,600 and $ 2,200 for the 65-inch model can be positioned as premium LCD QD miniLED TVs.
Their specs are quite comparable, and sometimes even surpass OLED panels. For example, the QN90A provides an unprecedented dinamic contrast with Local Dimmimg of 26,000: 1 at a max brightness of over 1,800 nits.
Until a few years ago, that would have been enough for their excellent and cloudless marketing prospects. But OLED model makers are also moving forward, constantly lowering prices for their models. For example, the list of available OLED TVs has expanded this year with excellent LG OLED C1 ($ 1,800), and Sony A80J OLED for $ 2,200 (65-inch models).