For several years now, the market has shown a steady increase in the popularity of laser UST (Ultra Short Throw) projectors, which are placed in the living room instead of a traditional TV. Of course, projectors have been actively used before, but mainly for Home Theater. This was due to several objective factors, including the projector brightness, their placement, image quality, available content range, etc.
Large screen TVs
Of course, screen size remains the main advantage of a projector. But technology does not stand still, and today companies offer mondo-sized screen TVs in abundance. Unfortunately, they remain very expensive. For example, Sony TV's 85-inch LED LCD Ultra HD 4K has a price tag of nearly $ 3,000. Claimed price for the super innovative 85-inch flagship 2021 TCL X12 8K OD-Zero Starlight Smart Screen with OD-Zero backlit exceeds $ 15,000.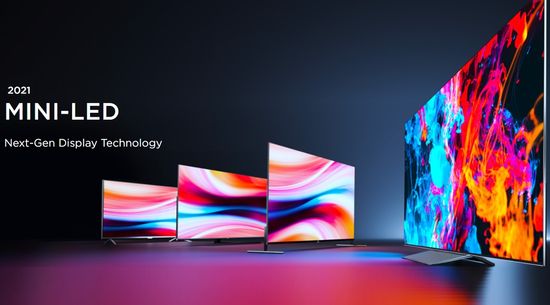 And the price of the gorgeous 110-inch Samsung Micro LED panel will exceed $ 150,000.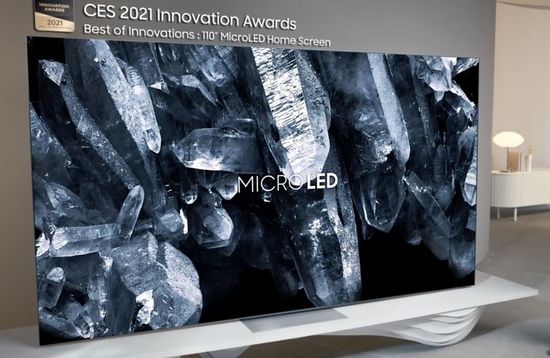 For most consumers, this miracle of technology remains only an object of admiration.
The situation is similar in the segment of OLED TVs, the price of which rises sharply as the screen size increases. For example, the price of the new 83-inch LG OLED C1 TV reaches almost $ 6,000.
In comparison, the beautiful new living room Epson EpiqVision LS300 UST 4K HDR smart projector costs only $ 2,000 in the base version, and $ 3,000 with a high-performance 100-inch UST ALR screen.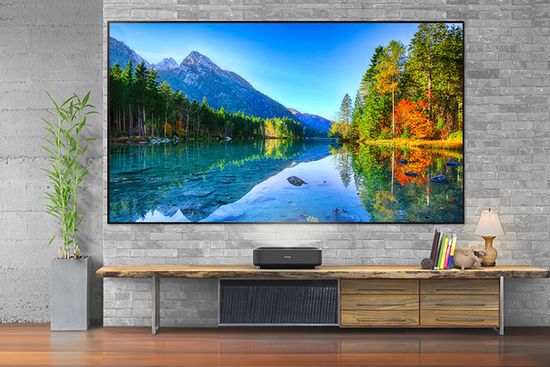 Traditionally, image quality is one of the main criteria for selection. It depends on brightness, resolution, contrast, color gamut, color accuracy, HDR performance, etc. But of course, the bandwidth (HDMI), input lag, refresh rate, smart functionality, etc also directly affect the consumer qualities of the model. The developers of TVs and projectors successfully solve all these aspects, and the statement about someone's domination is not very correct. For example, the picture quality of a premium projector is significantly higher compared to a TV in the budget segment.
Brightness
The projector image quality dependents on the ambient light. Even diffused daylight makes it dimmer and paler. Of course, window blinds and blackout curtains can solve this problem. But this fuss is unlikely to add comfort.
Increasing the projector light output (brightness) is a simpler and more convenient solution. But it has nuances.
Even not very expensive lamp projectors provide a brightness of several thousand Lm, but their lamp gets very hot during operation. As a result, these models are bulky (a large internal volume is required for heat dissipation), have a high noise level (the noise of powerful fans sometimes exceeds 40-50 dB) and a relatively short lamp life (up to 6,000 hours).
Compact, low-cost LED projectors offer virtually no heating, a lifespan exceeding 25,000 hours, but their brightness is too low to compensate for ambient light.
Powerful laser projectors provide high brightness up to several thousand Lm, do not heat up, have a lifespan of 25,000 hours or more, but they are significantly more expensive.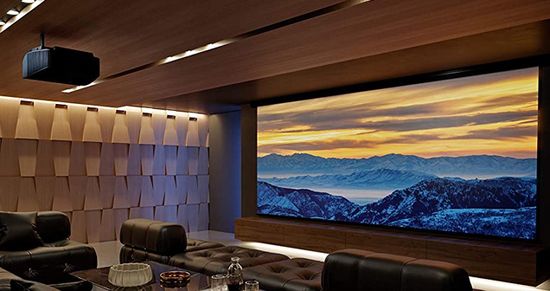 Several years ago, these factors severely limited the prospects for laser projectors as an alternative to living room TVs. But huge progress in the segment of solid state light engine segment has radically changed situation. Today many industry leaders already offer powerful enough laser models starting at $ 1,000.
Several factors further mitigate the brightness problem. As known, 1-chip DLP projectors with a color wheel lose some of the light output in each cycle, passing only one color. But Epson's 3LCD technology works losslessly, always providing the same White Brightness & Color Brightness (CLO – Colour Light Output), reducing brightness requirements.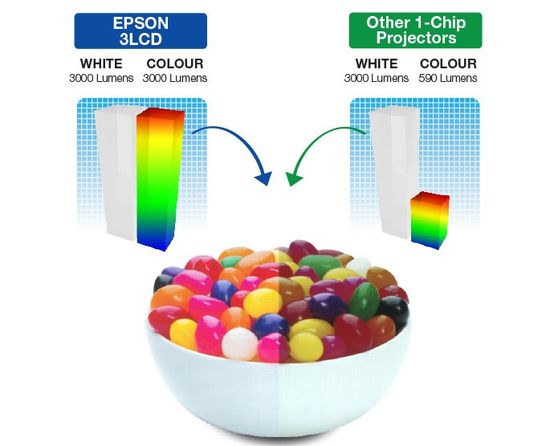 Moreover, today companies offer affordable ALR (Ambient Light Rejecting) screens, which additionally reduce the loss of reflected light.
UST projectors
As known, traditional mid-focus projectors are installed in front of the screen at a distance of several meters. Usually, the wires on the floor are not an issue in the home theater room because of minimal activity in this room. In addition, most modern models have a ceiling mount. But this aspect is more important in the living room, where children and pets often play.
Of course, UST models have drastically reduced this problem by providing the projector placement almost close to the screen.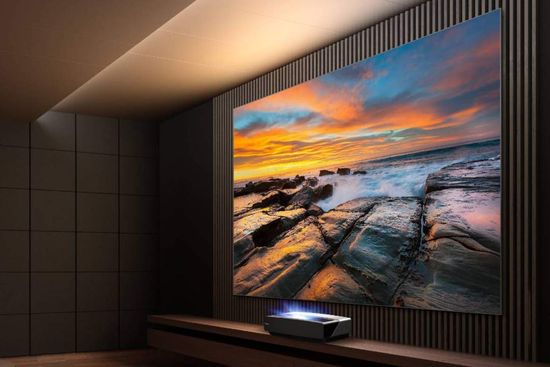 Unfortunately, they require very precise alignment during installation.
In addition, the high-power laser beam can be hazardous to the eyes. Of course, an adult is unlikely to think of looking into the laser projector lens during operation. But the laser beam can be dangerous for curious children and pets. Therefore, many modern models have a protection that automatically turns off the laser with the help of motion sensor.
Unfortunately, traditional inexpensive ALR (Ambient Light Rejecting) screens are not very effective for UST models due to the acute angle of light incidence on the screen. In this case, a significant part of the light flux is reflected upward instead of the viewing area (the angle of incidence is equal to the angle of reflection). Companies have solved this problem by developing special UST ALR screens with this factor in mind.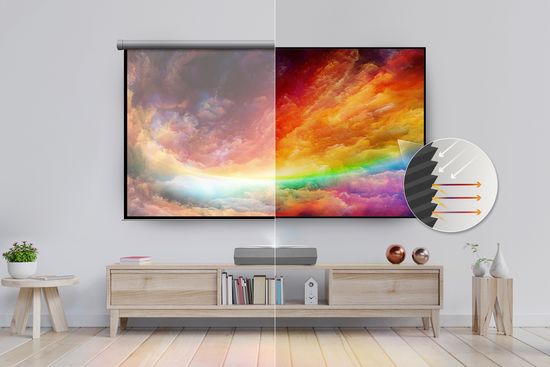 But UST ALR (Ambient Light Rejecting) screens are very expensive today. For example, the price of a 100-inch UST screen reaches $ 1,000.
Color gamut, resolution & contrast
The color gamut and color accuracy of the compared devices are approximately the same and depend on the technology used. For example, comparing TVs with Quantum Dot technology (Samsung QLED, Sony Triluminos, LG NanoCell , Hisense ULED, etc.) with mid-budget projectors does not show clear advantages.
But the resolution of TVs is significantly higher. For example, even many modern budget TVs are 4K. The projectors with native 4K resolution continue to be positioned as premium projectors. But projector manufacturers are actively working in this direction. For example, Epson and Sony are actively improving the promising 4K e-shift technology.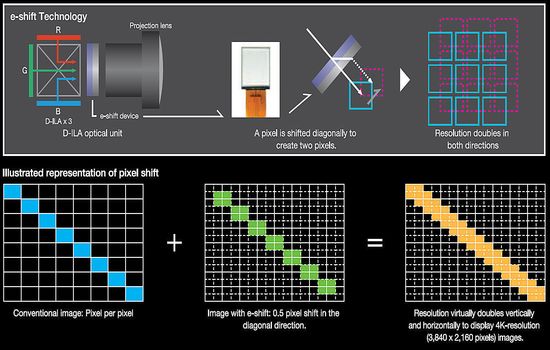 On the other hand, pixelation is perceived by the eye only at a relatively close distance from the screen, and the projector is designed for a large screen. Of course, viewing a 100-inch image is comfortable from a distance of at least a few meters. But the visual acuity of the majority is unlikely to be sufficient for perception of pixelation at that distance. Therefore, lower resolution is not very critical for projectors.
Of course, contrast has a significant impact on image clarity and color saturation, and modern TVs significantly benefit in this comparison. As known, OLED TVs and Micro LED panels with self-emitting LEDs provide almost ideal contrast. What's more, the innovative mini LED backlit promises dramatic contrast improvement even in LCD models with this technology. What's more, many modern TVs use the new Dolby Vision IQ technology, which optimizes contrast and brightness based on dynamic metadata and ambient light sensor information.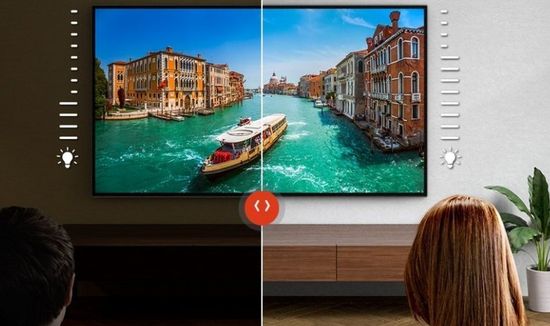 In comparison, laser projectors provide approximately the same contrast ratio as LCD TVs with IPS panel and without local dimming technology. However, the contrast difference is visually reduced in a dark room.
HDR performance & screen mirroring technology
The importance of HDR performance increases with the growing popularity of this technology. As known, HDR mode significantly expands the color gamut, improving image quality.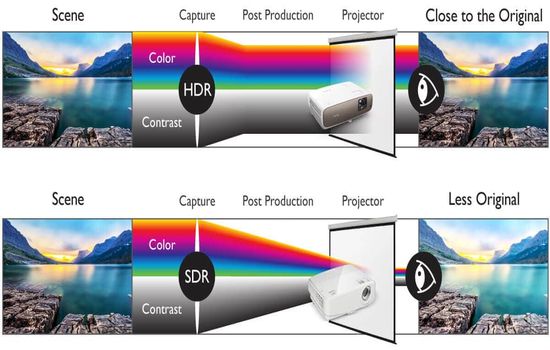 Sure, the brighter TVs usually outperform in this comparison, but this aspect has nuance.
In addition to HDR content, a full HDR mode requires a fairly bright 10 bit panel (or 8 bit + FRC) with Wide Color Gamut support, which are available only in expensive TVs. Budget and some mid-budget TVs do not meet these requirements, and, in fact, can only reproduce HDR content in SDR quality or slightly higher. This situation is similar to "4K compatible" projectors, which can accept 4K content. Then the device lowers the 4K resolution to native resolution and plays it. Of course, many are justifiably disappointed after purchasing of such TV with HDR support.
In fact, only fairly expensive TVs provide full HDR. But premium projectors also do an excellent job with this task.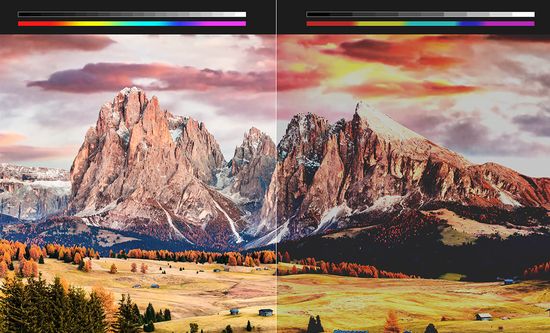 Traditionally, TVs have had a huge advantage in terms of range and convenience of content. But the rapid development of screen mirroring technologies and smart functionality have virtually eliminated this difference. Almost all modern projectors support Chromecast, Miracast, broadcast via smartphone and WiFi, etc.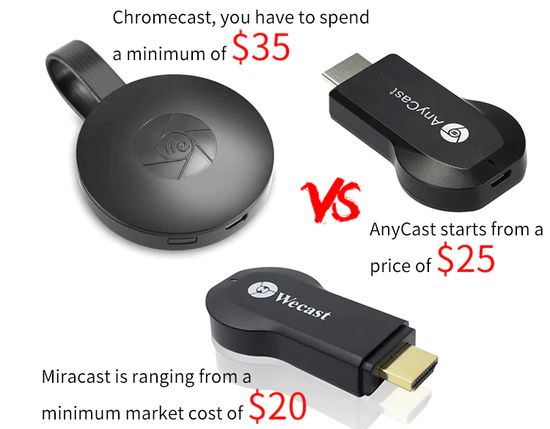 Conclusion
Probably, today TVs are preferable in terms of picture quality. Fierce competition ensures a constant increase in image quality and a huge range of them at relatively affordable prices. For example, this year the market offers:
– the latest Samsung Neo QLED and LG QNED with innovatve mini LED backlit;
– great LG OLED G1 and LG OLED C1;
– a huge range of TCL TVs;
– great Sony Bravia XR A90J, etc.
In turn, manufacturers of UST laser projectors for the living room are also not far behind, offering:
– Epson EpiqVision laser projectors, including LS500, new LS300, and mini EF12 at prices from $ 1,000 to $ 4,000;
– Optoma CinemaX 4K living room laser DLP projector – $ 3,300;
– VAVA VA-LT002 4K UST laser living room projector – $ 2,800, etc.
In general, the modern laser UST projectors are marginally inferior in image quality to similarly priced TVs, but radically gain in screen size. In addition, the difference in picture quality is reduced in low ambient light conditions. Moreover, the dedicated UST ALR (Ambient Light Rejecting) screen significantly improves the projector image quality.
Overall, UST projectors for living room today may well be positioned as the most cost-effective version of a very large screen. But, of course, the choice primarily depends on individual preferences.
This video reviews the Samsung Premiere LSP9T laser projector as a replacement for your everyday living room TV.
P.S.
This fall, Hisense presented the newest L9G Laser TV with innovative TriChroma Laser technology. This model provides 107% coverage of the BT.2020 color space.
It expanded the Hisense Laser TV lineup, which includes the 100L5F / 120L5F models. But these models are based on single-color laser. The new model can be positioned as the next generation based on three laser light sources. It replaces the discontinued 100L10E / 120L10E projectors based dual-color laser.
The projector has a 0.47-inch 4K (3840 x 2160) DLP chipset.
Apart from the color gamut, the rest of the specs are also premium. The projector provides a light output of 3,000 lm at 1,000,000: 1 dynamic contrast ratio, has Android TV and built-in Google Assistant, supports HDR10, HLG formats and Filmmaker Mode.
Due to the 0.25: 1 throw ratio, its projection size reaches 100-inch at a distance of 11.4 inches, and 120-inch when it's increased to 14.6 inches.
Its starting price was $ 5,500 with 100-inch Cinema or Daylight screen and $ 6,000 with 120-inch Cinema screen. But today the price has dropped to $ 4,500 / $ 5,000.
In addition, Chinese JMGO announced its own JMGO U2 Tri Color 4K Laser TV with a similar laser system. Today it's available for $ 2,800. The projector uses built-in Luna OS (Android-based smart TV system) and DLP 0.47″ DMD chip with Xpanded Pixel Resolution (XPR) technology (Texas Instruments' analog of pixel shift technology). It provides 2400 ANSI Lm brightness at 4K ( 3840 x 2160) resolution, 1,000: 1 contrast ratio and 0.25: 1 throw ratio.According to specs, its color gamut reaches an unprecedented 114.3% for the BT.2020 standard. But the last statement is skeptical. If true, then the $ 2,800 price tag is perceived as dumping. However, Chinese companies often use an aggressive marketing strategy. In this case JMGO U2 can be a great alternative to traditional TV.