The new Siemens EQ.500 Classic and Integral were introduced over a year ago.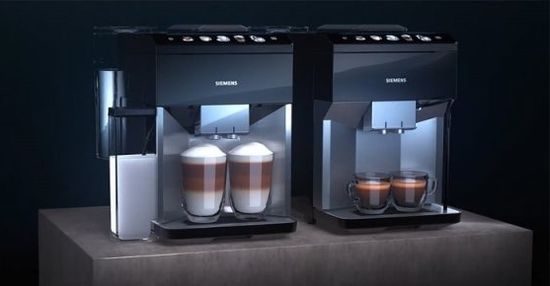 In fact, this series became the third on the new platform, which uses a screw brewing unit (coffee up to 14 grams) and an original coffee grinder with a ceramic flat burr. Instead of the traditional second millstone, it uses a top steel pressure plate. According to the regulations, the coffee grinder changes entirely with the engine, without the possibility of replacing the millstones separately. From a maintainability point of view, such a decision seems controversial. In addition, the grinder only supports three grind levels. However, this is quite natural for this price segment.
Platform and controls
Platform components:
– flow-through 1500W thermoblock;
– 15 bar pump;
– compartment for coffee beans for 270 grams;
– 1.7 liter water tank.
The color touch screen is located on the flat top panel.
But such ergonomics can be inconvenient for short people. Considering the traditional height of the kitchen worktop (85-90 cm) and the coffee machine height (just under 40 cm), the panel is actually located at a height of almost 130 cm. As a rule, the coffee machine is placed in the back of the worktop, closer to the wall. For controls, developers usually use a front or beveled panel. In this series, some controls, including the screen, buttons for settings, navigation and entry into the menu are located on a flat horizontal panel at a height of about 130 cm. This can be inconvenient for short people, teenagers, etc.
But large touch buttons for direct beverage start are conveniently located on the front beveled bezel.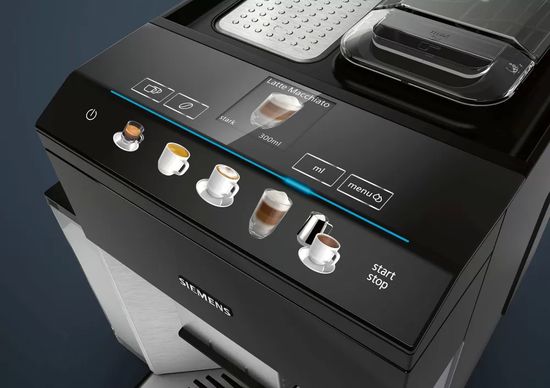 They provide:
– Espresso – 30 – 50 ml;
– Coffee (lungo) – 80 – 240 ml (DoubleShot from two grinds, except for espresso);
– Cappuccino – 120 – 220 ml, DoubleShot is available;
– Latte macchiato – 200 – 360 ml, DoubleShot is available.
The right button activates menu with additional recipes, the list of which depends on the model. Unfortunately, it does not open the list of drinks in the menu, but goes through the recipes one after another with a long press. Accordingly, the choice of the fifth drink will require pressing this button five times, which is hardly convenient.
New screw brewing unit
The new screw-type brewing unit was first used in the EQ.9.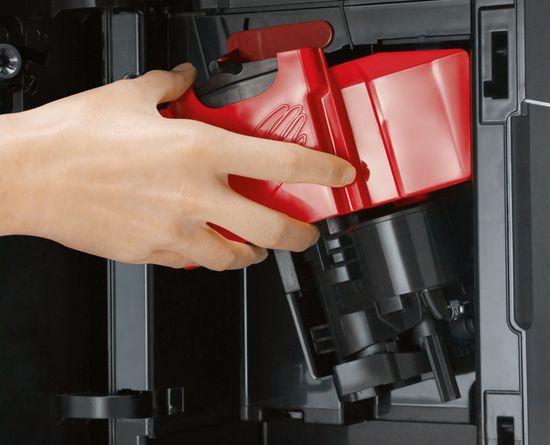 Today statistics with its usability and reliability are already available.
Unfortunately, this precision mechanism from plastic is very sensitive to clearances and movement of moving parts. As a result, at first, the mechanisms of some models sometimes jam, requiring you to manually bring the piston to the stop. However, after a few operation cycles, this problem often disappears. Perhaps its moving parts have to get used to each other. But in general, this component requires periodic lubrication at least once every 200 cycles.
Moreover, plastic wears off faster in places of maximum mechanical stress due to contamination. As a result, the entire unit requires replacement over time. But regular and thorough rinsing under running water solves this problem.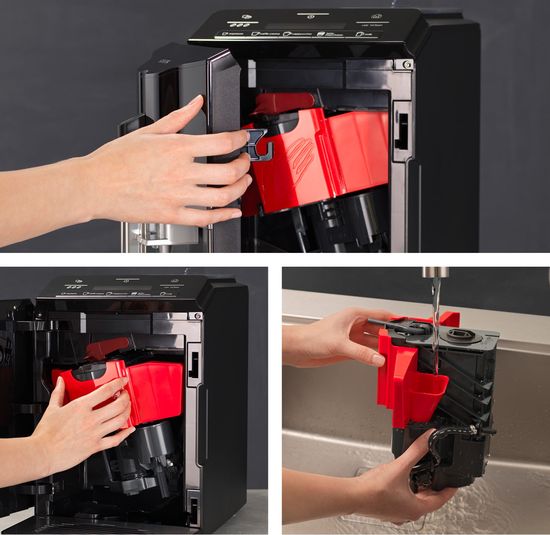 In addition, some EQ.500 buyers faced another problem. When they turn on the coffee machine for the first time, it generates an error and asks to insert the brewing unit. This problem may be caused by improper transportation. For example, the absence or unreliability of transport stopper can cause the piston to move out of park.
A simple check before the first start-up will minimize this risk. It's enough to check the piston location, which is located on the bottom right of the block. It should be in the extreme right position. The user must push down on the red part of unit, and on the piston "to the right and inward" until it clicks.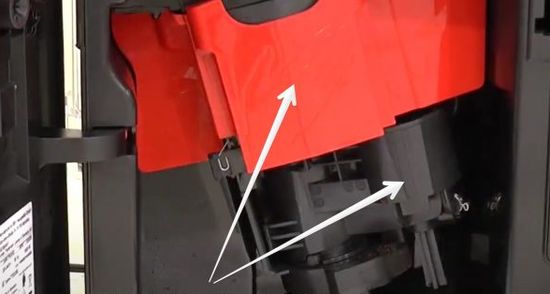 Perhaps this situation was caused by the carelessness of the company's counterparties in a separate region and today this problem has already been eliminated.
With careful maintenance, the new brewing unit functions perfectly.
Siemens EQ.500 Classic
EQ.500 Classic TP501R09 is the base model of the line and is available in several colors.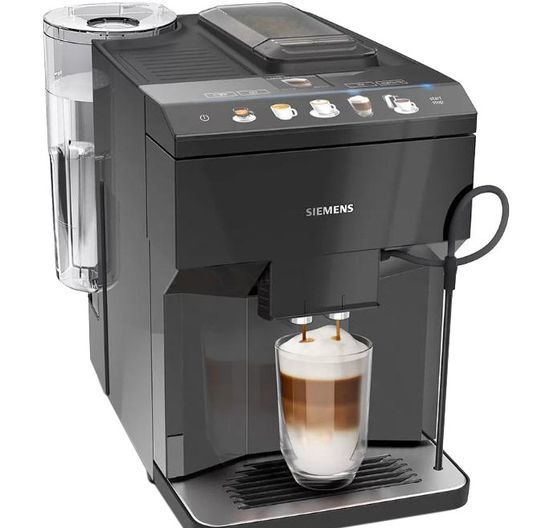 The design of the cappuccino maker is main difference of model. The outlet tube comes out of a dispenser and can be used with any milk container.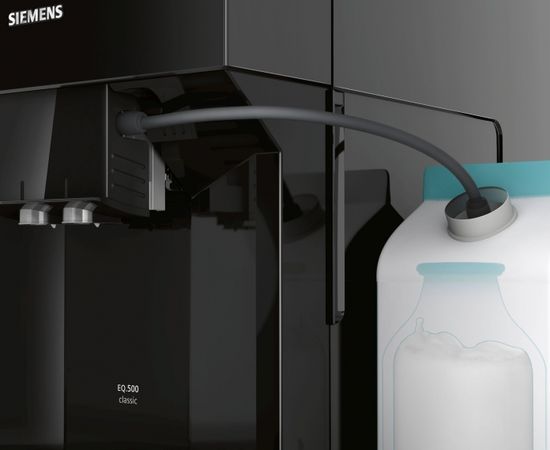 Of course, this is very convenient.
But this design cannot simultaneously prepare two milk-coffee drinks. In addition to one-touch drinks, the TP501R09 only offers milk froth and hot water in the additional menu. In fact, this model makes only 4 basic drinks with one of the preset volumes. Unfortunately, programming the volume or proportions of coffee and milk are not available. However, this is normal for this price segment.
After the end of the working cycle, Siemens's AutoMilk Clean system automatically cleans it with steam.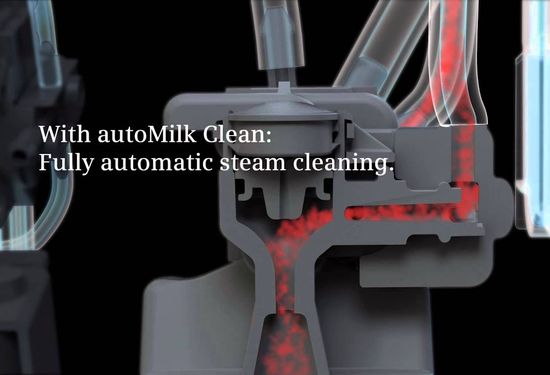 Unfortunately, not all models in this series have a cup warmer.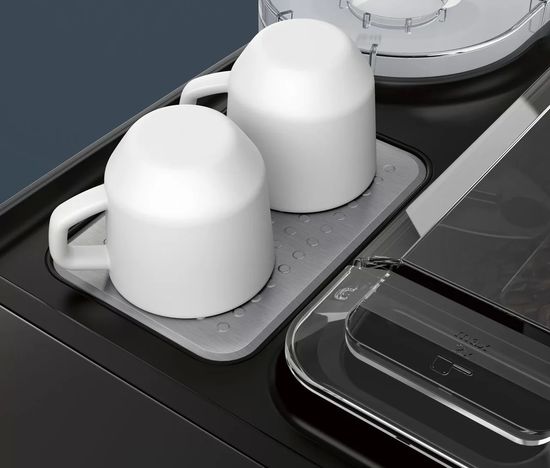 Siemens EQ.500 Integral
The cappuccino maker and recipe set are main differences from the Classic series. Like the flagship EQ.9 series, the cappuccino maker is a separate jug.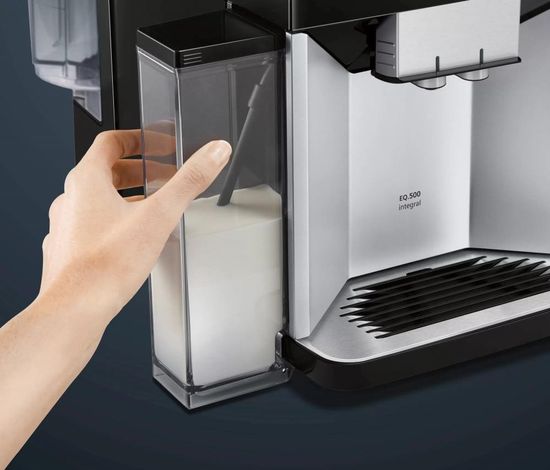 But it increases the device width from 25 to 32 cm. Of course, this factor limits it location in the small kitchen.
The long tube in the jug for sucking milk from the bottom can be used for any container, which is very convenient, for example, for a tetra-pack.
Moreover, the Integral series supports the simultaneous preparation of two milk and coffee drinks.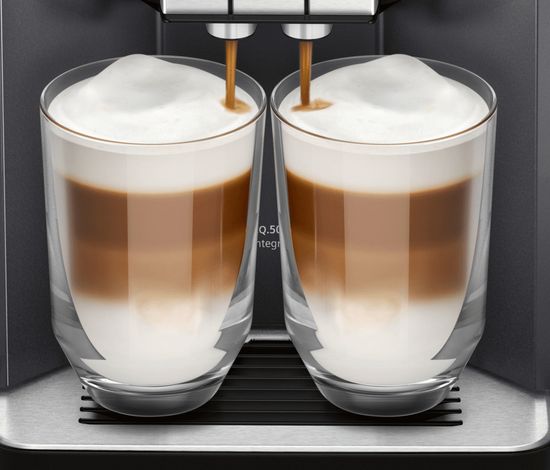 The list of additional recipes includes:
– classic Americano – espresso + hot water in a ratio of 1/2, with an adjustable volume of 80 – 200 ml;
– Flat White (classic cappuccino) – espresso + frothed milk, 120 – 220 ml;
– Espresso macchiato (milk + espresso), 50 – 70 ml.
The color depends on the model number:
– Siemens TQ505R09 – black;
– TQ507R02 – white with metal elements;
– Siemens TQ507R03 – black with metal elements;
– flagship TQ507RX3 – black with metal elements.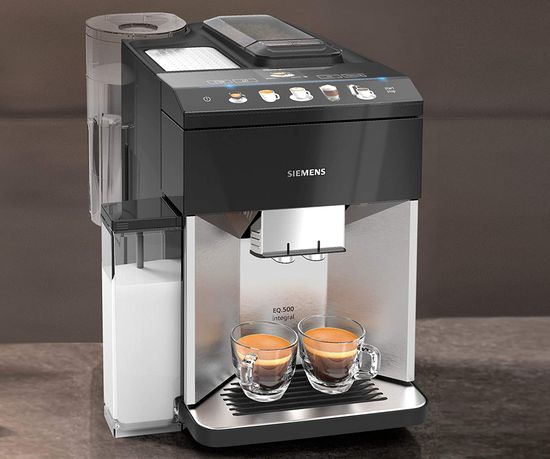 They have an active cup warmer at the top and a backlight.
Home Connect app
Flagship has Wi-Fi module for remote control via the Home Connect app.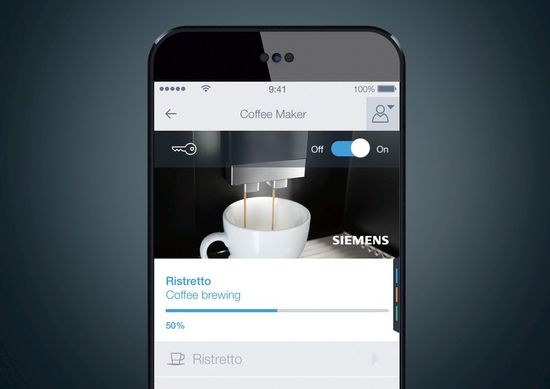 This feature requires phones with Android 6.0 and above or iOS 12.0 and above. The Home Connect app supports launching additional recipes from within the app, including the unconventional Red eye, Melange (espresso with warmed frothed milk and whipped cream), Portuguese Garoto ("little boy" – a weak, watery espresso), etc.
As known, Red eye (black eye, death eye) is a popular strong American coffee drink. Its preparation involves adding espresso to coffee that is prepared using a filter.
In similar Canadiano, coffee from the filter is added to the espresso. In Alaska, Red eye is known as the "Sludge cup", and in the Northwest of the United States it's known as "shot in the dark."
The machine also provides single or double espresso, hot water and frothed milk. Unfortunately, only flagship supports programming the volume of coffee and milk for drinks.
Conclusions
Pros:
– very handy jug-cappuccino maker;
– high quality coffee;
– Home Connect app with a huge number of interesting recipes (for Integral TQ507RX3);
– AutoMilk Clean system (automatically cleaning the milk system);
– intuitive coffeeSelect Display;
– One Touch Double Cup;
– ceramDrive coffee grinder;
– iAroma System;
– SensoFlow System (precise temperature control in the range 90°С – 95°С);
– aromaDouble Shot – 5 coffee intensities.
Cons:
– the new precision screw brewing unit is sensitive to mechanical stress and requires very careful maintenance, including periodic lubrication;
– not all models have a cup warmer;
– only 1.7 liter water tank;
– controls on a flat horizontal top may not be very convenient for short people;
– only flagship supports custom setting for the proportions of milk and coffee;
– the choice of additional drinks works on the principle of a carousel, requiring a sequential enumeration of all recipes.
Today Siemens EQ.500 and Siemens EQ.300 series offer models throughout segment of mid-budget coffee machines. They have a very good value for money. Only rather stringent maintenance requirements for the brewing unit can be positioned as a real disadvantage. However, it's relevant for all Siemens coffee machines based this platform. On the other hand, any modern complex consumer technology requires careful maintenance.
This video introduces the Siemens EQ.500 series of coffee machines.
P.S.
Today the company offers five models of Siemens EQ.500 series, including:
– Siemens EQ.500 Classic TP501R09 / TP507R04 – Black / Silver, no integrated milk container, hot milk and hot water modes;
– Siemens EQ.500 Integral TQ505R02 / TQ505R09 / TQ503R01 – White / Black / Silver.
Black TP501R09 is the cheapest, white TQ505R02 – the most expensive.
With the exception of the hot milk and hot water, the list of programs is the same for all models and includes espresso, espresso macchiato, flat white, american, cappuccino, macchiato latte and dairy foam.
Besides this series, Siemens EQ line includes entry-level EQ.3 compact series, EQ.6 plus coffee machines and interactive EQ.9 plus connect s700 (TI9573X9RW) model.
EQ.3 is offered at a price of £ 399 or $ 530. EQ.6 plus includes s100, s300, s500, s700 and s800 models. Of course, their price is different. For example, Siemens EQ.6 Plus S700 TE657503DE costs from € 800 to € 1,000 or from $ 905 to $ 1,130.
EQ.9 plus uses dualBean System (two separate bean containers and grinders) and baristaMode (wide range of precise customized adjustments). Its price is £ 1,699 or $ 2,255.