Probably, the analysis of prices at the end of October, excluding discounts from Amazon, Best Buy, Walmart, etc, is absurd and meaningless. On the other hand, they are short-lived, differ significantly for different regions and are not very informative in terms of value for money.
A few years ago, the segment of entertainment home video electronics was quite rigidly structured, simple, understandable, and included:
– Home Theater systems;
– traditional LED LCD TVs;
– premium OLED TVs and insanely expensive microLED panels with amazing quality.
The innovation boom of the past few years has literally blown up the situation, mixing technology and price boundaries. However, even a simplified analysis of technology trends will simplify the selection task.
The MicroLED panels segment continues its unhurried development. For example, at CES 2021, Samsung announced a 110-inch panel with a starting price of over $ 156,000, positioning it as a 'home option'.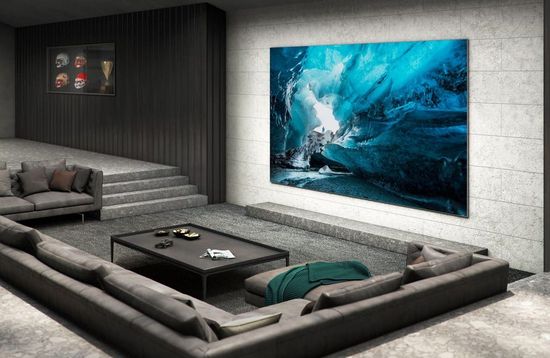 Of course, the size and image quality are admirable, but the price tag significantly reduces the delight.
4K vs 8K resolution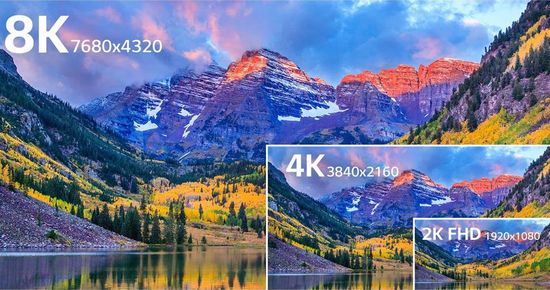 8K resolution was one of the first signs of the innovation boom. But despite the first excitement in the market, their growth in popularity has practically stopped due to extremely limited content and high prices. In fact, 8K AI Upscaling has become the only useful feature, but it does not compensate for the high price.
The up-resolution trend has some nuances. For several years now, ophthalmologists have been debating the perception of 8K resolution. As known, the high screen resolution reduces its pixelation.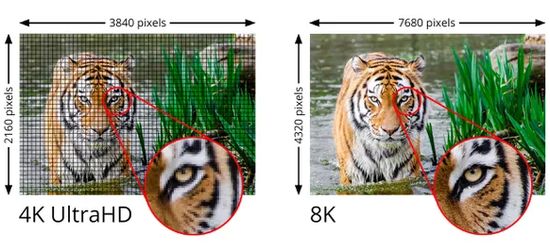 In turn, this effect directly depends on the pixel size. For example, our eye does not perceive individual pixels on a 55-inch 4K screen already from a distance of about 1 meter. Accordingly, the viewer does not feel the difference between 4K and 8K resolutions. Depending on the visual acuity, the viewer distinguishes it only at a very short distance and starting from a screen size of 65 inches or more, that is, with an increase in the pixel size.
Probably, a person with normal vision is unlikely to watch, for example, 75-inch TV from a short distance, if only because of the need to turn his neck all the time. But extending the viewing distance to a comfortable 3 meters, automatically eliminates the screen pixelation due to limited visual acuity. In this case, the eye does not perceive individual pixels due to their small size and large distance. However, if you keep an eagle or falcon as a pet and plan to entertain it with colorful 8K videos, then it will probably appreciate the advantage of 8K vs 4K.
8K TVs
However, not all so simple. Several years ago, South Korean scientists conducted several studies in this direction, and made two cautious conclusions:
– most of the subjects did not distinguish 8K from 4K images, but about 70% noted that coffee in a cup on 8K image seemed to them 'hotter'. This result can be interpreted as a deeper immersion level;
– some subjects reported less fatigue after watching 8K content. This result can also have a logical interpretation. In fact, when perceiving video, our brain constantly uses an analogue of 'frame interpolation', artificially generating lost information in frames. Accordingly, the load on the brain is inversely proportional to the resolution. Simply put, the brain perceives what the eye sees for 8K content, but 'draws' the missing pixels when viewing 2K / 4K.
Despite heated discussions, today 8K models compete quite successfully in the market, especially in the segment of models with a diagonal of 75 inches and more.
For example, this year's incomplete list includes:
– 65 / 75-inch TCL 6 Series 8K TVs (65R648 / 75R648) – $ 2,000 / $ 2,700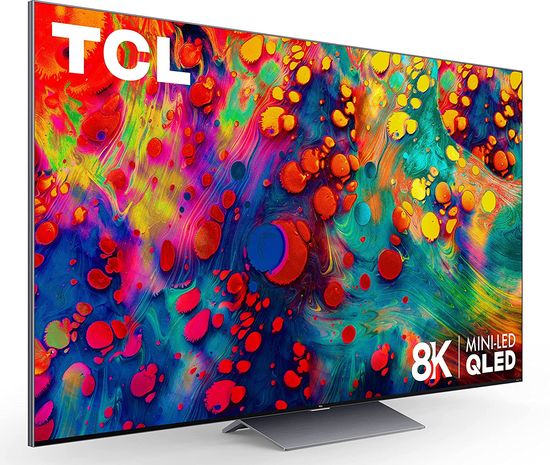 – miniLED ULED 8K U9GQ – £ 3,300 ($ 4,580);
– Samsung Neo QN900A 8K miniLED – $ 3,300 / $ 4,500 / $ 5,500 65 / 75 / 85-inch models;
– LG QNED 99 8K miniLED – $ 2,500 / $ 3,500 for 65 / 75-inch TVs.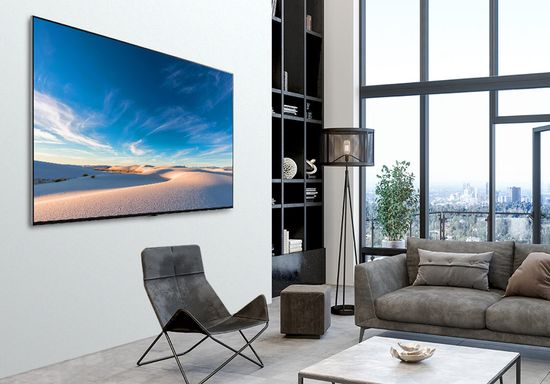 Home Theater systems
Home Theater systems traditionally use high-power lamp projectors. They provide a fairly high quality on a screen of 100 inches and above, but they have significant cons:
– high noise level of a powerful fan for lamp cooling;
– large dimensions for efficient heat dissipation;
– too dim image due to ambient light;
– limited content;
– complex wiring when placed in the room center or on the ceiling.
New technologies have successfully solved all these problems, forming a new segment of living room projectors, which actually are Ultra Short Throw (UST) laser projectors. However, sellers sometimes call them 'laser TVs', which doesn't matter. Formally, any projector with built-in TV tuner can receive / decode the TV signal. Accordingly, it can be positioned as a TV, the screen of which is placed outside the body. Therefore, the name 'Laser TV' is a bit like marketing.
Key features:
– these models use powerful solid state light engines which practically do not heat up and do not require cooling, and their lifespan exceeds 25,000 hours;
– modern high-performance Ambient Light Rejecting (ALR) screens significantly reduce room dimming requirements.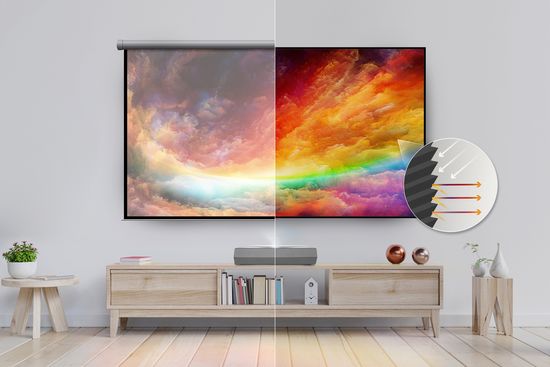 – Screen mirroring technologies have radically solved content problem with Chromecast, Miracast, Anycast , Ezcast, etc;
– new UST projectors with a throw distance of just over 10 inches eliminated the problem of projector placement, allowing the user to place it close to the screen.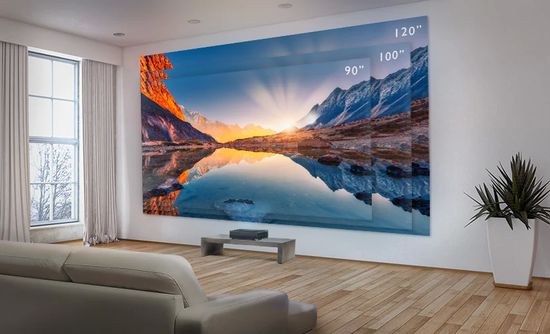 Laser TVs
Today 4K HDR living room projectors or 'Laser TVs' are available from $ 2,000, but their price is highly dependent on screen availability. The list of new models for this year includes:
– Epson EpiqVision series, including EH LS300 UST, EH LS500 4K UST and Mini EF12;
– VAVA 4K UST laser projector;
– Optoma CinemaX P2 4K laser projector;
– Hisense L5F and Hisense L9G 'Laser TVs'.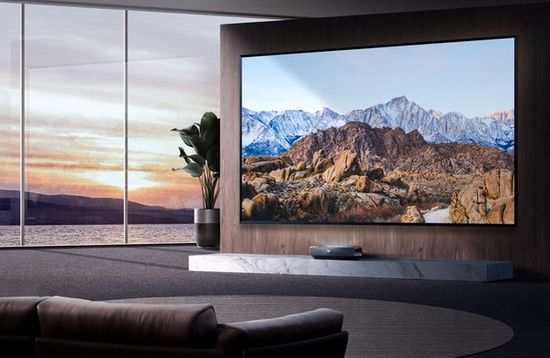 Probably, the psychological barrier still limits their popularity as a replacement for the traditional TV in the living room. But objectively, they have excellent prospects.
Of course, the image of even a powerful, expensive model with a high-performance ALR screen will appear dim in bright enough sunlight. Therefore, the projector is unlikely to provide high quality during the daytime on a veranda in sunny California. But it's perfect for a living room in foggy Albion or northern Canada, where cloudy days are not uncommon. In addition, most people prefer to relax in front of the TV in the evenings, when this aspect is absolutely not important.
OLED (organic light-emitting diode) TVs
The use of self-emitting LEDs has eliminated the need for traditional LED backlit. In turn, the absence of partial leakage of the light flux from the backlit radically increased their contrast due to a dramatic improvement in black depth. The latter factor has significantly improved the image quality.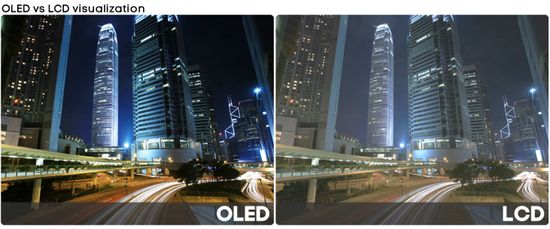 Unfortunately, the short lifespan of blue LEDs (15,000 hours), relatively low brightness (usually up to 500 nits) and a sharp rise in price with increasing screen size significantly limited their growth in popularity.
But companies have been actively improving this technology and their efforts were not in vain. Specifically, this year's LG OLED G1 used an innovative OLED Evo panel with a peak brightness of up to 1,000 nits.
But the price reduction has become the main achievement of the developers. Several years ago, companies were able to lower prices for 55-inch models. This year they built on their success with several very affordable 65-inch models. In particular, this year's lineup contains several unprecedented offerings of OLED 4K HDR Smart TVs, including:
– the cheapest 65-inch Vizio which Dolby Vision, HDR10+, HDMI 2.1, and a 120Hz panel – $ 1,000 (on Best Buy);
– 65-inch Hisense OLED A9G TV – £ 1,200 ($ 1,650) (on the company's website);
– 65-inch Sony A80J with innovative cognitive processor XR – $ 1,850 (on Amazon);
– 65-inch LG OLED C1 with Alexa built-in, 120Hz Refresh Rate, Dolby Cinema, WiSA Ready, Gaming Mode, etc – $ 1,900 (on Amazon).
Until a few years ago, a price tag of up to $ 2,000 for a 65-inch premium OLED TV was perceived as severe dumping. Therefore, their excellent value for money makes it very profitable to buy any of these TVs.
LCD TVs
The innovation boom of recent years has radically stirred up the traditional LCD TVs segment. Main innovations include Quantum dot (QD) technology and Local Dimming.
QD technology expands the color gamut and improves color accuracy by dramatically improving the white quality that is used for backlit of RGB layer.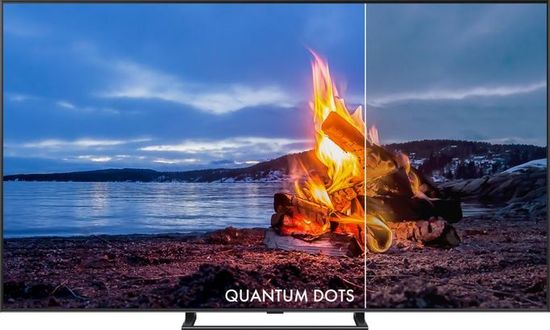 In fact, the developers created a near-perfect white inside the TV. The technology works as follows:
– blue from blue LEDs is directed to a film with two types of microparticles, the size of which corresponds to the wavelengths of red and green;
– microparticles absorb blue and re-emit green or red, respectively;
– behind the film, partially transmitted blue is combined with re-emitted red and green, forming white for backlit of RGB layer.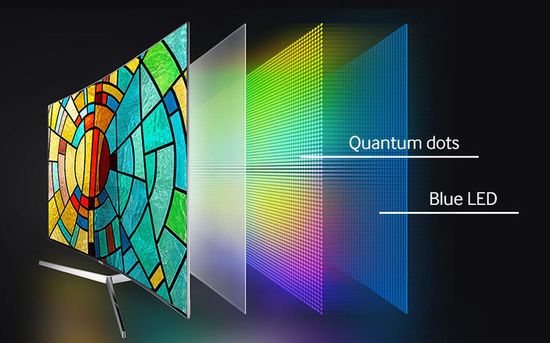 Companies today have developed and are using several versions of this technology, including Samsung QLED, Sony Triluminos, LG NanoCell, Hisense ULED, etc.
Local Dimming technology enhances image contrast by controlling the intensity of backlit in different zones of the frame depending on the content. Local Dimming in premium models uses Full Array Local Dimming (FALD).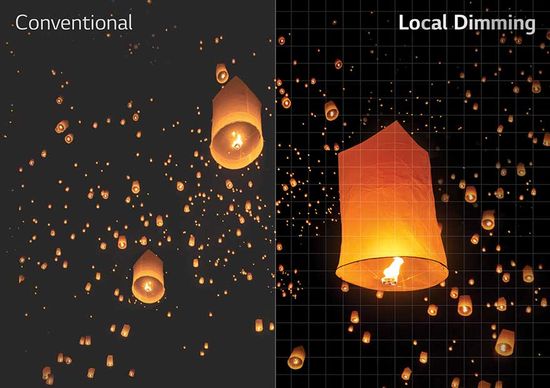 Over the past few years, companies have developed several generations of it, the last of which uses a huge number of miniature LEDs, grouped into hundreds or even thousands of local dimming zones with separate control.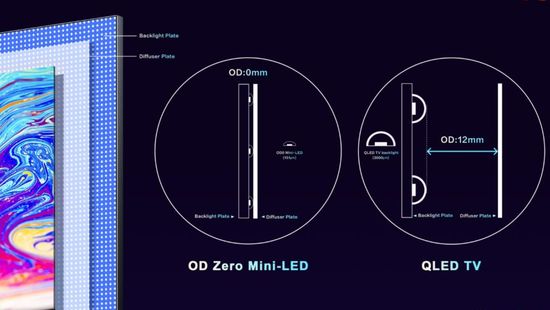 At CES 2021, three industry leaders simultaneously unveiled their own miniLED versions, including Samsung Neo QLED series, LG QNED series and TCL OD-Zero.
LED LCD 4K TVs 2021
The list of LED LCD TVs 2021 includes:
– premium models with QD and Local Dimming (including FALD with traditional LEDs or miniLED);
– mid-budget models with only QD;
– budget TVs without these technologies.
Traditionally, the premium segment is the most popular. The legendary TCL 6-Series QLED Roku Smart TV (R635, 2021 model) retains its lead in most top lists in terms of value for money. Today, this TV with gorgeous colors and contrast costs only $ 1,000 for the 65-inch model, and $ 1,300 for the 75-inch model.
The list of new popular 4K models this year also includes:
– LG QNED90 – $ 2,200 (75″)
LG QNED90 TV.jpg
– Samsung QN85A – $ 2,300 (75″);
– Samsung QN90A – $ 2,600 (75″);
– Hisense 75U9DG – $ 3,000 (75″);
– Hisense ULED U8G – $ 850 / $ 1,000 (55 "/ 65" only).
Conclusion
Of course, the review covers only a small part of all proposals, but it can help navigate current trends.
1. On an unlimited budget, the $ 150,000 microLED panel will provide an enjoyable pastime in front of a huge screen with amazing picture quality.
2. Fans of large screens from 100 inches and more already have a wide choice among UST laser projectors, which are sometimes marketed as 'Laser TVs' or 'living room projectors'. Modern 4K HDR models start at $ 2,000.
3. Lovers of high quality at an affordable price get some great OLED offerings ranging from $ 1,000 to $ 1,900 for the 65-inch model. That being said, the functionality / specs of the LG OLED C1 and Sony A80J are fully premium.
4. The segment of high-quality TVs with screens from 75 inches and above contains many enticing proposals, including the innovative Samsung Neo QN85A / 90A and LG QNED90 with miniLED backlit, Hisense 75U9DG with super-innovative Dual Cell technology, etc.
But all these great TVs will face a very tough competition with the legendary $ 1,000 TCL 6-Series QLED R635 (2021) for the 65-inch model, which again claims to be the bestseller of the year.
5. The new 8K TVs have greatly expanded the choice of proponents of progress. Virtually all of the industry leaders have enriched their lineup with exciting new models. Unfortunately, the pricing policy in this segment has not changed – they are still significantly more expensive. However, the trend of increasing TVs screens creates good prospects for the further development of the 8K segment.
This video showcases the TCL 6-Series.