Probably, the innovation boom can be positioned as the main trend of this year. The list of new technologies includes:
– mini LED backlit – increasing contrast due to improving black with precise control of the backlit intensity;
– innovative OLED Evo panel in LG OLED G1 – increasing the brightness of OLED TVs up to 1,000 nits;
– Sony's Cognitive Processor – increasing the immersive level;
– Hisense Dual Cell technology – increasing contrast with an additional monochromatic panel.
Moreover, the market has expanded with several laser TVs with innovative TriChroma laser technology. Every year they compete more and more successfully with traditional TVs. Strictly speaking, this is a traditional UST laser projector with a built-in TV tuner and an efficient but expensive ALR screen. Starting at $ 2,000, today's premium models already deliver high-quality 4K HDR on 100-inch and larger screens.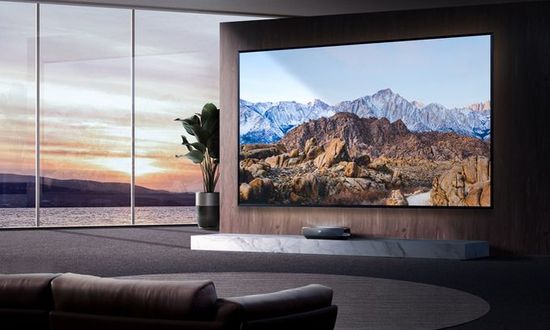 Of course, the psychological barrier and high prices still protect traditional TVs from unexpected competition. But the popularity of this trend is growing rapidly and already significantly affects the choice of many consumers, especially fans of progressive technologies.
Until recently, the TV market was quite rigidly segmented and divided between microLED panels, premium OLED TVs, and LED LCD models. New technologies have mixed them, combining different technologies in price segments. The huge microLED panels provide flawless picture quality, but are still insanely expensive and are used primarily for advertising. But the quality and price of modern budget OLED panels has already caught up with premium LCD TVs with Quantum Dots (QD) technology and miniLED backlit.
Despite the abundance of innovation, Hisense Dual Cell technology stands out from the crowd. This elegant solution by Chinese developers gives almost aesthetic pleasure.
Modern TVs
At CES 2012, Samsung and LG have already unveiled the 55-inch OLED models.
This technology uses self-emitting LEDs and does not require LED backlit, unlike traditional LCD models. Avoiding LED backlit reduced panel thickness and provided perfect deep blacks.
Indeed, any LCD TV partially transmits light from the backlit, producing gray gradations instead of blacks. Self-emitting LEDs only glow when exposed to a signal from the transistor, providing perfect black when not present. The near-perfect contrast due to deep blacks has become the main advantage of the new technology.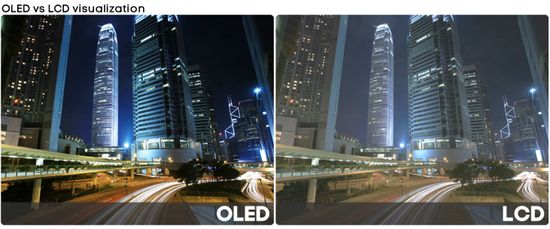 Unfortunately, OLED panels are significantly more expensive, their brightness is limited approximately up to 800 nits, and the life of blue pixels is only 15,000 hours, which corresponds to only a few years. In addition, their price rises sharply as the panel size increases.
After a few years, Samsung abandoned this direction, focusing its efforts on the development of traditional LED LCD TVs and microLED panels based on self-emitting LEDs.
As a result, the market today offers:
– fabulously expensive microLED panels with amazing image quality. For example, at CES 2021, Samsung introduced a 110-inch microLED panel for about $ 150,000.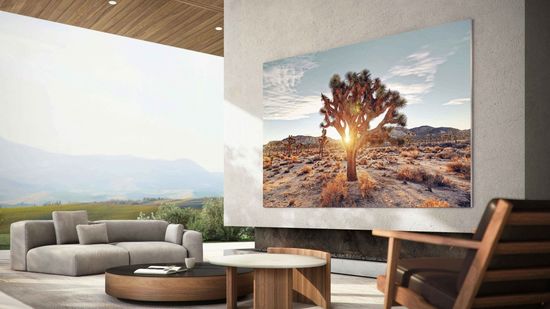 – premium OLED TVs. In recent years, companies have significantly reduced their prices. For example, the 'budget' LG OLED A1 series (2021) costs from $ 1,200 for a 55-inch TV to $ 2,700 for a 77-inch TV. Until a few years ago, OLED TVs sold at these prices almost instantly. Moreover, OLED Evo panels promise to reduce the problem of their limited brightness;
– premium LED LCD TVs with QD technology and Local Dimming based Full Array Local Dimming (FALD) or new miniLED backlit;
– tradicional budget LED LCD TVs.
Quantum Dots technology and miniLED backlit
The elegance of QD technology is also admirable. It works in the following way. The blue LED backlit directs the light flux onto the film with crystals, the size of which corresponds to the wavelengths of red and green. Blue partly passes through the film, and partly is absorbed by microparticles, which re-emit red and green, respectively. After film, all colors are blended to form a near-perfect white, which is used for backlit.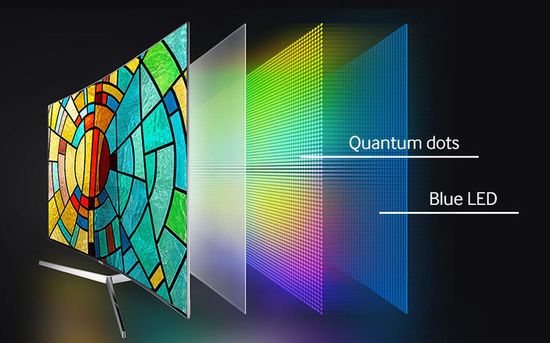 Improving the white quality has significantly expanded the color gamut and improved color accuracy.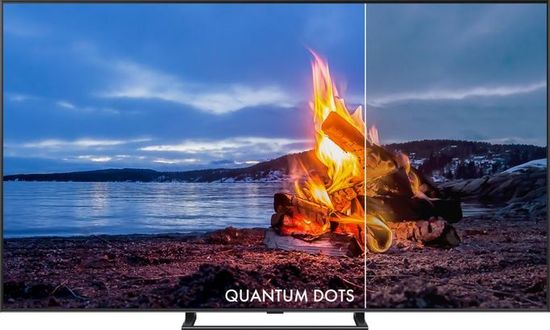 In fact, South Korean developers have created an analogue of a small sun inside the TV with an almost perfect white for RGB panel backlit. Today most large companies have developed their own QD technologies based on this idea, including Samsung QLED, Sony Triluminos, LG NanoCell, Hisense ULED, etc.
Local dimming has become the second mainstream of LCD TVs development. In fact, this technology enhances black depth by controlling the backlit intensity in different areas of the frame depending on the content.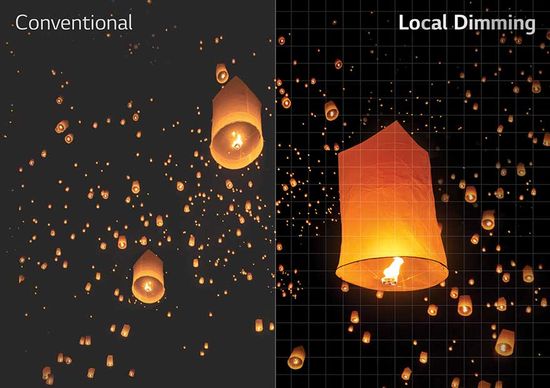 Conditionally, FALD can be positioned as the second generation of this technology. MiniLED backlit became the third generation, which logically completed the evolution of this technology. It has dramatically increased the number of local dimming zones through the use of a huge number of miniature LEDs, which are combined into arrays with separate control.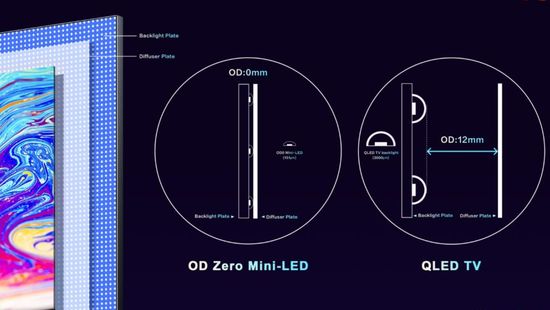 Today the market already offers Samsung Neo QLED and LG QNED series with miniLED backlit.
It really demonstrates high efficiency. For example, local dimming with miniLEDs backlit in the Samsung Neo QN90A raises the native contrast from 3,510: 1 to an unprecedented 26,534: 1, bringing it very close to the level of OLED panels.
Dual Cell technology
Hisense has taken a different path with Dual Cell technology. It uses an additional monochrome layer that adjusts the Local Dimming. In fact, its every pixel acts as a primitive Local Dimming zone.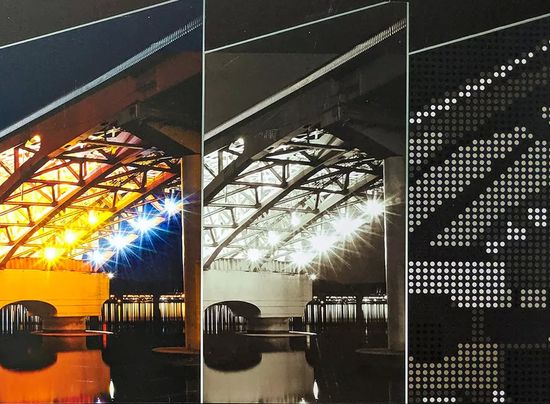 Accordingly, TV with 1080p additional layer uses about 2,000,000 primitive Local Dimming zones. Moreover, the company promises to increase the resolution of the additional matrix to 4K, increasing the number of primitive Local Dimming zones to 8,000,000. It's scary to imagine the contrast ratio of this TV! In theory, it's unlikely to be inferior to a modern OLED panel.
Company announced Hisense 75U9DG with a starting price of $ 3,500, but today it costs $ 3,000.
Peak brightness 'out-of-the-box' for SDR:
– a little over 350 nits in 100% window in 'Theater Day' mode;
– just over 930 nits in 20% window;
– a black level of just 0.007 nits.
HDR signal:
– a little over 420 nits in 100% window;
– almost 1200 nits in 20% window;
– a black level of just 0.006 nits.
At the same time, TV provides an unprecedented effective contrast ratio of up to 200,000: 1. With the exception of OLED TVs, it's second only to TCL R648, which demonstrates up to 600,000: 1. However, this difference is already almost invisible to the eyes.
Importantly, bloom of light in 20% window is almost completely absent even on a black background. This aspect confirms the high efficiency and, as a result, excellent prospects of the dual-cell concept.
The color performance is also premium. Its color levels with for an SDR signal compared to the color space Rec. 709 (television standard color space) and with an HDR signal in compared to the DCI-P3 (digital cinema color space) are nearly perfect.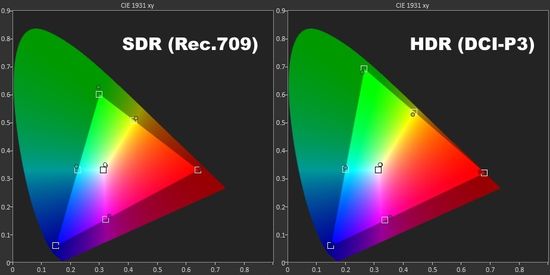 Hisense 75U9DG Specs
The 75U9DG has a stylish design, which is almost identical to the popular Hisense U8G.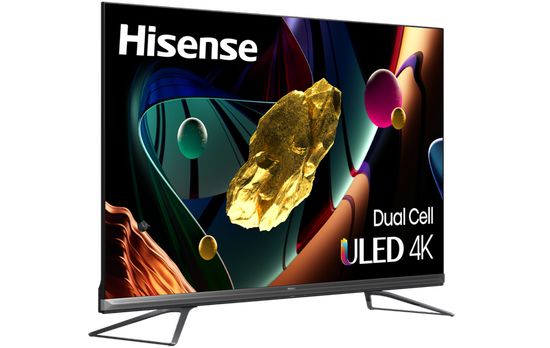 Specs:
– screen size – 74.5 inches;
– resolution – 4K UHD (3840 x 2160p);
– static contrast – 150,000:1 (ratio w/ Local Dimming);
– dynamic contrast ratio – 2,000,000: 1;
– peak brightness – up to 1,000 nits; 
– output sound – 30 Watts.
The remote control has dedicated service buttons for Amazon Prime Video, Disney +, Netflix, Peacock, Tubi and YouTube.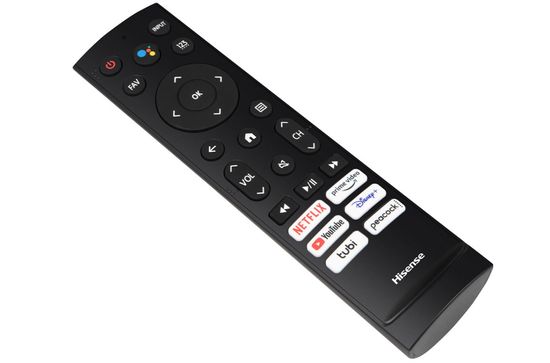 The main differences between U9DG vs U8G series:
– display sizes – 75-inch vs 55/65-inch;
– peak brightness – up to 1000 nits vs up to 1500 nits;
– Local Dimming zones – 2 million+ vs up to 360;
– price – $ 3,000 vs $ 900 / $ 1,250.
Hisense 75U9DG Key Feature
This list includes:
– Dual Cell technology;
– 4K ULED Premium;
– Quantum Dot Colour;
– Hands Free Voice Control (built-in microphones);
– IMAX Enhanced;
– Local Dimming with Dual Cell technology (1080p monochrome panel) – more 2,000,000+ zones;
– AI Picture Optimization technology (intelligent recognition of real-time scenarios for auto settings according to Performance Qualifications of the scene).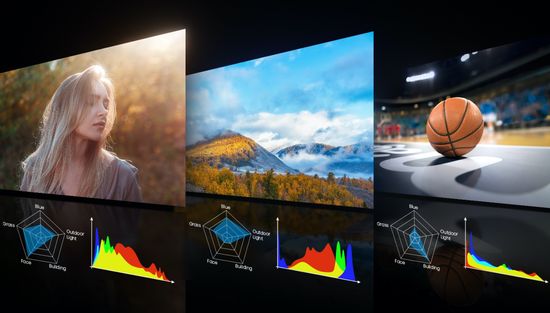 – Netflix, Hulu, Amazon Instant Video, and YouTube support;
– Bluetooth, Wi-Fi, Ethernet, HDMI;
– HDR (High Dynamic Range) content in Dolby Vision, HDR10, HDR10 + and Hybrid Log Gamma (HLG);
– Dolby Vision HDR picture and Dolby Atmos sound;
– Android 10 Smart TV with built-in Google Assistant and Alexa compatibility;
– Game Mode Pro (high speed HDMI 2.1 input, Automatic Low Latency Mode, Variable Refresh Rate and FreeSync) minimizes input lag, screen jitter, and frame tearing.
– Ultra Motion and 120Hz Native Refresh Rate.
Android TV with hands-free Google Assistant supports nearly all major streaming services, including Amazon Prime TV, Disney +, HBO Max, Hulu, Netflix, Twitch, and YouTube.
Unfortunately, this list does not include Apple TV. In addition, the platform is Google Cast compatible for mirror the screen of any Android devices or Chrome tab.
Unfortunately, the model does not offer Google TV yet.
The 120 Hz refresh rate, ALLM, VRR, AMD FreeSync and input lag of only 6 ms in game mode make the 75U9DG one of the best TVs for gaming. But the 'Theater Day' mode increases it to 114.3ms.
Conclusion
Pros
– fantastic contrast with Dual Cell technology;
– wide color gamut and accurate 'out-of-the-box' colors;
– Hands Free Voice Control with built-in microphones;
– great gaming performance.
Cons
– slightly more expensive vs LG QNED90, Samsung QN85A / QN90A ($ 3,000 vs $ 2,700 and $ 2,800 for 75-inch models);
– no Google TV;
– only 75-inch model;
– no Apple TV;
– only 8Bit + FRS matrix.
This year's list of innovative technologies includes:
– Cognitive Processor in Sony A80J and Sony A90J TVs;
– Hisense Dual Cell technology.
Google TV and many living room projectors, including the newest Hisense L9G UST Laser TV with TriChroma laser technology complete this list.
But despite their abundance, Hisense Dual Cell technology stands out from the crowd. The almost unlimited increase in the number of local dimming zones by increasing the monochromatic panel resolution opens up the possibility of further enhancing the contrast of LED TVs. But, it's already close to the maximum in terms of its perception.
Overall, the debut of the first TV with Dual Cell technology was a success. The Hisense 75U9DG really delivers nearly the highest contrast among today's LED TVs, flawless color accuracy and wide color gamut. Despite the slight difference in price, it looks quite competitive against its famous competitors, including the excellent LG QNED90 and Samsung Neo QN85A / QN90A 4K TVs with QD and miniLED backlit.
The new 75-inch TCL 6 Series 75R635 costs only $ 1,600 and really claims to be this year's bestseller. But objectively, the Hisense 75U9DG class is higher.