The Chinese state Hisense corporation was founded in 1969. Today it's one of the ten largest companies that develop and produce high-tech consumer electronics. The company has 13 factories in China, production sites in Egypt, Mexico, Hungary, South Africa, Algeria, France, the Czech Republic, and 12 research centers around the world.
Today the company sells its products under several brands, including Hisense (TVs, smartphones, etc), Toshiba (TVs), Gorenje (kitchen appliances), Kelon (air conditioners), Ronshen (refrigerators) and Sharp (TVs in America).
Hisense TVs have been on sale in the United States and Europe for a long time, but the rapid growth of their popularity began only a few years ago. Like other Chinese giant TCL, Hisense uses aggressive pricing policy combined with active innovation. Based on their impressive results, this marketing strategy is the most effective today.
Now, like other leaders in the TVs segment, Hisense is forced to expand its range every year. However, the company easily copes with this task. This year was no exception. The company has expanded and updated virtually all TVs series and introduced two innovations, including the OLED 4K A9G, projector Hisense L5F 'laser TV', and 75-inch Hisense U9DG with the super-innovative Hisense Dual Cell technology.
In fact, the L5F is a powerful UST (Ultra Short Throw) laser projector with a built-in TV tuner, which provides a projection with a diagonal of 100″ ($ 3,700) or 120″ ($ 4,700).
Perhaps 'laser TV' will be the new marketing name for this class of projectors.
Dual Cell technology
Hisense Dual Cell technology is based on an elegant solution that is aesthetic pleasure.
As known, the improvement of LCD TVs is developing in two main directions. The first direction is based on QD (Quantum Dot) technology, which expands the color gamut and improves color accuracy by improving the white quality from backlit.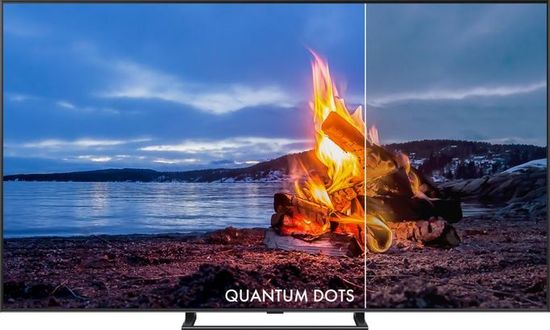 Today QD-based technologies are known as Samsung QLED, LG NanoCell, Sony Triluminos, Hisense ULED, etc.
The second direction is based on increasing the Local Dimming performance by improving the LED backlit.
In particular, this year's leaders presented Samsung Neo QLED, LG QNED and TCL OD-Zero series with innovative mini LED backlit. Using tens of thousands of miniature LEDs, the developers have grouped them into a large number of independently controlled Local Dimming zones.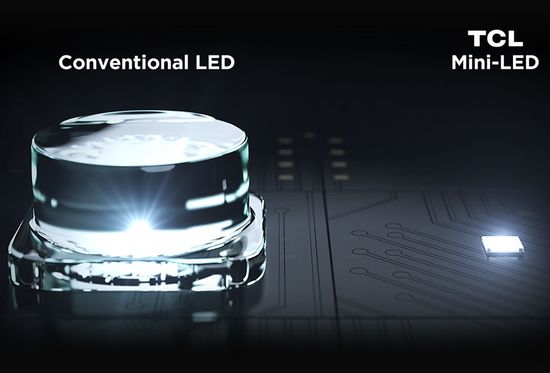 In turn, the sharply increased accuracy of backlit control in different frame areas provided a significant increase in dynamic contrast. For example, local dimming of Samsung Neo QLED QN90A with 792 zones increases contrast from 3,510: 1 (native contrast) to 26,534: 1 (dynamic contrast). In fact, this is on par with an OLED panel.
Hisense's developers have taken a different path. Dual Cell technology uses an additional monochromatic matrix to form a black and white image, which acts as a backlit for the RGB layer. At the same time, each of its pixels turns into a primitive local dimming zone.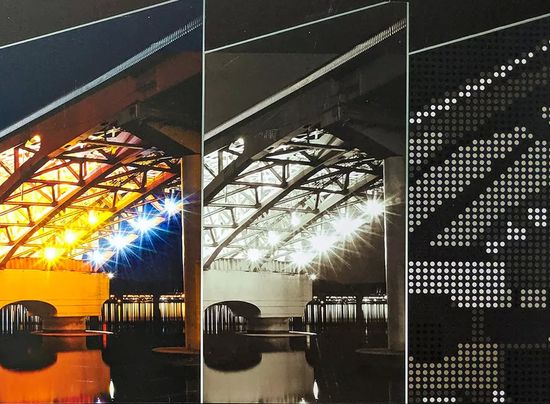 In fact, a monochromatic 1080p layer provides over 2,000,000 primitive zones. Accordingly, the 8K layer will increase their number to 8,000,000! It's scary to even imagine the dynamic contrast of this monster. But even if the developers' predictions come true by half, the new technology will seriously push competitors in the LCD TVs segment.
Hisense U8G ULED Android 4K Smart TV
This year, Hisense has introduced many models, but U8G ULED Premium series is one of the more interesting. It replaces the 2020 Hisense H9G. But unlike its predecessor, the U8G has two HDMI 2.1 ports and a significantly improved color gamut.
This series includes 55 and 65-inch models, which cost today $ 900 and $ 1,500, respectively.

U8G has a bright 10 Bit VA panel (up to 1500 nits peak brightness) with high contrast ratio and deep blacks, but with limited viewing angle. Unfortunately, these TVs do not use the effective additional layer to widen the viewing angle. The peak brightness and contrast ratio are in line with the premium TVs. The native contrast reaches of 5,279: 1 and rises to 7,923: 1 with local dimming, which uses 360 / 132 zones in the 65-in / 55-in model, respectively.
The series supports all modern technologies, including Ultra Motion at 120Hz native refresh rate, Dolby Vision, Dolby Atmos, IMAX Enhanced and DTS, Game Mode Pro, Hands Free Voice Control, Backlit Voice Remote, Google Assistant and Alexa.
They provide:
– Ultra Motion removes the digital 'noise' during playback of fast moving objects;
– Dolby Vision and Dolby Atmos cinema technologies increase immersiveness;
– IMAX Enhanced and DTS combines premium consumer electronics models with digital processing of 4K HDR content;
– Game Mode Pro – 2 HDMI 2.0 + 2 HDMI 2.1 high speed inputs, ALLM (Automatic Low Latency Mode), VRR (Variable Refresh Rate) and FreeSync (or G-Sync) minimize input lag, screen jitter, and frame tearing;
– Hands Free Voice Control – voice control with built-in microphone without remote;
– Backlit Voice Remote.
The Hisense U8G supports HDR10+ and Dolby Vision and can dynamically improve HDR content from scene to scene.
Picture settings & brightness
Optimal picture settings:
– Theater Day for SDR content;
– DR Theater for HDR10 content;
– Dolby Vision Dark for Dolby Vision content.
Theater Night and Dolby Vision Day are designed for non-standard viewing conditions.
SDR brightness ranges from 616 nits (for peak 100% window) to 1364 nits (for peak 25% window). The HDR brightness range is 734 nits (for peak 100% window) and 1627 nits (for peak 25% window). HDR brightness in game mode ranged from 723 nits (for peak 100% window) to 1591 nits (for peak 25% window). Of course, these results are great.
The Hisense U8G has excellent color and white balance accuracy 'out of the box':
– White Balance dE 1.62 (good value: <3);
– Color dE 1.42 (<3);
– Gamma 2.19 (2.1-2.3);
– Color Temperature 6,439 K (6,500 K).
In fact, the TV does not need additional calibration.
Quantum Dot technology in U8G provides a wide color gamut with nearly perfect coverage of the DCI P3 color space (most current HDR content) and good coverage of the wider Rec. 2020 color space.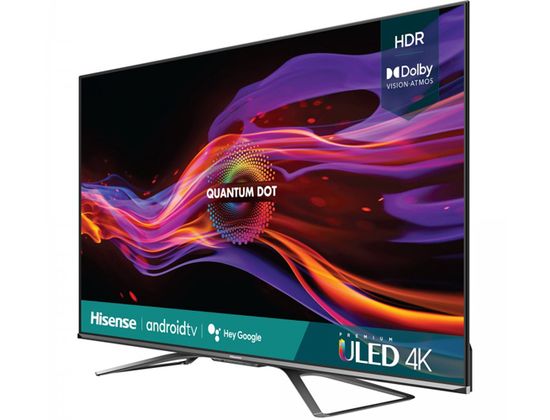 Measurements showed more than 97% DCI P3 (good value:> 90%).
Processing also corresponds to a very high level. The U8G provides a fine detail practically without moire effect or screen door effect.
The color accurate is very high for bright colors, but drops significantly for dull colors. This may be due to insufficient backlight performance.
Unfortunately, viewing highly compressed low-bit-depth content is sometimes accompanied by macroblocks. But this issue does not apply to higher-quality content, for example, from Netflix, Disney +, HBO Max, Blu-ray discs, etc.
Conclusion
Pros
– relatively low price;
– 10 bit VA panel;
– impressive brightness (peak brightness up to 1500 nits);
– very good contrast ratio;
– great local dimming feature;
– Dolby Vision & HDR10+;
– effective anti-glare protection;
– wide color gamut;
– low input lag, a fast response time ~4 ms, and great gaming features.
Cons
– relatively low viewing angles;
– unclear prospects for Google TV support.
As known, almost the entire Hisense 2021 lineup is powered by Android TV. According to its managers, Hisense is a very 'happy' with the Android TV platform performance. So, unfortunately, Hisense may well keep Android TV by postponing Google TV support for 2022 models;
– audio system.
The 2.1.1 speakers with a power of 10W each is loud enough, but reproduces poorly bass and does not always provide a balance between treble and midranges. But the soundbar will solve this problem.
High performance and good value for money provide excellent competitive prospects for this series. Probably, its specs are slightly inferior to the new Samsung Neo QLED QN90A with mini LED backlit priced at $ 2,600 for the 65-in model. But U8G is over $ 1,000 cheaper. Moreover, the U8G looks great even when compared to the 65-in LG CX OLED, which is absolutely deservedly became the bestseller of the last year. With roughly the same picture quality, the LG CX costs about $ 400 more today ($ 1,600 vs $ 2,000).
Its impressive pros more than make up for limited viewing angles, average audio quality and even unclear prospects for Google TV support.
Video unveils the Hisense U8G ULED Android TV.