The combination of aggressive pricing and high quality propelled TCL into second place behind Samsung with 10% of sales in the LCD TV segment. As a result, the status of one of the industry leaders forces the company to pay great attention to the annual expansion of the model range. However, Chinese giant easily copes with this task, and this year was no exception. The 2021 assortment analysis shows several main directions of the company's efforts:
– XL Collection with 85-inch screens;
– basic-but-good Smart 4K HDR TVs at half the price;
– more affordable 8K TVs;
– LCD TVs with Quantum Dot (QD) technology (wide color gamut + high color accuracy + high brightness) & Local Dimming (high dynamic contrast) based on Mini LED backlit (including super innovative OD-Zero).
Traditionally for most large manufacturers, TCL pursues a complex regional policy, dividing model lines into the American, Asian and European markets (UK). This creates some confusion, but the differences between the specs basically include title and price.
XL Collection
Perhaps the steady rise in popularity of big-screen TVs is due to the fact that today first-run movies are hitting streaming services the same day as theaters. Of course, this factor creates the excellent marketing prospects for TCL XL Collection. It will contain three new models from different series, including:
1. 85″ class 4-Series 4K UHD HDR LED Smart ROKU TV (85R435) – $ 1,800.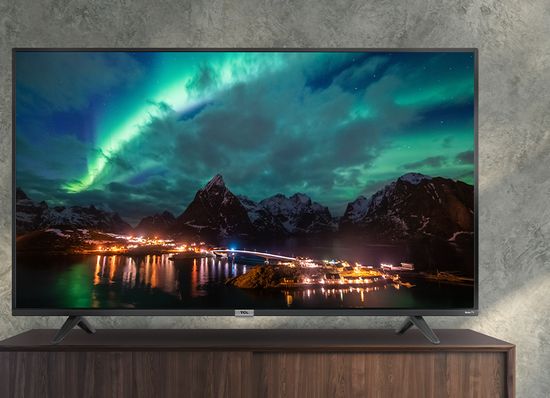 The slogan "basic-but-good smart 4K HDR streaming TV at half the price" most accurately characterizes this model.
This TV does not use QLED panel, FALD (Full Array Local Dimming) and Dolby Vision, but supports HDR10, has four HDMI 2.0 ports and two built-in speakers (15W each) that support Dolby Digital Plus.
2. 85″ class 7-Series 4K QLED Dolby Vision HDR Smart ROKU TV (85R745) – $ 3,000.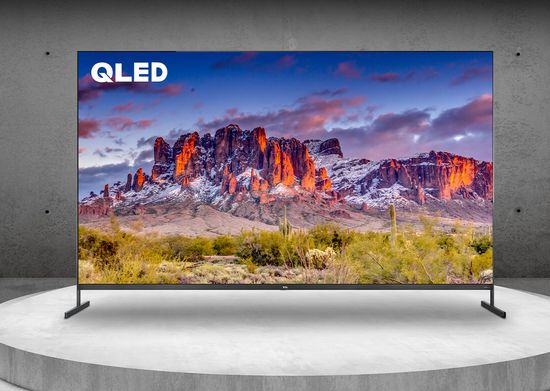 This model uses QLED wide color technology, providing 100% color volume in the DCI-P3 color space, and TCL's Contrast Control Zones technology (up to 192 local dimming zones), which increases the dynamic contrast ratio (static contrast ratio of 5000: 1). Additionally, it has THX Certified Game mode, HDR Pro Pack with Dolby Vision, HDR10 and HLG support.
Its audio system is expanded with a 20W subwoofer.
3. High-end 85-inch 8K QLED Dolby Vision HDR with Local Dimming based on innovative OD Zero mini-LED backlit.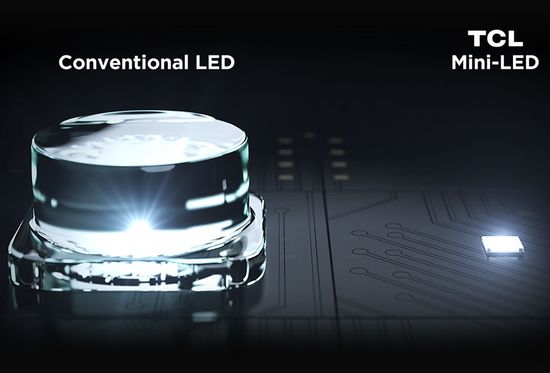 A huge number of miniature LEDs are combined into a large number of Local Dimming zones with independent control.
According to the company, it will join the XL line 'later this year,' but its name, price and specs are not known. Preliminarily, it can use a different platform instead of Roku smart TV, for example, new Google TV, which should replace Android TV by the end of the year.
XL 85R745 picture quality
The 85R745 is extremely bright, delivering over 500 nits at its dimmest settings in Movie mode. Moreover, the brightest backlit setting increases brightness to 800 nits. For Dark HDR, brightness ranges from 900 nits with the dimmest backlit setting up to 2,100 nits in the highest level. In fact, its brightness reaches the Hisense U8G and Samsung QN90A, which are the brightest today.
Most importantly, the increase in brightness is not achieved at the expense of black levels, which are great in this model.
Traditionally for LCD TVs, the bright objects on a black background have a bit of halo and blooming around them. But the Contrast Control Zones technology minimizes them quite effectively.
TV offers a few picture settings options 'out of the box'. Of course, low-power mode reduces the TV's brightness and should be turned off. 'Movie' mode is the most accurate for SDR, 'dark HDR' is optimal for HDR. These presets provide the most accurate color temperature.
The backlit settings of brightness intensity contain Darker, Dark, Normal, Bright, and Brighter levels. But overall, TV has high quality color performance right out of the box, which is one of its pros.
Unfortunately, the raised legs of the wide stand visually increase the size of the TV.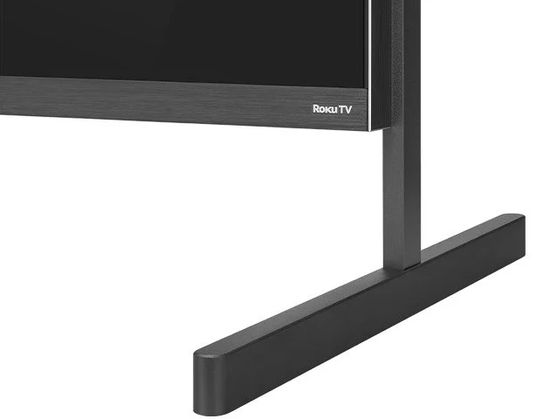 Of course, wall-mounting fixes this problem.
Typically, Roku setup process lasts up to 10 minutes. But creating a Roku account requires a smartphone or laptop.
XL 85R745 key features
Despite its decent response time and high brightness, the 85R745 delivers smooth playback even without motion smoothing algorithms. This allows you to disable the black frame insertion feature (LED Motion Clarity), which visually reduces motion blur, but causes significant flicker.
Generally, the solid motion handling and high brightness provide good HDR images in games.
Unfortunately, the video processing performance is not very high to clean up low-bit-depth images. Moreover, the huge screen size further increases the perception of image noise. Perhaps TCL's AiPQ Engine is not powerful enough for too compressed video on 85-inch model. But it does a great job with moderately compressed content of most premium streaming apps, including Netflix, Disney +, HBO Max, etc.
What's more, it supports Dolby Vision and Dolby Atmos and has four HDMI 2.0 ports, including one eARC. Accordingly, the model supports VRR (Variable refresh rate) in range of 48-120Hz, ALLM (Auto Low Latency Mode) and 4K@60Hz or 1440p/1080p@120Hz in games.
Subwoofer on the back of the TV provides a good amount of bass. But, of course, its sound quality is inferior to the soundbar.
Pros
– great brightness;
– excellent black levels;
– very high HDR performance;
– high quality motion processing;
– very good gaming performance.
Cons
– video noise for low bit and too compressed content;
– stand too wide.
Conclusion
Probably a couple of years ago, a 85-inch 4K TV for $ 1,800 could have amazed experts. But fierce competition is relentlessly driving down prices, and this price level is already becoming commonplace. Nevertheless, TCL 85R435 can rightfully be positioned as one of the cheapest big-screen models with a good specs.
Therefore, its prospects are not cloudless. Another Chinese giant, Hisense, has an equally aggressive pricing policy. For example, the 85-inch Hisense H6570G (2020 Model) 4K Android Smart TV with Alexa Compatibility costs $ 1,700. Funnily enough, the new 75-inch Hisense 75A6G 2021 model is on sale for only $ 800! Moreover, Hisense TVs use Android Smart TV, which will be replaced by the end of the year with a significantly improved Google TV. Of course, this is a good argument in their favor.
Of course, the contrast and bright $ 3,000 TCL 85R745 belongs to a higher class. Its specs are inferior to 85-inch Samsung QN90A and 86-inch LG QNED 90 Series 4K TV. But the price of these new series with Local Dimming based on the innovative mini LED backlit reaches $ 4,000. Of course, $ 1,000 is a significant difference. The less contrast and bright QN85A costs only $ 3,600, but its specs differ little from TCL 85R745. As known, QN85A and QN90A belong to the new Samsung Neo QLED lineup.
Of course, the list of 85-inch will expand, but today the prospects for TCL 85R745 from the XL collection seem bright enough.
This video introduces the new TCL XL Collection.