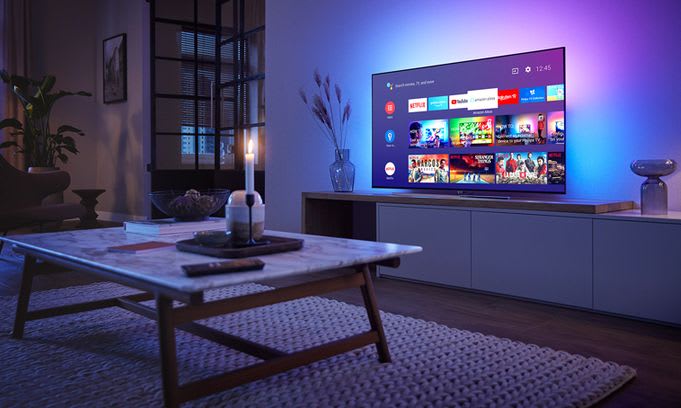 Of course, the list of TV selection criteria includes, first of all, its diagonal, price, image quality, HDR performance, etc. In turn, image quality is directly related to resolution, contrast (peak brightness and black levels), color gamut, etc. But all these factors are only important when there is content. In turn, its range directly depends on the Smart TV platform. Therefore, companies attach great importance to this aspect.
Many industry leaders use proprietary Smart TV platforms, including LG's webOS, Samsung's Tizen, Panasonic's MyHomeScreen, Hisense's Vidaa U and Vizio's SmartCast.
In addition, some manufacturers use Roku TV (Netflix's startup) and Amazon's Fire TV, which primarily target streamings from these giants.
Android TV has a special place on this list. Without a doubt, this platform dominates in terms of versatility and prospect. Of course, it has cons, including speed, not very user-friendly interface, the need for an app for iOS devices, etc. But they are secondary compared to its pros.
Pros
– perfect compatibility with Android devices;
– a huge number of apps on Google Play;
– third-party apps;
– support for apk (Android Package Kit) format;
– voice control;
– TimeShift.
As known, the TimeShift function saves the contents of the TV program during pause. Previously, this option required physical storage. TimeShift uses servers. Moreover, TimeShift supports rewinding.
An extraordinary situation has developed on the market today. Many prefer the excellent Samsung, LG, etc TVs, but they are not very happy with Tizen, webOS, etc. Unfortunately, replacing the pre-installed OS, for example, from Tizen to Android, requires external hardware via an HDMI cable or replacing the board in the TV.
The photo shows the replacement of the board in Samsung QLED with an Android TV board with Amlogic S922XJ CPU.
Android TV & Google TV
As known, Android TV replaced Google TV in 2014. Last year, the Google Play Store re-launched the Google TV platform for smart TVs. In fact, Google has renamed Android TV back to Google TV, which can now be positioned as an updated Android TV.
The concept of Google TV is similar to the software shells that run on Android. But, for example, One UI is intended only for Samsung models, and Google TV is compatible with Android TV devices of any company.
Today Google TV is a software shell or interface for working with Android TV, supplementing this platform with new functions.
Google TV home screen – is the main interface change. As with most streaming services, it's recommendation based, and movies and TV shows are downloaded from the services you subscribe to.
The search uses an algorithm similar to the Google search engine. In addition, the platform offers a list to search for movies and TV series with a smartphone or tablet.
Probably, an intuitive interface can be positioned as the main direction of Google TV developers. The settings use the Google Home app.
Today new $ 50 Chromecast with Google TV already competes quite successfully with Roku and Amazon Fire TV. In fact, Google TV uses the Chromecast as a stand-alone streamer.
Google TV offers over 6,500 apps and nearly all the main streaming services, including HBO Max, Apple TV Plus, Peacock, etc.
The default home page "For You" Section is very easy to use, providing instant navigation through the channels.
The speed is slightly inferior to the Amazon platform, but is sufficient for comfortable switching between apps.
This year Google TV will be used in Sony TVs and will receive Kids Profiles.
LG's webOS & Samsung's Tizen
LG introduced updated webOS 6.0 this year.
Pros
– easy setup & use;
– high speed;
– AirPlay for connecting Apple gadgets;
– connecting via Bluetooth;
– remote control with a gyroscope;
– many widgets;
– good universal search;
– Alexa and Google Assistant support;
– fast navigation.
Cons
– too few LG's apps;
– no Freeview Play (UK).
In 2014 webOS smart platform launched the trend for minimal user interfaces. This year, the company has already introduced the 6th generation, installing webOS 6.0 on all TVs 2021. Its new interface replaces the traditional full-screen app overlay.
Updated home screen provides faster access to most used apps and may recommend content based on viewing history. WebOS perfectly supports Netflix streams in 4K with HDR and Dolby Vision, including Dolby Atmos audio. Amazon with UHD HDR and YouTube in 4K with Disney Plus are also available.
LG also plans to distribute the webOS platform to third-party televisions.
Tizen

Pros
– easy setup & use;
– high speed;
– convenient two-level menu;
– recording of TV broadcasts;
– voice control;
– Apple TV support;
– AirPlay for connecting Apple gadgets;
– free channels on TV Plus;
– fast navigation.
Cons
– universal search sometimes crashes;
– too few apps in the Samsung's store.
Like webOS, the Tizen OS interface is focused on simplicity. It uses icons, apps and shortcuts across the screen bottom. "Recent" box in the left corner is intended for switching between apps and channels.
On-screen icons can be changed. Smart Hub multimedia page is handy for separating content from apps and from USB sticks.
New Mobile Multi View feature supports simultaneous viewing on TV and smartphone while casting.
Roku TV
This smart TV platform is rightfully considered one of the most successful.
Pros
– very easy setup & use;
– high speed;
– a lot of apps;
– great universal search.
Cons
– too plain functionality;
– mostly used in budget models.
This platform was announced in 2014 for TCL TVs. Today, it used in TCL, Hisense, Haier, Insignia, and Sharp TVs.
Roku TV has universal search function to scan over 30 different apps, including Netflix, Google Play TV and Movies, Amazon, VUDU, etc. According to the search results, it offers the lowest price on the TV show or movie, and more 4,500 channels.
Today intuitive Roku TV is a best egalitarian second-division OS. Unlike Apple TV or Amazon Fire TV, it's not affiliated with a particular streaming platform and seeks content in a completely unbiased manner. As a result, Roku TV offers Pluto.tv, tubi, Crackle, etc as often as Netflix, Hulu, Sling TV and Amazon, expanding content selection.
Additionally, the platform offers several very useful features, including tracking of upcoming movies and TV shows through My Feed section, a free TV streaming service, and a private listening mode (headphones via remote).
Panasonic's MyHomeScreen
Pros
– high speed;
– updated 4K media player;
– easy setup & use;
– menu customization;
– good universal search.
Cons
– connection with a smartphone requires additional software;
– no Disney Plus.
Panasonic OLED TVs 2021 already use the new MyHomeScreen 6.0 with My Landscape option, which offers a collection of colorful images.
Like LG's webOS 6.0, the remote contains several direct launch buttons.
Dual Bluetooth supports transmission to two devices simultaneously. Cast Function allows you can easily cast Netflix shows from smartphone to Panasonic TV via Wi-Fi.
Unfortunately, the new OS is only available on 2021 models.
Probably simplicity is one of the main pros of the platform. Pressing the Home button on the remote activates Live TV, Apps, and Devices.
Freeview Play opens up a full list of catch-up services, including BBC iPlayer, ITVhub, All4, My5, BBC News & Sport and UK Play. The iPlayer app supports 4K and HLG (Hybrid Log-Gamma), which is the broadcast version of HDR.
Amazon Fire TV
Pros
– easy setup & use;
– high speed;
– many apps;
– good universal search;
– Amazon Video.
Cons
– mainly Insignia and Toshiba budget TVs.
The Fire TV version update of the app has a new home screen and independent user profiles that can recommend different content to each family member.
The software was announced last September and debuted on the third-generation Fire TV Stick Lite and Fire TV Stick 4K in December. They now have the 1st and 2nd generation Amazon Fire TV Cube.
In fact, Amazon Fire TV became the proprietary OS that was used in the Amazon Fire TV streaming stick. Overall, Alexa is one of the best voice assistants, and Fire TV platform is fast and versatile. Today many people buy Amazon Fire TV Stick 4K and connect its to TV.
Conclusion
In general, the growth in the quality of smart TV platforms is blurring the differences between them. Almost all modern platforms are easy to set up and use, and work quickly and reliably. The Roku TV platform is great in its simplicity and efficiency, but the direction of its further development is not clear. At the same time, Google TV (Android TV) remains dominant in terms of versatility. Today it's used by Sony, Philips, Xiaomi, TCL, Hyundai, and other companies. Moreover, this list continues to expand. If this trend continues with the new Google TV, its outlook seems more preferable.
The Amazon Fire TV streaming stick is also very promising. Of course, comparing Google TV with streaming stick is hardly correct, but both of these directions successfully solve the same problem today. However, in any case, the consumer market will benefit from this competition.
This video offers a presentation on the new Google TV platform.