As known, the Chinese state Hisense corporation was founded in 1969, and today it's one of the ten largest companies in China. The development and production of high-tech consumer electronics is one of the main areas of its activity. Today Hisense has 13 factories in China, production sites in Egypt, Mexico, Hungary, South Africa, Algeria, France, the Czech Republic, and 12 research centers around the world.
The company's products are known under several brands, including:
– Hisense (TVs, smartphones, washers, refrigerators, air conditioning systems);
– Toshiba (TVs – Hisense bought Toshiba Visual Solutions in 2017);
– Gorenje (kitchen appliances);
– Kelon (air conditioners);
– Ronshen (refrigerators).
Since 2015, the company has been selling Sharp-branded TVs in America.
Today many Hisense models are frequently featured in various top lists. For example, according to some experts, Hisense R8F ULED 4K UHD Roku TV wins in price-performance ratio even compared to the TCL R617 4K UHD from the legendary TCL Class 6-Series Roku TV.
The company is experimenting in different directions. For example, in 2018 Hisense launched its first OLED TV. This experiment ended in failure. In 2019, the company introduced a new OLED OB8 model in Europe, but its quality was significantly inferior to LG, Panasonic and Sony. As a result, at CES 2020, the company announced its intention to ditch OLED technology, focusing on developing its own LCD-based ULED technology.
Already in May of this year the company announced the new U9DG series with the fantastically promising Hisense Dual Cell or ULED XD technology.
Hisense TVs
Like the rest of the industry leaders, Hisense expands its TVs lineup every year. This year was no exception. In addition to the H4, H55, H65, A 60, R60, R8, H8, H9 series, the company has released the A6G, U6G, U7G, U8G, U9G and A9G OLED series. Moreover, the U9DG with Dual Cell technology really claims to become a sensation this year and compete with the equally innovative mini LED backlit technology from TCL, Samsung and LG.
All TVs of new Hisense series have 4K UHD (3840 x 2160) resolution, full array LED backlit, Auto Low Latency Mode (ALLM) function (automatic switching to the mode with minimal input lag), Chromecast built-in (streaming content directly to TV), support HDR (High Dynamic Range) formats, Bluetooth Connectivity, Voice Remote & Google Assistant, and DTS Virtual: X surround sound.
Surround sound is provided by DTS Virtual: X. As known, DTS Virtual: X is a multi-channel audio format that was designed for 5.1 or 7.1 sound without additional ceiling speakers for home theater.
It's based on DTS: X and DTS Neural: X formats. In turn, DTS: X was first announced at CES 2015 by Digital Theater System (DTS) as an alternative to Dolby Atmos. In fact, this technology generates 3D effects in room.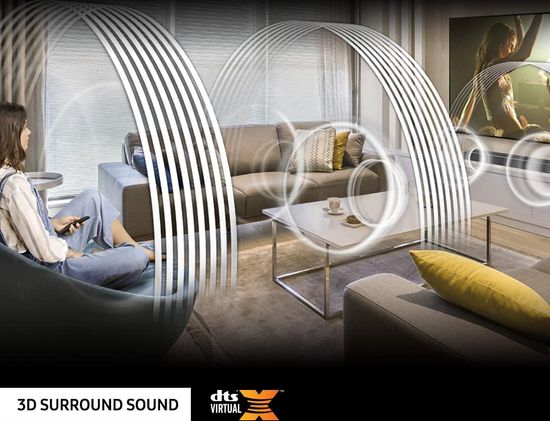 Using built-in algorithms, it distributes power between the front and rear channels, forming acoustic waves at the desired point in viewing area.
The budget Hisense 4K UHD A6G is available in 65 "($ 550) & 50" ($ 360).
The A6G is the only non-ULED series without a Quantum Dot Color display. It provides 300 nits brightness, has 4x HDMI 2.0, Refresh Rate 60 Hz, supports Motion Rate120, Dolby Vision & HDR10. But unlike ULED series, the A6G does not use Quantum Dot Color and Local Dimming.
Hisense 4K ULED U6G
Hisense U6G is budget ULED series of this year. It contains 50, 55, 65 and 75-inch TVs with prices ranging from $ 480 to $ 1,050.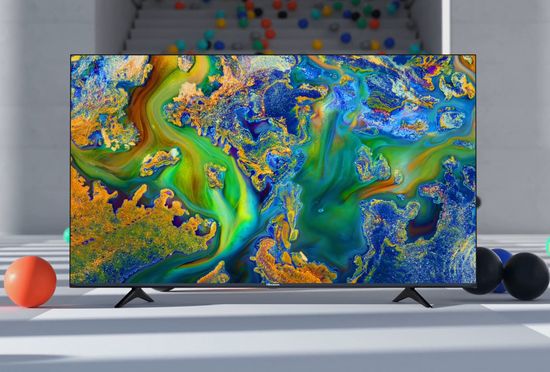 This very inexpensive series with excellent image quality without blotchiness or blooming may well take a place among the bestsellers in the budget segment. It offers up to 600 nits of brightness, has 4x HDMI 2.0, Refresh Rate 60Hz and supports Motion Rate 240. In addition, the series supports for Dolby Vision, HDR10+, HLG formats.
Like all ULED (Ultra LED) series, it supports Local Dimming for 60 zones and Quantum Dot Color (Quantum Dots technology with Wide Color Range).
This ingenious technology has dramatically expanded the color gamut and HDR performance by enhancing the white quality of LED backlit in LCD TVs.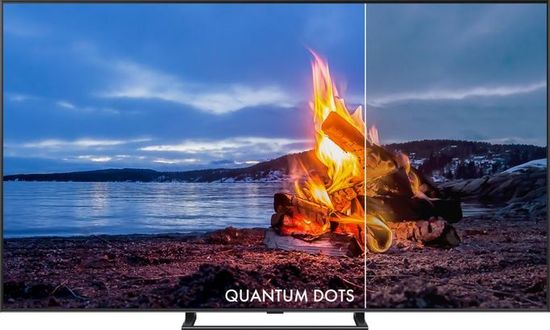 Technology uses an additional film with nanoparticles, the size of which corresponds to the wavelengths of red and green. The blue LEDs of backlit illuminates the film, the nanoparticles of which partially absorb blue, emitting green and red, depending on their size. At the output, red + blue + green generates high quality white, which is sent to an RGB matrix to form an color image.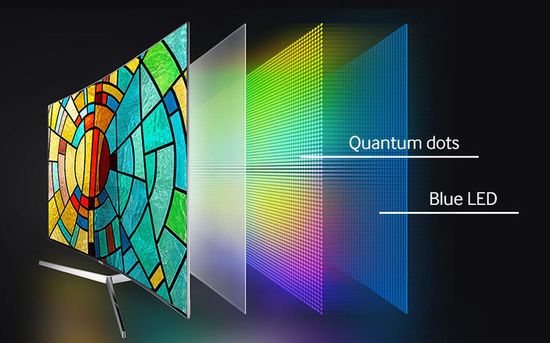 Today Quantum Dots technology is known as Samsung QLED, LG NanoCell, Hisense ULED and Sony Triluminos. Other companies use generic names such as "Quantum Dots display", etc.
As known, Local Dimming increases the panel contrast by adjusting the backlit intensity in separate fragments of the frame, depending on the content.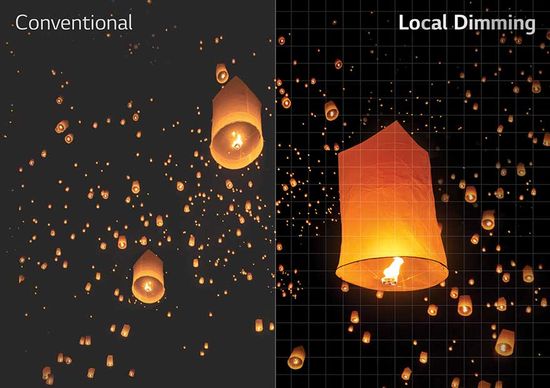 In addition, it supports Dolby Vision HDR picture and Dolby Atmos sound.
U6G TVs support the popular FilmMaker Mode without post-processing. It provides the most realistic reproduction possible with original aspect ratios, colors and frame rates.
Hisense U7G & U8G
The U7G is a gaming series and includes 55, 65 and 75-inch TVs. But today only a 65-inch model is available for $ 950.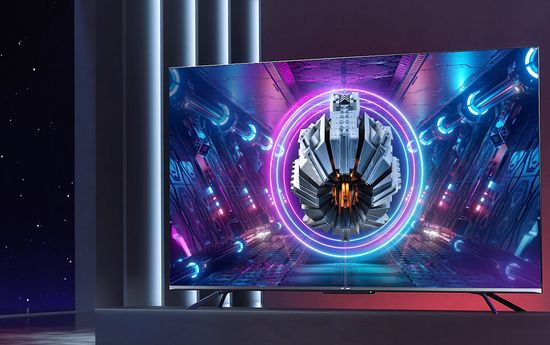 Its peak brightness reaches 1000 nits. This series uses 72 local dimming zones. Unlike U6G, it has the 120Hz panel, HDMI 2.1, supports Motion Rate 480 and VRR (Variable Refresh Rate). For HDMI 2.1 with ALLM, it offers Game Mode Pro.
As known, VRR matches the refresh rate to the frame rate of game console. Unlike movies with a constant frame rate (usually 24 or 50/60 fps), in games it changes depending on the CPU load. For example, an inactive game fragment can be played at approximately 50 fps. But when the scene changes, the intensity can increase dramatically, lowering the frequency, for example, to 30 fps. These abrupt changes are often accompanied by display freezes. VRR addresses this issue by dynamically adjusting the refresh rate based on the game's frame rate.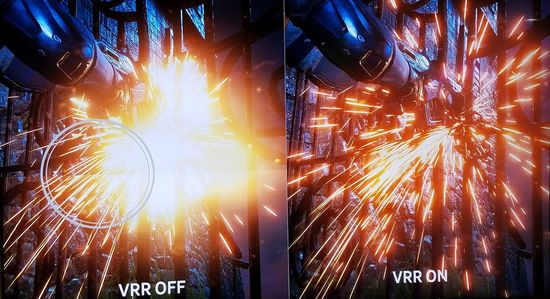 Today AMD and Nvidia use their own FreeSync and G-Sync VRR formats. A lesser known HDMI VRR format is part of the HDMI 2.1 spec and is often found in new TVs, including models with only HDMI 2.0 connectors. But almost all TVs with HDMI 2.1 support HDMI VRR.
Additionally, built-in microphones duplicate Voice Control without a remote. In addition, the series supports IMAX Enhanced and DTS.
Overall, VVR, higher brightness, 120Hz panel, HDMI 2.1 are more than enough compensation for a few extra hundred dollars over the U7G.
Hisense Premium 4K ULED U8G includes 55 and 65-inch TVs priced at $ 950 & $ 1,300.
Unlike the U7G, its peak brightness reaches a premium 1500 nits, and Local Dimming uses 132 zones. The other specs of these series are identical.
Hisense U9DG Dual Cell Android TV
Of course, the U9DG with the super innovative Dual Cell technology is the main intrigue. This series will only include a 75-inch model priced at $ 3,500.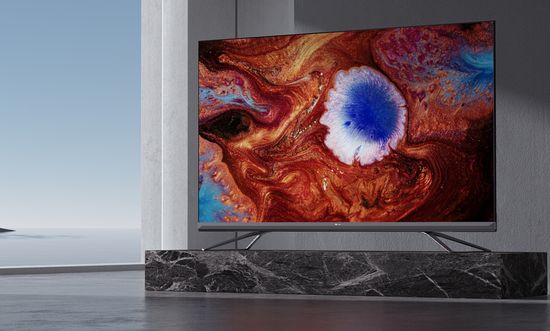 As known, TCL, Samsung and LG improve the contrast of their LCD TVs by improving Local Dimming, which controls of the backlit intensity in the screen areas depending on the frame content. Today the companies have developed their own mini LED backlit technologies based on miniature LEDs. Their size allowed developers to place tens of thousands of LEDs on the panel and group them into thousands of Local Dimming zones with separate control. At CES 2021, the companies have introduced TCL OD-Zero (X12 8K OD-Zero Starlight Smart Screen), Samsung Neo QLED and LG QNED series based on this super-innovative technology. Hisense and Panasonic have taken a different path, drastically increasing the number of Local Dimming Zones with a second monochromatic black-and-white LCD layer.
Simply put, Dual Cell technology uses two LCD layers in one TV.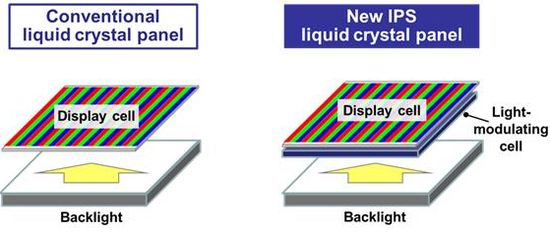 A monochromatic light-modulating cell ("luminance" module) displays content like a traditional black and white screen. In turn, this image can be positioned as an analogue of the backlit with Local Dimming for the RGB layer ("color" module). In this case, each pixel of the monochromatic layer acts as a primitive local dimming zone at the pixel level.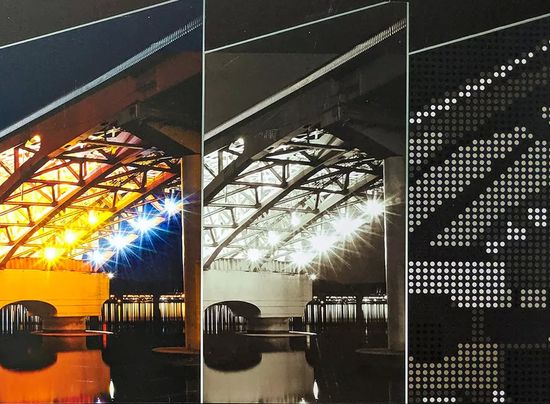 The 1080p resolution of the monochromatic layer in the U9DG delivers over 2,000,000 pixels – zones! According to the company, its dynamic contrast ratio reaches 2,000,000: 1. Its black level is unprecedented 0.00003 nits. Combined with a claimed 1,000 nits peak brightness and Quantum Dot Color, this TV can deliver superb HDR performance.
Conclusion
This year turned out to be rich in technological breakthroughs. Their list includes:
– Samsung Neo QLED, LG QNED, TCL OD-Zero and Hisense U9G with Mini-LED technology;
– OLED Evo technology in LG G1 Gallery Series OLED TV with increased peak brightness up to 1,000 nits;
– Hisense Dual Cell technology.
The new technologies have practically erased boundaries between OLED & LCD TVs. As a result, specs and prices of new LG OLED C1 and G1 are quite comparable with new Samsung Neo QLED Mini LED TVs. Therefore, comparison of LG OLED vs Samsung Neo QLED is quite correct.
Moreover, prices for the new LG QNED MiniLED TVs may well exacerbate competition in the mid-budget segment.
Hisense Dual Cell U9DG with the popular Android TV, claimed dynamic contrast ratio of 2,000,000: 1 and 1,000 nits peak brightness, heightens the intrigue in the premium segment. At $ 3,500 for the 75-inch model, it can compete successfully with the gorgeous $ 2,200 LG G1 Evo OLED for the 55-inch TV (other sizes not available yet) and the excellent Sony OLED Bravia XR A90J priced at $ 3,800 for the 65-inch model.
But regardless of the results of their competition, the ingeniously simple idea of Dual Cell technology evokes aesthetic admiration. In fact, the monochromatic light-modulating cell ("luminance" module) displays content like a black and white screen and works like a traditional Local Dimming backlit for the RGB layer ("color" module).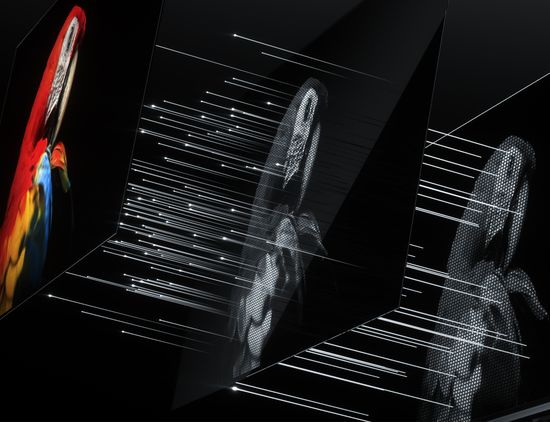 It can actually have fantastic perspectives, allowing companies to implement Local Dimming at the pixel level.
This video introduces the innovative Dual Cell technology in the latest Hisense U9DG Android TV.
P.S.
Probably, this year has become one of the most productive for Hisense TVs. Indeed, this Chinese giant has presented excellent models in all price and technology segments, including the OLED and ULED series, and the revolutionary Dual Cell technology.
But even this list does not fully cover astounding 'fertility' of Chinese developers. In addition to innovative TVs, the company introduced L9G 'Laser TV' with innovative TriChroma technology. In fact, it has become the third generation in this segment.
Of course, the name of these devices is a bit like marketing technology. Strictly speaking, Hisense L9G is a traditional laser Ultra Short Throw (UST) projector with a built-in TV receiver. Optoma, Epson, VAVA, etc offer similar models, but traditionally position them as projectors. Sellers sometimes call them 'living room projectors', because consumers are increasingly choosing them as an alternative to traditional TVs. But formally, any projector with a built-in TV-receiver can be positioned as a TV with a screen outside the case.
But, of course, the name is not the main feature of the L9G, although it can reduce confusion in terms. The new model offers a very attractive price-performance ratio.
It delivers 4K (3840 x 2160) resolution at 3,000 lm brightness, great 1,000,000: 1 dynamic contrast ratio, has built-in Google Assistant and Android TV, supports HDR10, HLG and Filmmaker Mode. Its optics with 0.25: 1 throw ratio provide 100-inch projection from 11.4 inches, and 120-inch screen for 14.6 inches.
Most importantly, innovative TriChroma technology has expanded its color gamut to an unparalleled 107% coverage of the BT.2020 color space.
Moreover, its starting price dropped from $ 5,500 / $ 6,000 (with 100-inch screen / 120-inch screen) to $ 4,500 / $ 5,000. This is quite expensive, but worth it.