As known, the modern TVs use traditional LCD technology with LED backlit or OLED and Micro LED technology without backlit based on self-lit LEDs. OLED and Micro LED panels provide excellent quality through superb contrast. But OLED panels are limited in brightness, blue pixels have a lifespan of only 15,000 hours, and the OLED panel price rises sharply as its size increases. Micro LED panels do not have these limitations, provide amazing quality, but are insanely expensive and are used mainly for advertising.
Traditional LCD TVs are bright, reliable and inexpensive, but their color gamut, color accuracy and contrast are significantly lower. This is caused by the non-uniformity of the backlight and by partial transmission of light from the backlit, which forms grayscale, reducing the black depth.
Of course, fierce competition forces companies to constantly improve both directions. For example, LG is offering the G1 series this year with an innovative Evo OLED panel that reaches 1,000 nits in brightness. At CES 2021, Samsung announced a 110-inch Micro LED panel for home use. But this novelty requires a philosophical attitude towards the insane $ 156,000 price tag.
Of course, the companies are also constantly improving LCD TVs. Several years ago, they developed QD (Quantum Dot) technology to expand color gamut and improve color accuracy by improving the white quality from the backlit. This year, the companies introduced models with an innovative Mini LED backlit that increases the contrast by radically increasing the number of Local Dimming zones.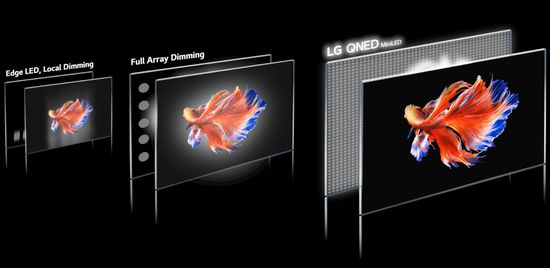 As a result, the LCD TVs segment has expanded this year with premium Samsung Neo QLED, LG QNED and TCL OD-Zero series with QD & mini LED backlit.
Quantum Dot & Mini LED backlit
The Quantum Dot technology is based on an elegant solution of the South Korean developers and gives aesthetic pleasure. In fact, they proposed to synthesize almost perfect white for backlighting inside the TV.
The technology works as follows. Blue from blue LEDs passes through a matrix with nanoparticles, the size of which corresponds to the wavelengths of red and green. Then, the partially passed through the film blue is mixed with re-reflected green and red from nanoparticles. Their combination generates a high-quality white to create the pixel colors using liquid crystals in the RGB matrix.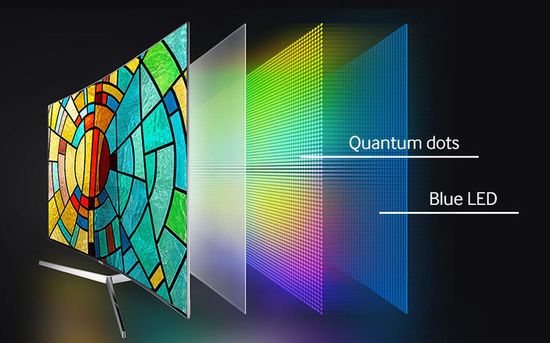 This technology has radically improved the picture quality of LCD TVs.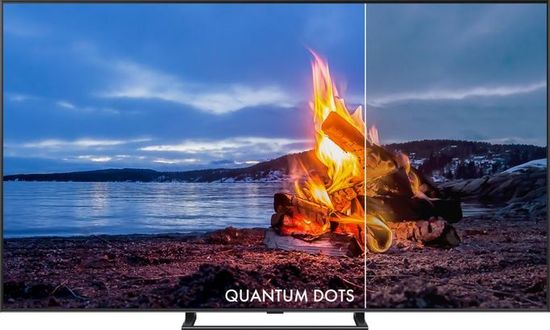 Today it's used in Samsung QLED, Sony Triluminos, LG NanoCell, Hisense ULED series. However, many companies use the neutral name Quantum Dots display. At the same time, almost all manufacturers use QDEF (Quantum Dot Enhancement Film) from the American company Nanosys, which dominates the segment of their development and production.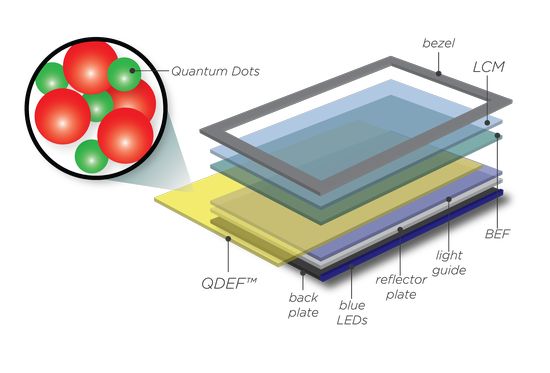 Mini LED backlit is the second revolutionary breakthrough in LCD TVs improvement. It has significantly increased contrast by dramatically improving local dimming performance. By grouping a huge number of miniature LEDs into arrays, the developers have dramatically increased the number of independently controlled Local Dimming zones. For example, in March TCL announced a fantastic 85-inches TCL X12 8K Mini LED Starlight with 96,000 mini LEDs.
As a result, the difference in price and image quality between OLED panels and LCD TVs with QD technology and Mini LED backlit has practically disappeared. Today the market already offers Samsung Neo QLED mini LED and LG QNED mini LED series.
LG QNED
The price of LG QNED (quantum nanocell miniLED) is on par with budget LG OLED TVs. For example, the flagship 65-inch 4K G1 with Evo OLED panel (peak brightness up to 1,000 nits) costs $ 3,000, 65-inch C1 with conventional 4K OLED panel (peak brightness 700-750 nits) – $ 2,500, and budget OLED A1 with α7 Gen4 processor, 60Hz refresh and HDMI 2.0 only (no VVR) – $ 2,200.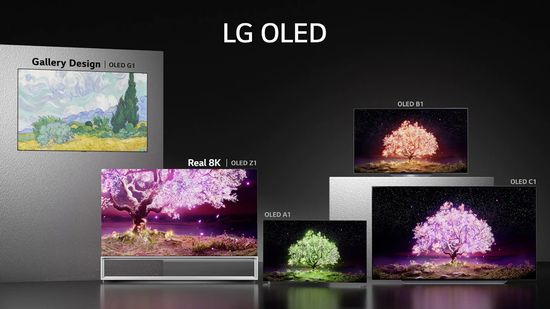 The price of 65-inch LG QNED 90 Series is also $ 2,200 (LG OLED A1 = LG QNED 90 = $ 2,200).
8K OLED:
– 77-inch LG OLED 8K Z1 – $ 28,300 (£ 20,000), 88-inch – £ 25,000;
– LG QNED 99 Series 8K – $ 3,500 / $ 5,000 / $ 8,000 for 65, 75 and 85 – inch models.
In fact, the LG OLED 8K is more than 5x more expensive vs LG QNED 8K.
The difference between 8K and 4K QNED is $ 3,500 vs $ 2,200. Their specs:
– 8K UHD (7680 x 4320) vs 4K UHD (3840 x 2160) resolution;
– α9 Gen 4 AI Processor 8K vs α7 Gen 4 Processor 4K (with AI Picture Pro / Sound Pro);
– WiFi 6 vs WiFi 5 & 4.2 vs 2.2 WiFi and speaker setups.
Both QNED series have IPS Quantum Dot NanoCell Color Technology, 120Hz native refresh rate and Full Array Dimming Pro, use 30,000 tiny LEDs that are combined into 2,500 dimming zones, providing 1,000,000: 1 contrast ratio. TVs support G-Sync & FreeSync Premium, Dolby Vision, Dolby Atmos, Google Assistant & Alexa Built-in, Apple Airplay 2, and use webOS 6.0 with new Magic Remote.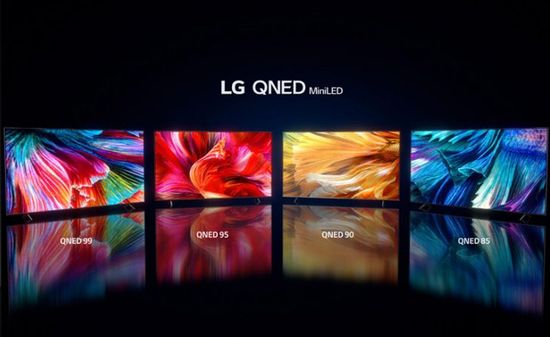 Unfortunately, information on peak brightness, black depth and panel bit depth (10 bit or 8 bit + FRC) is not available.
Samsung Neo QLED
Samsung Neo QLED Mini LED range is much wider and includes QN90A & QN85A 4K series, QExxxQN95A 4K for UK, and QN900A & QN800A 8K series. The company also unveiled the QN700A 8K series at CES 2021, but it's not available today.
The flagship 65-in QE65QN900A 8K price reaches $ 8,300.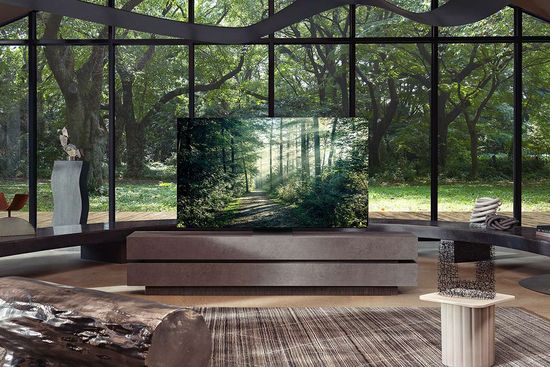 A 65-in QE65QN800A 8K with a simplified mini LED costs $ 5,500. In comparison, the 65-in LG QNED Mini LED 99 Series 8K costs only $ 3,500.
But the price difference is practically absent in the 4K segment. The very bright 65-in Samsung Neo QLED QN90A with VA panel costs $ 2,300, the less bright QN85A with ADS (Advanced Super Dimension Switch) panel and lower HDR rating is $ 1,800. In comparison, the 65-inch LG QNED 90 Series Mini LED 4K costs $ 2,200.
All Samsung Neo QLED use 12-bit of LED brightness control for local dimming, 10 bit VA (matte) or ADS (ADSDS or ADS-FFS or IPS-ADS) panel with 120Hz native refresh rate, latest Tizen 6.0, provide 100% Gamut DCI-P3, support Quantum HDR, HLG, HDR10 + (no dolby Vision), VVR, Bixby, Google Assistant, Alexa, and WiFi 5 & Bluetooth 4.2 Wireless Connectivity. Of course, LG QNED and Samsung Neo QLED use almost all the innovative technologies of these companies.
The QN85A series includes models from 55 to 85 inches. Since the size of modern ADS panels is limited to 80″, the 85″ TV uses the VA matrix.
Considering the price and the significant decrease in hype around 8K models, the 4K LG QNED 90 Series ($ 2,200 for 65 "), Samsung QN85A ($ 1,800) & QN90A ($ 2,300) are all claiming to be this year's best sellers.
Key features
In fact, the panel type is the main difference between competitors.
Hot discussion among experts about pros & cons VA vs IPS panels has been going on for several years. Moreover, ADS panels have given new impetus to it.
Cheaper, brighter and more contrast VA panels in Samsung TVs are significantly inferior to IPS panels in LG TVs in terms of viewing angles, color range and response time.
But the importance of these aspects depends on additional factors. The VA panel is preferable in a brightly lit living room, especially for HDR content. But the limited viewing angles directly affect image colors distortion when viewing at an angle.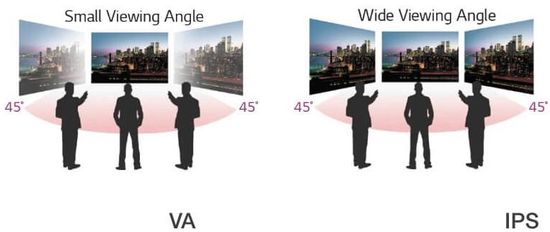 Therefore, the company of 3-4 people will be difficult to choose the good viewing position, which should be fairly close to perpendicular to the screen axis.
The list of HDR standards remains the second difference. Unlike many other industry leaders, Samsung supports HDR10+ instead of Dolby Vision.
In addition, there is an ongoing debate on the Internet about some aspects of Samsung TVs' reliability.
In particular, some users complain about the unstable operation of the QN95A, QN800A and QN900A (intermittent loss of picture and sound for a few seconds) when connected to HDMI players.
Some models from previous years have similar complaints, for example, when working with PS4 & PS5 Pro. Perhaps the problems are caused by settings / software. At least some people successfully solve the problem by changing the video transfer rate.
But Samsung's service is quite reliable and successfully solves these problems by resetting or replacing the TV. However, the suggested video can be helpful in choosing.
Conclusion
In fact, Samsung Neo QLED & LG QNED & TCL OD-Zero completes the next stage of converged evolution, forming a new segment of premium LCD TVs with Quantum Dot & Mini LED backlit.
As a result, OLED & LCD TVs are for the first time in the same price segment. Therefore the comparison LG OLED vs Samsung Neo QLED Tvs is quite relevant.
Moreover, this summer Hisense promises U9DG 4K series with the super innovative Dual Cell technology. According to the company, it will be able to provide several million primitive Local Dimming zones through the use of additional 1080p (4K – in perspective) a monochromatic matrix as an analogue of the backlight.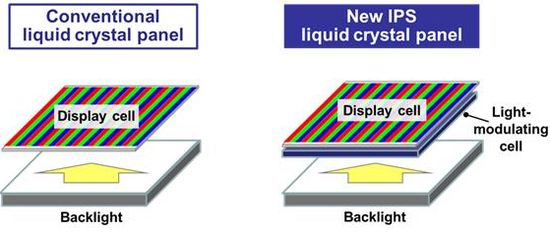 This series will only include a 75-inch model priced at $ 3,500.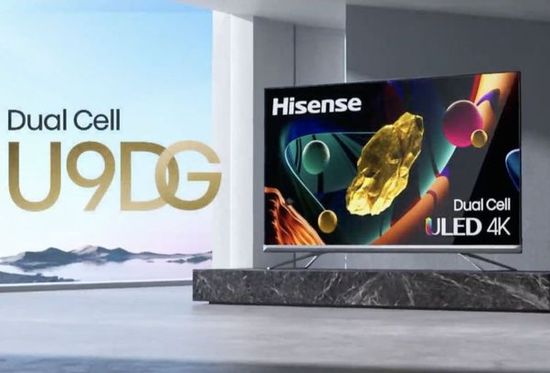 In comparison, the 75-in Samsung QN90A costs $ 3,300, the QN85A costs $ 3,000, and the LG QNED costs $ 4,000. If this promise is fulfilled, the premium LCD TVs segment will have a powerful new competitor.
This video introduces the new SolarCell Remote for Samsung Neo QLED.
P.S.
Adjusting the starting prices and their stabilization after Black Friday drop, make it possible to correctly position the new Samsung Neo and LG QNED series, taking into account the ratio of their price and quality.
Today the 65-inch Samsung Neo QN90A costs $ 2,200 for 65-inches model. The price of 65-inch LG QNED90 is $ 1,600 only.
Of course, Samsung has higher specs, including unprecedented dinamic contrast with Local Dimmimg of 26,000: 1 vs 6,000: 1, and max brightness of 1,860 nits vs 1,030 nits. In addition, the QN90A utilizes virtually all of Samsung's innovative technologies, including Object Tracking Sound +, Quantum HDR 32x, Ultra Viewing Angle, etc. Objectively, the more expensive Samsung Neo TVs havve higher specs and more functionality. But the $ 600 difference opens up good marketing prospects for the LG QNED.
Nevertheless, the prospects for these great models are not at all cloudless. The Chinese giants offer cheaper QD miniLED models with more modest specs, including 65-inches TCL 6-Series (2021) and Hisense U8G ULED for $ 1,300 and $ 1,000, respectively.
What's more, OLED TVs makers have managed to significantly cut prices for 65-inches models this year. As a result, the market today offers excellent LG OLED C1 for $ 1,800, and Sony A80J OLED with XR Cognitive Processor for $ 2,200 (65-inch models).
In fact, the 65-inch TVs' prices range from the cheapest Hisense U8G ULED ($ 1,000) to the most expensive Samsung QN90A and Sony A80J OLED ($ 2,200) in increments of several hundred dollars. Curiously, for the first time, OLED models are in the same price segment as LED LCD TVs, offering approximately the same picture quality and price.