This year can be considered another breakthrough in the LCD TVs segment. At CES 2021, three industry leaders unveiled the new Samsung's Neo QLED, LG's QNED and TCL's OD-Zero series with innovative mini LED backlit. As known, it uses tens of thousands of miniature LEDs combined in thousands of independently controlled Local Dimming zones. More accurate backlight intensity control allowed the developers to significantly increase the black depth in dark frame areas, increasing the overall image contrast.
In fact, today a new premium segment of LCD TVs has already been formed. They use QD (Quantum Dot) technology to expand color gamut and improve color accuracy, and Local Dimming based on an innovative mini LED backlit to enhance contrast.
Samsung Neo QLED TVs
Of course, the new Samsung Neo QLED TVs aroused huge interest from the consumer market and did not disappoint its expectations. Today the company offers several series, including the identical flagship QN90A (for America, Canada, Australia) and QN95A (for Europe and UK), and QN85A.
Probably, different panels can be considered the main difference between the series. The QN90A uses a brighter and more contrast VA panel. Except for the 85-inch model, all QN85A TVs have an ADS panel, which is an improved version of the IPS. As known, the maximum size of IPS-ADS is limited to 80″.
ADS panel is less bright and contrasting, but has wider viewing angles and provides better color accuracy. The discussion of experts on the topic of VA vs IPS has been going on for several years, but the successful development of promising ADS technology is already making its own adjustments. Perhaps Samsung deliberately split the Neo QLED series, leaving the choice between VA and ADS for the future.
Samsung 90A (QNxxxQN90AAFXZA, 2021 Model) vs 85A (QNxxxQN85AAFXZA, 2021) prices:
– 55"- $ 1,600 vs $ 1,400 ($ 200);
– 65"- $ 2,300 vs $ 2,000 ($ 300);
– 75"- $ 3,000 vs $ 2,800 ($ 200);
– 85"- $ 4,000 vs $ 3,600 ($ 400).
QN90A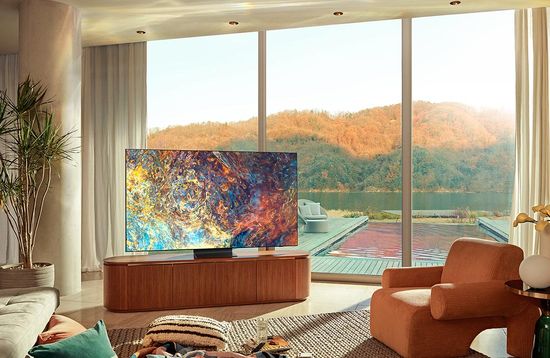 PROS
– 3,510: 1 native contrast ratio;
– flawless operation of full-array local dimming based on mini LED backlit with an increase in dinamic contrast to an unprecedented 26.534: 1;
– enough wide viewing angles with Ultra Viewing Angle with anti-glare;
– unprecedented HDR peak brightness (1,600-1,800 nits).
CONS
– possible small blooming around very bright objects.
QN85A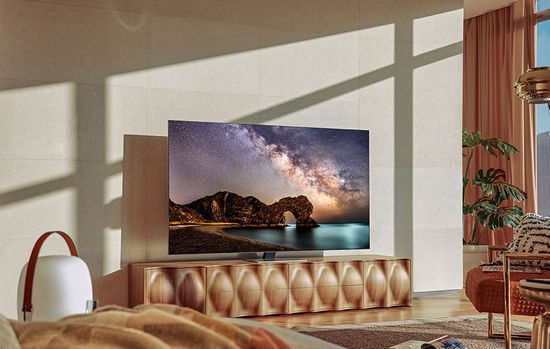 PROS
– exellent viewing angles;
– high color accuracy.
CONS
– blooming due to relatively low native contrast.
Samsung QN85A/QN90A differences
Except for differences in contrast, brightness and viewing angles due to different panel types, the series are almost identical. They use 4K (3840 x 2160) display, mini LED backlit, 10-bit panel, provide 120 Hz refresh rate and nearly 100% DCI-P3, and support HDR 10, HDR 10+ and HDR 10+ Adaptive HLG.
As known, HDR performance directly depends on Color Gamut. This spec reaches 95% DCI P3 for QN90A and 92% for QN85A (good value> 90%).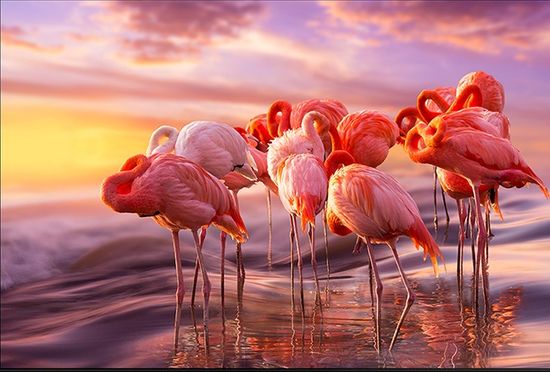 What's more, their Color Gamut is over 70% Rec 2020. In comparison, the previous Samsung Q90 / Q90T QLED delivers up to 90% DCI P3 and less than 70% Rec 2020.
List of differences:
– Ultimate UHD Dimming vs Supreme UHD Dimming (different number of dimming zones, which affects the increase in dynamic contrast).
The company does not indicate the exact number of dimming zones for all models with different sizes. But their number in the QN 900A 8K series reaches 1344. The 55-in QN90A 4K has 576 separate dimming zones in a 36 x 16 configuration. Larger models use 792 zones. But similar models of the QN85A series have only 540 zones. For comparison, the 2020 flagship 4K only had 120 zones, but was $ 100 more expensive;
– audio 4.2.2 CH, 60W vs 2.2.2 CH, 60W;
– Object Tracking Sound+ vs Object Tracking Sound (6 vs 4 speakers).
The system redistributes audio between the speakers depending on the sound source location in the frame.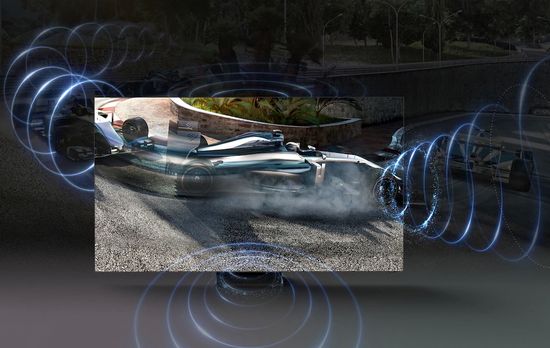 – Quantum HDR 32x vs Quantum HDR 24x.
Unfortunately, the company does not explain the difference between the two.
Quantum HDR technology
In fact, Samsung Quantum HDR technology is a combination of HDR and Quantum Dots technologies.
As know, QD (Quantum Dots) technology improves the white quality, forming it using blue LEDs and a special film with nanoparticles, the size of which corresponds to the wavelengths of red and green.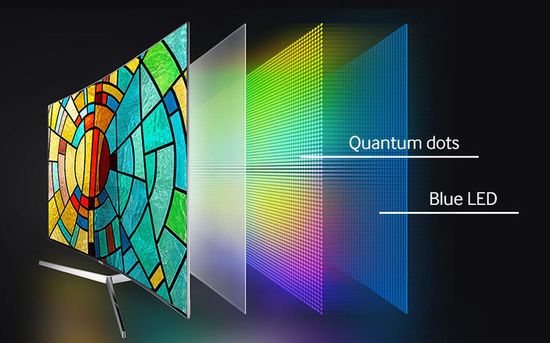 Passing through the film, blue and re-reflected by nanoparticles red and green form an almost ideal white for backlit, significantly improving the image quality.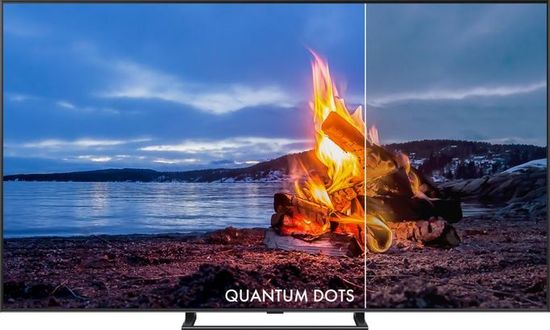 HDR technology expands the colors range, optimizing colors, contrast and clarity for each image area.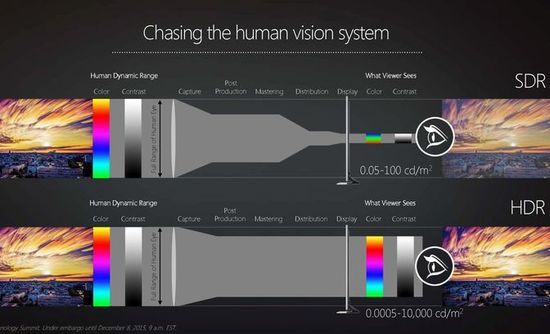 For HDR content, this technology uses dynamic metadata processing.
Today Quantum HDR can be positioned as a marketing name for HDR10 & HDR10 + standards with supported image brightness up to 1000 nits & 4000 nits.
As known, brightness compensates for ambient light by eliminating dim images caused by, for example, stray daylight. In addition, it provides high HDR performance, which indicates how bright or dark the image can be on the screen.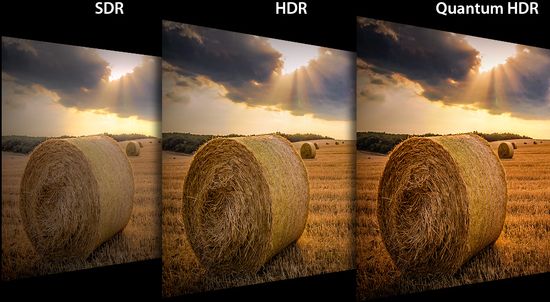 Unfortunately, the company does not indicate the difference between Quantum HDR 12x, 16x, etc. It can be assumed that the multiplier corresponds to the number of metadata streams processed by the processor. In this case, it characterizes detail and HDR performance.
According to another version, 12, 16, etc is the peak multiplier for the base brightness of 100 nits. In this case, the peak brightness for the Quantum HDR 12x model will be 1200 nits. But then, the peak brightness of the QN90A with Quantum HDR 32x support should reach 3200 nits, and the QN85A – 2400 nits. But testing shows much more modest 1800 and 1200 nits. Anyway, the HDR performance of the QN90A with Quantum HDR 32x is significantly higher.
Samsung Neo technologies/audio/gaming
Of course, both series support almost all Samsung innovations, including:
– Samsung Neo Quantum Processor 4K with 4K AI Upscalling;
– 100% Color Valume;
– Adaptive Picture;
– Auto Motion Plus;
– Brightness/Color Detection.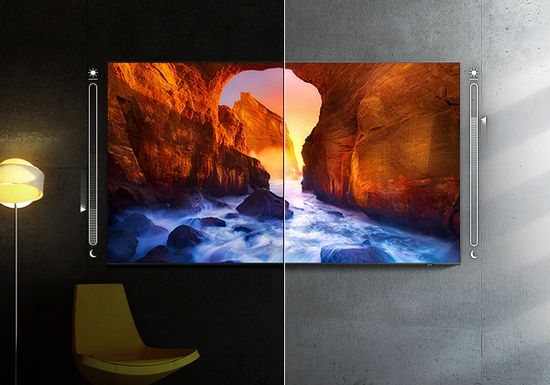 – Clear Motion;
– Contrast Enhancer;
– Digital Clean View;
– Dynamic Black EQ;
– Eco Sensor;
– Expert Calibration;
– Filmmaker Mode;
– MultiView.
Simultaneous viewing the content from TV & smartphone in multi-screen mode.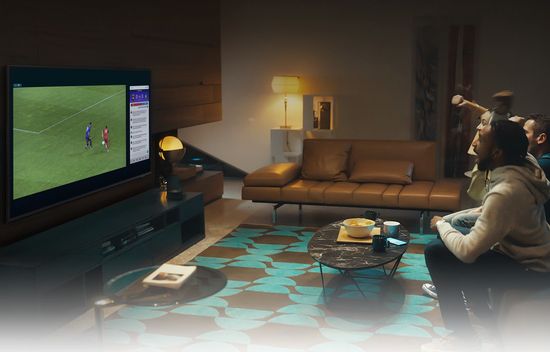 – Natural Mode Support;
– Quantum matrix technology;
– Ultra Viewing Angle in models with VA panels;
– Active Voice Amplifier (AVA).
AVA delivers real-time intelligent noise reduction, enhancing actors' voices in dialogue.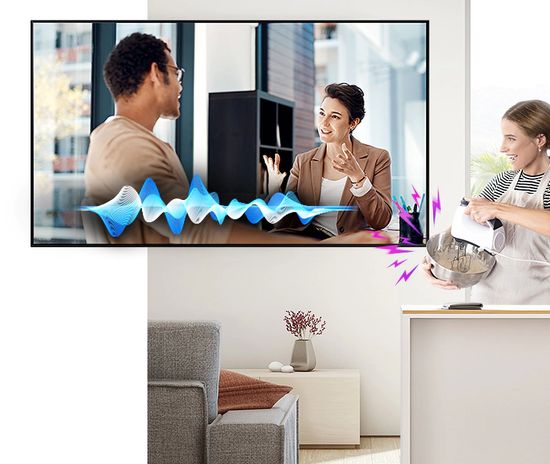 – Adaptive Sound+;
– Bluetooth Audio;
– Dolby Digidal Plus;
– Dolby 5.1 Decoder;
– Far-Field Voice Interaction;
– Multiroom Link;
– Object Tracking Sound;
– Q-Symphony.
It syncs TV and soundbar speakers.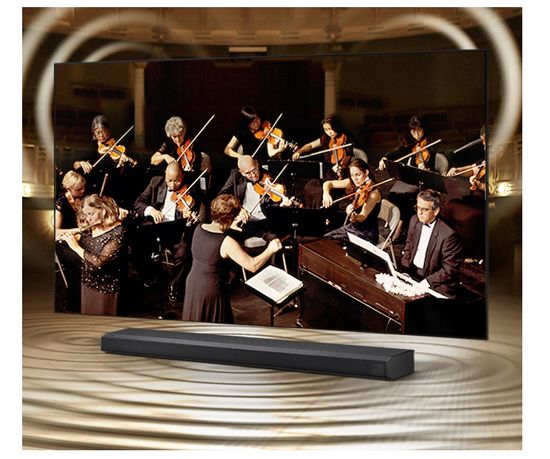 – SpaceFit Sound.
It optimizes the sound based on the TV location.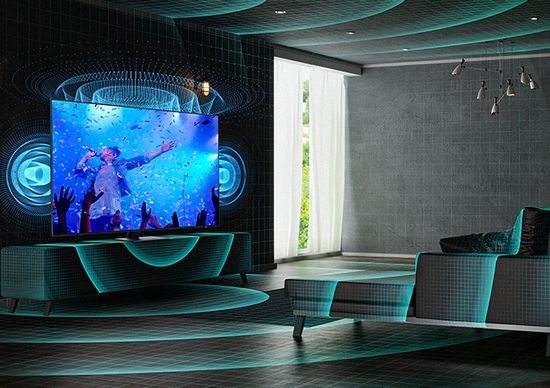 – Sound Mirroing;
– Surround Sound;
– Tap View.
This function instantly connects the smartphone to the TV by touching the frame.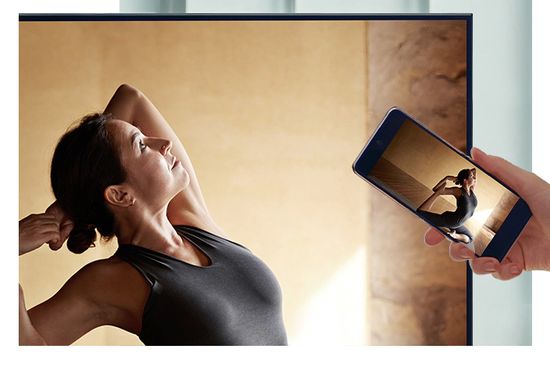 – Voice Guide;
– Game Motion Plus;
– Motion Xcelerator Turbo.
This technology improves the display of dynamic scenes up to 4K@120 Hz.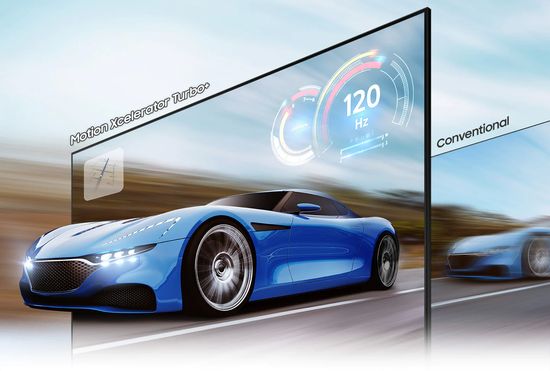 – Super Ulrawide GameView & Game Bar.
TVs support 21: 9 and 32: 9 aspect ratios, expanding the viewing area.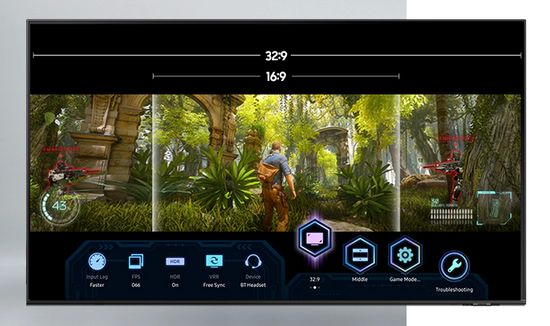 In addition, the Game Bar contains settings including changing the aspect ratio, input lag, screen refresh rate, HDR support, wireless headphone setting, and more;
– AMD FreeSync Premium Pro;
This certified technology optimizes gaming smoothness and performance.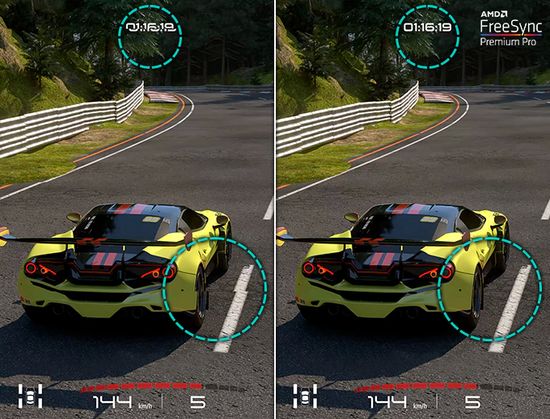 QN90A/QN85A Testing
Traditionally for Samsung, both models provide excellent color accuracy out of the box.
QN90A/QN85A:
– White Balance dE 0.85 / 1.23 (good value <3);
– Color dE 1.39 / 1.61 (good value <3);
– Gamma 2.20 / 2.21 (good value 2.1- 2.3);
– Color Temperature 6.620 K / 6.423 K (6.500 K).
QN90A / QN85A
Native Contrast 3,510: 1 / 1,373: 1
Contrast with local dimming 26,534: 1 / 1,956: 1
SDR Brightness
Real Scene Peak Brightness (nits or cd/m²) 1428 / 1156
Peak 2% Window 1235 / 968
50% Window 1216 / 1129
100% Window 691 / 622
Automatic Brightness Limiting (ABL) 0.038 / 0.034
HDR Brightness
Real Scene Highlight 1800 / 1222
Peak 2% Window 1554 / 1170
50% Window 1218 / 1144
100% Window 762 / 673
Automatic Brightness Limiting (ABL) 0.040 / 0.033
Both series display native 4k content perfectly without any visible artifacts. Perhaps sometimes ABL works too aggressively, automatically dimming in large areas.
The innovative mini LED full-array local dimming of the QN90A series works great, delivering deep blacks even in the dark. The blooming around bright objects is very weak and practically does not distract from the view.
All QN90A and 85-inch QN85A use VA panels with limited viewing angles. Of course, Ultra Viewing Angle technology with anti-glare partially reduces this problem, but sometimes the light scattered across the screen creates a rainbow effect.
As known, this technology uses two special layers that minimize leakage by focusing the light in the right direction and spreading it uniformly across the panel.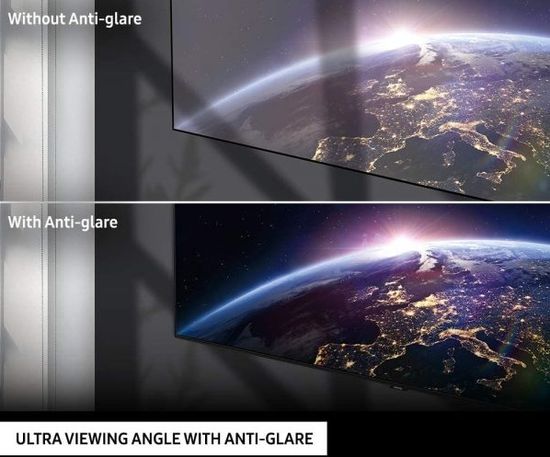 The rest of the QN85A models use ADS panels without this technology.
Conclusion
An analysis of the specs and test results demonstrates the clear advantage of the QN90A in terms of HDR performance. These factors include Quantum HDR 32x vs 24x, 1600-1800 vs 1200 nits peak brightness, and 26.534: 1 vs 1.956: 1 dinamic contast ratio with mini LED Local Dimming (792 vs 540 zones). Therefore, the QN90A is clearly the preferred choice for viewing HDR content, despite the difference of several hundred dollars. But wide viewing angles, high color accuracy and lower price are significant arguments in favor of the QN85A when watching SDR content on satellite or cable TV.
Overall, the great specs, the sheer amount of Samsung's technology, and the reasonably affordable price point give both series great prospects. Of course, they will have to compete with the excellent LG OLED, including LG OLED G1 with innovative Evo panel and LG OLED C1. In addition, LG is already offering new LG QNED TVs with mini LED backlit.
Moreover, by the end of the year TCL promises to present a lineup TVs with OD-Zero mini LED backlit, and Hisense is launching a 75-inch U9DG TV with a promising Dual Cell technology.
According to the company, the technology will provide several million primitive analogs of Local Dimming zones by using an additional 1080p monochrome matrix. Moreover, the use of a 4K matrix will ensure its further improvement.
But regardless of the competitive battle results, consumers will have a chic selection of great TVs.
This video demonstrates the Ultra Viewing Angle technology in the Samsung Neo QLED 8K.
P.S.
As known, fierce competition is driving high price dynamics in the consumer electronics segment, and of course high-tech TVs are no exception.
Today the 65-inch Samsung Neo QN90A is available for $ 2,200 and the QN85A for $ 1,600.
In the segment of LCD models with Quantum Dot technology and innovative mini LED backlit, they compete with LG QNED series. But LG TVs are cheaper. For example, the 65-inch LG QNED90 is $ 600 cheaper ($ 1,600 vs $ 2,200). However, Samsung has higher specs, including contrast with Local Dimmimg – 26,000: 1 vs 6,000: 1, and max brightness – 1,860 nits vs 1,030 nits. In addition, they use a brighter VA panel unlike IPS panel in LG's series.
Discussion about pros & cons of IPS vs VA panels lasts for several years, but modern premium models use VA panel more often. However, Samsung Neo TVs for the European market also use ADS panels, which, in fact, are an improved version of the IPS panel.
The Chinese giants also offer similar models, but they are significantly cheaper and have more modest specs. Today, this list includes TCL 6-Series (2021) and Hisense U8G ULED for $ 1,300 and $ 1,000, respectively.
In terms of image quality and price, the Samsung Neo is close to LG OLED C1 priced at $ 1,800, and Sony A80J OLED with XR Cognitive Processor for $ 2,200 (65-inch models).
In general, Samsung Neo series competes quite successfully in the mid-budget and premium segments of LCD TVs, but is inferior to the Chinese TCL and Hisense in the budget segment. But excellent and cheaper 65-inch OLED TVs, including the LG C1 and Sony A80J could cloud their prospects significantly.