The TVs are characterized by some of the highest competition level in the consumer electronics segment. The list of most popular modern brands includes Samsung, LG, TCL, Hisense, Panasonic, Sony etc.
Vizio is also on this list, but its popularity mainly extends to the US market. This company was founded in 2002 and is based in Irvine, California, United States. Today Vizio produces TVs and soundbars in Mexico, China, and Vietnam under agreements with ODM assemblers in those countries.
The company successfully uses an aggressive pricing strategy, offering models of fairly high quality at relatively low prices. As a result, in 2020 Vizio became the second largest seller of LCD TVs in the US. In addition, the company announced the launch of OLED TVs.
Today Vizio offers one OLED model and many LCD TVs, including compact D line, budget V-series, mid-budget M-series, and premium P-series (Quantum and Quantum X), which fully cover all price segments.
Quantum dot, gaming performance, voice control (voice-enabled remote), and improved SmartCast are major enhancements in the latest Vizio TVs 2021 lineup.
Vizio OLED H1 2021 TV remains without a software update. Probably, the company considers it to be optimal for today, which is quite justified – this model is really very successful.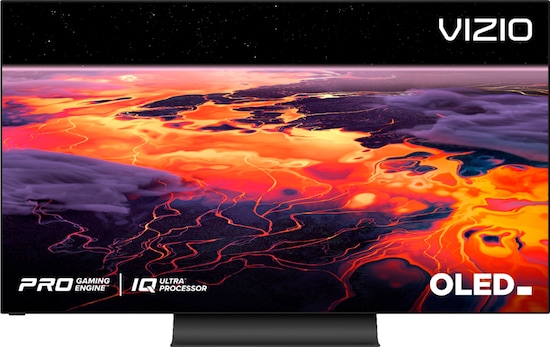 The 55-in Vizio OLED H1 costs around $ 1,300 today, which is unprecedented for this technology. For comparison, the price of last year's best-selling 55-in LG OLED CX today reaches almost $ 2,000.
All new TVs are being announced and launched in 2021, but the company is positioning them as the Vizio 2022 line. Perhaps this is due to its marketing plans.
Vizio P-Series Quantum & Quantum X
P-Series Quantum includes only 65- and 75-inch models, Quantum X additionally offers a 85-inch TV.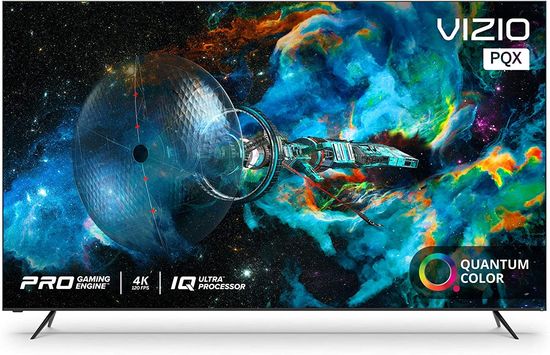 Quantum brightness reaches up to 1200 nits. It uses Local Dimming based on 240 discrete dimming zones. The peak brightness of the Quantum X can reach an unprecedented 3,000 nits. Moreover, its Local Dimming system uses 792 zones. As known, this technology increases the dynamic contrast ratio and HDR performance (more vibrant picture).
P-Series supports Dolby Vision, HDR 10+, HDR10, and HLG.
New IQ Ultra processor and improved ProGaming Engine with 4K Gaming HDR Tone Mapping support 4K@120fps with virtually no stutter, tearing and video lag. High gaming performance is achieved with HDMI 2.1, VRR (variable refresh rates), ALLM (auto low latency mode), and Adaptive VSync (or AMD FreeSync Premium). VSync supports HDR, wider color gamut and higher frame rates. Vizio promises P-Series lag time less than 7 ms, which is in line with modern gaming TVs.
Additionally, they use an anti-glare screen.
The Quantum 75-in model will be supplied with an IPS panel with wider viewing angles. But its brightness and contrast are significantly inferior to VA matrix.
Other improvements include latest IQ Ultra & IQ Active processors with 64-bit image processing, the latest updates to Vizio SmartCast software, and the new Vizio voice remote. P-Series lines use IQ Ultra processor.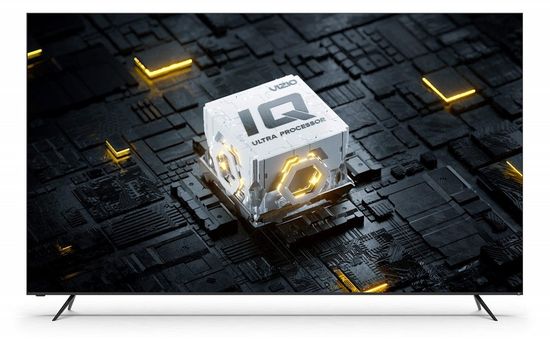 According to the company, it's faster and provides 'pixel-level contrast enhancement' for better depth and dimension to images.
Model / Screen size / Price
P65Q9-J – 65 inches – $1,400;
P75Q9-J – 75 inches – $2,200;
P85QX-J – 85 inches – TBA (to be announced, but rumored – $ 3,000).
Perhaps they will be supplied with Elevate soundbar.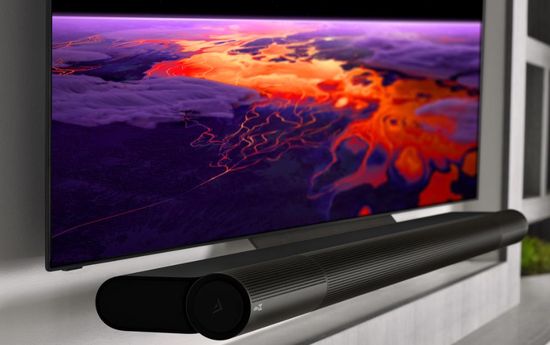 Quantum Color technology
Of course, premium P-Series uses Quantum Color technology. According to the company, it provides up to 85% of the Rec 2020 color range, which is certainly impressive.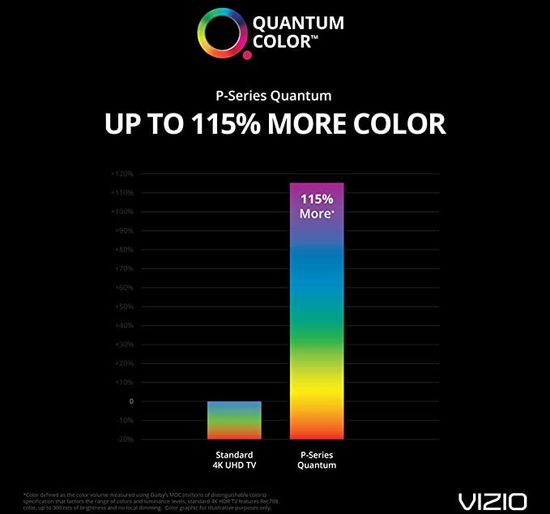 As known, QD (Quantum Dot) technology was developed over 5 years ago. It's based on the nifty idea of generating high quality white for backlit and works as follows. Blue from matrix with blue LEDs passes through a film with nanoparticles. Their size corresponds to the wavelengths of red and green. Behind the film, the partially passed blue is mixed with re-reflected green and red, which are generated by nanoparticles. Their combination generates a high-quality white. Then, it's used to create the pixel colors using liquid crystals in the RGB matrix.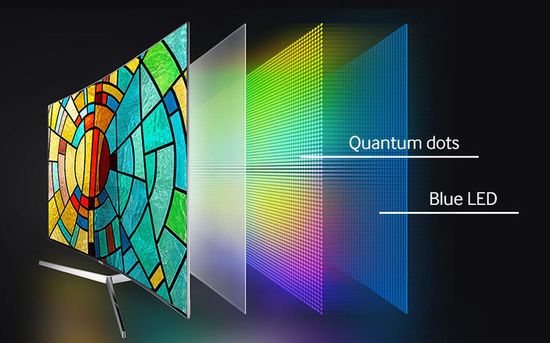 This technology has provided the more vivid picture in the LCD TVs.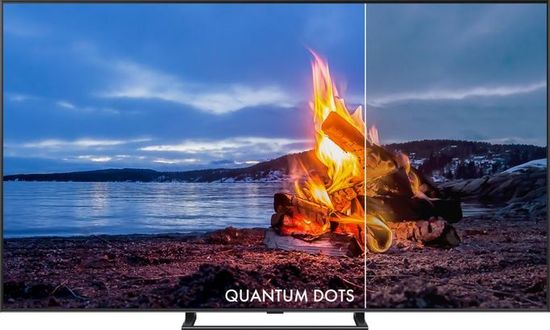 Today technologies based on this idea are used in Samsung QLED, Sony Triluminos, LG NanoCell, Hisense ULED series. But many companies use the neutral names such as Quantum Dots display, Quantum Color, etc. At the same time, most companies use QDEF (Quantum Dot Enhancement Film) from the American company Nanosys, which dominates the segment of their development and production.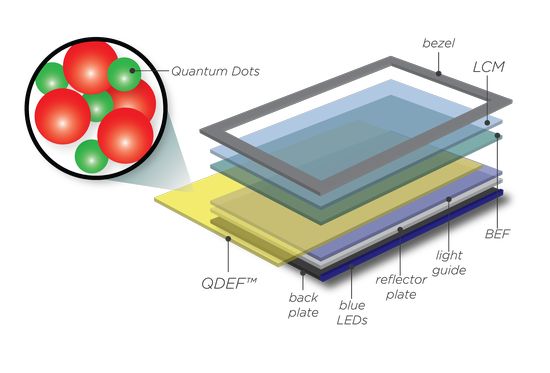 Mid-budget Vizio M & compact D-Series
The more affordable M-Series also uses Quantum Color technology with extended color gamut & improved color accuracy and Vizio's latest IQ Active processor.
This series includes MQ6, MQ7 and MQ8 sub-series which will be available in sizes from 43-in up to 75-in. MQ7 uses 32 local dimming zones and provides up to 700 nits brightness.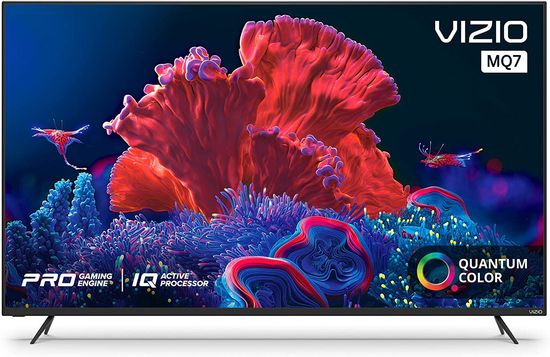 Prices for the MQ6 series range from $ 400 (43-in M43Q6-J) to $ 1,000 (75-in M75Q6-J). The MQ7 is slightly more expensive and costs from $ 750 (M50Q7) to $ 1,400 (M75Q7-J).
The MQ8-Series will be exclusive to Amazon. It $ 50 more expensive vs MQ7-Series, but uses 90 local dimming zones vs 32, provides 800 nits of peak brightness vs 700, and 85% color volume vs 75%.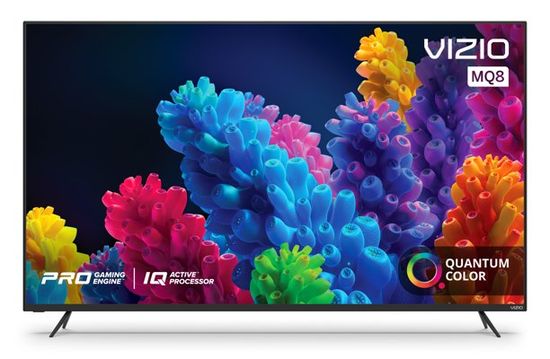 Like the P-Series, the M-Series also supports AMD FreeSync (but not Premium), HDMI 2.1, VRR and ALLM.
The height-adjustable stand is ideal for placing the soundbar under your TV.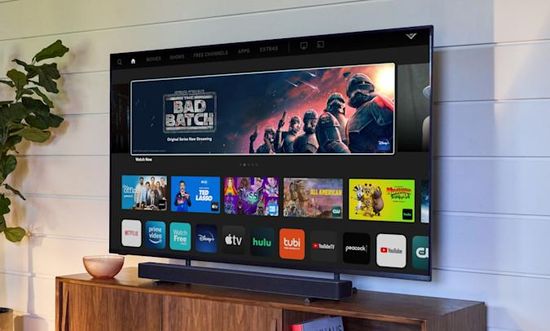 D-Series is the most budget-friendly line of Vizio smart TVs. It comes in 24, 32, 40, and 43-inch sizes and has 720 or 1080p resolutions. These compact models also have latest IQ processor and Vizio's smart cast software with the full app lineup, but do not support full 4K resolution.
Vizio D4 with a bezel-less design is ideal for smallest corners in the room.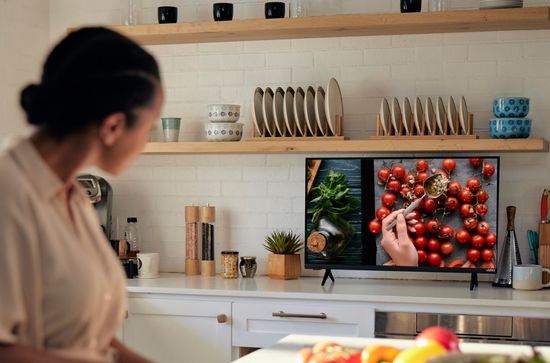 Their price ranges from $ 140 for the 24-in D24H-J to $ 300 for the 43-in for D43F-J.
Vizio V-Series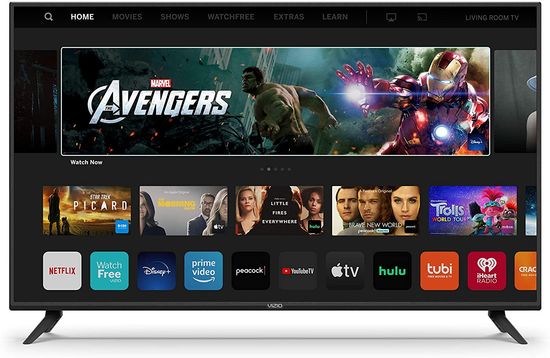 The budget V-Series includes 4K smart TVs with size from 43 inches up to 75 inches. They have a VA-panel with full array backlit and with deep blacks, but without local dimming, and, accordingly, without an increased dynamic contrast ratio. But the native contrast ratio of the V655 VA-panel reaches a fantastic 8,117: 1. Moreover, the V-Series supports Dolby Vision HDR. But it doesn't has HDMI 2.1 inputs and VRR (variable refresh rate) support.
SDR & HDR brightness, including Game Mode is only 235 nits, which, of course, is not enough to combat glare in a well-lit room. In addition, the Vizio V655 has too narrow viewing angles due to VA-panel.
This TV has very good settings out of the box, but calibration raises them to great (Pre Calibration / Post Calibration):
– White Balance dE 2.33 / 0.16 (Good value:< 3);
– Color dE 1.50 / 0.89 (< 3);
– Gamma 2.15 / 2.19 (2.1-2.3);
– Color Temperature 6,706K / 6,518K (ideal 6,500K).
This series will also be delivered with Vizio's new voice remote.
V-Series prices will range from $ 340 for the 43-in V435-J to $ 920 for the 75-in V756-J. Today it really claims to be the most budget-friendly line of 4K smart TVs. At least the modern market doesn't offer 75-in under $ 1,000.
Vizio SmartCast & Vizio Voice Remote
The latest SmartCast version benefits significantly from the previous one, offering expanded app support for Netflix, Amazon prime video, Disney Plus and Apple TV. The list of new apps includes Fox Now, the CW, and Peacock. What's more, today SmartCast is one of the best for free content from Pluto TV, Hallmark, Newsie, Tastemade, and other.
SmartCast uses Google Chromecast built in and supports Apple AirPlay 2. As known, they greatly simplify to cast content between phone and TV.
Perhaps the new Vizio voice remote on the V, M and P-Series is one of the major enhancements to the new models.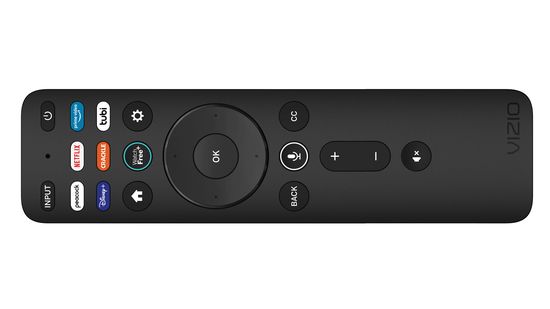 The company removed the number buttons, relocated the directional pad, and tried to make the navigation more intuitive. But, of course, the voice interaction is the biggest enhancement.
Microphone into the remote radically simplifies content search and command of basic functions. What's more, the new Vizio TV is compatible with any current Amazon or Google smart speaker setup.
Conclusion
Overall, the new Vizio line has excellent marketing prospects. But, of course, it will have a very tough competition with a huge number of great TVs. In the fields of market battles P-Series Quantum X will meet new Samsung Neo QN85A & QN90A series, latest LG QNED line and Hisense 75U9G with innovative mini LED-based Local Dimming.
In addition, it will meet Hisense U9DG with innovative Dual Cell technology and new great LG OLED TVs, including LG OLED C1 and LG OLED G1.
But the other series will also not be left without competitors. Very affordable TCL XL collection and great Hisense U8G ULED 4K Android Smart TV will be worthy contenders for the mid-budget Vizio M-series.
Nevertheless, the traditionally excellent value for money ratio allows the company to look confidently into the future.
This video introduces the Vizio OLED 4K Smart TV 2021.