The H1 with 55-in and 65-in 4K TVs became the first Vizio's OLED series. This company is very successful in using an aggressive pricing strategy, offering reasonably high quality at an affordable price. The Vizio OLED H1 is no exception and today includes the cheapest OLED TVs.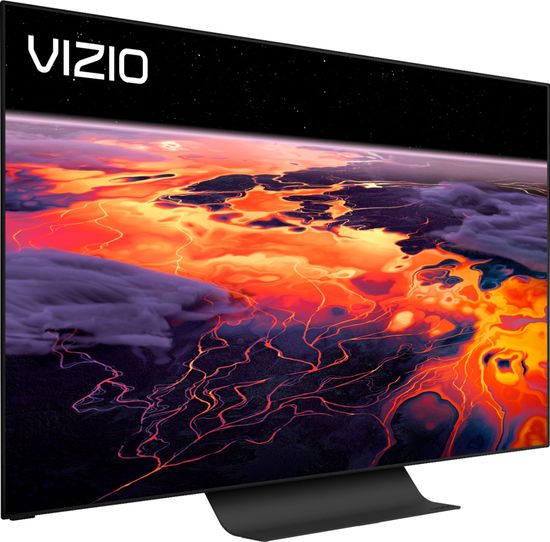 Pros
– ultralow price for OLED TV;
– traditionally perfect black levels;
– great 4K HDR performance;
– Dolby Vision, HDR10+ & HLG support;
– Dolby Atmos passthrough;
– Apple TV & Disney Plus;
– slim design;
– picture and audio quality are consistent with the premium class;
– ultra-wide viewing angles;
– SmartCast with a lot of well-considered smart features and free video content.
Cons
– increasing the brightness requires calibration;
– imperfect color accuracy;
– upscaling algorithms are inferior to LG and Sony (grain on HD sources);
– not optimal cable management;
– risk of permanent burn-in;
– no HBO Max;
– VVR sometimes fails.
Price on the website:
– 55″ OLED55-H1 – $ 1,300;
– 65″ OLED65-H1- $ 1,500.
In comparison, 55-inch LG OLED TVs:
– budget OLED55B1PUA (2021) – $ 1,500;
– mid-budget OLED55C1PUB (2021) – $ 1,600;
– flagship OLED55G1PUA (brighter Evo OLED panel, 2021) – $ 2,000.
Last year's excellent bestseller LG OLED CX costs just over $ 2,000 for a 65-inch model.
Of course, LG's reputation as a manufacturer of OLED TVs is significantly higher. But Vizio LCD TVs also have a great reputation. In addition, the Vizio OLED H1 has practically no complaints about quality for almost a year since the start of sales. Of course, the specs of LG OLED TVs are marginally higher, but the picture quality difference is unlikely to reach around 20% of the price difference.
Main specs
The TV looks very stylish due to the ultra-thin OLED panel (less than three-eighths of an inch) and ultra-thin dark metal bezel (less than one-eighth of an inch).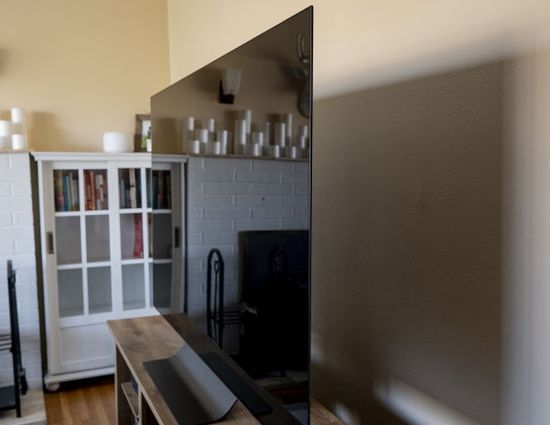 The stand design is controversial. It's intended for soundbar, but visually enlarges the TV size, extending out more than 4 inches in front and back.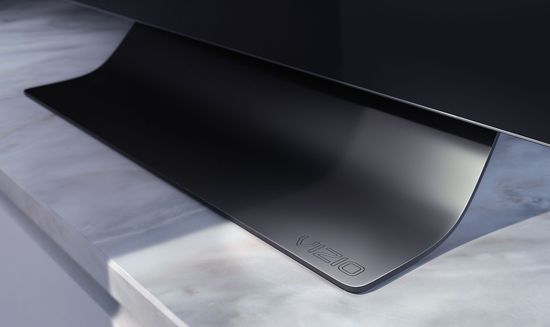 However, this problem disappears when the soundbar is placed.
Traditionally for OLED technology, TV provides virtually unlimited viewing angles and ideal deep black levels, but at relatively low brightness.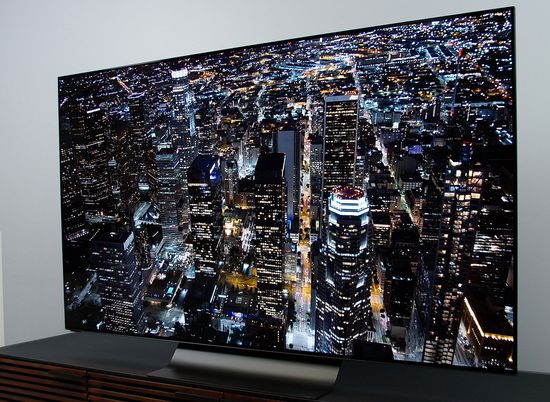 Specifically, the TV showed 300 (SDR) / 400 (HDR) nits peak brightness for an out-of-box pre-calibrated picture. But the calibration increased the peak brightness to 400 (SDR) / 650 (HDR) nits (10 percent window), which is perfectly acceptable for OLED TV. So, unfortunately, increasing the brightness requires calibration.
Unfortunately, the other 'out-of-the-box' settings also are not optimal, but the calibration significantly improves the image quality.
Pre Calibration / Post Calibration:
– White Balance dE 4.31 / 0.31 (Good value: <3);
– Color dE 2.05 / 1.51 (<3);
– Gamma 2.17 / 2.20 (2.1 – 2.3);
– Color Temperature 6,027K / 6,476K (6500K).
The color gamut for HDR content is identical to the LG OLED BX / CX. Vizio OLED provides near-perfect coverage of the DCI P3 color space (about 97%) and about 75% of the wider Rec. 2020.
The OLED H1 supports three HDR formats, including Dolby Vision, HDR10+, and HLG. At the same time, TV automatically activates one of them after determining the content format. What's more, each picture mode has a own HDR version.
Unfortunately, not very smooth black gradients limit the shadow detail, reducing the contrast in too dark scenes in ambient light. But black and grey uniformity is ideal.
SmartCast & audio system
The improved Vizio's SmartCast platform offers many new options for accessing to content. Several different menus contain movies, TV shows, music videos, news, etc. The list of apps on SmartCast includes Netflix, Amazon Prime Video, Hulu, Vudu, Apple TV, YouTube, YouTube TV, Xumo, Peacock, CBS All-Access, Fandango and a few music streaming apps like Pandora, Tidal and iHeartRadio. In fact, HBO Max is the only major app missing.
Vizio WatchFree app allows you to stream some content for free with ads. Additionally, SmartCast is compatible with Amazon Alexa and Google Assistant smart speakers. Google Cast (for Android and Chrome) and AirPlay 2 (for iOS and macOS) further expand access to stream video from other devices.
Despite rare failures in Chromecast and AirPlay modes and reducing responsive right after startup, today SmartCast platform can be positioned as a versatile alternative to many competitors.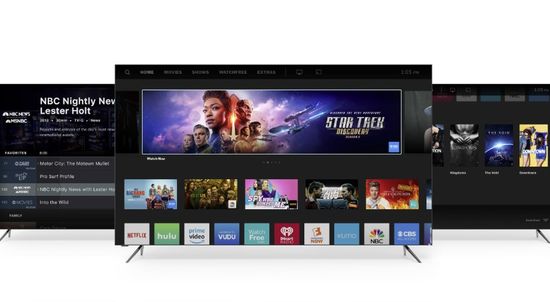 Audio system with Atmos passthrough and full soundstage due to DTS Virtual:X provides surprisingly good audio quality. Moreover, it's perfectly compatible with the Vizio Elevate 5.1.4 system.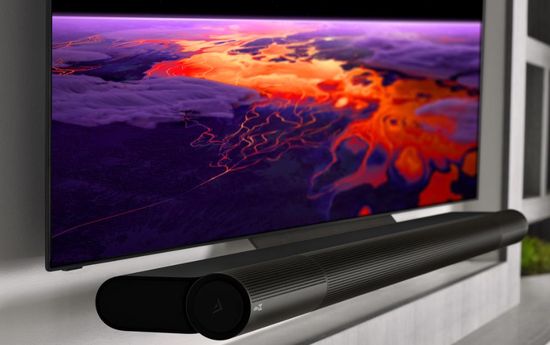 But TV sounds good enough on all bands even without a soundbar. Slight distortion appears above 90% of the TV's volume range.
Key features
Four HDMI ports of 2021 models comply with HDMI 2.1 standard with support for 4K@120Hz, VRR (variable refresh rate) and ALLM (auto low latency mode). Unfortunately VRR sometimes crashes.
As known, Vizio uses the ProGaming Engine for games.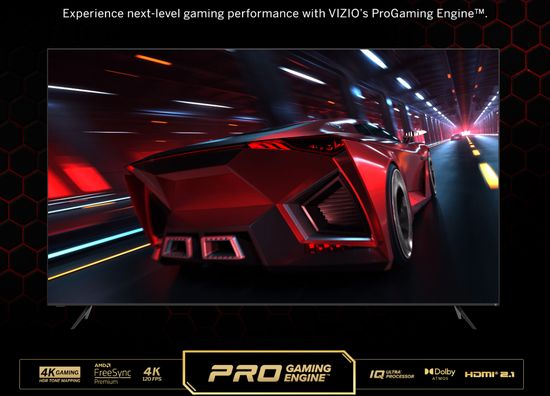 The testing shows an input latency of 21ms. For comparison, Sony Bravia A8H OLED – 18ms, LG BX OLED – 14.5ms, LG CX OLED – 13.1ms. But in principle, this difference is practically not felt in real games.
Motion handling is high, but not premium. With motion and judder compensation settings turned off, slight motion blur may appear when playing content at 24 fps (frames per second). But compensations cause a 'soap-opera effect'.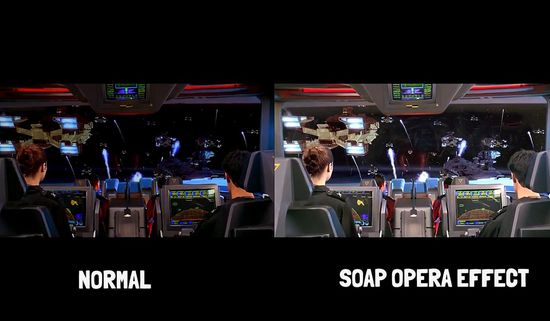 However, it does not bother many viewers.
The H1 displays high-res content perfectly, but its picture processing performance is marginally inferior to competitors from LG or Sony for low-resolution and low bit-depth content. This can be seen, for example, when streaming content from Hulu, YouTube, etc, the content of which is limited to 720p or are highly compressed.
To prevent pixel burn-in, H1 uses almost every modern method, including turning off the static screen after 30 seconds, pixel-shifting technology and a brightness limiter.
Conclusion
This year's innovation boom has significantly stirred up the traditional marketing configuration in the TVs segment. Bright LG OLED G1 with innovative Evo OLED panel, Hisense U9DG with Dual Cell technology, which, according to the developers, will be able to provide up to 2 million primitive local dimming zones with fantastic dynamic contrast ratio, and new LCD TVs with Local Dimming based on mini-LED backlit radically expanded all price segments.
Today LG OLED C1 and Samsung Neo QLED TVs with mini-LED backlit ended up in the same price segment, making the analysis relevant LG OLED vs Samsung Neo QLED.
No doubt new LG QNED mini-LED models, Vizio TVs, Hisense TVs and TCL TVs will also contribute to the confusion.
Today the market offers OLED vs LCD TVs with / without Quantum Dots and mini-LED or Dual-Cell vs Laser TV.
But the Vizio OLED sits a bit outside of this fascinating chaos as the cheapest OLED TVs. It delivers amazing quality when playing high quality 4K HDR content, for example, from Amazon Prime Video, Netflix or Disney Plus. Images with rich, vivid and realistic colors looks truly incredible.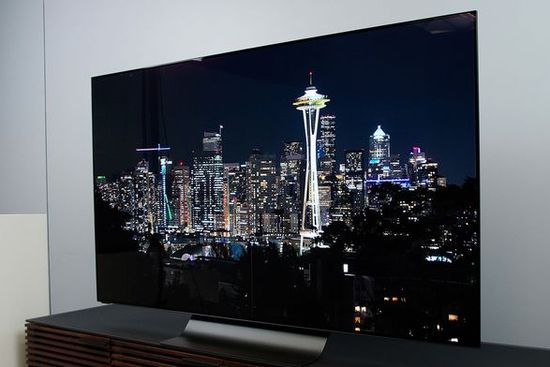 Overall, TV is great for 4K HDR content in a light-controlled room and last-gen games, but it's not ideal for HD cable networks in brightly lit living room.
This video offers a side-by-side picture quality comparison between Hisense H9G QLED vs Vizio OLED H1.