The innovation boom has become the main trend this year in the TVs segment. Indeed, almost all of their types have expanded due to models with innovative technologies. This list includes Evo OLED panels, mini LED backlit, Dul Cell technology and even Laser TVs. However, the last example is a marketing name, although it refers to a new technology trend. This explosion has stirred traditional competitive configurations.
Until a few years ago, the market offered premium Micro LED panels and OLED TVs based on self-emitting LEDs without backlit, and reliable and significantly cheaper LCD TVs with significantly lower picture quality.
The superb image quality of Micro LEDs is due to their excellent contrast and high brightness. In addition, these panels use a modular principle without limiting the screen size. For example, at CES 2019, Samsung has 13-inch Micro LED modules. They are assembled into a single panel using magnetic mounts.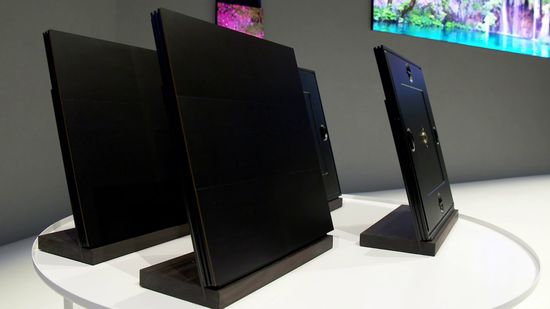 Today they are the best in terms of size and image quality. But the 110-inch Samsung Micro LED panel unveiled at CES 2021 reaches $ 156,000. If the price does not bother you, this panel will perfectly fit into the interior of a luxury villa.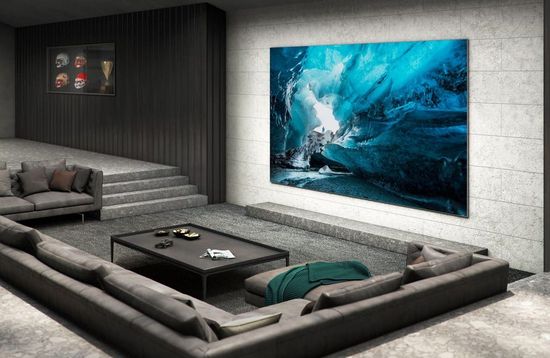 The price of OLED TVs is much more real. Unfortunately, the brightness of OLED panels is limited, but perfect blacks provide excellent contrast and, by extension, high HDR performance. But the price of an OLED panel rises sharply as its size increases.
Of course, LCD TVs makers don't waste time either. Their Quantum Dot (QD) technology and Local Dimming have drastically reduced the difference in image quality.
QD (Quantum Dot) Technology
This revolutionary technology has been developed and refined over the past few years.
QD has significantly expanded the color gammut, color accuracy and overall brightness of LCD panels. The elegance of this solution is almost aesthetic pleasure. In short, South Korean developers have significantly improved picture quality by enhancing the white quality of the backlit. They created an analogue of a small sun, generating almost perfect white inside the TV from blue, red and green. In fact, an array of blue LEDs emits a light flux onto a special film with nanoparticles, the size of which corresponds to red and green wavelengths. These nanoparticles partially absorb blue photons and emit blue and red, respectively. After the film, the passed blue is mixed with the generated red and green, forming an almost perfect white.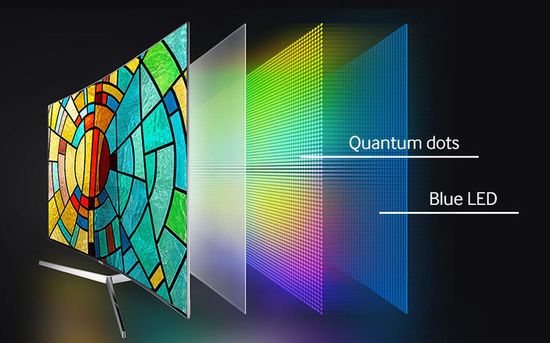 As a result, the picture quality of LCD TVs has improved significantly.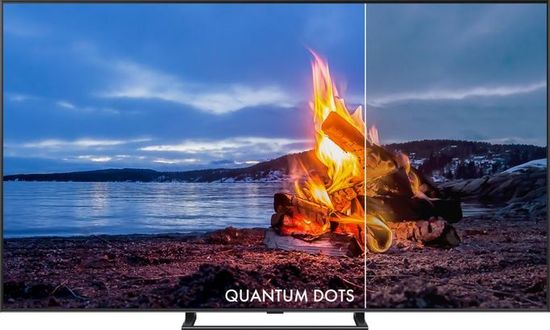 Today almost all industry leaders offer TVs with this technology, including Samsung QLED, LG NanoCell, Sony Triluminos, Hisense ULED. However, TCL, Visio, Panasonic and some other companies use common names with 'quantum dot' word combination. This is due to copyright, because Samsung has patented the 'quantum dot technology'.
Local dimming
Local Dimming has become the second mainstream of LCD TVs development. As known, the ideal contrast of OLED panels is due to the lack of backlit. In fact, the absence of a control signal from the output of the transistor corresponds to an off state of the self-lit LED, providing an absolute black pixel. The backlit of LCD panel is always on. As a result, part of its luminous flux constantly passes through the RGB matrix, reducing the overall image contrast (contrast = the ratio of the brightest to darkest points on the screen). Local Dimming effectively solves this problem by adjusting the backlit intensity in each frame area. In fact, it turns off the backlit in the dark areas, dramatically increasing overall image contrast.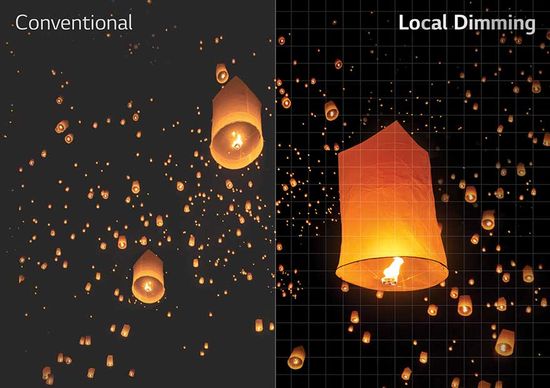 This technology uses independently controlled arrays of LEDs grouped into zones. About 5 years ago, the number of Local Dimming zones varied from several dozen to several hundred. For example, the legendary TCL 6 series used only 96 zones.
Mini LED backlit
Then, the companies developed a revolutionary mini LED backlit with miniature LEDs.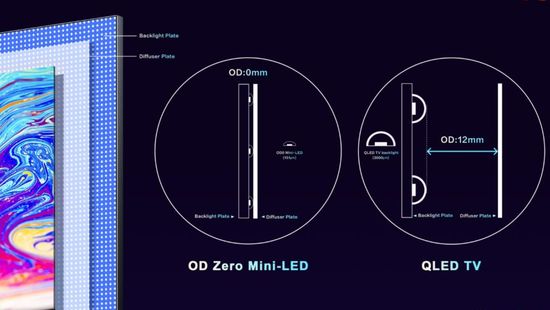 Their tiny size allowed developers to place tens of thousands of miniature LEDs on the matrix, dramatically increasing the number of Local Dimming zones. This March TCL unveiled the phenomenal 85-inch TCL X12 8K Mini LED Starlight with an unprecedented 96,000 LEDs. Unfortunately, the estimated price of this Chinese miracle is $ 15,000.
But, of course, the vast majority of models with this technology are much cheaper and, as a rule, use several tens of thousands of mini LEDs, and the number of zones varies from several hundred (55, 65-inch models) to more than a thousand in TVs with a larger screen.
Today the companies offer the following series with mini LED backlit:
– LG QNED;
– TCL with OD-Zero mini LED backlit;
– Hisense U9GQ 8K (UK and Australia).
However, other companies are unlikely to ignore this technology, and in the near future the list of mini LED TVs may expand.
OLED TVs
This year was also a milestone for OLED TVs. Earlier, OLED panels belonged exclusively to the expensive premium segment. But LG's efforts were not in vain. This company was able to significantly reduce prices and improve technology. Today's LG OLED TVs list includes:
– the popular LG OLED CX 4K 2020 – $ 1,760 for the 65-inch model with α9 Gen 3 AI Processor & webOS 5.0;
– new LG OLED C1 4K 2021 – $ 2,100 for 65-inch model with α9 Gen 4 AI Processor 4K & webOS 6.0;
– great LG OLED G1 4K 2021 – $ 2,800 for a 65-inch model with α9 Gen 4 AI Processor 4K, webOS 6.0 and innovative OLED Evo panel with up to 1,000 nits brightness.
Probably, a few years ago, such a price level for premium TVs would have provoked a hype in the consumer market. But today it's perceived as quite normal.
Unfortunately, the increase in the OLED diagonal is still accompanied by a sharp rise in price. For example, the 77-inch LG C1 is about 70% more expensive than the 65-in TV and costs $ 3,500.
Therefore, today OLED 4K TVs up to 65 inches are a very profitable choice.
In addition, the innovative OLED Evo panel can give a powerful impetus to the development of OLED technology. It uses an advanced LGD White-OLED stack structure based on an additional third green emitter layer between two blue emitters, which are made from deuterium instead of hydrogen. More efficient new blue emitters increases the panel brightness without increasing the current.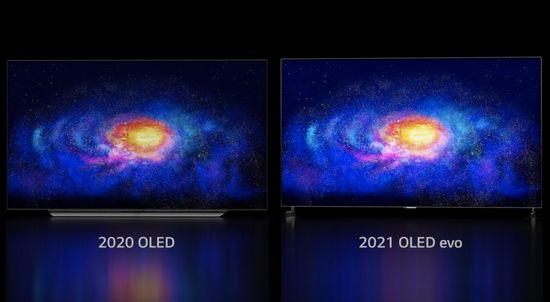 According to preliminary information, Sony A90J and Panasonic JZ2000 TVs may also receive new Evo panels by the end of the year. But today they are only used in the LG OLED G1.
8K TVs
The situation in the OLED 8K segment has not changed. For example, the OLED Signature ZX 8K (2020) price exceeds $ 30,000.
8K LCD TVs are also significantly more expensive. In particular, the price difference between 4K and 8K Samsung QN900A 8K vs QN90A 4K is almost 50%:
– 65"- $ 4,500 vs $ 2,300 ($ 2,200);
– 75"- $ 5,800 vs $ 3,000 ($ 2,800);
– 85"- $ 7,500 vs $ 4,000 ($ 3,500).
Moreover, the discourse about the prospects of 8K resolution has been going on for several years.
Firstly, the convenient viewing distance is usually at least 2.5 meters for a 65-inch TV. At the very least, the shorter distance creates neck discomfort. But the vigilance of our vision is much inferior vision of an eagle. According to many ophthalmologists, the human eye ceases to perceive the difference between 4K and 8K from a distance of several meters.
Several years ago, South Korean scientists conducted several experiments. Indeed, most of the subjects did not distinguish between 4K and 8K images from each other already at a distance of several meters. But many confidently identified the 8K image with a cup of coffee, which they thought was 'hotter' vs 4K. This result confirms the hypothesis about the influence of resolution on immersiveness ('presence effect'). Additionally, some physiologists note that brain fatigue also depends on the content resolution. In particular, the brain is forced to interpolate the missing pixels to form a complete image. Finally, the efficient AI 8K upscaling really improves the quality of lower content.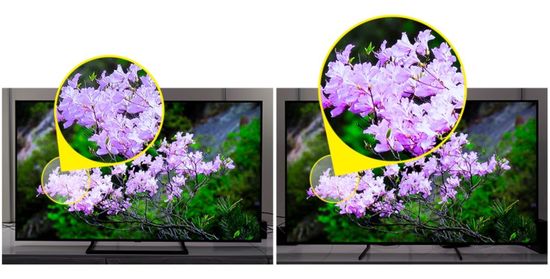 Maybe these arguments will become a serious factor in favor of 8K models in case of price adjustments, but today their difference is too great.
LCD TVs
The high prices for OLED TVs with large screen & 8K models, and high efficiency of QD & Local Dimming technologies create good prospects for LCD 4K TVs with screens from 75 inches and above.
Today this segment includes:
– models without QD & Local Dimming – from $ 800;
– TVs with QD display (Samsung QLED, LG NanoCell, Sony Triluminos, Hisense ULED) and with Local Dimming, but without innovative mini LED backlit – from $ 1,000;
– TVs with QD & Local Dimming based on mini LED backlit (Samsung Neo QLED, LG QNED, TCL OD-Zero) – from $ 1,800.
The video at the end presents the latest TCL 8K mini LED TV 2021, which became the continuation of the legendary 6-series.
But the announced Hisense U9DG 4K Android TV with innovative Dul Cell technology could make significant adjustments. The preliminary price of the 75-inch model is $ 3,500. For comparison, the 75-inch Samsung Neo QN90A costs $ 3,150, the LG QNED MiniLED 90 Series costs $ 3,000. Of course, the price difference is significant. But besides the traditional Local Dimming, the U9DG with new technology uses an additional 1080p monochrome layer to generate a black and white image that performs the Local Dimming function. In fact, every pixel of this layer acts as a primitive Local Dimming zone.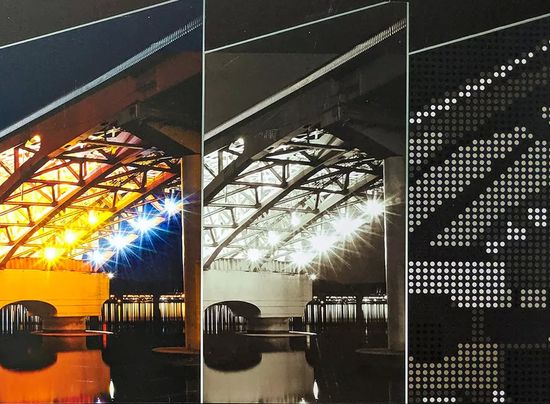 Accordingly, this TV should have about 2,000,000 primitive Local Dimming zones. Moreover, the company promises to increase the resolution of the additional matrix to 4K, increasing the number of primitive Local Dimming zones to 8,000,000. It's scary to imagine the dynamic contrast ratio of this TV, even if the company's promises are only half true.
Laser TV
The review would probably not be complete without Hisense L5F Laser TV. Of course, this is just a marketing name. Indeed, the built-in TV tuner can receive / decode the signal, and gives reason to position such device as a TV. But in principle, any projector with TV tuner can be positioned as a TV, the screen of which is placed outside the body. However, Android OS with smart TV apps perfectly provides content for projectors without a TV tuner.
The rapid advancement of Ultra Short Throw (UST) projectors with ultra wide angle lens has radically simplified the problem of placing projectors in the living room. These models are placed almost flush against the wall.
Also, huge progress of solid state light engine has allowed companies to develop affordable, reasonably compact and powerful laser projectors with a brightness of several thousand lm without the noisy fan, which is necessary for cooling in powerful lamp projectors. Moreover, the development of screen mirroring technologies has practically eliminated the problem of content for projectors. All of these factors have spurred the rapid rise in popularity of UST laser projectors as a living room TV replacement. Some vendors call them living room projectors.
The addition of a built-in TV tuner for receiving TV signals was another step in this direction.
But UST projectors have an important key feature. These models project the image onto the screen at a very sharp angle. As a result, the traditional ALR (Ambient Light Rejecting) screen partially reflects the light flux upward instead of the viewing area (the angle of reflection is equal to the angle of incidence). Of course, companies took this factor into account and developed special UST screens with complex surface texture.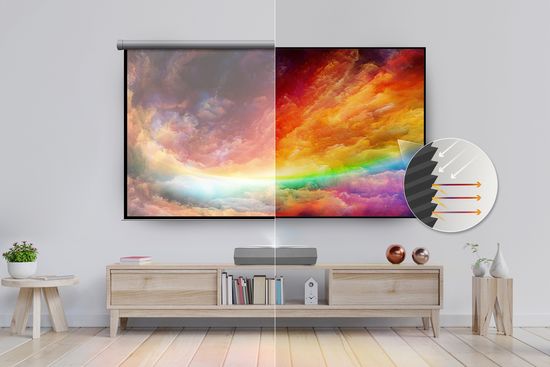 They are effective, but unfortunately very expensive. For example, a 100″ UST ALR screen costs about $ 1,000, while a 120″ screen goes up to almost $ 2,000.
This created a juicy situation. Not wanting to risk their reputation, some companies, including Hisense, sell projectors only with a UST screen, the use of which guarantees the promised high quality. But, of course, it significantly increases the price. Other companies including Epson, Optoma only recommend its use. Such a policy seems more promising. In the end, the consumer can keep the UST screen from the previous projector or win it in the lottery.
In addition, the efficiency of the reflected luminous flux is only important when viewed in a bright enough ambient light. For example, in the evening without electric lighting, a UST projector with a brightness of 2,000 lm will provide high quality even with a conventional ALR screen.
Conclusion
Of course, such a variety of offerings significantly expands and complicates consumer choice.
Comparisons:
– LG OLED vs Samsung Neo QLED;
– Samsung Neo QLED vs LG QNED.
Of course, the start of sales Hisense U9DG 4K with innovative Dual Cell technology will expand the list of comparisons.
In addition, LG and TCL promise to introduce their series with mini LED-based Local Dimming. The companies have already submitted their specs, but only a few models are available for sale.
Additionally, traditional TVs will face tough competition with the laser UST projectors, (living room projectors or Laser TVs for models with built-in TV tuner). Today, this list includes:
– Epson EpiqVision series, including EH LS300 – $ 1,900 without screen and EH LS500 – $ 4,000 with 100" screen;
– VAVA 4K projector – $ 2,800 without screen;
– Optoma CinemaX P2 projector – $ 3,300 without screen.
Considering the large screen size and high image quality, this solution can become attractive for consumers with innovative philosophy.
In general, the choice of the optimal model significantly depends on the screen size and today includes:
– up to 65 inches – LG OLED TVs;
– from 75 inches – TVs with QD & mini LED backlit – based Local Dimming (Samsung Neo QLED, LG QNED, TCL OD-Zero, etc);
– from 100 inches – Laser TVs or UST laser projector (with / without TV tuner);
– from 100 inches – Micro LED panels provide impeccable quality at an insane price and harmoniously fit into any luxury villa interior.