Probably, the new line of Epson EpiqVision laser projectors is one of the main events of the last year in the segment of premium projectors. The company is positioning this series as a new generation of laser streaming living room projectors as an alternative to TVs.
The series includes the EF 100, Mini EF11, Mini EF12 models under $ 1,000, UST LS300 and LS500 for $ 2,000 and $ 4,000, respectively.
Epson EF 100 was unveiled at CES 2020 and became the first model in series. In September 2020 at the CEDIA, the company presented the LS500. Finally, in November 2020, Epson expanded the series with the Mini EF11, EF12 and UST LS300.
EpiqVision LS500 UST projector is the brightest and most expensive. It has 4,000 ANSI Lm brightness (CLO), 1920 x 1080 resolution or 4K with pixel-shifting, 2,500,000:1 dynamic contrast ratio, uses 10-bit color processing and supports Full HD 3D. Its MSRP (manufacturer suggested retail price) is $ 4,000 for LS500W / B (white / black, no screen), MSRP $ 5,000 for LS500W / B-100 (100 "screen), and MSRP $ 6,000 for LS500W / B -120 (120" screen).
Moreover, Epson's measurement technique of brightness in 3LCD projectors differs significantly from the traditional ANSI Lm measurement. The company calls it CLO (Color Light Output). As known, Epson's 3LCD technology eliminates the loss of brightness in the image forming process through a combination of red, green and blue colors. As a result, white brightness and color brightness are always the same in three-chip 3LCD projectors. In comparison, DLP technology uses only one color at a time, losing the brightness of the other two colors. Therefore, the real projection brightness of 3LCD is higher.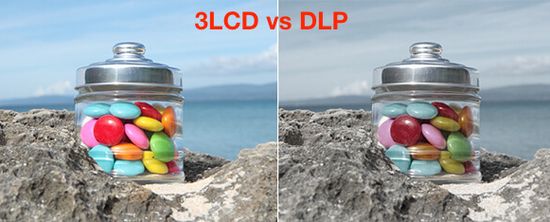 Settings
LS500 has unusual design with a large, periscope-style lens and weighs 20.5lb (9.3 kg) with dimensions 8,3 x 18,1 x 15 inches (21 x 46 x 38 cm).
The 5-position Enhancement control activates the pixel shifting for enhanced detail. But Preset 3 is ideal for most 4K content without edge adjustments. Despite the abundance of adjustments, the LS500 does not require additional settings out of the box, which is very convenient for most users.
The LS500 operates in 4 color modes with simple and effective adjustments. In particular, the projector uses several common settings for all modes, including 9-position color temperature setting, RGB Gain and Bias controls, and a separate Grayscale control to individually adjust the brightness for red, green, and blue. In addition, the model uses RGBCMY color management system (CMS) for Hue, Saturation, and Brightness adjusting.
Gamma control supports multiple settings and a graphic Custom mode.
In all viewing modes the projector offers HDR and 3D brightness settings while automatically detecting HDR and 3D content. These settings are saved and run for all color modes.
Memory function provides storage of up to 10 settings configurations. Unfortunately, the remote does not support direct access, and using this option through the menu requires more than 10 keystrokes. Of course, this is not very convenient for everyday use. Setting Color Modes for different viewing conditions and signal types instead of stored in memory is simpler and more convenient. In this case, Color Modes are accessible as an early first stop on the menu.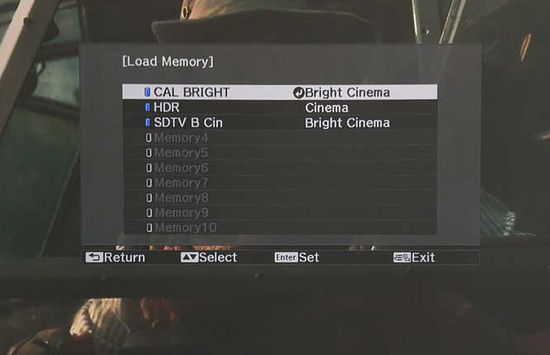 Technologies, color modes and connections
Of course, the projector uses almost all of the company's innovative technologies.
4K PRO-UHD is an advanced pixel-shifting projection technology. In fact, it doubles their number, increasing the resolution to 4K.
Realtime 12-bit analog-to-digital video processing eliminates banding, blocking, and other compression artifacts.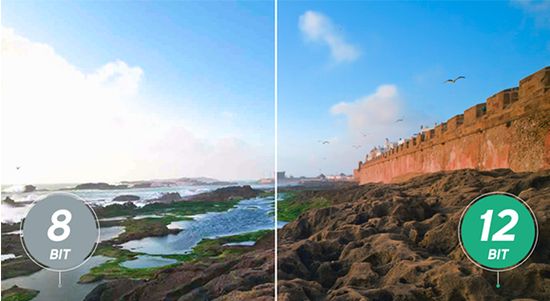 Full 10-bit HDR color processing provides lossless playback of HDR content.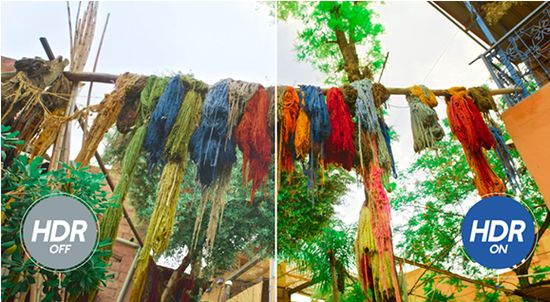 An advanced digital masking feature provides control the image on all four sides of the screen.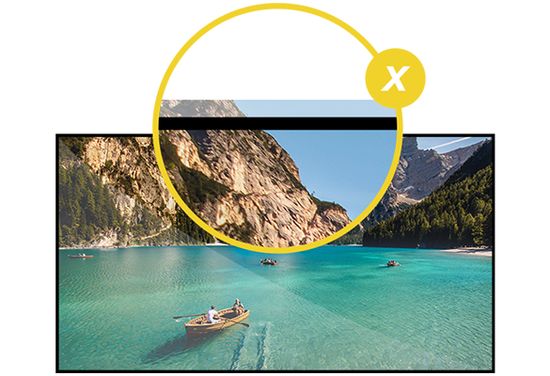 Traditionally, Dynamic is the brightest Color Mode. But it has green bias, so it's optimal only when viewed with minimal ambient light. Default Bright Cinema is optimal for well-lit room. Much less bright Cinema mode provides the same accurate, but with less eye strain, which is ideal for watching movies in a dark room. Game mode is closest to the Rec.709 SDR HDTV standard. But default Enhancement Preset of 1 seems suboptimal. Changing it to 3 slightly increases the contrast and saturation compared to Cinema mode.
Brightness Testing:
– Dynamic – 4,050 / 2,010 ANSI Lm (Normal / Eco);
– Bright Cinema – 2,406 / 1,190;
– Cinema – 2,350 / 1,180;
– Game – 2,220 / 1,100.
Connections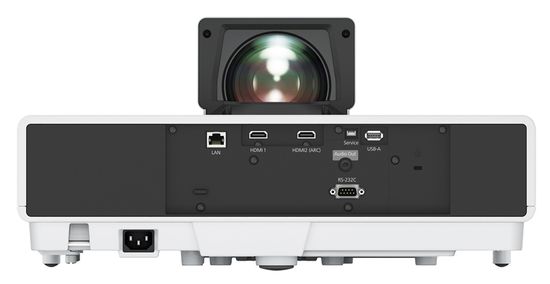 – HDMI 2.0b with HDCP 2.2 (x3, one with ARC);
– RJ-45;
– RS-232C;
– USB power (5V, 2A) for HDMI 3/Android Streamer;
– USB-A for optional WiFi dongle;
– Mini USB (service);
– 3.5mm audio out;
– USB power (5V, 1.5A);
– Micro USB for firmware updates.
Performance
Dark-Room SDR
Grayscale RGB balance in default Game Mode requires almost no calibration. Minor customization with the RGB Gain and Bias controls, and changing the Gamma setting provided DeltaE errors below 3, which is the perfect result.
The Frame Interpolation motion compensation option in menu is active only for 1080p@24 signals and offers Off, Low, Normal, and High.
Dark-Room HDR
The calibrated Game mode for HDR movies works perfectly after adjustments with 16-step HDR Setting control. Its high granularity great optimizes the tone-map for any content.
The projector has a default HDR setting of 8. But it's too dark for movies with around 1,000 nits peak. Positions 2, 3 or 4 seem to be more optimal for most of the content.
Bright-Room SDR
Probably viewing SDR content in bright room will be the main mode in case of using LS500 instead of a TV. As known, Bright Cinema mode is optimal for these conditions. Default Bright Cinema mode out of the box combines the high color accuracy, great contrast, exelent brightness and practically does not require calibration.
Moreover, the high brightness maintains excellent image quality even with little sunlight in the room during the day and after turning on the lamps in the evening. In fact, this projector can really replace the TV, ignoring the ambient light.
Full 1080p 3D
The color temperature correction in Dynamic mode included green reduction and red boost. This was enough to eliminate bias to green. Minor adjustments of the Brightness and Contrast provided the ideal color-balanced 3D. Menu of this mode includes a Brightness setting and a 3D Depth control.
Key features
Its optics with a Throw Ratio of 0.29: 1 provide an Image Size of 70 "- 130" at a Throw Distance of 0.2 m to 0.6 m (100" ~ 0.4 m).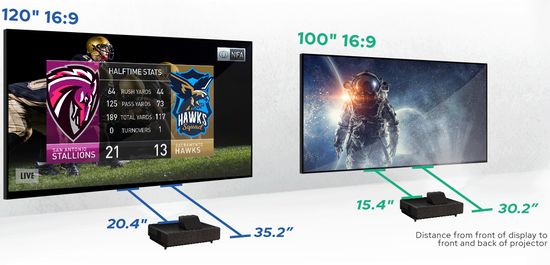 Company positions the LS 500 as first UST gaming projector with a rated input lag of 16.7 ms only, and 18Gbps HDMI 2.0/HDCP 2.2 ports for 4K HDR@60 Hz.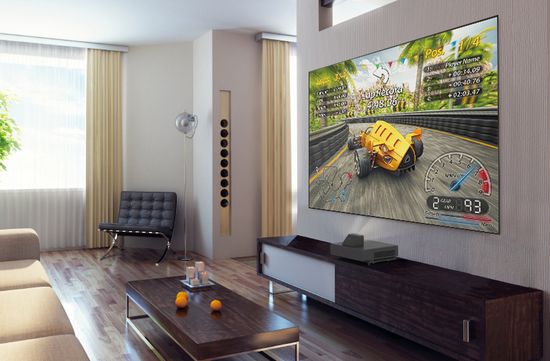 Real testing confirmed the stated specs, showing 21 ms with 4K@60 Hz and 27 ms with 1080p@60 Hz (menu option for low lag).
Of course, the supplied Android TV HDMI streaming dongle is a significant plus of the projector. The stick is located in a separate compartment, has its own power USB port, and uses apps from the Google Play store.
The microphone-equipped remote provides voice searches or information queries via Google Assistant.
Dongle-integrated Chromecast supports photo sharing and casting of compatible apps from mobile devices, but only works with WiFi.
Android TV stick displays all content at 4K with an HDR flag due to the always active HDR brightness control. However, this is convenient due to the absence of gamma and color distortions typical for SDR content.
Two remotes for projector and for Android TV dongle allow you to use it on a different display.
Unfortunately, the projector does not have a built-in media player to display directly with a USB flash drive.
Also LS500 does not use a proximity safety detector to automatically turn off the laser. The likelihood of such a threat is small, but absence of this option reduces the safety for the eyes of children or pets.
Pros & Cons
Pros
– gorgeous image brightness;
– very good out-of-box color for SDR/HDR;
– high quality 3D;
– large lens with uniform focus;
– сomes with UST ALR screen.
Like Hisense, Epson offers versions with a specialty UST (Ultra Short Throw) ALR (Ambient Light Rejecting) screens. Their price is $ 1,000 (100″ screen) and $ 2,000 (120″ screen).
The company's initiative is quite reasonable. Not wanting to risk its reputation, Epson is trying to encourage the consumer to use the projector with an expensive but effective UST ALR screen. In fact, it helps to maintain the claimed image quality in a sufficiently bright ambient light.
Unfortunately, the traditional and relatively affordable ALR screen is ineffective for UST projectors due to the small distance between the projector and the screen and, accordingly, the steep angle of incidence of the projector's light. As a result, traditional retro-reflective and angular-reflective ALR screens re-reflect the projector's luminous flux into the viewing area with very large losses, significantly reducing the brightness of the image. Therefore, buyers of UST models as a living room projector should take this aspect into account. In fact, UST ALR screen increases the price of a projection system by about 25%. But otherwise, they will have to find a compromise between the need to darken the living room or the loss of image quality, which becomes faded in daylight.
Cons
– inconvenient access to image adjustments;
– no eye protection mode for the laser;
– no built-in media player;
– average level of audio quality.
The lack of a premium integrated sound system indirectly increases costs. Given the high cost of the optional UST ALR screen, the overall price of an LS500-based system may become uncompetitive.
Conclusion
Lately Optoma, Hisense and Samsung have been actively promoting 4K UST laser projectors as living-room TV replacements. But this solution implies a fairly high level of ambient light, which, in turn, requires a high brightness of the projector. Therefore, the brilliant 4,000 ANSI Lm (CLO) brightness of the Epson LS500 makes it one of the best living room UST projectors.
Unfortunately, high image quality in daylight additionally requires the use of an efficient but very expensive UST (Ultra Short Throw) ALR (Ambient Light Rejecting) screen. Taking this factor into account, projectors are still inferior in price to traditional TVs. For example, the LS500 with a 100-inch screen costs $ 5,000. By comparison, the most affordable 85-inch Samsung 4K LCD TV without 3D costs $ 2,000 today.
Epson also offers the EH LS300 UST projector without 4K PRO-UHD, but with built-in speakers, which are tuned with innovative Yamaha's AudioEngine DSP technology. Its price is $ 2,000 without a screen, $ 3,000 with a 100 "UST ALR screen and $ 3,000 with a 120″ screen. Basically, the variant with a 100″ UST ALR screen is already close to the price of an 85" LCD TV.
Moreover, the user can also choose a compromise between an expensive screen, a partial loss of quality with a more accessible ALR screen, or dimming the living room. In the evening, without electric lighting, the projector will provide excellent quality on an inexpensive ALR screen.
Probably, further improvement of TVs and projectors will eventually create the prerequisites for creating a media hybrid, removing the discussion about the pros & cons of each of these devices. But today the competition between them continues.
The video demonstrates the Epson LS 500 UST laser projector.
P.S.
This fall, Hisense has formally announced availability of the newest L9G Laser TV with innovative TriChroma Laser technology that delivers an unprecedented 107% coverage of the BT.2020 color space.