Probably, using streaming laser UST living room projectors instead of traditional TVs can be considered one of the main trends of the last year. This is primarily due to the tremendous advances in laser light sources and projection technologies that have dramatically improved image quality by increasing brightness, contrast, resolution, expanding color gamut, improving color accuracy, etc. At the same time, their cost remained practically unchanged. In addition, modern screen mirroring technologies have radically solved the problem of providing content for projectors. As a result, fans of watching on the big screen got a great opportunity to realize this idea, replacing the traditional TV with a projector.
Features
But this trend has several nuances. Unlike the home theater model, the living room projector must provide a high brightness to compensate for a sufficiently high level of ambient light. For example, in diffused daylight, the image of budget LED projectors with great specs, but with light output up to 1,000 ANSI Lm will be too faded. Of course, window blinds or viewing in the evening partially eliminates this problem, but a too dark living room is not very comfortable.
Traditional lamp projectors also have a major drawback. A high bulb temperature requires a large internal volume to dissipate heat, and a powerful fan, whose operation is accompanied by high audible noise. Therefore, they are bulky and noisy. Laser light engine provides light output of several thousand ANSI Lm, does not get hot, has over 20,000 hours service life and is ideal for the living room.
In addition, the projector requires placement. Home theater models do not create this problem. Usually, they have a ceiling mount. In addition, the home theater room allows you to conveniently place the projector in the center on a table with hidden wires. In a living room, this solution is not always convenient. Manufacturers have solved this problem by developing the UST (Ultra Short Throw) projectors. Their optics provide projection of 100″ or more images with a throw distance of just over 10″.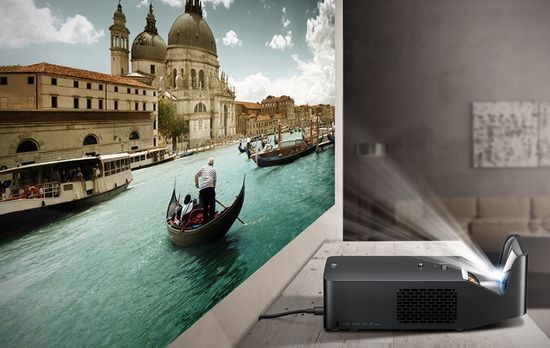 But unlike mid-focus projectors, their light falls at a very small angle to the plane of the screen.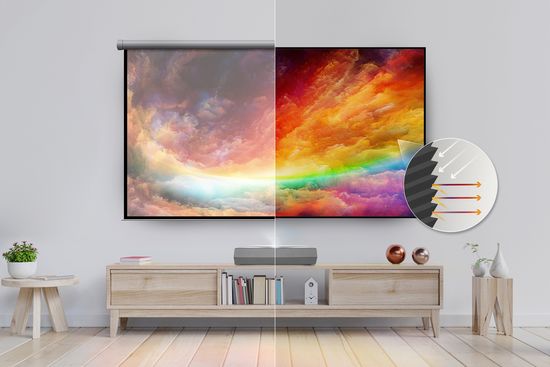 Therefore, its effective reflection requires a special UST ALR (Ambient Light Rejecting) screen, price which reaches $ 1,000 for a 100-inch screen. Of course, the traditional and more affordable ALR screen also quite successfully solves this problem, but with a partial loss of image quality.
Optoma CinemaX 4K DLP laser projectors
Traditionally, industry leaders dominate a new direction. For example, last year Epson introduced a new Epson EpiqVision series, including LS300 and LS500 UST projectors. Hisense has also expanded its Laser TV line with a 100L5F 4K Laser TV UST projection system worth $ 4,000 (100-inch UST ALR screen included). Samsung has announced a single-laser model priced at $ 4,500 and a $ 6,500 tri-laser flagship.
Of course, Optoma did not stand aside, presenting a CinemaX series of 4K DLP laser projectors, includung P1 in September 2019 ($ 3,226), Pro in March 2020 ($ 3,800), and P2 in September 2020 ($ 3,300).
Except for the color, their designs are identical.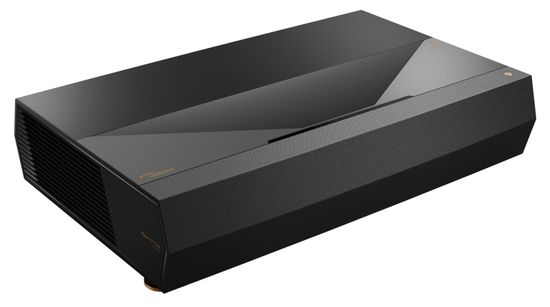 All models support 4K UHD (3840 x 2160) resolution, 10-bit Color Processing, Rec.709 Color Gamut Coverage, Full HD 3D, use 1 cm DLP x 1, NuForce 40W Dolby Digital 2.0 soundbar, and provide Image Size of 85"-120" with Throw Distance of 1,6 ft – 2,3 ft (0.5 m – 0.7 m) at Throw Ratio of 0.25:1.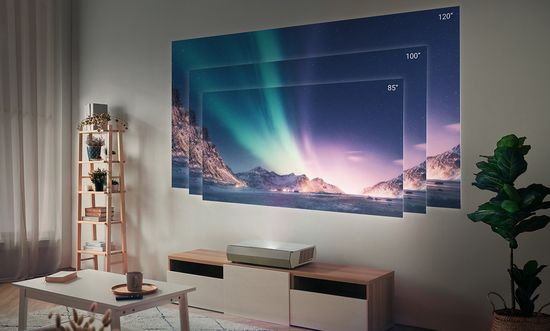 The built-in soundbar is compatible with outboard subwoofer via analog audio output, and uses four drivers, including two 2-inch tweeters and two 2.75-inch woofers in isolated and ported chambers.
Smart+ technology supports Amazon Alexa, Google Assistant, and IFTTT (If This Then That).
P1 and P2 provide 3,000 ANSI Lm brightness, but Pro's light output reaches 3,500 ANSI Lm.
P2 uses six-segment Color Wheel, P1 and Pro have 8 segments version. Contrast with Dynamic Black enabled is 1,500,000: 1 for P1, 2,000,000: 1 for P2, and 2,500,000: 1 for Pro. Input Lag is 122ms, 67ms, and 55ms for P1, P2 and Pro, respectively. P2 runs Android OS with smart TV apps.
Optoma CinemaX P2 4K DLP laser projector
The combination of a 0.47-inch DLP XPR micromirror chip with UHD resolution and superior optics delivers sharp and detailed image with very crisp pixel-level delineation in the screen center.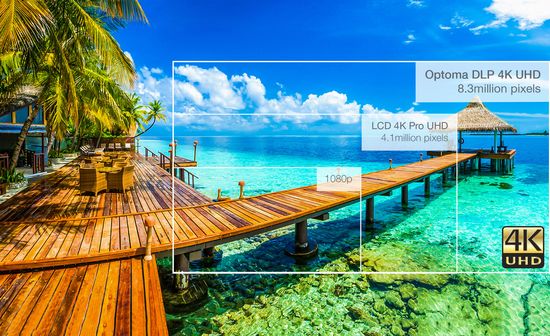 At the edges, focusing slightly deteriorates, but usually the eye does not notice this difference.
Traditionally for single-chip DLP technology, P2 uses a single blue laser, the light of which is directed to a yellow phosphor wheel and a color wheel to generate the primary colors.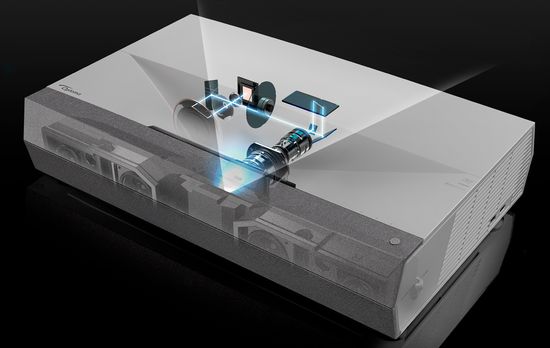 P1 and Pro use an RGBYRGBY color wheel, adding yellow to the red, green, and blue primaries to increase projector brightness. But developers abandoned a white or yellow segment in the P2. As known, this solution extends the gamut in case of minimum DLP BrilliantColor control settings.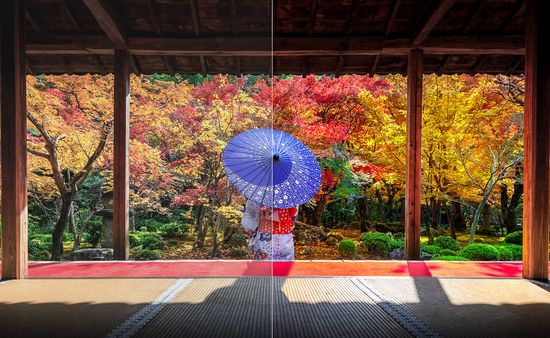 The color gamut of model reaches 120% Rec.709 and about 80% for the DCI-P3, which corresponds to modern 4K content. The extension of gamut beyond Rec.709 is especially visible in the saturation of deep red colors.
The improved laser dimming scheme provides dynamic contrast ratio of 2,000,000: 1, increasing the black level when viewed in a dark room vs P1.
The company has also expanded smart features by adding the on-board streaming apps from the Optoma Marketplace driven (Android-based Aptoide platform) and FRAMED digital art screensaver. Of course, SmartFit (auto geometry correction system), TapCast (initiating screen mirroring) and Optoma InfoWall (screen customization) apps are also available.
But many experts justifiably criticize the Aptoide streaming platform because of its fuzzy work with Netflix and Amazon. As a consequence, buying a 4K-resolution streaming dongle for $ 50 is often the best choice.
Color modes and key features
Color modes for 1080p/SDR (standard dynamic range) content:
– cinema (the out of box default) – significantly brighter, but slightly less color accurate vs reference (best suited for ambient light viewing);
– HDR Sim (simulating an HDR effect with SDR);
– game – high brightness with more saturated colors;
– reference – the most color accurate and least bright mode out of the box (best suited for dark-room movie viewing);
– bright – insignificant green bias;
– user (mimicking the Cinema mode).
In general, Reference and Cinema are ideal for dark- and bright-room SDR modes with adjustable of Brightness (black level) and Color saturation.
Several additional modes are activated for HDR (high dynamic range) content (HDR10 or HLG) and for 3D. All modes provide the same access to RGB Gain/Bias for grayscale and a full RGBCMY color management system (color point alignment). A laser brightness is adjusted from the 100% (default) to 50% brightness in 5% increments. Also, they can switched into graduated DynamicBlack settings to enhance black on dark content.
The HDR mode is very good out of the box. The HDR Brightness control offers Detail (dimmest image for the darkest titles), Film, Standard, or Bright (adding the most punch to bright highlights in HDR titles) sub modes.
An increase in the internal refresh rate in the last firmware update for Gaming Mode (without geometric correction and PureMotion frame interpolation) reduced lag to a 66 ms for 1080p @ 60 and 4K @ 60 signals. Of course, this is a significant progress against P1, but it's suitable only for casual gaming.
Connections, Pros & Cons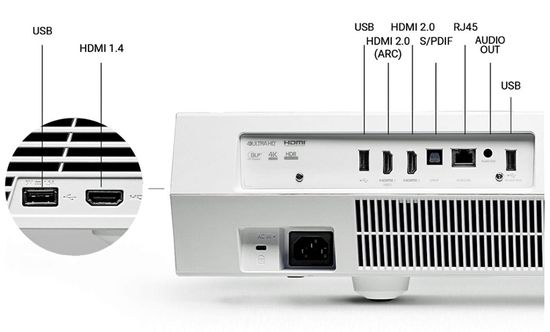 – HDMI 2.0b (x3) with HDCP 2.2, one with ARC;
– S/PDIF optical digital audio out (Toslink);
– Analog stereo audio out (3.5 mm);
– Bluetooth wireless in USB Type A 2.0 (4K media player), USB Type A 2.0 (media player, power), and USB Type A (firmware and service);
– Ethernet (RJ-45).
Pros
– very accurate out-of-box picture quality;
– high quality HDR and 3D playback;
– excellent on-board audio system that is compatible with outboard subwoofer;
– dynamic contrast ratio of 2,000,000: 1 with improved laser dimming scheme;
– expanded smart features;
– excellent NuForce 40W Dolby Digital 2.0 soundbar;
– 120% Rec.709 color coverage.
Cons
– controversial Aptoide-based web-streaming platform;
– too high Input lag is suitable only for casual gaming.
Conclusion
Of course, the Optoma CinemaX series is one of the best in the living room projectors segment. Probably, Epson EpiqVision series, including LS300 and LS500 UST projectors can be positioned as its closest competitor. The specs and functionality of the Cinemax P2 are closest to the Epson EpiqVision EH LS300 UST projector.
The great reputation of both leaders is backed up by excellent out-of-box projectors settings.
Of course, the Optoma CinemaX P2 wins in resolution (4K vs 1920 x 1080) and dynamic contrast ratio (2,000,000: 1 vs 1,500,000: 1). But the Epson is significantly brighter (3,600 ANSI lm – CLO vs 3,000 ANSI lm) and cheaper ($ 2,000 vs $ 3,300). Even with a highly efficient 100-inch UST ALR (Ambient Light Rejecting) screen, its price is only $ 3,000.
In addition, the perceived difference in image resolution is highly dependent on viewing distance. It's maximally visualized near the screen and decreases with distance. But, an image with a diagonal of 100 inches or more is hardly convenient to look at close range.
The NuForce 40W Dolby Digital 2.0 soundbar in CinemaX P2 is marginally more powerful vs the 20W 2.1 speaker system by Yamaha in Epson EpiqVision EH LS300, but both are premium audio systems.
In general, the companies' offers are quite comparable and present the buyer with a difficult choice. Given the brightness, the Epson is probably preferable for viewing in a fairly bright living room. But for a room with low ambient light with window blinds, the contrast and resolution of the Optoma CinemaX P2 can be a decisive pros despite the price.
Video introduces Optoma CinemaX P2 UST smart laser 4K Ultra HD projector
P.S.
This fall, Hisense has formally announced availability of the newest L9G Laser TV with innovative TriChroma Laser technology that delivers an unprecedented 107% coverage of the BT.2020 color space.