In recent years, industry leaders including Optoma, Hisense, and Samsung are actively developing streaming laser living room projectors as an alternative to TVs. Of course, Epson did not stand aside. Last year the company introduced the new EpiqVision series of excellent streaming laser projectors.
In January at CES 2020, Epson unveiled a mid-focus Epson EF 100 with 2,000 ANSI Lm brightness, which became the first model in series. In the fall, the company expanded the series with the four new models, including:
– mid-focus Mini EF11 and Mini EF12 with a brightness of 1,000 ANSI Lm and a price of under $ 1,000;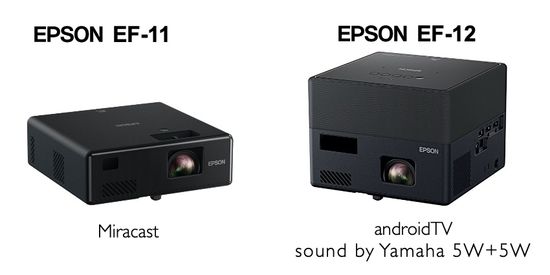 – UST (Ultra Short Throw) EH LS500 Ultra and LS300 Ultra with a brightness of 4,000 / 3,600 ANSI Lm for $ 4,000 / $ 2,000, respectively.
All models are 3LCD streaming laser projectors. Of course, Mini EF models and UST EH Ultra projectors use different optics and brightness, belong to different price segments, so their comparison is hardly correct.
Simplistically, the Mini EF11 is the budget version of the Mini EF12. The differences between the UST LS300 and LS500 are more significant and include design, price, specs, projection technology, functionality, etc.
LS 300 vs LS 500
LS 500 uses periscope-style lens.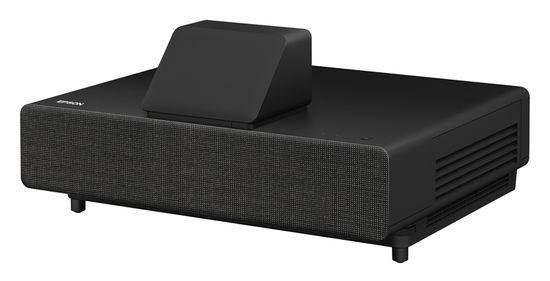 The lens in LS 300 is traditionally located in the front recess of its body. It's lighter (15.9 lbs vs 20.5 lbs) and smaller (5,9″ x 18,4″ x 15,7″ vs 8,26″ x 18,1″ x 14,9″).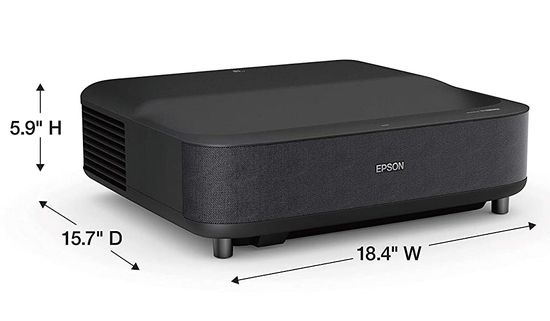 Model provides Image Size up to 120″. Its optics with a Throw Ratio of 0.27 projects a 120″ image at Throw Distance ~ 15.2″.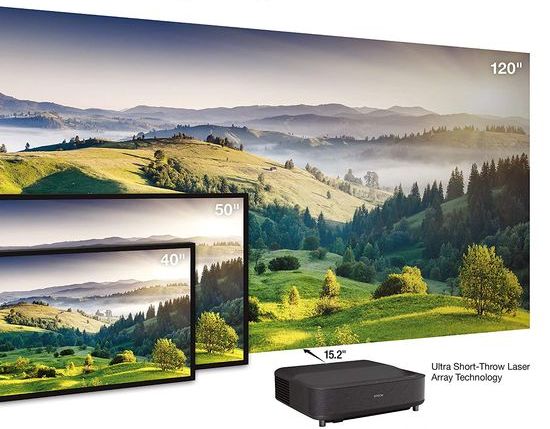 LS 300 is inferior in brightness (3,600 ANSI lm vs 4,000 ANSI lm), dynamic contrast ratio (1,500,000: 1 vs 2,500,000: 1), resolution (1920 x 1080 vs 4K with 4K PRO-UHD pixel-shifting projection technology,) and does not support 3D mode.
But unlike the LS 500, it's half the price ($ 2,000 vs $ 4,000), has a proximity safety detector to automatically turn off the laser, and uses an audiophile 2.1 speaker system by Yamaha.
Probably, adults are unlikely to look into the projector's laser during its work. But a safety detector is very desirable for curious children and pets. Unfortunately the LS 500 doesn't use it.
Epson has partnered with Yamaha designed a unique 2.1 sound system. Two high-end Yamaha drivers and a dedicated woofer in the 3D Acoustic Enclosure are powered by a discrete amplifier and tuned using Yamaha's latest AudioEngine DSP technology.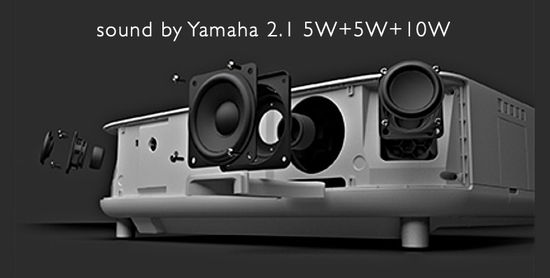 This system creates a deep and wide sound stage without an additional audio system or soundbar.
Additionally, model uses Advanced Scene Adaptive Color Correction.
Like the LS500, the built-in Chromecast provides wirelessly cast from a smartphone, tablet, or computer. In addition, built-in Android TV provides access to popular streaming services including YouTube, Hulu, etc right out of the box.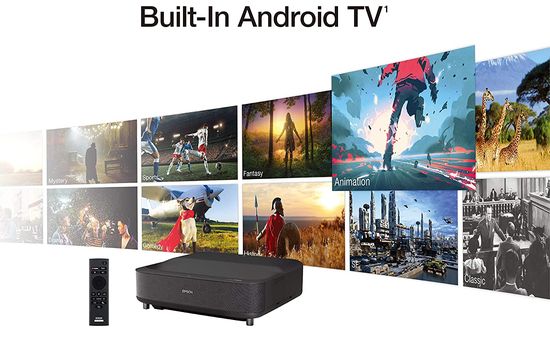 Performance
Like other Epson 3LCD projectors, the EpiqVision EH-LS300 uses three 15.5mm HTPS (High-Temperature Poly-Silicon TFT liquid crystal) panels based on Epson's C2 Fine technology and a laser diode.
C2 Fine technology (Crystal Clear Fine) was developed more than 10 years ago. It combines VA (Vertical Alignment) matrix with the so-called "inorganic alignment layer". Technology allowed the company to radically increase the brightness and contrast of its projectors.
The use of this light engine provides:
– long service life up to 20,000 hours;
– very fast switching on (few seconds);
– very high dynamic contrast ratio.
In addition, the brightness of Epson 3LCD projectors has an important feature. To measure it, Epson uses the CLO (Color Light Output) method. As known, 3LCD technology forms an image by combining red, green and blue colors. As a result, white brightness and color brightness are always the same in three-chip 3LCD projectors. In comparison, DLP technology uses only one color at a time, losing the brightness of the other two colors. Consequently, the real projection brightness of 3LCD is higher.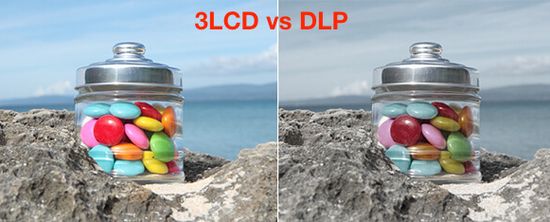 Therefore, 3,600 ANSI Lm brightness (CLO) is a very lot. The projector delivers crisp, bright images even in diffused daylight and under the fluorescent tubes without any problems. Moreover, the image was projected onto a traditional ALR screen instead of a expensive but more effective UST ALR screen.
In the dark, the projector delivers gorgeous colors and black levels, including HDR content from 4K Blu-ray. In general, night-time image quality corresponds to Home Theater level, including accurate colors and detailed image.
Despite native 1080p output, the projector supports Ultra-HD inputs including HDR and even Dolby Vision as HDR.
Placement and network streaming
As known, the placement of UST projectors differs significantly from traditional projectors due to the incidence of light at a very small angle to the screen plane and the absence of a zoom lens. In fact, its image size depends only on the throw distance. In particular, the distance of 15.2″ for a 120″ screen and 15.7″ depth adds up to almost 31″ or 75 cm, which of course can hardly be considered "almost flush against the wall."
Also, the slightest angle to any side causes trapezoidal distortion. To solve this problem, the model has an adjustment system for picture geometry with a dedicated button on the remote. In fact, it works like a traditional keystone correction system. Unfortunately, digital processing of Full-HD input signals is accompanied by partial loss of pixels. Therefore, accurate physical placement is preferable.
In addition, the focus adjust lever focuses the image unevenly for different parts of the screen. In particular, it only affects the top of the screen. However, the bottom of the screen is almost always in focus without additional adjustment.
Unfortunately, the network streaming settings have a nuance. In particular, the website contains a notice for this model: "Not all streaming apps are natively available on the EpiqVision EH-LS300B. An external streaming media device is required to stream some services, including Netflix. Netflix cannot be streamed using Chromecast from Android TV, iOS, Mac or Windows devices. "
In fact, the LS300 does not support Netflix and Prime through its built-in Android TV. But Chromecast with Google TV, connected via HDMI input, was able to provide a fairly smooth transmission of Netflix content. YouTube and other services work with built-in Android TV without problems.
Pros & Cons
Pros
– excellent price / quality ratio due to the relatively low price;
– sharp, contrasting and bright image even in bright ambient light;
– 20W 2.1 speaker system by Yamaha provides significantly higher quality compared to modern TVs. This system has Theater, TV, Studio, Stadium, Concert, and Karaoke modes. What's more, the Bluetooth connection allows you to use the projector as a standalone speaker;
– excellent contrast;
– a really high quality even for large picture.
Cons
– no Netflix / Prime support;
– no Ethernet connection, only dual-band Wi-Fi (2.4GHz and 5GHz, 801.11ac standard);
– without 3D mode.
Except for the inability to play Netflix and Prime Video direct, the projector has almost no cons. But with slow Wi-Fi, the lack of an Ethernet connection can also be a problem.
Conclusion
Thus, today the EpiqVision series contains:
– Epson EF 100 worth $ 1,000 with 2,000 ANSI Lm (CLO) brightness and 1280 x 800 native resolution;
– Mini EF12 for $ 1,000 with brightness of 1,000 ANSI Lm ( CLO), 1920 x 1080 native resolution and with 2.1 speaker system by Yamaha, and its budget Mini EF11 version for $ 800 without Yamaha's speaker system, HDR and streaming;
– the brightest EH LS500 4K UST projector at $ 4,000 with PRO-UHD pixel-shifting projection technology,, but without Yamaha's 2.1 speaker system;
– EH LS300 UST model for $ 2,000 with 3,600 ANSI Lm (CLO) brightness, 1920 x 1080 resolution (no pixel-shifting) and with Yamaha's technology.
Probably the EH LS300 has one of the best value for money among UST living room projectors today. Considering price and specs, it mainly competes with VAVA VA-LT002 4K UST laser DLP projector and Optoma CinemaX 4K UST laser DLP projector.
Additionally, the company offers versions of UST models with 100″ и 120″ UST ALR screens, but they increase the price by $ 1,000 and $ 2,000, respectively.
This video demonstrates the Epson EpiqVision Ultra LS300 Smart Streaming Laser Projector.

P.S.
Of course, the newest Hisense L9G Laser TV with innovative TriChroma Laser technology may change the situation in the segment of living room laser UST projectors.
In the fall, its starting price was $ 5,500 with 100-inch screen and $ 6,000 with 120-inch screen. But today it decreased by $ 1,000, to $ 4,500 / $ 5,000, respectively. Considering the approximate price of a 100-inch ALR UST screen (about $ 1,000), the Hisense L9G is more expensive compared to Epson LS300 by about $ 1,500. Of course, this difference is very significant, but the specs of the L9G are impressive.
This model replaces the discontinued 100L10E / 120L10E (based dual-color laser) and can be positioned as the 3rd generation of Hisense 'Laser TVs'. Technically, 'Laser TV' is a UST laser projector with built-in TV-receiver.
It has new 0.47-inch 4K DLP chipset. TriChroma Laser technology uses 3 laser color sources, greatly expanding the color gamut. For example, EH LS300 covers the entire Rec, but L9G provides an unprecedented 107% coverage of the BT.2020 color space. But the Epson's brightness and contrast are higher (3,600 lm vs 3,000 lm, and 1,500,000: 1 vs 1,000,000: 1 dynamic contrast ratio).
In addition, it uses two high-end Yamaha drivers. But L9G supports WiSA (Wireless Speaker and Audio Association) standard for multi-channel wireless surround sound connection.
The models have almost identical Throw ratio (0.25: 1 / 0.27: 1) and provide 120-inch projection at a distance of about 15 inches.
In general, the choice is unlikely to be unambiguous.